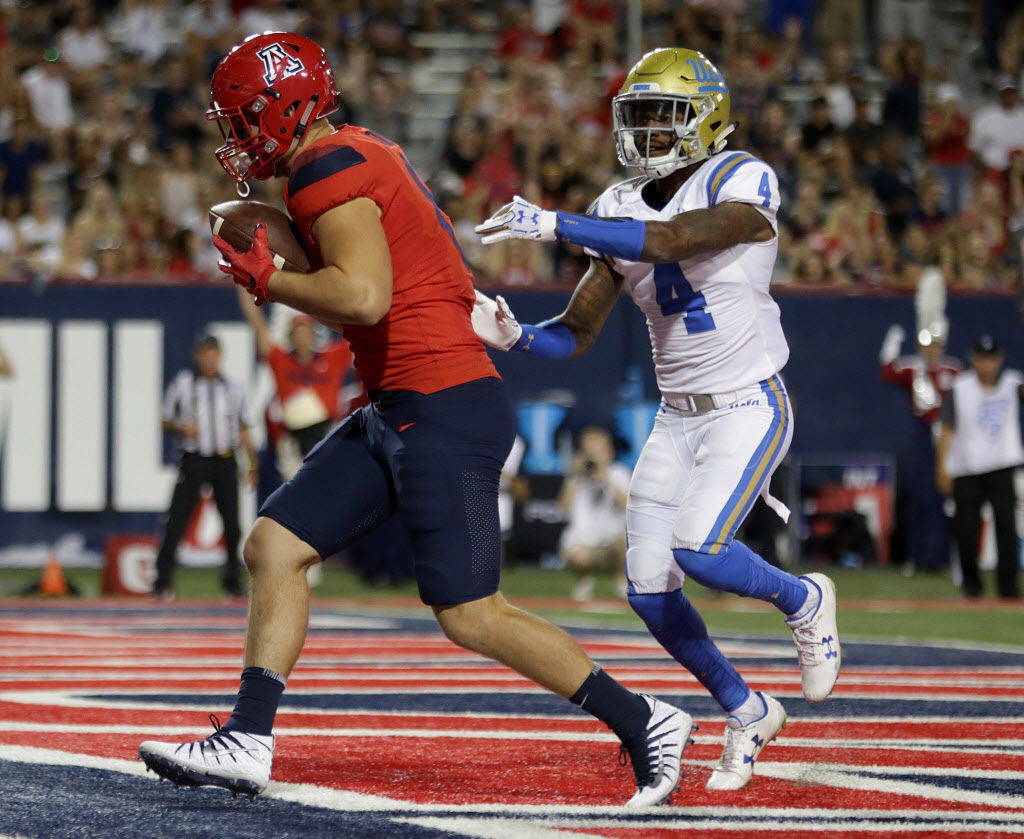 Trevor Wood plays tight end for the Arizona Wildcats. He served as their short snapper earlier this season. He pooch-punted last week, deadening the ball at the 6-yard line.
Is there anything he hasn't done?
"I haven't kicked field goals," Wood said Tuesday, laughing.
There's one other thing, actually.
Wood hasn't played defense. Could that change Saturday in the Territorial Cup, a game that means so much to so many but even more to Wood?
Maybe. Neither the redshirt junior nor UA coach Rich Rodriguez ruled out the possibility. Arizona's defensive line has been decimated by injuries. Wood played defensive end as a freshman.
"Could be. Could be a possibility. I guess we'll see," Wood said. "If that's what they want me to do, then that's what I'm gonna do. I'm not against it."
Rodriguez said "a few other guys" got looks along the defensive line Tuesday. Arizona's three starting defensive linemen — Justin Belknap, Luca Bruno and Dereck Boles — were all injured in last Saturday's loss to Oregon.
"It's a situation," Rodriguez said, "where we've gotta look at some new bodies there for sure."
It's a situation with which Wood is personally familiar. He came to Arizona from Scottsdale Chaparral High School to play tight end. But injuries early in the 2014 season prompted the coaching staff to move him to defensive end. He finished the year with four tackles.
"I was 235 pounds. I was like a baby giraffe," said the 6-6 Wood, who's now listed at 265. "I hadn't grown into my body yet.
"I liked it, though. It's not too much thinking. It's just going."
Wood moved back to tight end the following offseason, and it has been his primary position ever since.
Blessed with an NFL physique, Wood has been plagued by injuries during his UA career. He missed the 2015 season because of shoulder surgery. Poised for a breakout this year after a strong training camp, Wood hurt his knee and ankle in the opener vs. Northern Arizona. He missed two games and another because of a concussion.
With Wood out, freshman Bryce Wolma emerged as Arizona's primary pass-catching tight end. He ranks third on the team with 26 receptions. Redshirt freshman Jamie Nunley has five. Wood has two.
Wood has instead played an instrumental role as a blocker for the Wildcats, who lead the Pac-12 in rushing at 331.6 yards per game.
If shifting to defensive end for a week is what's needed to help the UA beat Arizona State, Wood is up for it.
"Wherever my name's called, that's what I'm going to do," Wood said. "Whatever I can do to help out, that's what I'll be there for."
If he does end up playing some snaps on defense, it wouldn't be the first time a member of the Wood family has lined up on that side of the ball in the Territorial Cup.
Wood's father, Dave, and uncle, Brent, were UA teammates in the 1980s. Dave played defensive line; Brent played linebacker.
Dave Wood ranks third in Arizona history with 25 sacks, trailing only Tedy Bruschi and Ricky Elmore. The elder Wood grew up in Phoenix and was planning to play at Arizona State, which had recruited him heavily. Quarterback Mike Pagel, Wood's friend and teammate at Washington High School, preceded him there.
But ASU fired longtime coach Frank Kush in 1979, and the new staff didn't show as much love for Wood as Arizona's did. So he decided to become a Wildcat instead.
"Best decision I ever made," Dave Wood said by phone Tuesday.
Dave met his future wife, Jan, at Arizona. All three of their kids — including older son Carter, a former Wildcats offensive lineman — would attend the UA. Brent followed Dave to Tucson. Brent's two older kids are current Arizona students.
The Woods live in Paradise Valley. Thirty-plus years later, Dave still gets razzed by ASU fans.
"I can't believe you didn't play for us," they'll say.
Some of Dave's best friends are ASU supporters.
"We give each more grief than anybody," he said. "Especially this week."
A group of 14 will attend Saturday's game at Sun Devil Stadium. They'll bring their voices and wear their UA colors.
They might see Trevor follow in his father's cleat prints.
"Trevor's one that wants to contribute at the highest level, wherever it is," Dave Wood said. "If he can snap, punt, help on the D-line, he's open to it."
Contrite Cruikshank
Dane Cruikshank didn't need Rodriguez screaming at him to know he had messed up.
The senior safety was on the verge of returning an interception for a touchdown against Oregon when he held the ball in the air and waved at Ducks tight end Jacob Breeland at the 4-yard line. Cruikshank got flagged for unsportsmanlike conduct. By rule, the TD got wiped out and the Wildcats were pushed back to the 19-yard line.
"It should have never happened," Cruikshank said Tuesday. "It'll never happen again."
The play took place early in the second quarter. Late in the first, Oregon drew a personal-foul penalty for a late hit on Arizona quarterback Khalil Tate. Tate then got called for unsportsmanlike conduct for stepping on Ducks lineman Henry Mondeaux.
"It was an intense game," Cruikshank said. "It was very competitive. Both teams were going at each other. I shouldn't have let it get to me. Stupid mistake. But like I said, I learned from it, and I'll never let it happen again."
Extra points
Senior left tackle Layth Friekh has submitted paperwork seeking a fifth year of eligibility. It's unclear what the outcome will be. Friekh's father, who lives and works in Dubai, United Arab Emirates, has been in Arizona since the Wildcats' Senior Night and will be at the game Saturday.
Bruno (concussion) did not have cleats as he walked to the locker room and didn't look like someone who would be playing football anytime soon. Belknap (knee) still has a huge brace on his left leg.
Freshman defensive tackle Kurtis Brown, who has missed the past three games because of a concussion and an illness, was in full pads.
Senior defensive tackle Parker Zellers appeared to have participated in practice. He missed last week because of a violation of team rules.
Senior defensive tackle Marcus Griffin, who worked his way into the rotation the past two weeks, sported a walking boot on his left foot as he left the locker room.
Jay Dobyns was among 20 or so former Wildcats watching practice and interacting with the current players. "It's cool to see that many people being a part of the program and just wanting to come back and hang out with us for a little bit," senior guard Jacob Alsadek said. "We feel that brotherhood."
Rodriguez on the Arizona State defense: "Their linebackers are active. They've got good players. If you look at what they did to Utah (10 points) and Washington (seven) defensively, it was really impressive."
Be the first to know
Get local news delivered to your inbox!