Throughout college football, Senior Day is a way to honor players who have dedicated their time and energy to the team.
Arizona cornerback Lorenzo Burns was unsure if the Wildcats' game against Utah last season would be his last hurrah in Tucson, so he took part in the Senior Day festivities.
The 5-foot-11-inch, 175-pound Burns walked slowly across the Arizona Stadium turf, heard the cheers and considered life away from the UA. He called it "a bittersweet feeling."
"It was a mix of emotions just because at the end of the year, I wasn't sure if I was going to declare (for the NFL draft) or not," Burns said.
Burns sought advice from his parents, DeChon and Enid, about which decision would be best for his football career. Rather than gamble, Burns — a native of Murrieta, California who played for his father at Linfield Christian School — opted to return for one final season.
"Being able to come back and up my stock and being able to put more things on film, maybe we'll get some questions answered from NFL scouts and teams, and I just felt like me coming back would be another opportunity to answer those questions," he said.
The Wildcats will lean on Burns and their other upperclassmen when they open their shortened 2020 season on Nov. 7 against Utah. The UA's defense is trying to rebound after losing linebackers Colin Schooler (Texas Tech) and Tony Fields (West Virginia) and safety Scottie Young Jr. (West Virginia) to the transfer portal.
Burns, a fifth-year senior, has the most experience of Arizona's returners on defense. Over 37 career games, Burns has recorded 168 tackles, nine interceptions and 34 pass deflections. Last season, Burns picked off three passes in the first four games and was named the defense's most valuable player at the end of the season. As the "old head" of the UA's youthful secondary, Burns will be counted on to lead.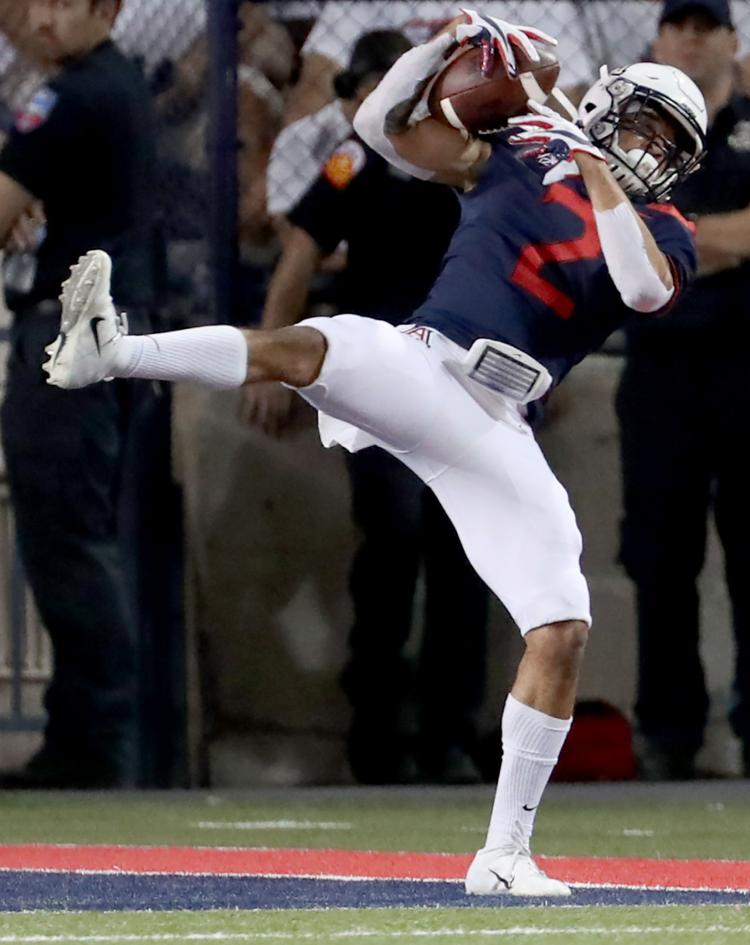 "Burns for sure will be the staple," said first-year defensive backs coach Greg Burns (no relation). "He's going to lead in his own way. He's not going to be the rah-rah guy. He's going to be the 'come over here' and let you know in his way."
Greg Burns is Lorenzo Burns' fourth position coach in five seasons.
Donte Williams left the program following the 2016 season, Burns' redshirt year, to take a similar role at Oregon. Marcel Yates coached the cornerbacks in 2017 before Demetrice Martin took over in 2018. Yates and Martin were both fired last season.
Despite the revolving door of coaches, Lorenzo Burns isn't looking for sympathy.
"I don't see it as being difficult," Burns said. "I see it as an opportunity for me to learn different coaching styles, different views of the game … so being able to get information from each one of those coaches has been a great opportunity."
Burns and fellow cornerback Christian Roland-Wallace have a connection with their newest position coach. Greg Burns recruited Lorenzo Burns to Cal when he was a Golden Bears assistant, and later gave Roland-Wallace his first Pac-12 scholarship offer when he was at Oregon State.
Greg Burns moved to USC following the 2018 season, and pushed for Roland-Wallace to flip to the Trojans even after the DB verbally committed to the Wildcats.
"He was pretty much set here and we were coming in kind of late on him. … He felt comfortable with his decision," Greg Burns said.
Greg Burns said he's been impressed with the early production of safeties Christian Young and Jarrius Wallace and cornerbacks Malik Hausman and McKenzie Barnes. Former four-star prospect Bobby Wolfe is also expected to contribute at defensive back.
"There's a lot of potential there," Greg Burns said. "But we just got to get it together and see what happens when the lights are on and everything is fast."
If Arizona's defense hopes to improve following a disappointing '19 season, one in which the Wildcats finished 10th in the Pac-12 in passing defense and last in total defense, Lorenzo Burns will have to be at his best.
"I expect him to be the ringleader of the group along with everyone else," Greg Burns said. "What he does is what the group is going to do. Again, he's going to do it in his own way because of his personality, but I expect big things. He's a veteran that understands his position, he's got a good skill set and right now he's gonna lead us. I'm excited for him."
Extra points
• Not long ago, Burns faced another life-changing decision. The Pac-12 announced in August that it would postpone all sports until 2021, a decision that led some of Burns' teammates to transfer. Burns said he was either going to stay at the UA or turn pro.
"It wasn't a thought of whether or not I'd transfer; that was out the window," he said. "What was in consideration was whether or not I'd declare (for the NFL draft) or not. … That was more in consideration."
The Pac-12 reversed its decision to postpone the season and set a seven-game schedule. It's a win-win for Burns: He can play one final season for the Wildcats as a leader of a young defense while preparing for the NFL.
• Arizona State named walk-on and former Marana High School star Trenton Bourguet as the backup quarterback heading into its Nov. 7 season opener against USC. The redshirt freshman served as the scout-team quarterback during practice last season.
"Since I got to Marana, he was always the starter at quarterback," said UA offensive lineman Jordan Morgan, who was teammates with Bourguet at Marana. "He's a really strong player mentally and he can fight through any adversity (despite his) height. He can still throw bombs and he can outrun anybody. Mentally, he's in a good state."
• UA punter Jacob Meeker-Hackett was named the C.A.T.S. Academics student-athlete of the month. The Cienega High School product joined the Wildcats midway through the 2019 season. Meeker-Hackett played at Pima College and Texas State before coming to the UA.
• Former Wildcat Tony Fields II started at "Mike" linebacker in West Virginia's 38-17 win over Kansas on Saturday, and tied for third on the team with six tackles. Through four games this season, Fields has 35 tackles.
• Arizona held an on-campus scrimmage on Saturday night. The Wildcats will take Sunday off before opening their second full week of training camp on Monday.