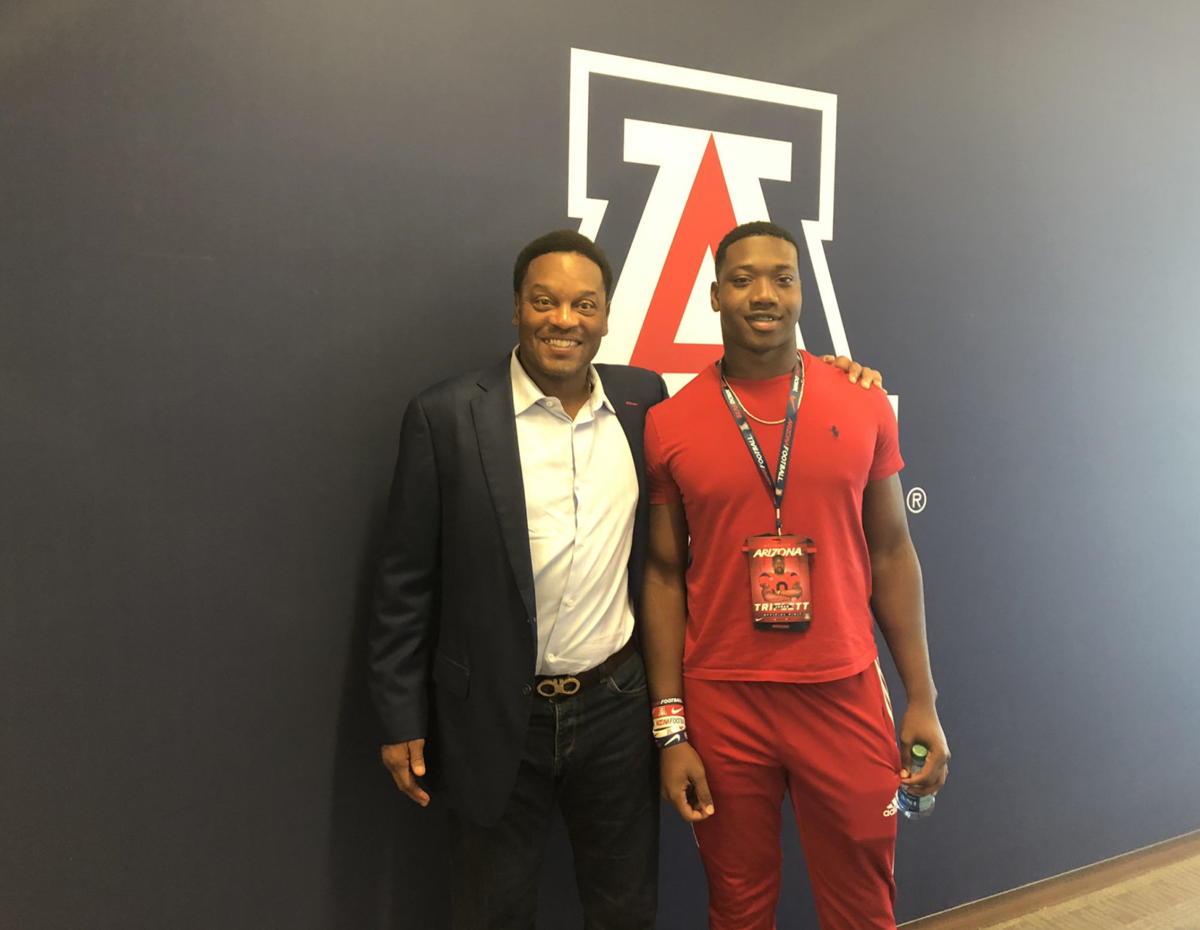 Arizona could add a new member to its 2020 recruiting class sometime in the next two weeks, and this one is a standout from deep in SEC country.
Three-star linebacker Jabar Triplett is set to make his college decision on Oct. 14 — and the Baton Rouge, Louisiana, native is considering the Wildcats along with Oklahoma State, Texas Tech, Louisiana Tech, South Alabama, Louisville, Colorado State, Memphis, Tulsa and others.
Triplett said he doesn't have a top five or a top three.
"Right now," he said, "I know my decision."
Triplett is a 6-foot, 215-pound linebacker at Southern University Lab School — nickname: Kittens — who is rated the No. 103 outside linebacker for 2020 per 247Sports.com. Arizona's recruiting class now includes 12 commits, just three of whom play defense: Defensive end Dion Wilson and cornerbacks Alphonse Oywak and Khary Crump. Triplett would be the first linebacker.
Triplett visited Tucson a few weeks ago; the Star caught up with the Louisiana linebacker to discuss his trip:
Looking back on your visit, how would you summarize the experience?
A: "It was a good visit. I like the coaching staff, the players and my hosts. The city is amazing and they treat me nice up there. … They took me to a lot of food places and fed me a lot. I had time to talk to Coach (John) Rushing and Coach (Kevin) Sumlin one-on-one. We were going over how I stand with them, the depth chart, players they have leaving and coming in, so that was important."
What were your first impressions of Sumlin?
A: "Coach Sumlin is a great coach, man. He gets a lot of players to the (NFL) and he's all about the players. He's never going to tell anything wrong; he's gonna tell you what's right."
How did Arizona discover you or vice versa?
A: "Probably like a month or two ago. I sent them my highlights and then they finally hit me up. I talked to Coach Rushing on the phone and Coach (Jeremy) Springer."
What are your thoughts on Arizona's coaching staff?
A: "They're very open. They're going to keep it real with you and that's one thing I like about the coaching staff up there."
What was your perception of the UA before it recruited you?
A: "I always thought of it as a desert-looking place and nothing much (was) out there. The first day I was out there, it was hot, but it wasn't humidity so I wasn't sweating; it was just heat. Then the next day it cooled off."
How would you summarize your childhood and life growing up in Louisiana?
A: "I was raised in Louisiana. I've been playing football since I was 7 years old and I've been in love since then. One of my coaches put me on defense and once I started hitting people, I started liking it. I love being on the field with my teammates and being a leader. I'm all about my team. … I live with my mom and dad, and I also have a younger brother and sister, grandma and grandpa. I come from a super close family. Their support has been good and they support through anything and everything I do. I appreciate that from them and that's a big thing in my life.
Did you always want to be a linebacker?
A: "I started at free safety, but then I was told I was going to get bigger so they moved me to linebacker."
Who were your football idols growing up?
A: "I looked up to Ed Reed and Ray Lewis. Ed Reed comes down — doesn't matter the size of the guy — and he hits. Plus, he's great in coverage. For Ray Lewis, he was one of the best linebackers in the NFL and he's a great motivational speaker. That's something that I want to do when I get there."
If you were to commit to Arizona, what is a trait that you will bring to the team?
A: "I'll bring a great player and somebody willing to fight for it all and leave everything on the line. … My style as a linebacker is free. I play sideline-to-sideline and make plays."
Have you thought about your major when you attend college?
A: "Yeah, I want to study business management. I want to own my own weight training business and a gym. I want to make that my career because I had some coaches and some older players that trained me and gave me the skills that I need for the football field. I want to do that with the younger guys coming up."
What are college coaches telling you to improve on for next season?
A: "They're telling me to work on my technique. Getting the right steps down, the right movements down."