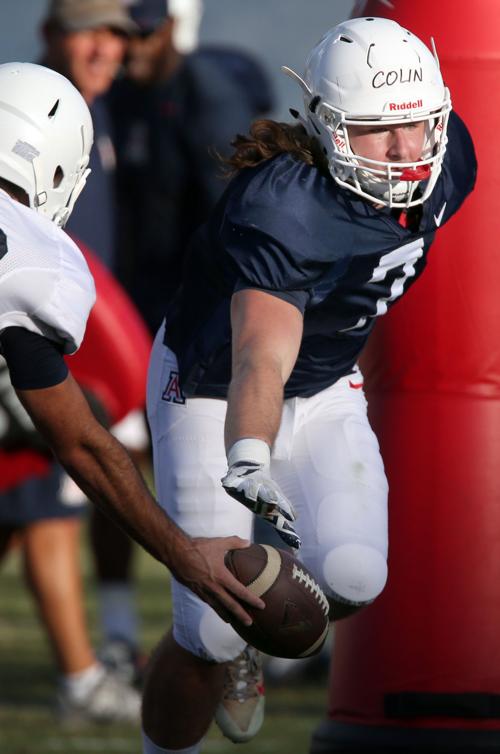 We finally got to meet some of the Arizona Wildcats' much-ballyhooed freshmen at the school's recent media day. Now you can too.
Over the next several weekdays, Star reporters Michael Lev and Zack Rosenblatt will bring you a Q&A with a different newcomer.
Today's subject: linebacker Colin Schooler, who is expected to play a significant role in his first season.
Height/weight: 6-0, 226
Position: Linebacker
High school: Mission Viejo (California)
Rating: 3 stars
On why he wasn't recruited by more Power Five schools: "I can't really talk for other schools. I'm just happy enough that Arizona took a chance with me. I just felt at home here. I can't really control what the other schools were looking at or whether I fit the profile that they wanted. But I'm glad Arizona chose me."
On what it would be like to play against older brother Brenden, who recently switched from safety to receiver at Oregon: "It'd be like a competition, like we've been doing our whole lives. We grew up competing with each other. Honestly, this sounds a lot better than us both playing defense. We actually get to go against each other. That'd be pretty fun."
On how being a running back previously helps him play linebacker: "As a running back, you have to learn to see what the linebackers are doing, how the flow's going. You need to know blocking schemes. That definitely helps me out. If I see a running back run one way and he has a two-way go, I'll kinda cheat one way and go back because I know he'll see an open gap. Kind of bait him, because I know what he's looking for."
On having to make calls as a 'Mike' linebacker: "It's nothing I haven't done before. But everybody here, they basically know what they're doing. I just have to get them the call. If they line up wrong, I correct them. If I line up wrong, they correct me."
On whether he came to Arizona intending to play immediately: "I came with the intent of not redshirting. Whether I'm playing special teams, offense or defense, I want to play right away. I just couldn't see myself sitting out a whole season and watching from the sidelines. That would just kill me."
On his goals for this season: "Last year watching my brother play, that was a very exciting season. He started at free safety for 10 games. They didn't have a very good season, but he had a very good season individually. Those are kind of big shoes to fill. I'm looking to be great like he was last year. My goal for the season is to just get out on the field, make some plays and show everybody what I can do."