The largest crowd of the year showed up Saturday night to see if the Arizona Wildcats were for real. Never mind Washington's loss to Stanford the previous week. The Huskies were clearly the best opponent the Cats had faced.
Arizona wasn't up to the task. The Wildcats made too many mistakes, in all three phases. They turned the ball over on offense and special teams. Their defense, which stood tall in the first half, crumbled in the second.
It added up to a 51-27 loss in front of an announced crowd of 47,933 at Arizona Stadium.
The defeat ended Arizona's four-game winning streak. The Wildcats fell to 4-2, 2-1 in the Pac-12 at the halfway point of the season. They are tied with three other teams for first place in the South Division. They visit one of them, USC, next week.
Arizona turned the ball over four times and had a punt blocked. The Wildcats had six turnovers in their first five games.
Quarterback Khalil Tate threw an interception and lost a fumble. He also was sacked four times and had to throw the ball away on several other occasions.
After allowing only three points in the fourth quarter in its previous three games, Arizona surrendered 24 to Washington. The Huskies outscored the Wildcats 38-10 in the second half to improve to 5-2, 2-2.
"We got outplayed. We got outcoached," UA coach Kevin Sumlin said. "It's something that we gotta handle. That's our message. We have problems. You admit what it is, whatever that is."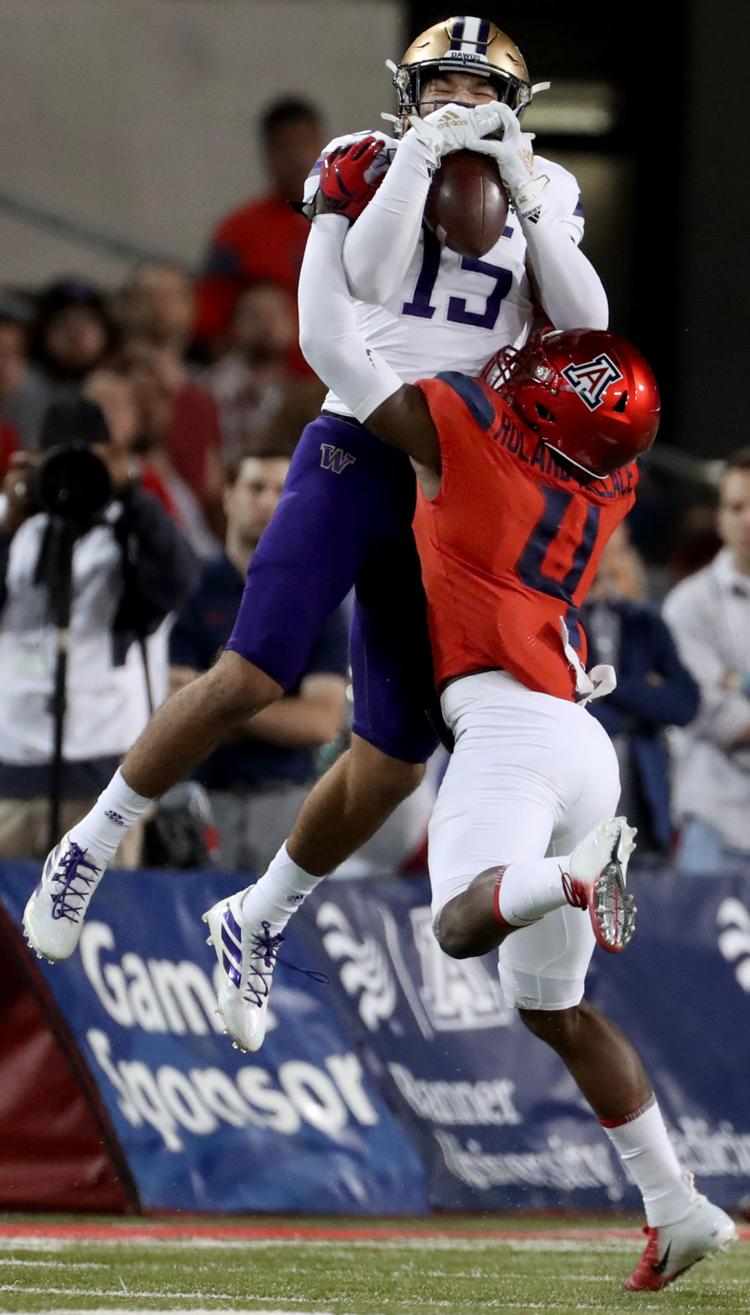 After a stellar first half featuring multiple stops in Arizona territory, the UA defense finally buckled on the opening possession of the third quarter. Washington drove 75 yards in 10 plays. Jacob Eason finished it with a 3-yard TD pass to tight end Jack Westover to give the Huskies a 20-17 lead. Eason finished with 243 yards and two touchdowns.
After a pair of punts, another UA turnover led to another Washington score. Myles Bryant forced Jamarye Joiner to fumble and recovered the ball at the Arizona 36-yard line – the third time Washington had taken possession in UA territory. That total doesn't include the Huskies' 5-yard touchdown return of a Tate fumble in the second quarter.
Salvon Ahmed's 4-yard touchdown run expanded Washington's lead to 27-17. Arizona responded with a field goal by Lucas Havrisik, his second of the game. A would-be J.J. Taylor touchdown run was negated by a holding penalty on Thomas Reid III.
The Huskies wasted little time re-establishing a two-score advantage. Washington needed just four plays to go 75 yards, finishing the drive on Eason's second touchdown pass, a 22-yarder to Aaron Fuller.
After a UA three-and-out, Washington scored another touchdown — its fourth in five second-half possessions. In all, the Huskies scored on six of their seven drives after halftime, not including game-ending kneel-downs.
It wasn't always pretty — especially on offense — but Arizona led Washington 17-13 at the half.
Arizona had a punt blocked, muffed a punt and made a terrible turnover. But the Wildcats rallied from a 13-3 deficit to take a lead into the locker room.
"You can't play a team of that caliber and turn it over that many times and have a punt blocked," Sumlin said. "All the things that happened in the first half and to still be ahead … based on all that, it was a miracle."
Tate, who was under pressure throughout the half, bounced back from an inexplicable fumble that resulted in a UW touchdown. Tate connected with Joiner for a 40-yard TD to trim Arizona's deficit to three points. Tate then hit on a pair of long passes to set up Taylor's 1-yard TD run. Taylor returned from an ankle injury to rush for 89 yards.
The UA defense repeatedly thwarted Washington, which started two first-half drives in Arizona territory. The Huskies' lone touchdown came on Brandon Wellington's 5-yard return of Tate's fumble. As he was being sacked, Tate tried to throw the ball forward with his left hand. It went backward instead, and Wellington carried it into the end zone.
"They made sure they got pressure up front," said Tate, who finished 13 of 25 for 184 yards. "They made sure in the back end that they did their job. We've just gotta be better all around."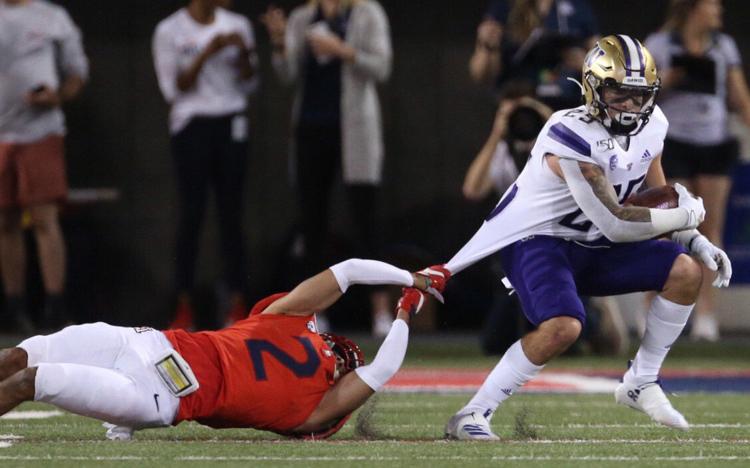 Arizona literally couldn't get out of its own way in the first quarter.
The period was filled with unforced errors, including a muffed punt by Stanley Berryhill III. Reid appeared to bump Berryhill as he was fielding the ball. Washington took over at the UA 8-yard line.
Fortunately, as had been the case throughout the quarter, the Wildcats held. Colin Schooler and Trevon Mason teamed to stop Chico McClatcher for a 1-yard loss on second-and-goal from the 4. Anthony Pandy and others limited Ahmed to 2 yards on third down. Peyton Henry's second field goal made it 6-0.
His first came at the end of an eight-play, 62-yard drive that stalled at the UA 10. This time it was Christian Roland-Wallace and Tristan Cooper teaming to limit Fuller to a 5-yard gain on third-and-10.
Washington entered Saturday ninth in the Pac-12 in red-zone touchdown percentage, having converted at only a 52% rate.
Almost every punt was an adventure in the first half. Washington's Levi Onwuzurike blocked Matt Aragon's first attempt in the first quarter. The Huskies recovered at the UA 36. But Mason, Christian Young and others stuffed Ahmed on fourth-and-1 to end the scoring threat.
Aragon's fourth punt was nearly blocked. He just got it off, and it was muffed by Fuller. Xavier Bell recovered the ball at the UW 40.
The Wildcats advanced to the 32 but stalled. Havrisik's 50-yard field goal made it 6-3 early in the second quarter.
"It was a tough loss," Tate said. "I thought we had a good chance at winning it going into halftime. We didn't play hard enough in that second half. That's when a great program like Washington can take over. That's what they did."
Extra points
• Arizona played without tailbacks Gary Brightwell and Bam Smith. Sumlin said both were out because of injuries.
• Cooper was the victim of an illegal blindside block in the third quarter. He left the game briefly before returning later in the period.
• Paiton Fears, who had been splitting time at right tackle, started at left guard. Usual starter Robert Congel was dressed but did not play.
• Reserve safety and special-teamer Troy Young missed his second straight game.
• UW senior center Nick Harris did not play because of injury. Redshirt freshman Matteo Mele, who attended Salpointe Catholic High School, took his place. It was Mele's first career start.
• UW linebacker MJ Tafisi got hurt late in the third quarter. He was placed on a stretcher and taken off the field on a cart.
• Arizona left guard Cody Creason limped off in the third quarter with an apparent injury to his left ankle or foot.