You never truly know what's going to happen.
Such is the reality of college football. There are no exhibition games or joint practices. Personnel turnover is constant. Someone is going to have to play a prominent role in Week 1 — or, in the case of the Arizona Wildcats, Week 0 — who never has played before.
Noel Mazzone has been coaching for almost 40 years, but he'll carry that same feeling of uncertainty into Saturday's opener at Hawaii.
"You don't know until we kick that thing off and see how things roll out," the UA offensive coordinator and quarterbacks coach said Friday night. "But I think we're in a really good spot right now."
Mazzone knows the Wildcats have experience at key positions. Seven probable offensive starters, including quarterback Khalil Tate and three offensive linemen, have at least 12 career starts. Most of the rest of the projected two-deep on that side of the ball will head to Honolulu without ever having started a game for Arizona.
"We've got some depth," Mazzone said, "but we've got a lot of depth that doesn't have a lot of experience. We want to play those guys."
That isn't an uncommon occurrence here or elsewhere. It also isn't as unsettling as it seems on the surface.
Many of the guys Mazzone and the staff want to play have appeared in games, benefiting from the redshirt rule that was implemented last season. For the first time, players who hadn't previously redshirted could play in up to four games without losing a year of eligibility. UA coach Kevin Sumlin took full advantage of the rule, giving 11 newcomers action in four or fewer contests.
Receiver Tre Adams was one of those players. He appeared in four games as a freshman, playing about 60 snaps.
"That's a whole game of experience, traveling, all the things we take for granted," Sumlin said.
Adams retained his eligibility — he's now a redshirt freshman — while experiencing "all the pressure that comes with playing," Sumlin said.
Adams is expected to split time at outside receiver with redshirt sophomore Drew Dixon, who appeared in seven games last season. The top two projected slot receivers, Brian Casteel and Jamarye Joiner, have combined for zero starts and one catch. But again, they're not beginners.
Casteel appeared in 11 games as a freshman in 2017 before missing last season because of injury. Joiner was among the players who made a cameo last year while redshirting. He appeared in two games, albeit at quarterback.
"A large number of that group has been with us before," inside receivers coach Theron Aych said. "They've traveled to games. They've been at practice. They've been in our system.
"We had a very senior-heavy group last year. They've watched and learned, and now it's their turn."
Arizona will have new starters at left guard and right tackle, and only one of the top candidates for those spots — redshirt sophomore Edgar Burrola — has played a down for the Wildcats. He appeared in six games last season.
The player Burrola has been competing with at right tackle, Paiton Fears, started last year for Hutchinson (Kansas) Community College. The player slated to start at left guard, Robert Congel, appeared in five games for Texas A&M as a freshman in 2017 before sitting out last season as a transfer.
It's impossible to simulate game conditions, but the coaches do the best they can. Arizona conducted what Mazzone described as a "mock-game walk-through" Saturday. The Wildcats fly to Honolulu on Wednesday.
"So it's going to happen fast for them now," Mazzone said. "We've got a relatively young team. A lot of these guys haven't done this before.
"We're going to find out about a lot of guys come Saturday night. There's gonna be some nervousness. There's gonna be some guys in their first college football game. It'll be fun to see how they all react to it."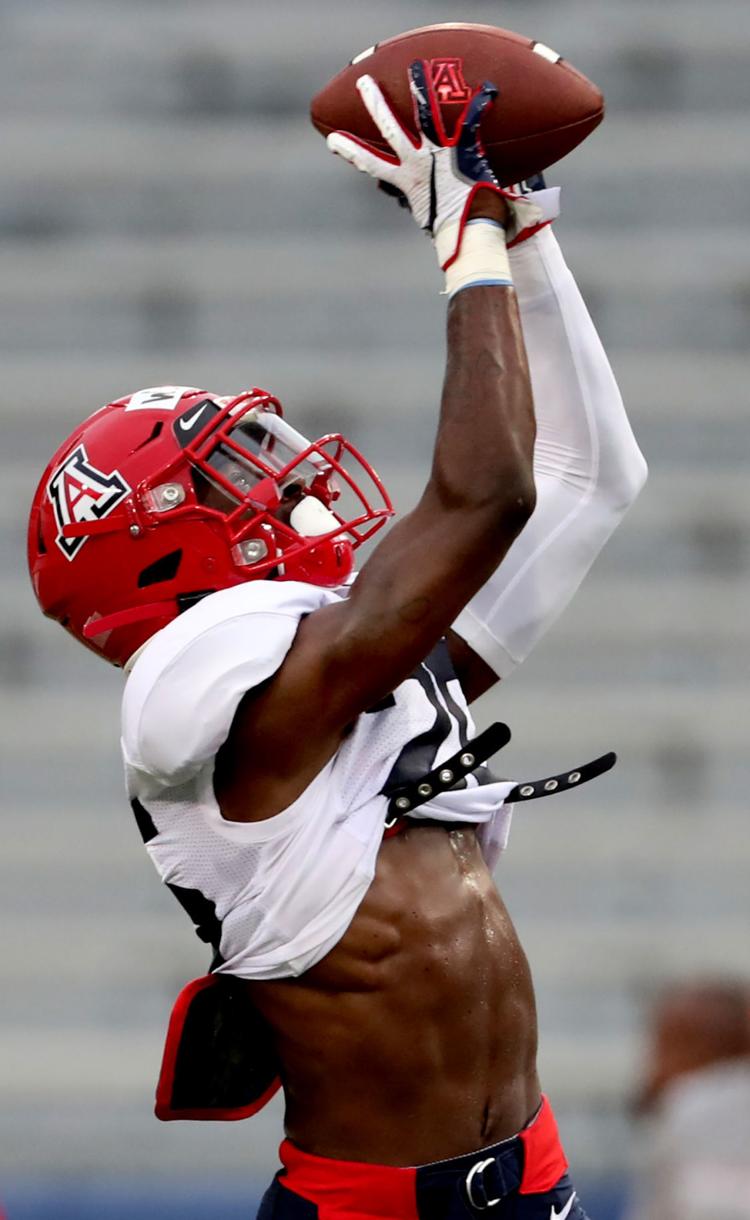 'Typical freshman stuff' for DB Wolfe
It remains to be seen how many true freshmen will play against the Rainbow Warriors. Cornerback Bobby Wolfe is among those vying for a seat on the plane and a sliver of playing time.
One of Arizona's highest-rated recruits, Wolfe has endured an adjustment phase since he arrived in Tucson.
"He was a little happy-go-lucky, thinking everything was gonna be easy — typical freshman stuff," UA cornerbacks coach Demetrice Martin said. "It's like, 'I'm a big, star recruit, and this is going to be easy for me.' Well, hold on, my friend. It's a little different at this level.
"He's been humbled a few times. I think it's helping him out. He's going to be a good one. He has a very high skill level."
Wolfe's athleticism and bravado caught the attention of Tate and other veterans during summer workouts. They dubbed the Houston product "Hollywood" after seeing the word tattooed across his back.
Fellow cornerback Christian Roland-Wallace and tailback Michael Wiley are among a handful of freshmen expected to contribute immediately. Only one freshman, offensive tackle Donovan Laie, started last year's opener against BYU.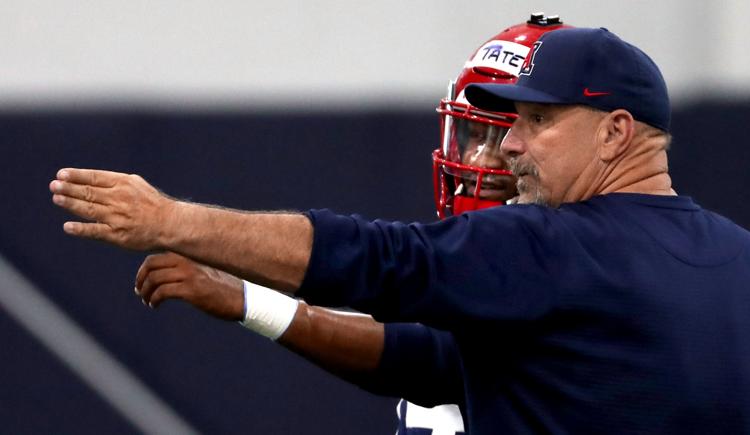 Mazzone and Marinelli
Mazzone joked that running backs coach DeMarco Murray might be more nervous than the freshmen because the opener will represent his first game as a college coach. He isn't the only member of the UA staff who's new in some way to the college scene.
One of Arizona's analysts is John Marinelli, who came to the UA this summer after serving as the head coach at Greenwich High School in Connecticut. Mazzone is friends with Marinelli's father, Lou, the all-time winningest coach in Connecticut high school history. Mazzone met John Marinelli at a camp several years ago. He expressed an interest in coaching in college someday.
"Five years later, an opportunity arose," Mazzone said. "I called him up. He got in the car and drove from Connecticut. And now he's here."
Marinelli led Greenwich to an undefeated record and a state championship last season. The Cardinals capped the campaign with a win over his father's team, the New Canaan Rams.
"That was impressive," Mazzone said. "Anytime you're working camps, working clinics, you're always looking for guys you hit it off with and guys who you feel are kind of young stars in the profession. That's how I felt about him. We were lucky enough to get him on our staff."