NFL stars react on Twitter to Rob Gronkowski announcing retirement
Best Twitter reactions after Rob Gronkowski announced his retirement from the NFL. 
Patriots teammates and NFL stars show love for Gronk after a nine-year pro career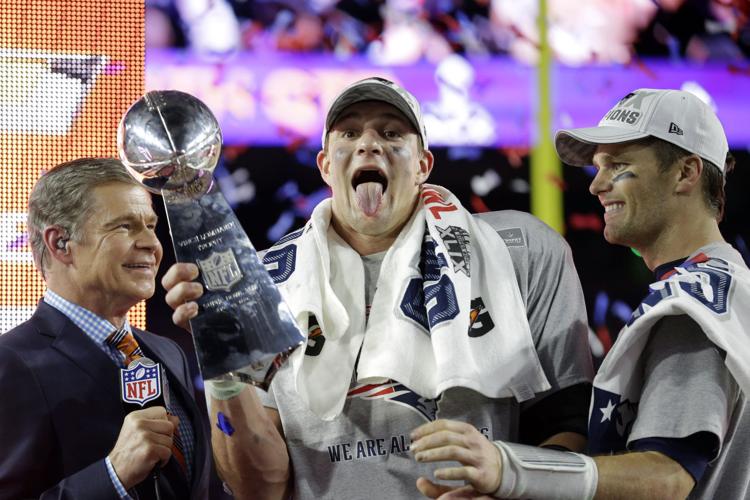 Former Arizona Wildcat and longtime Patriots tight end Rob Gronkowski officially announced his retirement from the NFL Sunday afternoon after nine seasons in the league. 
Gronkowski won three Super Bowls and became a five-time Pro Bowl player after being drafted No. 42 overall in the second round of the 2010 NFL Draft. 
Also known as "Gronk," the ex-Arizona standout finished his NFL career with 7,861 yards and 79 touchdowns and leads tight ends for most receiving yards and catches in Super Bowl history. 
The NFL and Patriots community sent their well-wishes to Gronkowski via Twitter, here's who they are. 
JJ Watt
Congrats on an incredible career @RobGronkowski. One of the best to ever do it. Best wishes on whatever comes next!

— JJ Watt (@JJWatt) March 24, 2019
Kyle Long
Gronk one of the most dominant players to put on a helmet. Amazing career.

— Kyle Long (@Ky1eLong) March 24, 2019
Chris Gronkowski
Congrats to my little, I mean younger, bro. Unreal career that entertained and impressed everyone that got to watch. pic.twitter.com/2TpPNsgaer

— Chris Gronkowski (@Chrisgronkowski) March 24, 2019
Greg Olsen
For the past 9 years, after each week, one of the first guys reception targets I would go watch was @RobGronkowski. Some stuff I would steal, other stuff only he could do. Incredible career and enjoy what's next. See you in canton 👊🏻

— Greg Olsen (@gregolsen88) March 24, 2019