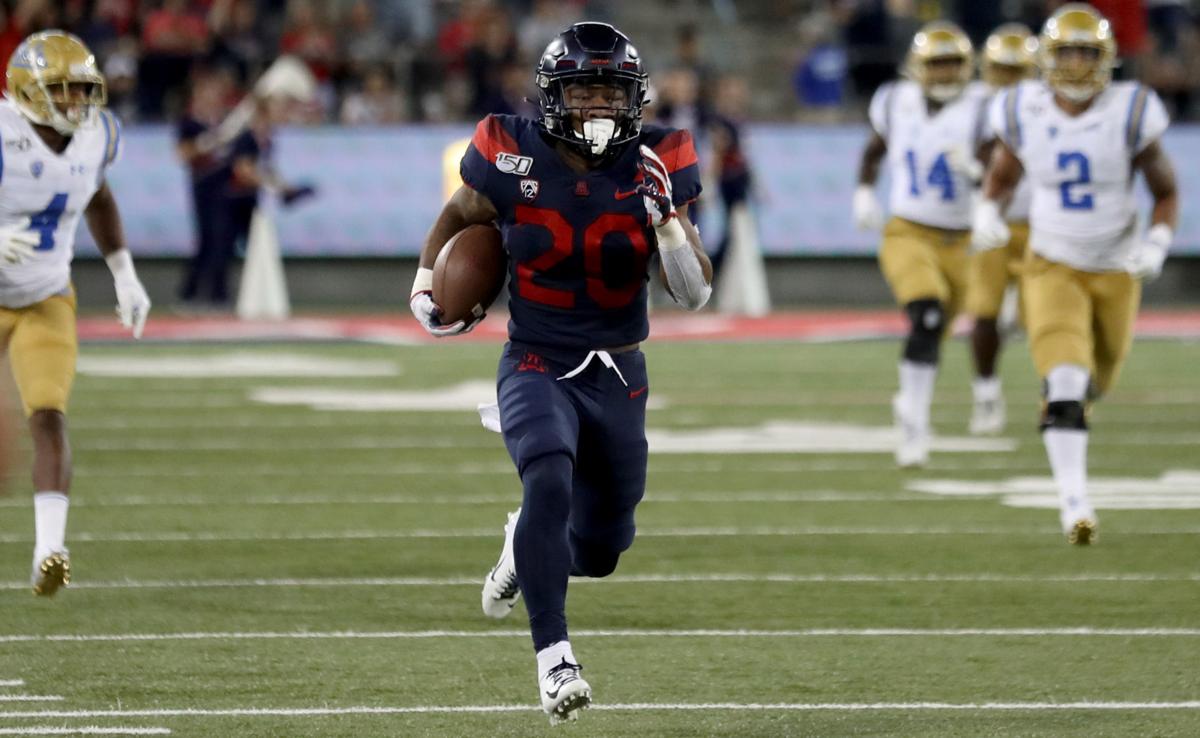 The Arizona Wildcats defeated UCLA 20-17 Saturday night at Arizona Stadium. Here are some pertinent notes, quotes and statistics:
* Quarterback Khalil Tate (hamstring, ankle) and tailback J.J. Taylor missed the game because of injuries. It was the first time neither appeared in a game for Arizona since Nov. 25, 2016, against Arizona State.
* Freshman Grant Gunnell started in place of Tate. Gunnell became the first true-freshman quarterback to win his first start for Arizona since Willie Tuitama on Oct. 29, 2005, against Oregon State.
* Gunnell became the first Arizona QB to throw for over 300 yards in his first career start since Anu Solomon on Aug. 29, 2014, against UNLV.
* Arizona has won three straight games for the first time since October 2017, when the Wildcats won four in a row.
* Two teams are tied atop the Pac-12 South with 1-0 conference records: Arizona and Colorado. The two teams meet next Saturday in Boulder.
* The Wildcats held consecutive Power Five opponents to fewer than 20 points for the first time since 2010 (Washington, Washington State).
* The Wildcats have won consecutive games after trailing entering the fourth quarter. Arizona had lost 24 straight when trailing entering the final period.
* Arizona recorded multiple sacks (two) for the first time this season, ending a streak of four consecutive games with one or fewer.
* Arizona has nine interceptions, which is tied with Florida for the most in the country. The UA had seven interceptions last season.
* Tailback Bam Smith set a career best with a 75-yard touchdown reception in the third quarter. Smith led the Cats with 35 rushing yards and 99 receiving yards.
* Linebacker Colin Schooler finished with a team-high 13 tackles (10 unassisted). He is four tackles shy of becoming the 24th player in UA history to log 250-plus tackles. He is also one tackle for loss away from moving into the UA career top 10 in that category.
* Linebacker Tony Fields II notched a season-high 10 tackles, his first game in double figures since Nov. 2, 2018, against Colorado.
* Cornerback Jace Whittaker logged one pass breakup, giving him 32 for his career, tied for fourth most in school history with Antoine Cason (2004-2007) and Devin Ross (2006-2009).
* Punter Matt Aragon averaged 47.4 yards per punt, dropped three of five attempts inside the 20-yard line and had a career-long 70-yarder.
UA coach Kevin Sumlin on Gunnell's performance: "The No. 1 thing was poise - how he handled situations. I thought was very mature about how he handled things, how he went about his business. The second thing, probably the biggest, is zero turnovers. He didn't give the other team the ball.
"We talked about it at the hotel before we came over: Hey, look, it's not on Grant. It's on the 10 other guys that are on the field to make this thing work tonight. We've gotta block. We've gotta protect. We've gotta hang on to the ball. We've gotta fight for every yard. And that's what they did."
Sumlin on overcoming the absences of Tate and Taylor: "It's a team effort. I say it all the time: We worry more about us than the opponent. And I think we've learned a lot about each other, coaches and players and personnel. You guys have seen over the last few weeks a change in personnel at a lot of different positions - trying to get our best players on the field and give our team the best opportunity to win. That's what coaching is all about."
Sumlin on the status of Tate and Taylor for next week's game at Colorado: "Don't know yet. We'll see what happens on Monday. … We're not going to put those guys in harm's way with the type of injuries that they have. Those guys can be explosive players. When you have ankles or leg injuries like that, what you don't want is for something that just nags on (them) for the whole year. We'll assess that throughout the week."
Sumlin on calling a timeout to ice UCLA kicker JJ Molson, who missed the tying field goal late in the fourth quarter: "You've got them in your pocket. I can't take them home and bring them to the next game. But probably the biggest decision was not to use the last timeout on that next kick. That's all luck of the draw.
"I've also had times where I've called it and the guy missed it and made the next one. It's just the opposite comment from you guys and the fans: What are you doing?"
WR Cedric Peterson on Gunnell: "He knew what he had to do. Us as an offense, we had to make sure we were all on the same page for him.
"He came and talked to everybody after every series. Even missed balls, he came back and made sure he wouldn't miss it again. He showed great leadership. … It seemed like he'd been there before."
Schooler on the win: "It feels good to get a win, especially to start conference play. But we've got a game next week on the road. And based on our past, we don't really play to our full potential on the road. So we're focusing on getting a road win.
"But I love the way we played tonight. All phases of the game, we had guys stepping up, switching positions, doing everything right and just executing the game plan."
Fields on the team's progress: "I just feel like our defense and our whole team are all on a good pace right now. Everybody's moving forward. We're all taking steps forward, getting better every game, and I feel like if we can keep doing that and keep being consistent, we can win out (in) the Pac."
UCLA coach Chip Kelly on losing despite not having to face Tate: "It's frustrating anytime you lose. It doesn't matter what the circumstances are. It felt like we let one slip away."
* UCLA had 25 first downs; Arizona had 21.
* UCLA had 217 rushing yards; Arizona had 99.
* Arizona had 451 total yards; UCLA had 445.
* Arizona averaged 6.1 yards per play; UCLA averaged 5.2.
* Arizona had 10 penalties for 74 yards; UCLA had five for 40.
* UCLA possessed the ball for 31 minutes, 56 seconds; Arizona had it for 28:04.
* UCLA converted 8 of 17 third downs; Arizona converted 6 of 17.
* UCLA converted 1 of 3 fourth downs; Arizona converted 2 of 2.
* Arizona scored a touchdown on only one of four trips into the red zone.
* Arizona's average starting field position was its 29-yard line; UCLA's was its 20.
* UCLA's Joshua Kelly rushed for a game-high 127 yards and a touchdown on 27 carries.
* UCLA QB Dorian Thompson-Robinson accounted for 243 total yards and one touchdown.
* Arizona LB Anthony Pandy had seven tackles and a sack.
Contact sports reporter Michael Lev at 573-4148 or mlev@tucson.com. On Twitter @michaeljlev