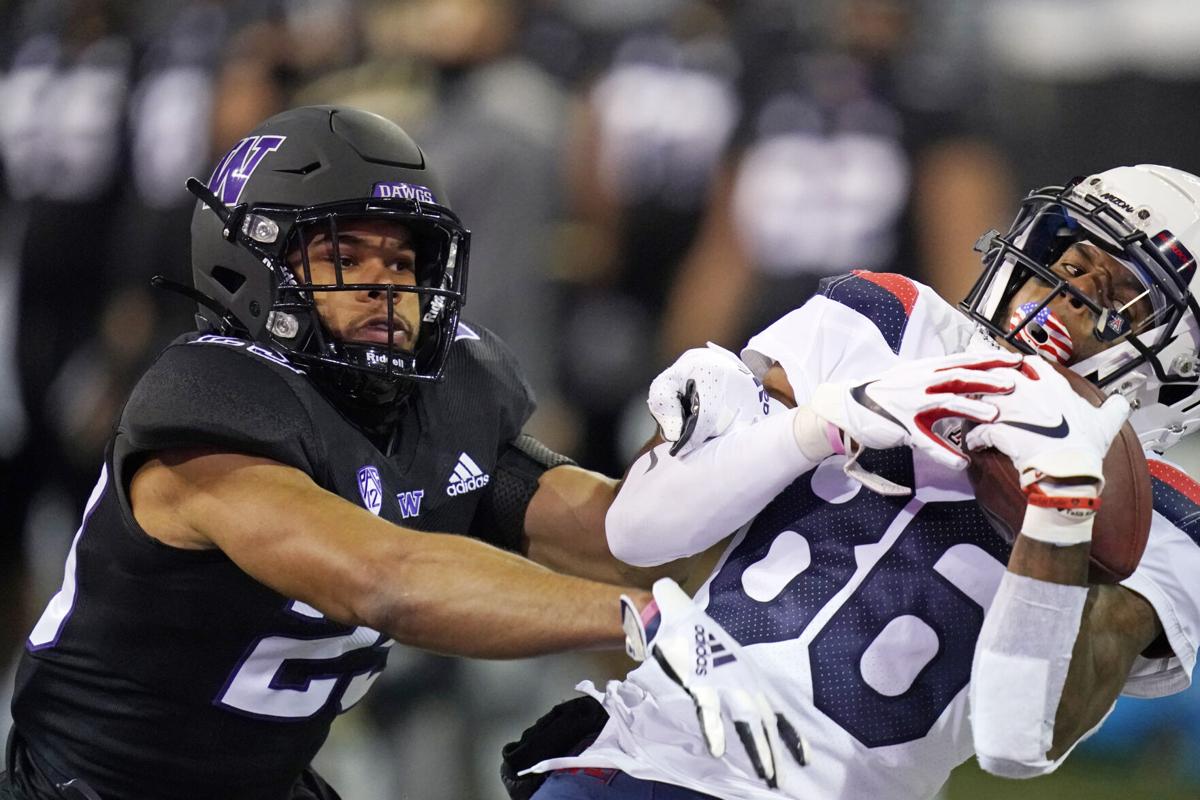 The Arizona Wildcats lost to Washington 44-27 on Saturday night at Husky Stadium in Seattle. Here are some pertinent notes, quotes and statistics:
NOTES
* The Wildcats suffered their ninth loss in a row, a school record. Arizona twice has lost eight straight, in 2003 and '16. The UA last won a game on Oct. 5, 2019, at Colorado.
* Kevin Sumlin's record at Arizona is now 9-17. He was 9-8 after the Colorado game. Sumlin had an 86-43 record before coming to Tucson.
* Arizona is 7-7 at home under Sumlin, 2-10 on the road. The wins came at Oregon State in 2018 and at Colorado in '19.
* Washington has defeated Arizona in four straight matchups. The average score in those games: 44.8-21.3.
* Arizona scored all 27 of its points in the fourth quarter. That tied for the most points the Huskies have allowed in a fourth quarter in program history.
* Through three quarters, Washington led 37-0; had a 392-66 advantage in total yards; and had a 22-5 edge in first downs. In the fourth quarter, Arizona outscored Washington 27-7; had a 265-80 advantage in total yards; and had a 17-2 edge in first downs.
* Arizona was 0 for 9 on third down through three quarters. The Wildcats went 2 for 4 in the fourth.
* Washington had a 30:39-14:21 advantage in time of possession through three quarters.
* Arizona allowed five sacks. Through two games, the Wildcats have yielded nine sacks. Their defense has only one for a differential of minus-8.
* UA quarterback Grant Gunnell was 12 of 18 for 50 yards through three quarters. He finished 27 of 39 for 259 yards and threw three touchdown passes for the second straight game. He extended his streak of consecutive pass attempts without an interception to 73.
* Redshirt junior Stanley Berryhill III led the Wildcats in receptions for the second straight game. He had five catches for 65 yards and two touchdowns, the first multiscore game of his career.
* Freshman WR Ma'jon Wright notched career bests with four catches for 58 yards, including his first career touchdown.
* Sophomore RB Michael Wiley scored his first career touchdown on a 3-yard run in the fourth quarter.
* Freshman RB Jalen John made his collegiate debut and totaled 39 yards on five touches.
* Sophomore WR Boobie Curry had four catches for 55 yards, both career highs.
QUOTES
Sumlin on his message to the team: "We have to stick together as a team. From last week to this week, it's the same result but a different football game. We have to go back to work as coaches and do a better job and keep looking at where we are in personnel. And come back to work on Monday for another opponent."
Sumlin on UW's pass rush affecting Gunnell: "The pocket was getting pushed back into him. We were in five-man protection. We started helping with the back a little bit later, which helped the protection. With where he was, trying to push up in the pocket sometimes, they were pushing it right back into his lap. That's an issue."
Sumlin on whether the fourth quarter can generate momentum for next week: "Yes and no. Individually, for some of those young guys that came in there and played, there's some confidence that they can get out of it. But obviously there's a reason why the backups are in there. ... It's all about the team. That's where our work has to get done this week.
Gunnell on keeping the team motivated through growing pains: "It's easy as a quarterback when you have guys on the team that want to be great. It's kind of a whole group effort, staying motivated. We're all pushing to win. We want to win. It's the worst feeling. It's embarrassing."
Gunnell on remaining in the game after the outcome had been decided: "I'm going to stay in the game. I'm not gonna quit on the team, because I know the team wouldn't quit on me. Just keep pushing, make a positive out of the negative and use the positives going into the next week."
LB Jalen Harris on turning QB pressures into sacks: "Just know what's coming and be more ready. One step away, that's the difference."
Harris on defensive coordinator Paul Rhoads' postgame message: "His message was, we know what we have to do to fix it, and it starts with preparation. It doesn't start on Saturday; it starts on Sunday, tomorrow. When we get back, you gotta take care of your body and be ready to go and prepare for next week."
STATS
* Washington had 24 first downs; Arizona had 22.
* Washington had 233 rushing yards; Arizona had 72.
* Arizona had 259 passing yards; Washington had 239.
* Washington had 472 total yards; Arizona had 331.
* Washington averaged 6.6 yards per play; Arizona averaged 5.1.
* Washington possessed the ball for 37 minutes, 17 seconds; Arizona had it for 22:43.
* Washington converted 8 of 15 third downs; Arizona went 2 of 13.
* Washington's average starting field position was its 36-yard line; Arizona's was its 21.
* Arizona RB Gary Brightwell had 11 carries for 55 yards (5.0 ypc).
* Washington RB Richard Newton had eight carries for 81 yards (10.1 ypc) and two touchdowns.
* Washington QB Dylan Morris completed 15 of 25 passes for 230 yards and two touchdowns.
* Washington TE Cade Otton had seven catches for 100 yards and one TD.
* Arizona's Rhedi Short, Roy Lopez and Trevon Mason each had five tackles.
* Washington's Kyler Gordon had a game-high seven tackles.
* Washington's Zion Tupuola-Fetui had two sacks for the second straight game.
Contact sports reporter Michael Lev at 573-4148 or mlev@tucson.com. On Twitter @michaeljlev