Do the Arizona Wildcats have a "one-man defense"? An opposing coach in the Pac-12 apparently thinks so.
In its annual feature anonymously quoting coaches about their conference foes, an opposing coach trashed the UA defense:
"Offense will not be a problem there. They're going to make a lot of us in this league look bad. But measure that against their one-man defense, and you see why (Khalil) Tate can only do so much."
The one man presumably is sophomore "Stud" Kylan Wilborn, who is praised earlier in the piece:
"I thought Kylan Wilborn was one of the best defensive players in our league last year. He kind of came out of nowhere. Those are the best kind of recruits. You see the potential, and then it develops into something completely out of the ordinary.

"He's not the biggest guy. But he's got such a quick first step, he's hard to block. They better get some help for him, because they couldn't tackle anyone last year. It was YAC (yards after catch/contact) for days last year against them."
It's unclear whether one coach or multiple coaches is making these comments. Regardless, they show little — if any — respect for the rest of Arizona's defense.
While Wilborn had an excellent season — including a team-best 7.5 sacks and a league-best four forced fumbles — it was his classmate, linebacker Colin Schooler, who earned Pac-12 Defensive Freshman of the Year honors.
Another freshman linebacker, Tony Fields II, led the team with 104 tackles and ranked second behind Wilborn with five sacks. Schooler and Fields made several Freshman All-America teams.
Cornerbacks Lorenzo Burns and Jace Whittaker combined for eight interceptions and 20 pass breakups. Whittaker, in particular, is a favorite in the analytics community.
We could go on and on here. The point is, even though Arizona's defense struggled at times last year, it's unfair — and inaccurate — to label the unit a one-man band.
---
NCAA 'dead period' and those fancy scholarship offers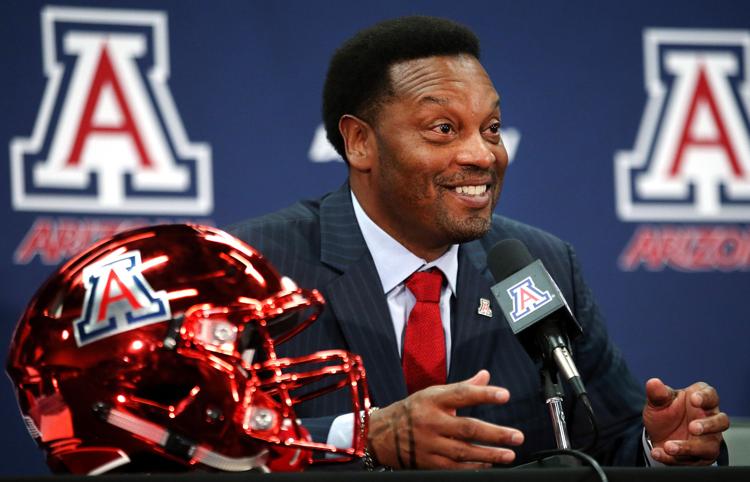 The NCAA's "dead period" for college football began Aug. 1, and schools at midnight started sending out official scholarship offers to recruits in the 2019 class.
Eleven high school seniors already have committed to Kevin Sumlin's first full recruiting class at Arizona, including four from the long-forgotten state of Texas and two from Arizona.
Those commits should continue to roll in for Sumlin and company leading up to the Dec. 20-22 early signing period, when recruits can officially sign national letters of intent.
The current "dead period" runs through Aug. 31. Per official NCAA rules:
During a dead period, a college coach may not have face-to-face contact with college-bound student-athletes or their parents, and may not watch student-athletes compete or visit their high schools. Coaches may write and telephone student-athletes or their parents during a dead period. 
During an "evaluation period," like that one that runs from Sept. 1 to Nov. 24, the NCAA permits college coaches to watch recruits and student-athletes play, including at their high schools. A coach cannot meet face-to-face with a student-athlete unless on the college campus — often during an official visit.
The "dead period" allows coaches to contact college-bound players remotely. Pac-12 schools and top programs across the country take advantage by sending out official scholarship offers, and recruits are giving us an up-close look on social media.
To be clear, an official scholarship offer does not mean a recruit has committed or will commit to a specific college. Though several student-athletes who received official offers Aug. 1 have already committed.
Here are some of the official offer graphics and letters schools are sending players:
Stay up to date with the future of Arizona Wildcats football.