HONOLULU – Is it possible for a team that isn't a legitimate national-championship contender to face a must-win scenario in the first game of a 12-game season?
Welcome to Year 2, Game 1 of the Kevin Sumlin era at Arizona.
The Wildcats are coming off a season that fell far short of expectations. They started slowly, finished poorly and ended with a 5-7 record.
Saturday's opener at Hawaii represents a shot at redemption. It's a chance to set a new course. Arizona can't afford to blow it.
"I hate to say there's such a thing as a must-win in Week 1, but I understand exactly where you're going," said CBS Sports Network analyst Rick Neuheisel, who will call the game at Aloha Stadium.
"Given where Kevin Sumlin's career was and where it is currently — and perception unfortunately being greater than reality than most of us coaches would like to admit — I see this is a real important game for hm."
Let's briefly consider the two possible outcomes.
Option No. 1: If Arizona wins, convincingly or otherwise, it'll be able to recapture some of the buzz that was lost last September and never really returned. A victory would support what everyone inside the program has been saying throughout the offseason: that things will be different — i.e., better — in Sumlin's second season.
"It's crucial," junior defensive end Kylan Wilborn said. "Football is the biggest game of momentum there is."
Option No. 2: If Arizona loses a second straight opener, serious questions will arise about the direction of the program — specifically whether Sumlin was the right pick to lead it. Reinvigorating the fan base and captivating recruits will become that much more difficult.
"The good news is, having watched them practice, I think he's going to fare very well," Neuheisel said. "I saw great-looking athletes. It doesn't necessarily mean they're ready to play. But I just saw what you'd hope to see."
Arizona has restocked a handful of key positions, including wide receiver, defensive line and cornerback. Several Wildcats, including Sumlin, have noted a different energy around the team.
"It's a new season, a new team," senior defensive end Justin Belknap said. "It's a new feeling in the locker room."
The challenge for this "new team" is to break some old habits. The 2018 Wildcats were a wildly inconsistent squad. They generally played well at home. They sometimes barely showed up on the road.
Arizona finished 1-4 away from Arizona Stadium last season. Three of those losses — against Houston, Utah and Washington State — were blowouts from the jump. Collectively, Arizona trailed 56-7 at the end of the first quarter and 114-14 at halftime in those games.
Senior defensive tackle Finton Connolly said he and his teammates let the conditions get to them in two of those games — heat in Houston, cold in Pullman. He said overcoming adverse circumstances comes down to "how mentally strong" you are.
"Physically, we were there," Connolly said. "It was all mental."
Although the temperature typically eclipsed 100 degrees during training camp — and Sumlin conducted a handful of workouts under the midday sun — the humidity here is something the Wildcats don't often encounter. Local kickoff time is 4:30 p.m.
Honolulu also comes with a unique set of potential distractions.
"I don't think that's gonna be a problem," Wilborn said. "I've got family, friends, they'll call me like, 'You guys are going to Hawaii. Are you excited?'
"At the end of the day, I tell them the same thing: It's a business trip."
Sumlin is asking more from his players this season, whether it's enhanced mental fortitude, improved execution or greater attention to detail. Trying hard is no longer enough.
"We've got to be able to put the effort together in back-to-back-to-back-to-back games," Sumlin said. "Last year … we played hard every week. There wasn't one time, even with some depth issues, that I was unhappy about effort.
"(But) effort's the price of admission. We've gotta get past that. Now what? What can we count on from you?"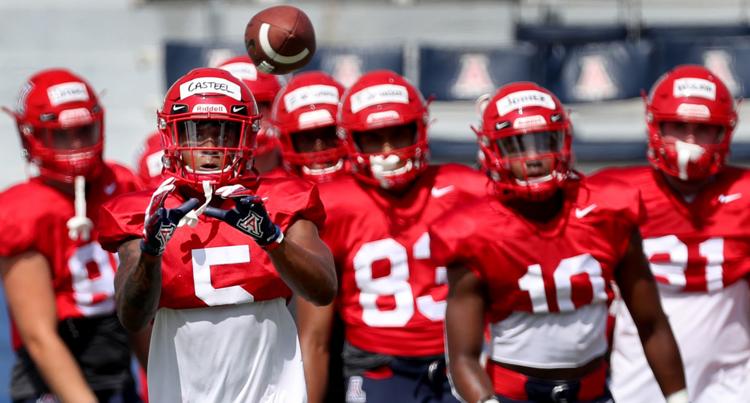 Sumlin was encouraged by some of the signs he saw in the offseason. One example: The team posted the highest spring-semester GPA in program history.
"What that tells me is these guys are listening and they're about their business right now," Sumlin said. "Will that transfer to Saturday evenings? Yeah, I hope so. Because I think what we've asked them to do in the offseason, they have worked really hard at it. They have shown, not just in this building but on campus and socially, all kinds of ways that they're growing up."
Focus and motivation shouldn't be issues – especially considering the way last season ended.
The last time they played in a game that counted, the Wildcats frittered away a 19-point, fourth-quarter lead against rival Arizona State. The Territorial Cup remained in Tempe. The pain from that defeat lingered in Tucson.
"Once that game was over, it started a fire underneath me," Connolly said, sharing a sentiment that's been expressed by several of his teammates. "This is my last shot. I'm trying to get that ring on my finger this year."
The Wildcats are fully aware of the opportunity that's in front of them. There are two "Week Zero" games kicking off college football's 150th season. Florida-Miami should be over by the time Arizona-Hawaii begins. Anyone who cares about the sport will be watching — curious to see what Year 2 under Sumlin might look like.
"It's important for every team to win their first game, because that's just going to set the tone for the season and show everybody what we are and what we can do," sophomore receiver Brian Casteel said. "Our question we've been (asking) is, 'Who are we?' We get to show who we are this Saturday."