Pac-12 power rankings: Sun Devils climb, Wildcats and Bruins sink in Week 2
The Star's panel sets the Pac-12 power rankings after Week 1 of the college football season.
Pac-12 tries to rally after up-and-down Week 1
The opening week of college football gave us a preview of first-year head coaches and freshman quarterbacks. A Week 2 matchup between Stanford and USC could provide a clearer picture of the Pac-12's stiffest competition.
Washington failed to establish itself as the team to beat, which made way for a Pac-12 title rematch that is likely to have major implications in 12 weeks' time.
The Star's panel of Ryan Finley, Michael Lev, Justin Spears and Dominic Baciocco did not unanimously decide the top spot this week, but the conference's five leading teams remained the same — with a couple slight alterations. Baciocco compiles the votes and hashes out the weekly rankings below.
1. Stanford Cardinal (1-0; previous rank: 2)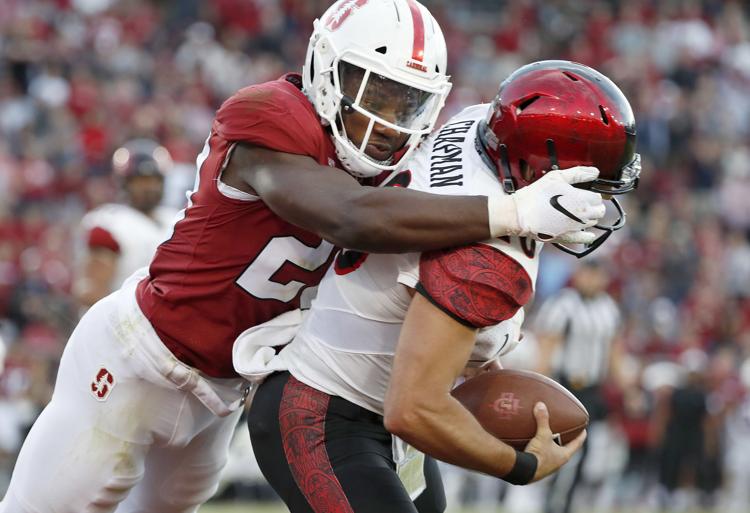 Last week: Beat San Diego State, 31-10
This week: No. 17 USC, 5:30 p.m. Saturday
Analysis: It only just two weeks for our panel to have a disagreement at the top of the rankings. Baciocco had the Huskies holding down the top spot despite their loss to Auburn, but it was Stanford that came away with three votes — and the lead. The Cardinal came out strong and avenged its loss at San Diego State from a season ago. What was encouraging about this 31-10 win, was how Stanford managed to pull away despite an unusually flat stat line by Bryce Love (18 carries, 29 yards). Quarterback K.J. Costello started the 2018 campaign with 332 yards and four touchdowns. The offense will need to be dialed in for a tough Pac-12 title game rematch with the Trojans. USC won both meetings last year.
2. Washington Huskies (0-1, previous rank: 1)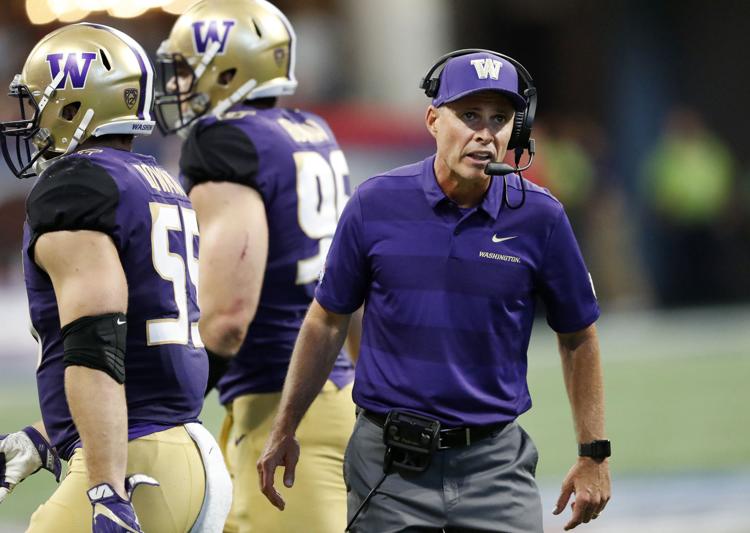 Last week: Lost to No. 9 Auburn, 21-16
This week: North Dakota, 2 p.m. Saturday
Analysis: The Huskies still could be the team to beat in the Pac-12 at the end of the year. They just aren't quite there yet. A close loss to a top-10 Auburn team might serve as a low point for Washington, but we won't get a better idea until it travels to Utah next week. The Huskies held the lead midway through the fourth quarter of Saturday's contest, but quarterback Jake Browning flopped on his chance for a game-winning score. Coach Chris Petersen was happy about how his team responded to a late deficit, but it gave up 420 yards and turned the ball over twice. That's not a formula for winning big games.
3. Oregon Ducks (1-0; previous rank: 4)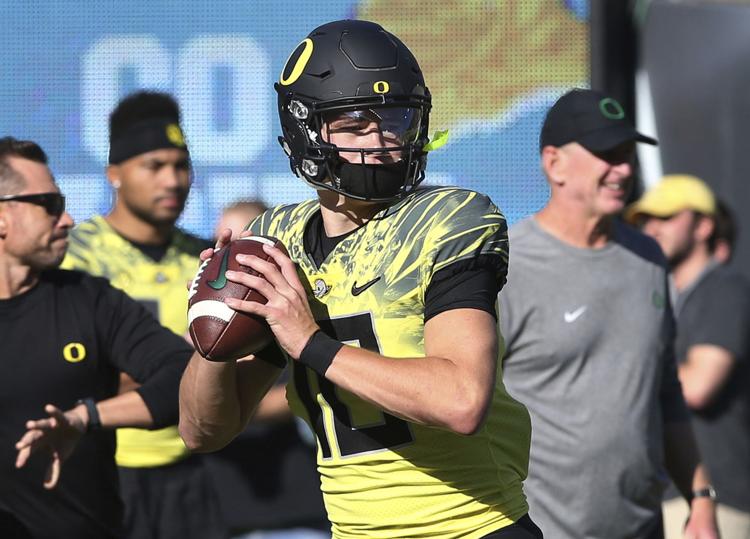 Last week: Beat Bowling Green, 58-24
This week: Portland State, 11 a.m. Saturday
Analysis: If there's one thing Oregon needs to do for success in 2018, it's to establish Justin Herbert as a capable college starter. Good start. Herbert and the Ducks shined after a slow start against Bowling Green. Down 10-0 near the end of the opening quarter, Oregon faced a fourth-and-long situation in Bowling Green territory. First-year coach Mario Cristobal instilled his confidence in Herbert, who delivered a 33-yard strike to put the Ducks on the board. Oregon went on to score 37 unanswered points. A confident Herbert could spell trouble for the Pac-12.
4. USC Trojans (1-0; previous rank: 3)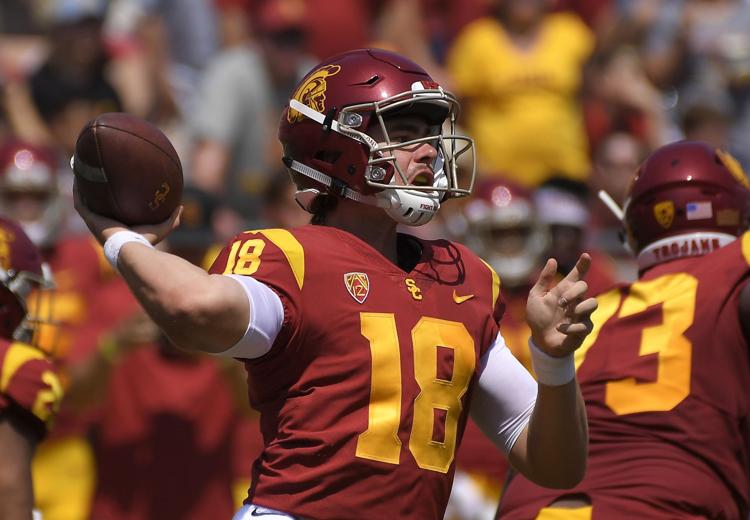 Last week: Beat UNLV, 43-21
This week: at No. 10 Stanford, 5:30 p.m. Saturday
Analysis: The Trojans head off to Stanford searching for a third straight win over the Cardinal. The difference this time? No Sam Darnold. True freshman and reigning national Gatorade Player of the Year JT Daniels overcame the Trojans' uninspiring effort on defense by throwing for 282 yards, including a 43-yard touchdown pass. Coach Clay Helton says it will be important for the young starter to stay poised in his first true road game. Helton's advice: "Just don't overthink things. Take what the defense gives you." Defense is still a major concern for USC. The Trojans gave up 308 yards on the ground to the likes of Lexington Thomas and company. Bryce Love could feast like it's Thanksgiving come Saturday.
5. Utah Utes (1-0; previous rank: 5)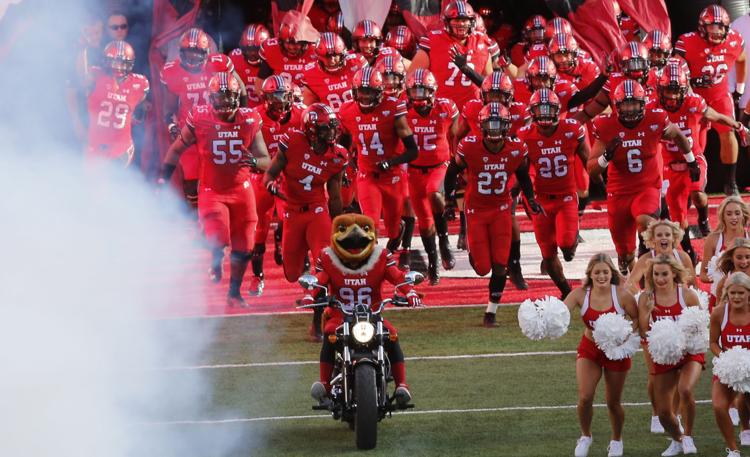 Last week: Beat Weber State, 41-10
This week: at Northern Illinois, 4:30 p.m. Saturday
Analysis: Utah trailed 10-0 early in its opener before it scored 41 unanswered points, a sign the Utes could be a tough out when quarterback Tyler Huntley is clicking. The defense allowed Weber State to convert just three first downs the entire game. Utah's defensive unit will allow Huntley to make an occasional slow start or a bad through here and there. It held Weber State to just 59 yards of total offense in almost 27 minutes of possession. Those numbers will be impossible to replicate in a date with Washington next weekend, but Utah's defense checked all the boxes in Game 1 and could propel the Utes to the top of the South sooner than later.
6. Colorado Buffaloes (1-0, previous rank: 8)
Last week: Beat Colorado State, 45-13
This week: at Nebraska, 12:30 p.m. Saturday
Analysis: Colorado hasn't won  in this old Big 8 rivalry since 2007 — though, to be fair, the teams haven't played since CU split for the Pac-12 in 2010. The bright spot from the Buffaloes' season opener came in the form of sophomore receiver Laviska Shenault Jr., who caught 11 passes for 211 yards and a touchdown. Steve Montez's early chemistry with Shenault is a promising sign. Virginia Tech transfer Travon McMillian had a successful debut as well, totaling 103 yards on just 10 carries. If the Buffs can put the ball in McMillian's hands more often to relieve some of the stress on Montez, defense should be the only real concern moving forward.
7. Cal Golden Bears (1-0; previous rank: 7)
Last week: Beat North Carolina, 24-17
This week: at BYU, 7:15 p.m. Saturday
Analysis: Cal looked improved on defense after ranking in the middle of the Pac-12 last season. The Golden Bears were largely able to capitalize on Nathan Elliott's shaky quarterback play, but Tanner Mangum and BYU aren't likely to turn the ball over four times like UNC did. Cal needed to see the biggest leap in offense after finishing 10th in scoring offense and 11th in total offense in the conference last year. Ross Bowers earned the start but split snaps with Chase Garbers and Brandon McIllwain. Patrick Laird couldn't find much breathing room on the ground, but still amassed 95 yards and two scores, including one receiving. Cal doesn't have a ton of weapons on offense and will have to be creative in finding ways to cash in, but it was a perfectly fine start to Justin Wilcox's second season.
8. Arizona State Sun Devils (1-0; previous rank: 10)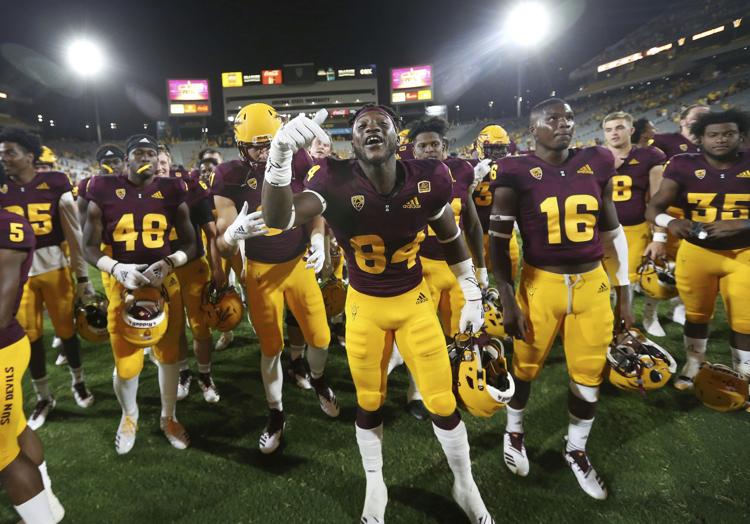 Last week: Beat UTSA, 49-7
This week: No. 15 Michigan State, 7:45 p.m. Saturday
Analysis: It wasn't supposed to be this way when Herm Edwards and Kevin Sumlin moved to Arizona last winter. But ASU again looked like the team to beat in Arizona after decimating UTSA. Sure, it was only UTSA. But for UA it was only BYU, and Sumlin's Wildcats couldn't take care of business. It's still too early to tell the direction of the two rivals, but Edwards' Sun Devils looked like the better team in every facet in Week 1. Manny Wilkins threw for 237 yards and four touchdowns, Eno Benjamin rushed for 131 more and N'Keal Harry picked up where he left off with 140 yards and two scores. Michigan State will provide a tougher challenge.
9. Washington State Cougars (1-0; previous rank: 11)
Last week: Beat Wyoming, 41-19
This week: San Jose State, 8 p.m. Saturday
Analysis: All Gardner Minshew has to do is succeed the Pac-12 all-time leading passer. No big deal, right? The senior won't match the success of Luke Falk, but coach Mike Leach showed he has no problem treating the quarterbacks the same, as Minshew completed 38 of 57 passes for 319 yards in Wazzu's win over Wyoming. Minshew let it fly on 73 percent of Washington State's 78 offensive snaps. The quarterback spread the love, too — four WSU receivers made at least five receptions, with James Williams' 10 leading the way. Still, Minshew didn't seem entirely comfortable throwing the ball downfield.  The Cougars will look to keep him hot in their home opener.
10. Arizona Wildcats (0-1; previous rank: 6)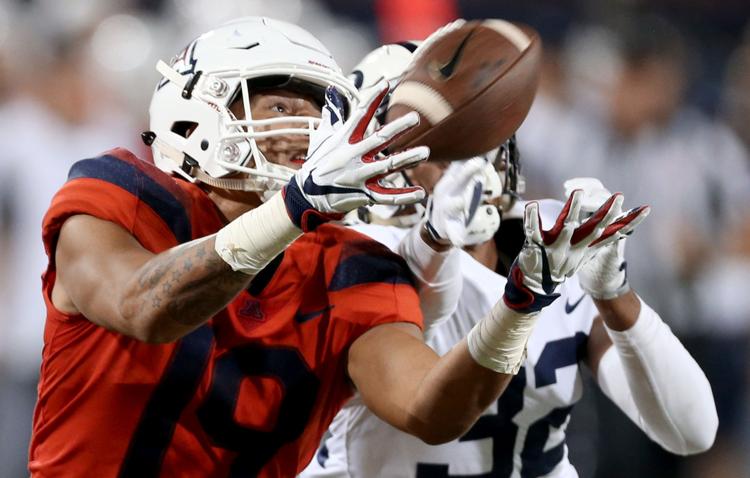 Last week: Lost to BYU, 28-23
This week: at Houston, 9 a.m. Saturday
Analysis: Few saw Arizona's season-opening loss to BYU coming. Khalil Tate struggled to find any sort of rhythm, the defense struggled at times to get off the field and the Wildcats flopped their way toward the bottom of the power rankings. Arizona hasn't lost consecutive games to start a season since 1981, and this week is no gimme. The UA will try to bounce back against potential No. 1 draft pick Ed Oliver, Houston's star defensive lineman. It's a tall order for Kevin Sumlin and his UA offense. Look on the bright side: Few expected Arizona to be a playoff team anyway, so it has two more nonconference games to get things in order before its Pac-12 opener.
11. UCLA Bruins (0-1; previous rank: 9)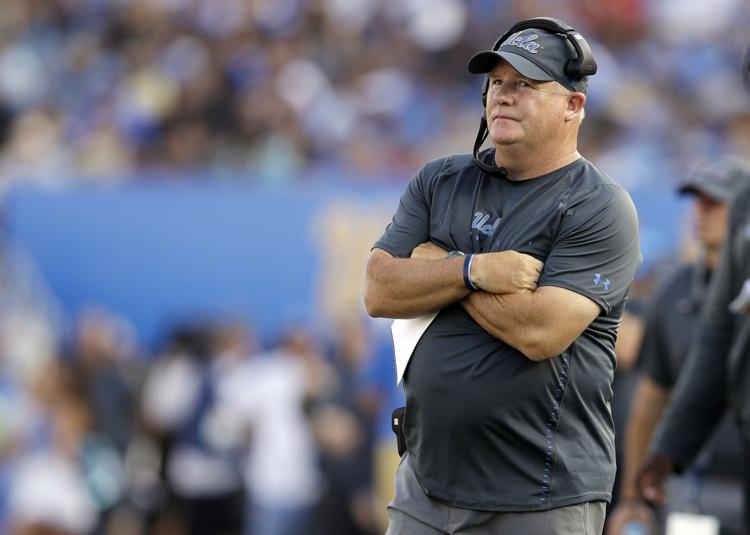 Last week: Lost to Cincinnati, 26-17
This week: at No. 6 Oklahoma, 10 a.m. Saturday
Analysis: Perhaps the only debut more uninspiring than Kevin Sumlin's was Chip Kelly. A loss to Cincinnati at home to start the season wasn't what Bruins fans had in mind when the school hired the longtime Oregon coach and three-time conference champion. If last week shows anything, it's that UCLA remains a work in progress. The Bruins are 10-16 in their last 26 games following a stretch in which they went 28-11.
Of course, it didn't help that Kelly's freshly-named starting quarterback, Wilton Speight, exited last week's game with a back injury. With Speight's status up in the air, a matchup at No. 6 Oklahoma could be in the hands of freshman Dorian Thompson-Robinson. That's not ideal.
12. Oregon State Beavers (0-1; previous rank: 12)
Last week: Lost to No. 5 Ohio State, 77-31
This week: Southern Utah, 5 p.m. Saturday
Analysis: Heads up, UCLA. Even with a loss to Oklahoma, it'd be pretty difficult to stoop any lower than this. Oregon State's 46-point loss to Ohio State was its largest defeat since, well, its last game — a 59-point loss at Oregon to end the 2017 season. Jonathan Smith seemed encouraged by his team's capability to "compete with effort," but that's about all the Beavers have. Oregon State will need to find some semblance of a rhythm as soon as possible if it hopes to string together a couple Pac-12 wins. The Beavers open conference play Sept. 22 against Arizona before taking on ASU, Washington State, Cal and Colorado. If that part of the schedule invokes little hope, then USC, Stanford, Washington and Oregon in consecutive weeks to close the season will provide even less.