Pac-12 Power Rankings, Week 8: USC reclaims top spot; Arizona Wildcats rise to No. 6
The Washington schools tumble, the Arizona schools rise and chaos reigns halfway through the 2016 season.
Every team in the Pac-12 has played at least six games, so we're halfway home.
And we know … nothing.
We thought the Washington schools had it going on. Then they get swept on the road, scoring a combined 10 points.
We thought the Arizona schools were destined for mediocrity. Then Khalil Tate happened, ASU suddenly found its defense and they're tied for second place in the South Division.
No one is unbeaten in conference play. Eleven of the 12 league members are .500 or better overall. If you can predict with any degree of certainty what's going to happen over the second half of the season, you're a lot smarter than we are.
Anyway, on to the rankings. Per usual, they were voted on by three Star sports staffers: Zack Rosenblatt, Justin Spears and yours truly. Oddly, we all agreed on Nos. 1, 4, 5 and 6. Opinions differed otherwise.
1. USC (6-1, 4-1 PAC-12; PREVIOUS RANK: 3)
Last week: Won 28-27 vs. Utah
This week: at Notre Dame (Saturday, 4:30 p.m., NBC)
Comment: The Trojans keep winning … barely. They might be the Pac-12's Obi-Wan Kenobi at this point – the league's only hope to make the College Football Playoff. It almost certainly would require winning out. But if they were to pull it off, they'd have wins over Stanford, Texas, Notre Dame and (probably) Washington on their résumé. Given that relatively strong schedule, USC's pedigree and Sam Darnold's star power, it would be hard to keep the Trojans out in that scenario.
2. WASHINGTON (6-1, 3-1; PREVIOUS RANK: 1)
Last week: Lost 13-7 at Arizona State
This week: Bye
Comment: What the heck was that, Huskies? Yes, Washington hadn't played the toughest of schedules. But the Huskies' average margin of victory was 33.2 points. They hadn't been threatened. Unlike its in-state rival, UW didn't turn the ball over a single time at ASU. But the Huskies were 3 of 14 on third down. Jake Browning managed just 139 yards on 30 pass attempts and got sacked five times. UW still could win out. But will the CFP committee give the Huskies another bid after they played Rutgers, Montana and Fresno State in the non-con?
3. STANFORD (5-2, 4-1; PREVIOUS RANK: 4)
Last week: Won 49-7 vs. Oregon
This week: Bye
Comment: Things weren't looking great after early losses at USC and San Diego State. But, per usual, David Shaw has righted the ship. The Cardinal is one win from bowl eligibility, and that shouldn't be a problem with its next game at Oregon State next Thursday. The closing stretch – at Washington State, vs. Washington, vs. Cal and vs. Notre Dame – will determine how high Stanford climbs. Three of the four are at home, but none is a gimme.
4. WASHINGTON STATE (6-1, 3-1; PREVIOUS RANK: 2)
Last week: Lost 37-3 at Cal
This week: vs. Colorado (Saturday, 7:45 p.m., ESPN)
Comment: It never fails. At some point during an otherwise promising season, a Mike Leach-coached Cougars team will come up with a clunker. In 2015, Washington State opened with a loss to Portland State. Last year it was Eastern Washington (plus a season-ending three-game losing streak). This year it's a brutal performance in Berkeley. For better or worse, Leach immediately squashed speculation that he would follow ex-athletic director Bill Moos to Nebraska. Don't count on that happening.
5. UTAH (4-2, 1-2; PREVIOUS RANK: 5)
Last week: Lost 28-27 at USC
This week: vs. Arizona State (Saturday, 12:30 p.m., FS1)
Comment: Predictably, many criticized Kyle Whittingham for going for two after the Utes scored with 42 second left. I completely disagree with that sentiment. If you kick the PAT, you're giving Darnold 42 seconds to drive for the winning field goal. We've seen him execute in that situation before. He also had led three 88-plus-yard touchdown drives in the second half. By going up one, you put even more pressure on him and the Trojans to execute in an already pressure-packed scenario. If you're the underdog, you go for two.
6. ARIZONA (4-2, 2-1; PREVIOUS RANK: 8)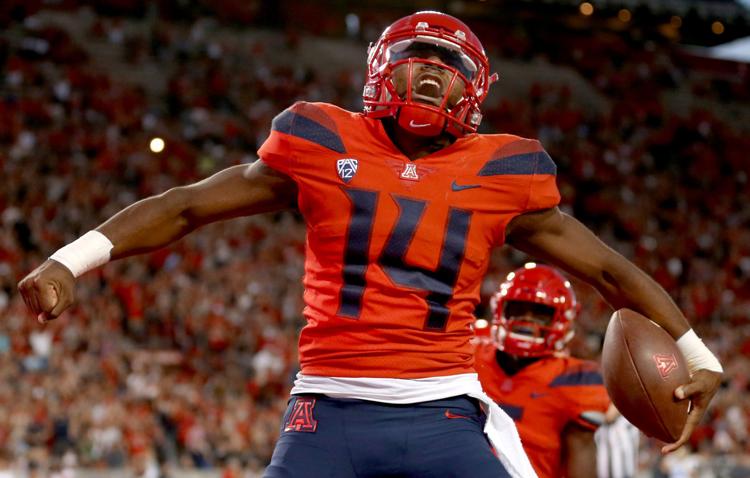 Last week: Won 47-30 vs. UCLA
This week: at Cal (Saturday, 5 p.m., Pac-12 Networks)
Comment: No. 6? Not half-bad. I'll be interested to see how the Wildcats handle Saturday's trip. It has that "sandwich game" feel to it – stuck between the high of finally beating UCLA and the potential for homecoming payback against Washington State. Maybe none of that matters when Khalil Tate is on your side. I only mention him because I'm contractually obligated to at least once. (That's obviously not true … or is it?)
7. ARIZONA STATE (3-3, 2-1; PREVIOUS RANK: 9)
Last week: Won 13-7 vs. Washington
This week: at Utah (Saturday, 12:30 p.m., FS1)
Comment: Here's the real trick for the Sun Devils – follow up the epic home win with a W on the road. ASU has yet to win two games in a row this season. After beating Oregon in Week 4, the Sun Devils fell at Stanford. The victory over Washington felt different because the defense showed up. Utah seems vulnerable. But the Utes are always a tough out, and they'll be desperate after losing two in a row. The oddsmakers don't like ASU's chances; Utah is a 9.5-point favorite.
8. CAL (4-3, 1-3; PREVIOUS RANK: 11)
Last week: Won 37-3 vs. Washington State
This week: vs. Arizona (Saturday, 5 p.m., Pac-12 Networks)
Comment: Of all the teams in the unpredictable Pac-12, the Golden Bears perplex me the most (which is saying something). Cal beat North Carolina in Week 1; the Tar Heels are 1-6. Cal beat Ole Miss in Week 3; the Rebels are 3-3, with their wins coming against South Alabama, Tennessee-Martin and Vanderbilt. The Bears got blown out at Oregon in the game in which the Ducks lost half their team. Then they got obliterated at Washington … before destroying Washington State. Anything is possible Saturday night.
9. UCLA (3-3, 1-2; PREVIOUS RANK: 6)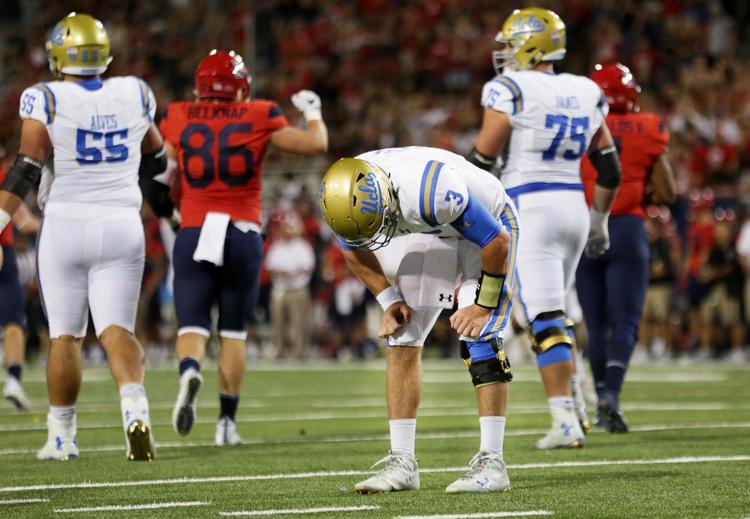 Last week: Lost 47-30 at Arizona
This week: vs. Oregon (Saturday, 1 p.m., Pac-12 Networks)
Comment: The Bruins win the midseason awards for Most Disappointing Team, Most Underachieving Team and Best Job Wasting A Generational Quarterback. Of course, Josh Rosen bears at least some of the blame for that debacle in Tucson. All three of those interceptions were avoidable. As for the defense, how could the Bruins possibly be that bad on that side of the ball with all that talent and a former NFL head coach/defensive coordinator leading them? Barring a big second half, it's hard to imagine Jim Mora being back.
10. OREGON (4-3, 1-3; PREVIOUS RANK: 7)
Last week: Lost 49-7 at Stanford
This week: at UCLA (Saturday, 1 p.m., Pac-12 Networks)
Comment: I ranked the Ducks the lowest (11th) among my compatriots – even though I was super-high on Oregon entering the season. The Justin Herbert injury just killed the Ducks' chances for a true turnaround. When two quarterbacks transferred in the offseason, Oregon was put in a perilous position. That left the Ducks with former walk-on Taylor Alie and former UA commit Braxton Burmeister, who clearly isn't ready for this. The freshman's line at Stanford: 3 of 8, 23 yards, two interceptions. Yikes.
11. COLORADO (4-3, 1-3; PREVIOUS RANK: 10)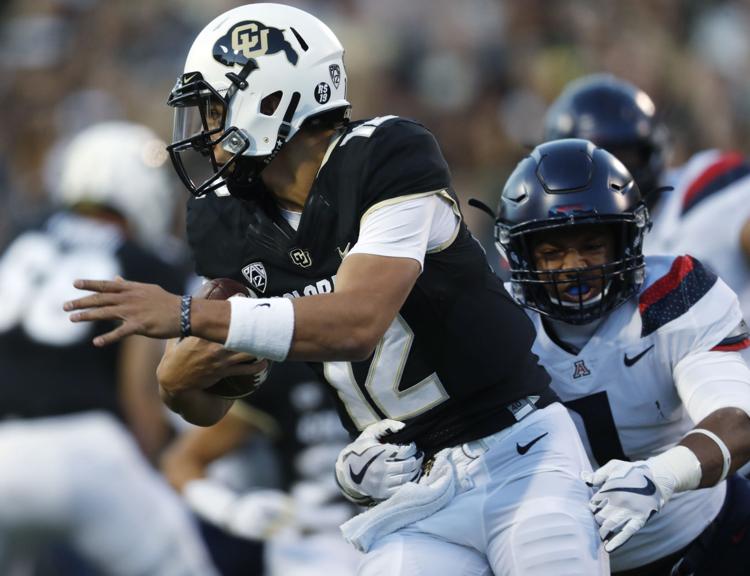 Last week: Won 36-33 at Oregon State
This week: at Washington State (Saturday, 7:45 p.m., ESPN)
Comment: The Buffaloes barely won at Corvallis. But they pulled it out, and that's something. If they get to six wins – still a challenge with three road games among the final five, plus USC at home – no one will check the receipts. How 'bout that Phillip Lindsay, by the way? He followed up his 281-yard performance vs. Arizona with 185 against OSU. He carried the ball 69 times in a two-week span. Dude's a warrior.
12. OREGON STATE (1-6, 0-4; PREVIOUS RANK: 12)
Last week: Lost 36-33 vs. Colorado
This week: Bye
Comment: The Oregonian put together an interesting list of coaching candidates in the wake of Gary Andersen's sudden and bizarre resignation. Two stood out: Washington offensive coordinator Jonathan Smith and WSU defensive coordinator Alex Grinch. Putting last weekend's results aside, they're two of the rising-star assistants in the conference. Smith played quarterback at OSU from 1998-2001. Grinch has achieved the near-impossible: making the Cougars' defense respectable.