Pac-12 Power Rankings, Week 13: Washington State could clinch Pac-12 North in Apple Cup
National perception of the Pac-12 is down, and perhaps rightfully so since the conference hasn't had a true College Football Playoff contender in weeks.
Still, after this weekend, the conference will be sending nine teams to bowl games, assuming all schools accept their bowl invitations.
So while there might not be quite as much at stake here as elsewhere around the country, there's still a lot to play for.
Washington State can win its first-ever Pac-12 North title with a win in the Apple Cup.
A win or loss in the Territorial Cup might determine whether Todd Graham keeps his job at Arizona State.
In two matchups — UCLA-California, Colorado-Utah — the winner earns bowl eligibility, the loser's season is over.
USC is on bye (finally), but that also means Washington and Arizona can play spoiler, and Stanford can put a dent in Notre Dame's playoff hopes.
Hope is lost for some, but not all, and it should still be a fun weekend of college football.
Without further adieu, here's our final regular season edition of the Pac-12 Power Rankings. As always, voted on by Star reporters Michael Lev, Zack Rosenblatt and Justin Spears. 
1. USC (10-2, 8-1 PAC-12; PREVIOUS RANK: 1)
Last week: Won 28-23 vs. UCLA
This week: Bye
Comment: The UCLA game was a little too close for comfort, and QB Sam Darnold struggled (264 passing yards, zero touchdowns, one interception) but that's almost to be expected for a few reasons. One, of course, it that it was a rivalry game and all bets are off. More importantly — this was USC's last regular season game of its non-bye schedule. The Trojans survived it with a Pac-12 South title in hand and, finally, a week off to prepare for the Pac-12 title game, which could be any of two schools: Washington State or Stanford. The Trojans beat Stanford and lost to the Cougars this season. 
2. Washington State (9-2, 6-2; PREVIOUS RANK: 2)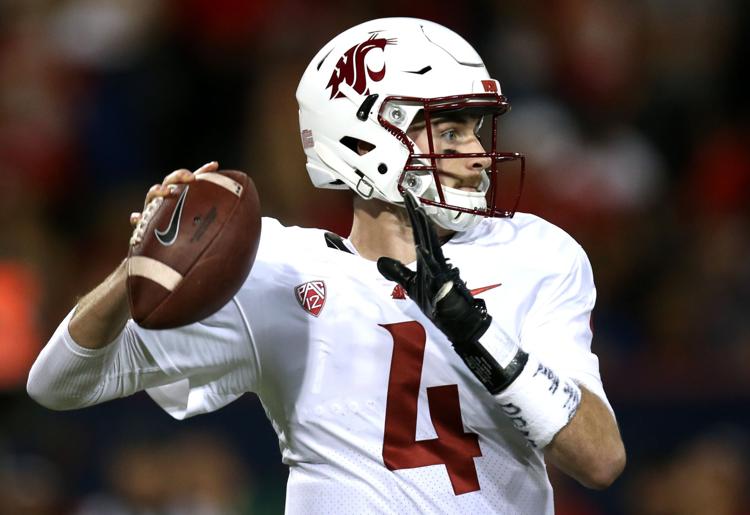 Last week: Bye
This week: at Washington (Saturday, 6 p.m., Fox)
Comment: The Cougars bye week came at a great time, and now this might be the most important Apple Cup, at least from Wazzu's perspective, in a very long time. It's simple — win, and, like Jon Snow, the Cougars are the King in the North. Lose, and Stanford — which has already completed its Pac-12 slate — wins the division. Should Wazzu win, it would be hard to argue for anyone other than Mike Leach for Pac-12 Coach of the Year, though Arizona's Rich Rodriguez might have a case with a Territorial Cup victory. 
3. Stanford (8-3, 7-2; PREVIOUS RANK: 2)
Last week: Won 17-14 vs. California
This week: vs. Notre Dame (Saturday, 6 p.m., ABC)
Comment: Another rivalary game that was too close for comfort, but The Big Game always gets wacky. Really, the matchup with Notre Dame doesn't mean all that much for the Cardinal necessarily — with three losses, Stanford won't make the playoffs and the Cardinal have already completed their Pac-12 schedule. However, Stanford can play spoiler for the Irish, who are still fighting for a playoff spot, plus a win and big performance from Bryce Love would go a long way toward helping the running back's Heisman candidacy. 
4. Washington (9-2, 6-2; PREVIOUS RANK: 2)
Last week: Won 33-30 vs. Utah
This week: vs. Washington State (Saturday, 6 p.m., Fox)
Comment: It's strange to say for a team with a 9-2 record, but the Huskies have been something of a disappointment this year. UW was a pre-season Pac-12 favorite and likely playoff contender that is already eliminated from Pac-12 North contention, lost its only truly challenging game against Stanford and somehow only scored seven points on ASU's previously troubled defense. A win in the Apple Cup would help, but the Huskies won't be in the Pac-12 title game or the playoff. 
5 ASU (6-5, 5-3; PREVIOUS RANK: 6)
Last week: Won 40-24 at Oregon State
This week: vs. Arizona (Saturday, 2:30 p.m., Pac-12 Networks)
Comment: Wednesday, USA Today reported that former Oregon coach Chip Kelly might be interested in the ASU job. One thing about that — the ASU job isn't actually open. This news fueled previous speculation that Todd Graham might have to win the Territorial Cup to keep his job. If Kelly wants to coach in Tempe, though, will even that be enough? 
6 Arizona (7-4, 5-3; PREVIOUS RANK: 5)
Last week: Lost 48-28 at Oregon
This week: at Arizona State (Saturday, 2:30 p.m., Pac-12 Networks)
Comment: No matter what happens this week — and yes, we understand that this is the 'most important game of the year,' but think in terms of the overall outlook — Arizona has to be happy with the way its season has went. The Wildcats were picked to finish last, then Khalil Tate happened and for a brief moment there was Heisman and Pac-12 South title talk. Arizona is in great shape for 2018. 
7 Oregon (6-5, 3-5; PREVIOUS RANK: 10)
Last week: Won 48-28 vs. Arizona
This week: vs. Oregon State (Saturday, 5 p.m., ESPN2)
Comment: Oregon were the biggest risers in this week's rankings, and it makes sense. Looking back on this season will prove the ultimate what-if in Eugene. The Ducks have shown just how good they can be when quarterback Justin Herbert is healthy and playing…and how bad they can be when he's not. Oregon is 5-1 when he plays, 1-4 when he doesn't. Arizona, unforuntately, was the team that had to suffer as a result of his return. Just a sophomore, he'll be back next year, too. 
8 Cal (5-6, 2-6; PREVIOUS RANK: 7)
Last week: Lost 17-14 at Stanford
This week: at UCLA (Friday, 8:30 p.m., FS1)
Comment: The Golden Bears have been the victim of a very difficult schedule, but it'd be hard to be upset with the job Justin Wilcox has done in his first year. This was a team many thought could be the worst in Power Five conferences, not just the Pac-12 instead, they started 3-0, destroyed possible Pac-12 North champ Washington State, nearly beat Arizona and Stanford and only lost to USC by 10 points. Friday is a very winnable game. Win, and the Bears earned a bowl bid. 
9 Utah (5-6, 2-6; PREVIOUS RANK: 9)
Last week: Lost 33-30 at Washington
This week: vs. Colorado (Saturday, 8 p.m., FS1)
Comment: It's been a trying season in Salt Lake City, but the Utes pushed Washington to the brink last week and can still earn a bowl bid with a win over Colorado on Saturday. Utah is 5-6, but it could very easily have more wins than that. The Utes lost to Stanford by three, USC by one, Washington State by eight and Washington by three. The Huskies scored 10 points in the last minute. Kyle Whittingham's name has been bandied about as a candidate for other coaching jobs. Would he leave Utah?  
10 UCLA (5-6, 3-5; PREVIOUS RANK: 8)
Last week: Lost 28-23 at USC
This week: vs. California (Friday, 8:30 p.m., FS1)
Comment: The fact that Jim Mora was fired wasn't necessarily surprising on the surface. The Bruins have underachieved practically the entire time he's been on campus, hired the same year as Rich Rodriguez and Todd Graham in 2012. The surprising part is that UCLA was willing to bite a $12 million bullet to do it. The going theory, of course, is that the Bruins wanted a shot at Chip Kelly, and he seems to be legitimately considering the position. Chip back in the Pac-12? Let's make it happen. 
11 Colorado (5-6, 2-6; PREVIOUS RANK: 11)
Last week: Bye
This week: at Utah (Saturday, 8 p.m., FS1)
Comment: The come-down after a Pac-12 South-winning season last year has been rather stunning, but the Buffs can salvage a disappointing season with a bowl-eligiblity earning victory over the Utes on Saturday. Mike Macintyre is another Pac-12 coach who could be on the move, too — numerous national football writers have pegged him for the Mississippi job. It makes sense — Macintyre was an assistant at Ole Miss from 1999-2002. 
12 Oregon State (1-10, 0-8; PREVIOUS RANK: 12)
Last week: Lost 40-24 vs. ASU
This week: at Oregon (Saturday, 5 p.m., ESPN 2)
Comment: This is the ultimate "even if you lose every game, beat your rival and it's OK" game because, well, the Beavers have practically lost every game. Do they have a real shot in this game? Not really. It's at Eugene, and Justin Herbert is playing. The next step for this program is finding a coach who can bring this team out of the gutter. How about Cal offensive coordinator Beau Baldwin?