Editor's note: This story runs in the Arizona Daily Star's 2018 college football preview, which is available Sunday.
Take flight with the Pac-12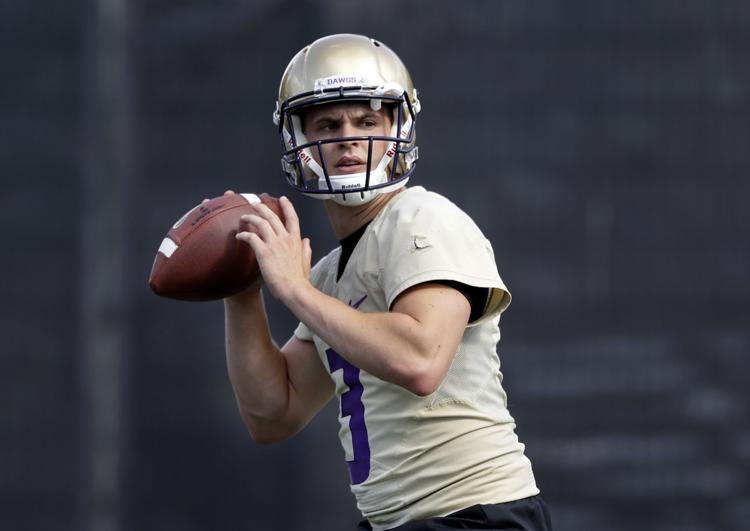 'Tis the season and while the Arizona Wildcats look to win their first Pac-12 South title since 2014, UA will have to go against another loaded conference schedule. 
While Arizona doesn't play every team in the Pac-12, the conference of champions returns a load of talent and brings in big-name head coaches, including Kevin Sumlin. 
Here's a look at how the Pac-12 will shape up heading into the college football season. Buckle up and enjoy the flight. 
Arizona Wildcats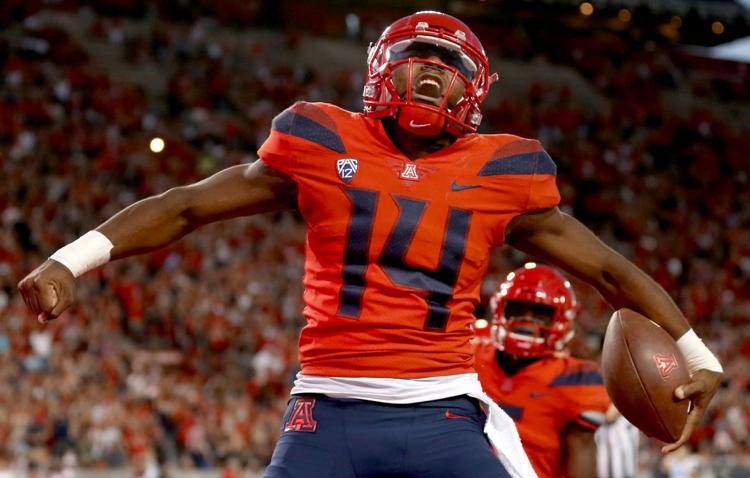 Flight record: 7-6, 5-4 in Pac-12 play
Pilot: Kevin Sumlin (First season at Arizona, 86-43 in 10 seasons overall)
Co-pilots: OC Noel Mazzone, DC Marcel Yates
Hub: Arizona Stadium (55,675 capacity)
Itinerary: vs. USC, Sept. 29; vs. Oregon, Oct. 27; vs. Arizona State, Nov. 24
Return visits: QB Khalil Tate, RB J.J. Taylor, LB Tony Fields II, LB Colin Schooler, DB Lorenzo Burns, OL Nathan Eldridge
Lost baggage: QB Brandon Dawkins, RB Nick Wilson, WR Tyrell Johnson, OL Gerhard de Beer, OL Jacob Alsadek, OL Parker Zellers, CB Dane Cruikshank, DB Larry Tharpe Jr.
Flight plan: Tate's ground game was so effective last year that the tremendous strides he made in the passing game were almost overlooked. But a 302-yard, five-touchdown bowl-game performance is impossible to ignore. The Wildcats have a veteran receiving corps, led by Brown and Ellison, who each had more than 500 receiving yards.
Ground crew: Between Tate and Taylor, Arizona has the most explosive TNT since Wile E. Coyote. Only nothing backfires on these Roadrunners. Tate might be heading to Madison Avenue after the season, and Taylor is a reliable veteran who should help the team with his experience and presence.
Cloud 9: Best case scenario? Easy: Tate wins the Heisman and Arizona wins the Pac-12 South in what could be a down year for the division. Kevin Sumlin has been a magician with dual-threat quarterbacks (SEE: Football, J. Manziel). Could he take Tate to the next level? IS THERE A NEXT LEVEL?
Arizona State Sun Devils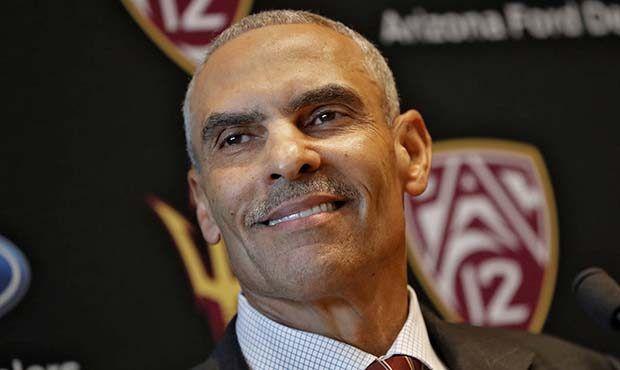 Flight record: 7-6, 6-3 in Pac-12 play
Pilot: Herm Edwards (First season at Arizona State, first season overall)
Co-pilots: OC Rob Likens, DC Danny Gonzalez
Hub: Tempe Stadium (56,232 capacity)
Itinerary: at SDSU, Sept. 15; vs. Stanford, Oct. 18, vs. UCLA 11/10
Return visits: QB Manny Wilkins, WR N'Keal Harry, WR Kyle Williams, OL Casey Tucker, OL Alex Losoya, RT Quin Bailey, LB, Koron Crump, LB Jay Jay Wilson, DL Renell Wren, DB Chase Lucas, DB Kobe Williams
Lost baggage: RB Kalen Ballage, RB Demario Richard, OL Sam Jones, DL Tashon Smallwood, DL JoJoe Wicker, DL Christian Sam
Flight plan: Wilkins took strides last year as a first-time, full-time starter, improving from 2,329 to 3,270 yards and from 12 touchdowns to 20. His interceptions didn't take the necessary dip last year, as he still threw eight, but with Harry (who caught 82 balls for 1,142 yards and eight scores) and Williams back in the fold (66 catches, 763 yards), Wilkins shouldn't be forced into many bad situations.
Ground crew: The Sun Devils will sorely miss Kalen Ballage and Demario Richard, and the ball now falls into the hand of Eno Benjamin, who had all of 142 yards and one touchdown last year. It will be curious to see how much Edwards relies on the ground game after taking a decade off of coaching football. The game has changed since he last coached — in the NFL.
Cloud 9: Edwards does more than wins the press conferences, and the Sun Devils reel off eight wins, including a victory over Arizona in the Territorial Cup.
Cal Golden Bears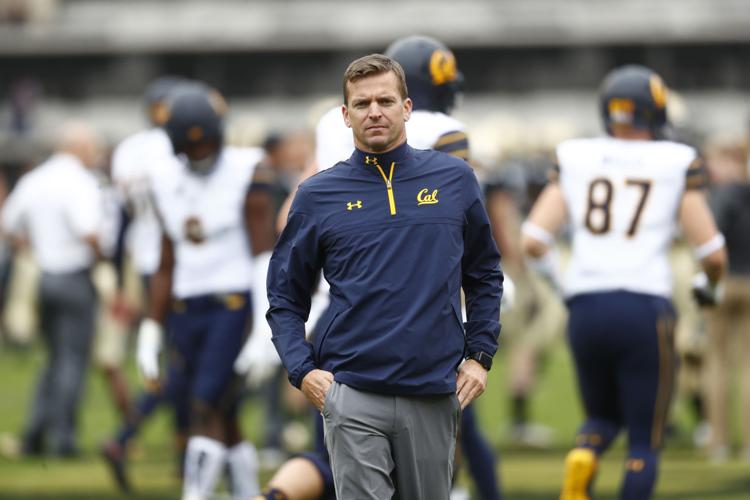 Flight record: 5-7, 2-7 in Pac-12 play
Pilot: Justin Wilcox (5-7 in one season at Cal, 5-7 in one season overall)
Co-pilots: OC Beau Baldwin, DC Tim DeRuyter
Hub: Memorial Coliseum (62,467 capacity)
Itinerary: vs. Oregon, Sept. 29; vs. Stanford, Nov. 17; vs. Colorado, Nov. 24
Return visits: RB Patrick Laird, WR Kanawai Noa, WR Vic Wharton III, TE Ray Hudson, OL Patrick Mekari, OL Addison Ooms, LB Jordan Kunaszyk, S Ashlyn Davis
Lost baggage: DL James Looney, LB Devante Downs, K Matt Anderson
Flight plan: Gone are the days of Aaron Rodgers and Jared Goff, and the Bears now have something called a Ross Bowers behind center. Bowers beat out Chase Forrest last year and threw for more than 3,000 yards with 18 touchdowns and 12 picks, but he didn't set the world on fire like some Cal fans are used to. But with eight top targets returning, including Wharton and Noa, Bowers is in line for a leap.
Ground crew: After totaling just over 1,500 yards as a team last year - or a few good games for Khalil Tate and Co. - the Bears need to reinvigorate their ground game. Returning their best offensive player helps, as Laird had 1,127 yards and eight touchdowns. Feed him the rock enough, and those numbers double.
Cloud 9: The Bears make up for narrow losses that plagued them in 2017 (a 1-point loss to Arizona and two 3-point losses to UCLA and Stanford) and those prove the difference in improving from five to eight wins. Wilcox starts to build some major buzz heading into 2019 and sets up a major showdown with mentor Chris Wilcox.
Colorado Buffaloes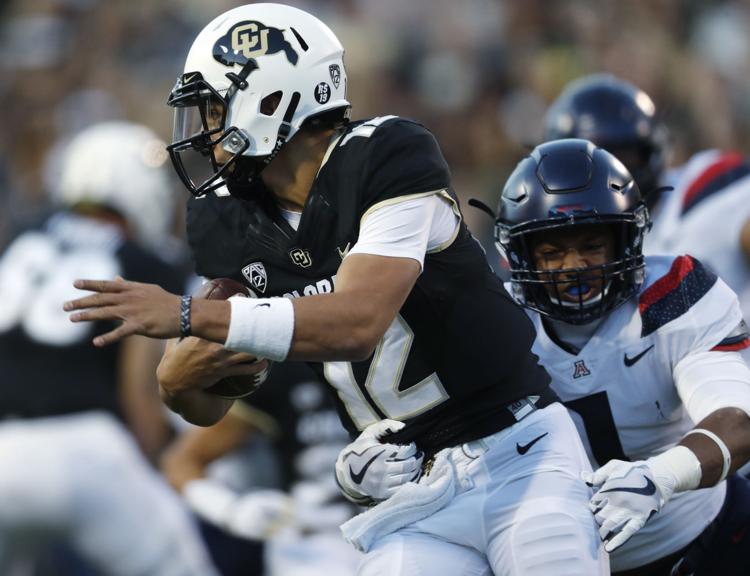 Flight record: 5-7, 2-7 in Pac-12 play
Pilot: Mike MacIntyre (25-38 in five seasons at Cal, 40-59 in eight seasons overall)
Co-pilots: OC Klayton Adams, OC Darrin Chiaverini, DC D.J. Eliot
Hub: Folsom Field (50,183 capacity)
Itinerary: at Nebraska, Sept. 8; vs. UCLA, Sept. 28; vs. Utah, Nov. 17
Return visits: QB Steven Montez, WR Juwann Winfree, WR Laviska Shenault, WR Jay MacIntyre, OL Tim Lynott, LB Rick Gamboa, LB Drew Lewis, DB Evan Worthington, DB Nick Fisher, K James Stefanou, P Alex Kinney
Lost baggage: RB Phillip Lindsay, WR Devin Ross, WR Shay Fields, WR Bryce Bobo, TE Geroge Frazier, OL Jeromy Irwin, LB Derek McCartney, DB Isaiah Oliver, DB Afolabi Laguda, DB Ryan Moeller
Flight plan: Colorado regressed last season after winning the Pac-12 South in 2016, in large part because of Montez's inconsistency. In wins over Oregon State and Cal, he threw for five touchdowns and more than 500 combined yards. Against Washington, he was picked off three times and threw zero TDs, and against Washington State, he went 4 for 13 for 21 yards and the Buffaloes were shut out. MacIntyre has worked wonders before, turning Sefo Liufau into the best passer in school history. With Montez returning targets Juwann Winfree and Laviska Shenault, brighter days are ahead.
Ground crew: The Buffaloes bid goodbye to Phillip Lindsay, who broke all sorts of records in Boulder, but grad transfer Travon McMillian should ease the pain a bit. McMillian comes to Colorado with more than 2,000 yards under his belt at Virginia Tech, and in tandem with freshman Alex Fontenot, Lindsay's absence could be a blip.
Cloud 9: Since everything went right for the Buffs in 2016, when everything coalesced – talent, experience, competition, and other teams being depleted in all three – Colorado has taken a tumble. MacIntyre is a good coach, though, and this team has enough talent for six or seven wins. Another big bowl game would be a surprise, though.
Oregon Ducks
Flight record: 7-6, 4-5 in Pac-12 play
Pilot: Mario Cristobal (0-1 in first season at Oregon, 27-48 in six seasons overall)
Co-pilots: OC Marcus Arroyo, DC Jim Leavitt
Hub: Autzen Stadium (54,000 capacity)
Itinerary: vs. Stanford, Sept. 22; vs. UCLA, Nov. 3; vs. Arizona State, Nov 17
Return visits: QB Justin Herbert, RB Tony Brooks-James, OL Calvin Throckmorton, OL Jake Hanson, TE Jacob Breeland, DL Jordon Scott, DL Jalen Janks, LB Troy Dye
Lost baggage: RB Royce Freeman, OL Tyrell Crosby, LS Tanner Carew, DL Scott Pagano, DL Henry Mondeaux, DB Arrion Springs, DB Tyree Robinson
Flight plan: If Herbert learns to put some momentum together, the Ducks can fly. Herbert missed five games last year and had four starts with one touchdown pass. He also had three games with three touchdown throws, and he helped Oregon to a 3-0 start while outscoring Southern Utah, Nebraska and Wyoming by a combined 168-69. In six starts, the Ducks were 5-1 and averaged 52 points a game. He doesn't exactly have a star-studded receiving corps – Breeland is his favorite target, but Dillon Mitchell will be key, as well – but Herbert is in the Heisman conversation for a reason.
Ground crew: Brooks-James is a sprinting champion and the Ducks added some beef up front with four hulking offensive linemen. With three starters returning up front, including Remington Award candidate Jake Hanson, the Ducks should take strides in the running game. But they are a far cry from the lightning-in-a-bottle Chip Kelly employed.
Cloud 9: There was a time, you may remember, when the Oregon Ducks were the flashiest, funkiest, brightest, wildest most exciting team west of Alabama. But they feel like decades away from going 13-2 in 2014, the last year this team was great. After going 9-4, 4-8 (leading to Mark Helfrich's firing) and 7-6 under Willie Taggart last year, they'll need to find their mojo, and fast. New head coach Mario Cristobal will need to deal with a team rediscovering its identity, but with an experienced quarterback and some nice talent, eight or nine wins is about right.
Oregon State Beavers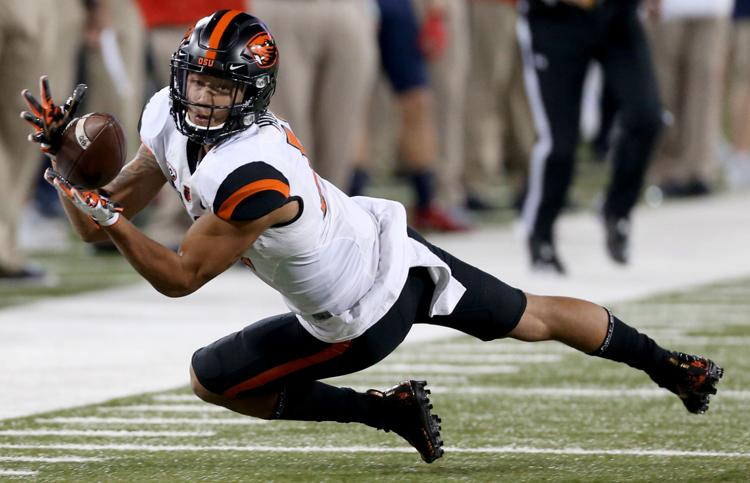 Flight record: 1-11, 0-9 in Pac-12 play
Pilot: Jonathan Smith (First season at Oregon State, 0-0 in first season overall)
Co-pilots: OC Brian Lindgren, DC Tim Tibesar
Hub: Reser Stadium (43,363 capacity)
Itinerary: vs. Nevada, Sept. 15; vs. Arizona, Sept. 22; vs. Oregon, Nov. 23
Return visits: QB Jake Luton, RB Art Pierce, TE Noah Toglai, WR Isaiah Hodgins, WR Timmy Hernandez, OL Gus Lavaka, DL Elu Aydon, DL Kalani VakameilalLB Jonathan Willis, LB Bright Ugwoegbu
Lost baggage: RB Ryan Nall, B Thomas Tyner, WR Jordan Villamin, LB Manase Hungalu
Flight plan: Luton is one tall drink of water (6-foot-7) but he's also coming off a back injury and might not be able to stay on the field. Luckily, he has a good offensive line to make up for that, but he'll need to be even more efficient this season. Last year, he managed four touchdowns and four picks with 853 yards in limited action.
Ground crew: If there was one bright spot for the Beavers last year it was Nall, who left after his junior season after more than 1,000 yards and 10 touchdowns from scrimmage. Pierce should be the primary ball-carrier after gaining 323 yards in a backup role, and he could thrive in the passing game this year. An experienced offensive line should help.
Cloud 9: The cupboard is just about barren in Corvallis, but Smith is an offensive innovator who could help the Beavers make up for some talent deficiencies. After everybody's favorite uncle Mike Riley went off to Nebraska — that didn't go so well — Gary Andersen and his replacement Cory Hall won just seven games the last three years, including only one last year. If OSU wins even four games this year, it's an accomplishment.
Stanford Cardinal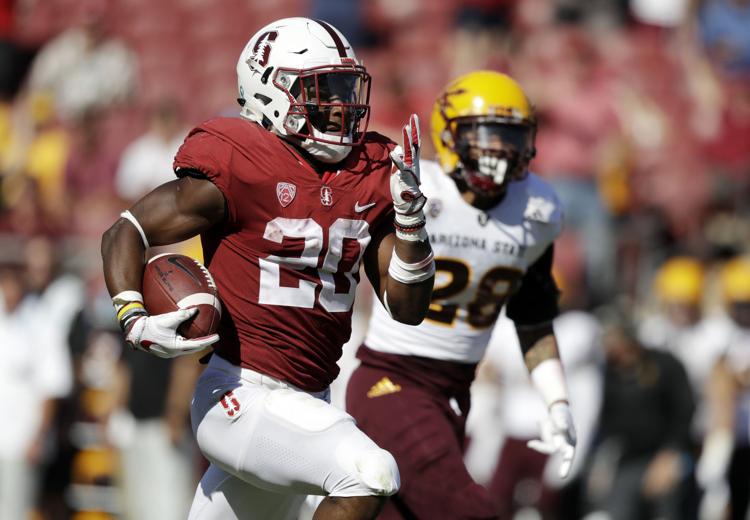 Flight record: 9-5, 7-2 in Pac-12 play
Pilot: David Shaw (73-22 in seven season at Stanford, 73-22 in seven seasons overall)
Co-pilots: OC Tavita Pritchard, DC Lance Anderson
Hub: Stanford Stadium (50,424 capacity)
Itinerary: vs. USC, Sept. 8; vs. Utah, Oct. 6; at Washington, Nov. 3
Return visits: K. J. Costello, RB Bryce Love, WR J.J. Arcega-Whiteside, OL Jesse Burkett, OL Nate Herbig, LB Bobby Okereke, , DB Alijah Holder, K Jet Toner, P Jake Bailey
Lost baggage: QB Keller Chryst, OL David Bright, TE Dalton Schultz, DL Harrison Phillips, DL Eric Cotton, DB Quenton Meeks, DB Justin Reid
Flight plan: Costello looked reasonably competent when he took over for Keller Chryst full-time in Week 8 last year, throwing for 1,573 passing yards, 14 touchdowns and four interceptions. That sparkling success-to-mistake ratio as a freshman bodes well for the future. And we know Shaw is the kind of coach who stresses ball-control, so Costello should keep up his sure-handed ways.
Ground crew: Love. Simple. Hand the ball to Love. Don't do anything else. Turn around, hand the ball to Love, and watch. By Week 5 of last year, Love had already topped 1,000 yards. He'd finish with more than 2,000 yards in his first year as the primary ball carrier. So much for Christian McCaffrey. So much for Toby Gerhart. So much fun.
Cloud 9: Simple: Love, Heisman. The Pac-12 can legit claim three Heisman contenders, but Love may be in the best position to lock down the hardware, and if he does, it's because the Cardinal had a great season, and great under David Shaw means 11 wins.
UCLA Bruins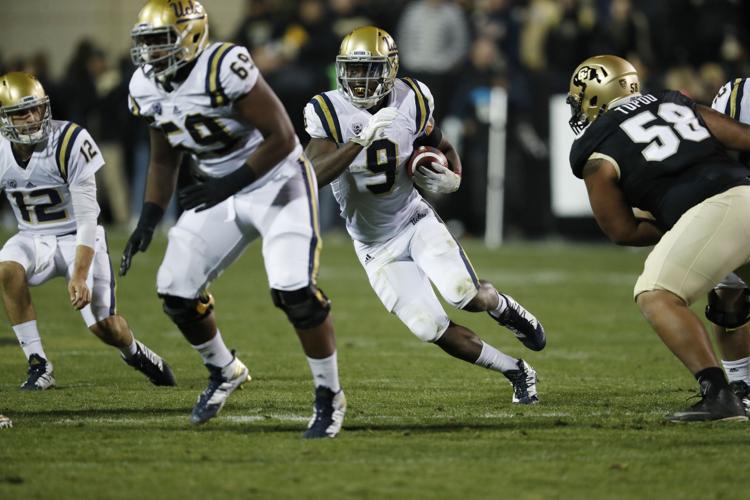 Flight record: 6-7, 4-5 in Pac-12 play
Pilot: Chip Kelly (First season at Oregon State, 46-7 in four seasons overall)
Co-pilots: OC Kelly, DC Jerry Azzinaro
Hub: Rose Bowl (91,136 capacity)
Itinerary: at Oklahoma, Sept. 8; vs. Washington, Oct. 6; vs. USC, Nov. 17
Return visits: QB Devon Modster, RB Soso Jamabo, WR Theo Howard, TE Caleb Wilson, DL Keisean Lucier-South, LB Jaelan Phillips, LB Josh Woods, LB Khys Barnes, DB Adarius Pickett, DB Darnay Holmes
Lost baggage: QB Josh Rosen, WR Jordan Lasley, WR Darren Andrews, OL Kolton Miller, OL Scott Quessenberry, LB Kenny Young
Flight plan: Chip Kelly is going to work wonders with (insert UCLA starting quarterback here). Devon Modster has been there the longest. Wilton Speight has the experience. Dorian Thomas-Robinson has the talent. By mid-August, no quarterback had distanced himself, and who knows? It might take until November. One thing we do know: wideouts Jordan Lasley and Darren Andrews are gone, and UCLA needs Theo Howard to blossom into the No. 1 he was destined to become.
Ground crew: UCLA has two of the most experienced backs in the Pac-12. Is that a good thing? The way the Bruins ran last year with Bolu Olorunfunmi and Soso Jamobo seems to indicate no, as UCLA managed just 1,474 rushing yards. That wasn't Bo-So's fault — they both averaged 4.8 yards per carry or better. But UCLA better be better, or Chip Kelly might just go apoplectic on the sideline, though we wouldn't know by looking at him.
Cloud 9: This team is harder to pin down than a squirrel after an espresso. What would be good for this team? Six wins? Seven? Nine? The Chip Effect may be one of the most interesting things to look out for in all of college football this year.
USC Trojans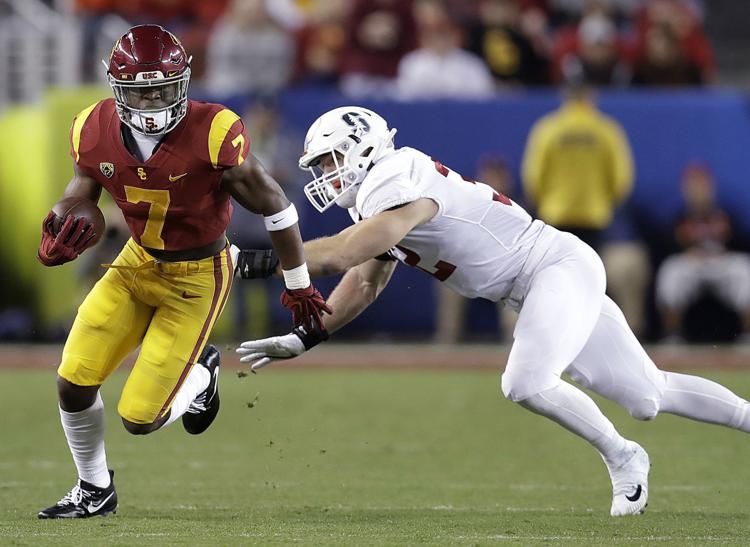 Flight record: 11-3, 8-1 in Pac-12 play
Pilot: Clay Helton (27-10 in three seasons at USC, 27-10 in three seasons overall)
Co-pilots: OC Tee Martin, DC Clancy Pendergast
Hub: Los Angeles Colisseum (93,607 capacity)
Itinerary: at Stanford, Sept. 8; at Arizona, Sept. 29; at UCLA, Nov. 17
Return visits: WR Tyler Vaughns, TE Tyler Petite, OL Toa Lobendahn, OL Chuma Edoga, O Austin Jackson, LB Porter Gustin, DL Christian Rector, LB Cameron Smith, LB John Houston, DB Marvel Tell, DB Iman Marshall
Lost baggage: QB Sam Darnold, RB Ronald Jones, WR Deontay Burnett, WR Steven Mitchell, DL Rasheem Green, DL Uchenna Nwosu
Flight plan: Darnold may be one of the best and most exciting gamers the Trojans have ever had, but he didn't quite reach the pinnacle like some of his USC brethren. Still replacing him will be a core, though J.T. Daniels appears up to the task. True freshmen hitting the ground running have become en vogue, and USC has the help surrounding Daniels to make him an instant sensation.
Ground crew: The loss of Darnold is damaging. The loss of Jones is devestating. He was, pure and simple, a stud, and while the Trojans always have the horses to get there, Jones was a one-man wrecking crew. Count on Stephen Carr to take the mantle.
Cloud 9: This is a bit of a down year for USC, so what does that mean, nine wins? Ten? The Trojans are so loaded with talent on an annual basis that it never feels right to write them off. We're not going to start now. An 11- or 12- win season seems a bit much, but not out of the realm of possibility.
Utah Utes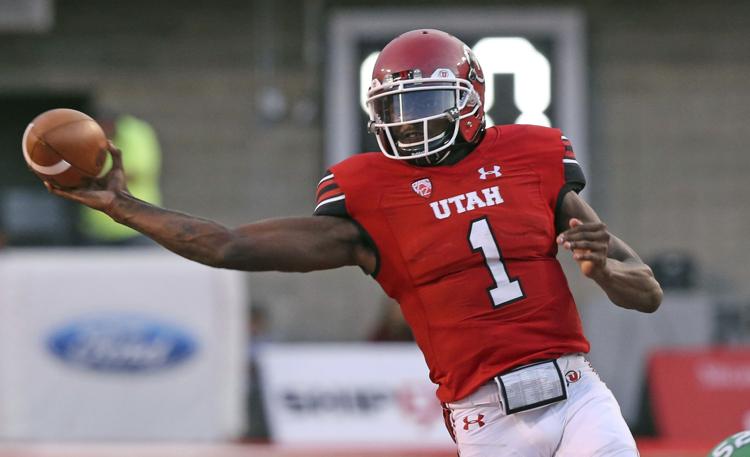 Flight record: 7-6, 3-6 in Pac-12 play
Pilot: Kyle Whittingham (111-56 in 14 seasons at Utah, 111-56 in 14 seasons overall)
Co-pilots: OC Troy Taylor, DC Morgan Scalley
Hub: Rice-Eccles Stadium (45,807 capacity)
Itinerary: vs. Washington, Sept. 15; at Stanford, Oct. 6; vs. Oregon, Nov. 10
Return visits: QB Tyler Huntley, RB Zack Moss, WR Britain Davis, WR Raelon Singleton, OL Lo Falemaka, OL Jackson Barton, OL Darrius Paulo, DL Bradlee Anae, DB Julian Blackmon, K Matt Gay, P Mitch Wishnowsky
Lost baggage: QB Troy Williams, WR Darren Carrington, DL Kylie Fitts, DL Lowell Lotulelei, LB Kavika Luafatasaga
Fight Plan: For the Utes, who have had uneven quarterback play in recent memory, this could be the year things stabilize a bit. Huntley returns after seizing the starting spot last year, and the Utes return four of their top receivers after Carrington's departure. Utah needs Huntley — or any quarterback — to enter the upper echelon.
Ground crew: If Moss finds a way to stack some games on top of one another, he'll be one of the best backs in the league. He had five 100-yard games last year, including a 196-yard performance in the regular-season finale win over Colorado. And once more, the perpetually stout Utes have a solid front five.
Cloud 9: This could be the year Utah emerges from a down Pac-12 South and advances to its first conference title game. A lot has to go right for Whittingham and Co., but nine or 10 wins is viable.
Washington Huskies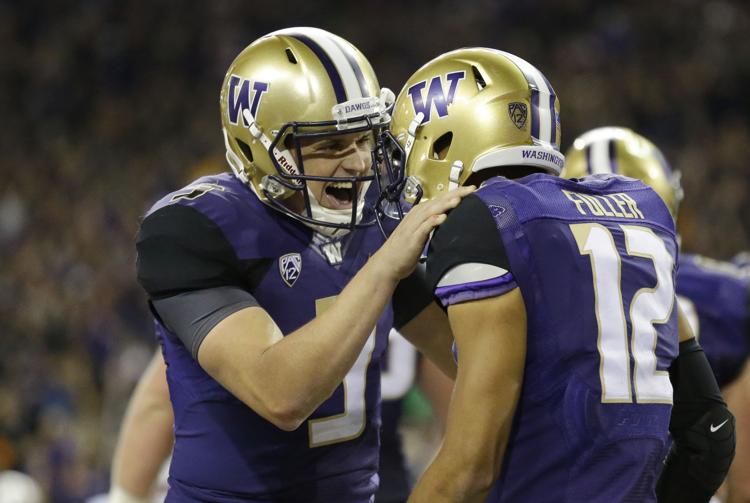 Flight record: 10-3, 7-2 in Pac-12 play
Pilot: Chris Petersen (37-17 in 5 seasons at Washington, 129-29 in 12 seasons overall)
Co-pilots: OC Bush Hamdan, OC Matt Lubick, DC Jimmy Lake, DC Pete Kwiatowski
Hub: Husky Stadium (70,083 capacity)
Itinerary: at UCLA, Oct. 6; at Oregon, Oct. 13; vs. Stanford, Nov. 3
Return visits: QB Jake Browning, RB Myles Gaskin, TE Drew Sample, OL Trey Adams, OL Kaleb McGary, OL Nick Harris, DL Greg Gaines, LB Ben Burr-Kirven, LB Tevis Barlett, DB Taylor Rapp, DB Byron Murphy, DB Myles Bryant, DB JoJo McIntosh
Lost baggage: RB Lavon Coleman, WR Dante Pettis, TE Will Dissly, OL Coleman Shelton, DL Vita Vea, LB Azeem Victor, LB Keishawn Bierria
Flight plan: If Browning rediscovers his Pac-12 POY-winning ways of 2016, the Huskies might not just be the team to beat in the Pac-12, but the whole country. The Huskies are loaded, but only if Browning is on. Browning was masterful in '16, passing for 3,430 yards and 43 touchdowns with nine interceptions. But his pedestrian 2017 — 2,451 yards, 18 touchdowns, five picks — has him trending downward. With Pettis gone, he'll need to find some new top targets.
Ground crew: It's a bit of a surprise that Gaskin chose to return to the Emerald City, after three consecutive 1,300-yard seasons. But Gaskin, a two-time all-conference selection, has some unfinished business, including smashing the team's rushing record held Napoleon Kaufman.
Cloud 9: Chris Petersen puts the CP in CFP, and so will the Huskies. Or, at least, those are the expectations. It's Pasadena-or-Bust for the Dawgs, who've won 22 games the last two seasons after 15 in Petersen's first two years.
Washington State Cougars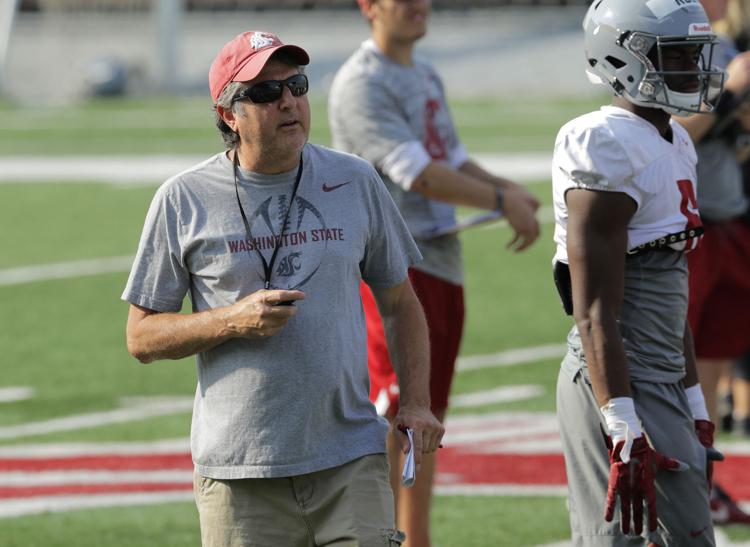 Flight record: 9-4, 6-3 in Pac-12 play
Pilot: Mike Leach (38-38 in 6 seasons at Washington State, 121-81 in 17 seasons overall)
Co-pilots: DC Tracy Claeys
Hub: Martin Stadium (35,117 capacity)
Itinerary: vs. Utah, Sept. 29; vs. Oregon, Oct. 20; vs. Washington, Nov. 23
Return visits: RB James Williams, WR Tay Martin, WR Renard Bell, OL Andre Dillard, OL Fred Mauigoa, DL Nnamdi Oguayo, LB Jahad Woods, LB Justus Rogers, DB Jalen Thompson
Lost baggage: QB Luke Falk, RB Jamal Morrow, OL Cody O'Connell, OL Cole Madison, DL Hercules Mata'afa, LB Daniel Ekuale
Flight plan: The Cougars have more question marks at quarterback than ever before during Leach's tenure, with both graduation and tragedy affecting the team. Luke Falk is gone to the NFL, taking along with him the career yardage record. Midway through fall camp, Leach still hadn't chosen between juniors Trey Tinsley and Anthony Gordon, freshman Cammon Cooper and East Carolina graduate transfer Gardner Minshew.
Ground crew: How can you predict a Mike Leach running game? The Cougars are throw-heavy like a blanket store is throw-heavy, and Williams comes back after less than 400 yards.
Cloud 9: Wazzu has grown leaps and bounds on the defensive side over the last few years, a big reason the improved to nine wins. But nine wins again would be a shock, and seven is about the reasonable cap for the Cougs.