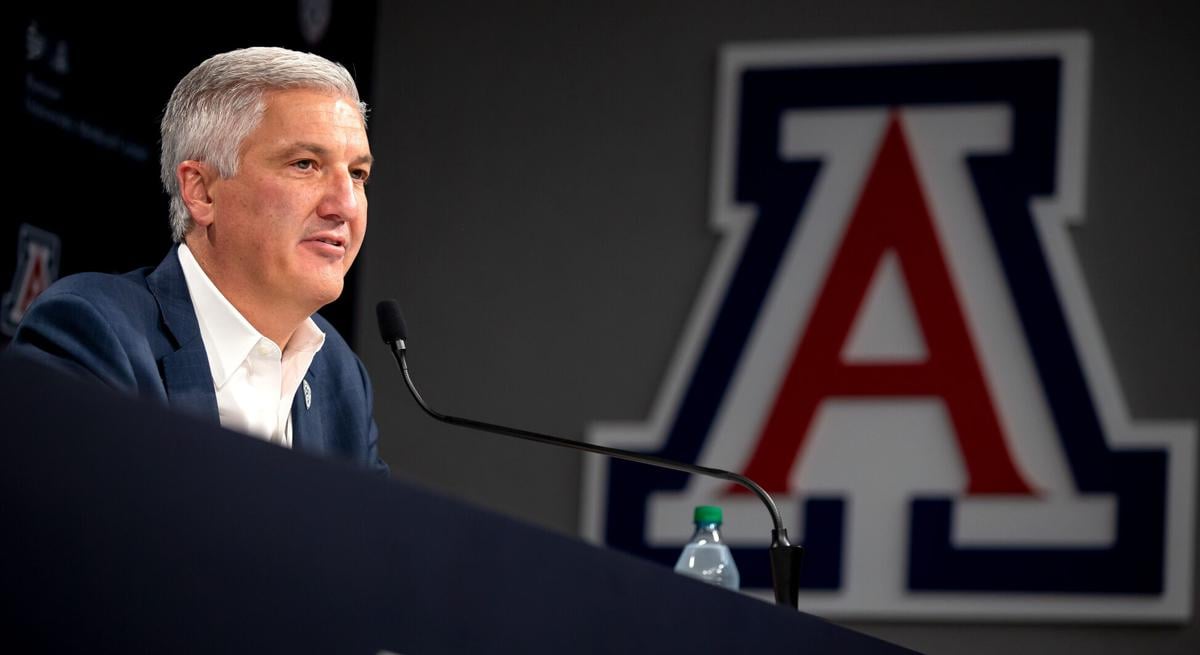 Pac-12 commissioner George Kliavkoff stepped foot on the University of Arizona's campus for the first time Thursday morning to meet with several Wildcats coaches, including Jedd Fisch, Tommy Lloyd and Adia Barnes.
Arizona marked the 10th stop on the commissioner's "listening tour" since taking over for Larry Scott on July 1.
He listened to concerns brought up by UA's head coaches in regards to the new Name, Image and Likeness rights to the Pac-12's role in the College Football Playoff, among other topics. Here are three main takeaways:
1. There's "no easy fix" to Pac-12 Networks problems.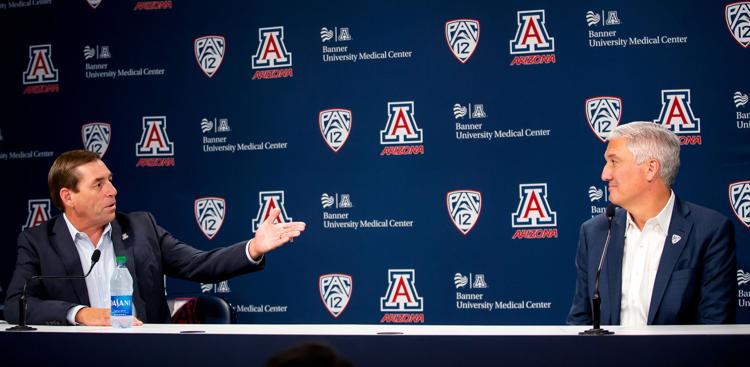 Since taking over as commissioner, there's one topic that Kliavkoff is asked about seemingly every day: the accessibility, or lack thereof, of the Pac-12 Networks.
"There's letters about it, emails about it and certainly my Twitter feed is full of it," he said.
Kliavkoff sees a stark contrast between the Pac-12's production value and the content distribution, saying he's "proud" of the network's commitment to broadcasting 850 live conference competitions per school year and the in-studio shows which feature highlights and analysis.
The larger and more important issue is the distribution of live content to homes and streaming services, something that's been a point of contention for several seasons now. The Pac-12 has its hands tied until 2024, when its current media right deal expires.
"We're stuck with some contracts that make it very difficult to do broader distribution on larger distribution networks," Kliavkoff said.
The commissioner does not expect things to change until 2024.
"I want to be transparent with our fans about that," he said. "That's a difficult thing to fix and there's no easy answer there."
The good news is that once those rights expire in three years, the Pac-12 will have total autonomy over all of its content, giving the conference much greater flexibility when negotiation time arrives.
"We'll be able to take all that content and significantly increase the distribution of all that content. And I'm focused on that," Kliavkoff said.
2. The Pac-12 favors CFP expansion.
On Sept. 28, executives involved in the College Football Playoff committee will meet to discuss a 12-team playoff format which could go into effect as early as the 2023 season.
The 11 university presidents who oversee the College Football Playoff talk with each conference commissioner about the proposal and the next steps. During Kliavkoff's visits to Pac-12 campuses, he's gathered intel from each university's football head coach and athletic director on their take about the potential expansion.
"The conference is very much in favor of expanding the college football playoffs," he said.
However, the Pac-12 isn't willing to dive head-first into expansion without fully vetting the proposal.
"We think it's important to (expand) in the proper structure. We're working through the 12-team proposal," Kliavkoff said. "A lot of good stuff in there, a couple concerns that we're working through."
The commissioner still must visit ASU and Washington. He'll finalizes the conference's stance after that.
"We'll have a position ready for the 28th," he said
3. The new alliance is about three things.
Soon after Big 12 powerhouses Texas and Oklahoma announced their move to the SEC starting in the 2025 season, an alliance was forced. The handshake agreement between the Pac-12, Big Ten and ACC commissioners — along with the 41 university presidents — shows the three leagues are aligned in their core values.
"I don't think this is a face-off against the SEC," Kliavkoff said.
Kliavkoff outlined the three main components of the alliance on Thursday.
The first is to accelerate how each university supports its student-athletes. This includes developmental resources in athletics, academics, leadership and career council, as well as mental health.
The second revolves around finding common ground in navigating the current governing issues in college sports such as Name, Image and Likeness and CFP expansion.
The alliance does not guarantee each conference will agree and vote the exact same way, Kliavkoff said. Rather, it's an agreement to involve the three conferences together when those discussions are held.
The last component, which has drawn the most attention thus far, is scheduling. Both Kliavkoff and Big Ten commissioner Kevin Warren were in attendance for last weekend's Oregon-Ohio State tilt.
Though the Oregon-Ohio State and Washington-Michigan matchups were set in stone years ago, Kliavkoff sees it as the beginning of what the future landscape will look like.
"It starts in football. It extends to women's and men's basketball," he said. "Eventually, it will extend to all of our sports."
Contact sports producer Alec White at 573-4161 or awhite1@tucson.com.
On Twitter: @alecwhite_UA