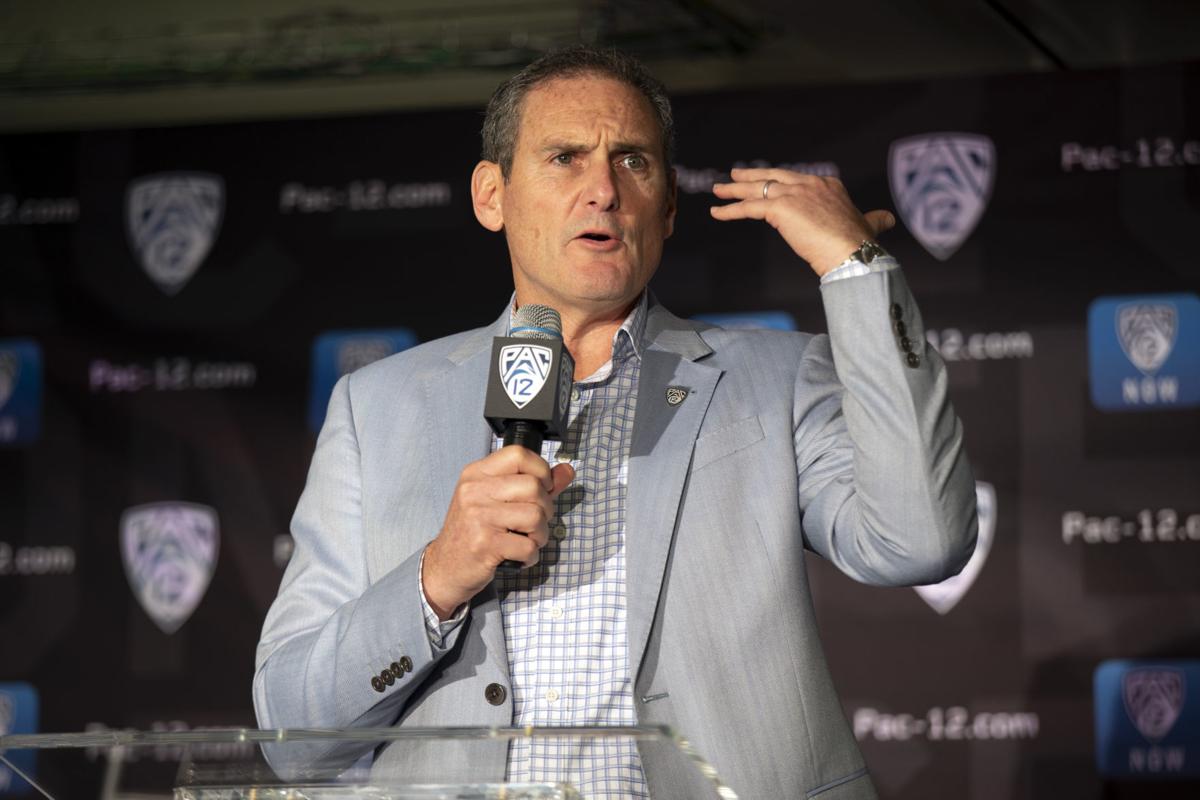 With less than three months before the traditional start of college football training camps, Pac-12 commissioner Larry Scott said Friday he's become more optimistic that a full season will be played this fall.
"It's obviously a dynamic situation and we're becoming more informed all the time," Scott told the Star after the conference wrapped up its weeklong spring meetings. "But sitting here today, I'm feeling optimistic, like we're gonna have a football season that will start on time. I'm more optimistic today than I was, say, a week ago."
Scott said his hopes are now higher for three reasons: That several Pac-12 schools (including Arizona) have announced plans to reopen campuses in the fall, that the NFL didn't receive any government pushback when announcing its 2020 schedule this week and that he's received positive feedback from medical experts around the conference's schools about protocols that could make it work.
They "are making progress on issues related to testing, sanitizing and disinfecting facilities, social distancing policies, risk mitigation policies," Scott said. "There are going to be protocols by July that we can be comfortable with.
"So I'm feeling optimistic, but I do want to underscore that this is a dynamic situation. No one's got a crystal ball in terms of what's gonna happen with the virus and what's going to happen in the communities in which we work. So we've got to stay flexible. The good news is we have time."
Scott said testing for both active coronavirus infections and antibodies are one of the biggest focuses for the conference's team of advisors.
For that reason, Scott said it was "really exciting" to speak in detail with Arizona President Dr. Robert Robbins last weekend about the UA's plans to offer antibody tests to all students and staff because it could provide critical information about how to handle sports.
"If you were to determine, say on a basketball team, that a significant number of the team has the antibody, that gives you a lot more flexibility in terms of your planning comfort," Scott said. "That's a great example of where the innovation and ingenuity of our universities will allow us to be cutting edge in many of our approaches.
"And also the population of student athletes, being as young as they are and as healthy as they are, generally will not be a high risk group. ... So there are some encouraging signs for sport, but I'll underscore we're learning a lot every day and this next 16 weeks are going to be very valuable for us."
In meetings this week with coaches of Pac-12 football and men's and women's basketball teams, plus athletic directors, senior women's athletic administrators, and faculty and student reps, Scott said the Pac-12 discussed a number of different possibilities ahead with football, which drives much of college athletics' revenue.
In 2018-19, for example, Arizona reported that $43.3 million of its $102 million in revenue came from football, against just $22.5 million in football expenses.
Under almost any projection, football revenues will be down in 2020, whether the season is played without fans, with only limited fans, is delayed or shortened. UA athletic director Dave Heeke said last month that even if football is played fully in the spring that media rights revenue could suffer, since partners may not want as much football content when other sports would also be playing then.
"It's really difficult for athletics departments right now to try to project different scenarios," Scott said. "I think everyone is anticipating a negative financial impact, as a result of the size of this. So with all of our athletic departments, we spent a lot of time on that this week."
Heeke said last month that UA was anticipating a $7.5 million revenue shortfall through the end of the fiscal year ending in June, not counting anything that might happen ahead with football this fall. As a result, contracted UA coaches and administrators agreed earlier this week to take pay cuts of up to 20%, though much more cost-cutting would be necessary if football were affected.
"Sitting here today, we're optimistic — it's our intention that the season is gonna start on time and we're going to be able to play a full season," Scott said. "But we are also doing work on scenario B, C, D and E, which run the gamut: Late start, compressed conference-only seasons, (playing in) the spring. But those are all really backup plans and contingency plans at the moment."
Basketball and other indoor sports are of a slightly different concern: Although they have smaller rosters that would be easier to separate for smaller workouts, Scott said, early indications are that outdoor sports are going to be "a little less conducive for the virus than indoor."
Jamie Zaninovich, who oversees men's basketball as the Pac-12's deputy commissioner, said the conference has also put together a basketball group to study potential COVID-19 scheduling impacts, although it is preliminary because the season isn't scheduled to open until November.
During meetings this week, the Pac-12 also discussed two other major college sports topics: A proposed rule allowing transfers a onetime exception for immediate eligibility elsewhere, a rule Scott said the conference supports, and the NCAA's push to get federal guidelines allowing it to iron out the ability for athletes to profit from their name, image and likenesses without having to deal with the various state laws and proposed bills that are now popping up.
The Pac-12 has firmly supported the push for federal help, and Scott said he's received some positive feedback, directly and indirectly, from some members of Congress.
"We're cautiously optimistic that members of Congress will value what's unique and special about college sports … and realize there are some risks with a state-by-state approach," Scott said. Some state "laws don't put appropriate guardrails around how these third-party payments work, and it could really hurt what's unique about college sports.
"They're students and not employees. We don't want these payments to be for recruiting or pay for play. If they're meant to compensate student athletes for their market value and celebrity, the laws need to be written a lot better and more specifically than we've seen in the state by state laws so far.
"One of the reasons Congress had to be involved was not only to avoid the state-by-state patchwork, but also to give the NCAA the ability to have rules and enforce them without getting sued for antitrust left, right and center."
Be the first to know
Get local news delivered to your inbox!