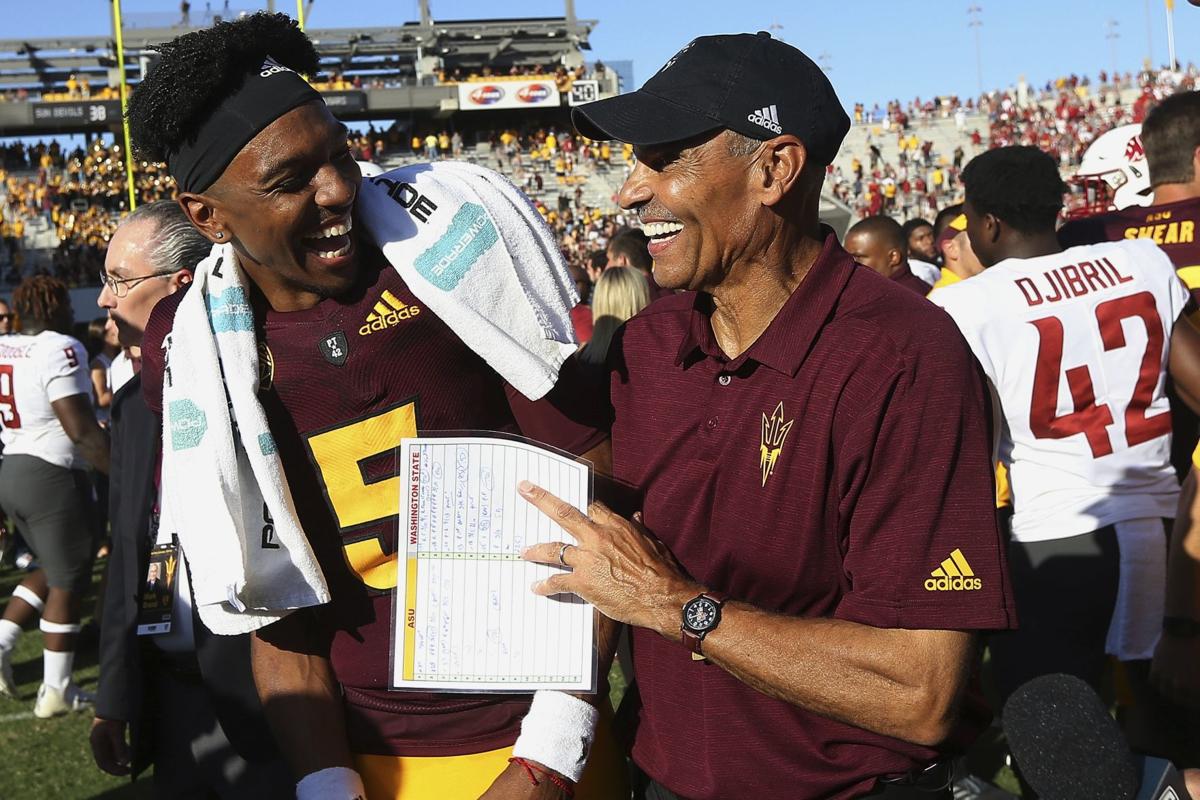 All coaches are control freaks to some degree.
So what happens when they lose a portion of that control?
It's an issue coaches across the country in multiple sports are grappling with during the coronavirus pandemic. Virtual coaching, via Zoom or other video-chat apps, has replaced in-person teaching and hands-on training.
In college football, the spring schedule has been thrown out of whack. Teams that began spring practice weren't able to finish it. Many never even got started.
Coaches as old as Arizona State's Herm Edwards (66) and as young as Oregon State's Jonathan Smith (41) have had to adjust to a new, unforeseen reality. Along with UCLA's Chip Kelly, they discussed some of those challenges Wednesday afternoon during the third of four Pac-12 webinars with league coaches.
It was jarring to hear the sage Edwards and the cocksure Kelly defer to higher authorities regarding college football's return and other pressing matters, but they have no choice. As Kelly regularly emphasizes to his staff and players, you "control the controllables." The coaches have no control over state-government stay-at-home orders or when training camp might start. They're just striving to be ready when the light turns green.
"We don't know what we don't know," Kelly said.
He then did his best impression of Dr. Anthony Fauci.
"The virus will tell us when we're going to be able to come back, when it's under control and when they have the proper testing and whatnot in place," Kelly said. "Until that time, we're just going to keep planning … like we have a season coming up. No one has told us that we're not playing. No one has told us that we are definitely playing. We don't want to be surprised."
Coaches don't like surprises. For example: Kelly this week had to deal with the news that the Cal State University system is moving to mostly online instruction for the fall semester. Kelly had to explain to members of his own staff that UCLA is actually part of the University of California system, which has yet to make such a declaration (although it's considered likely).
Kelly did note that UCLA is scheduled to face San Diego State, which is a Cal State school.
"Would that affect that? I really don't know," Kelly said. "But it goes back to what we said earlier: I don't think anybody knows.
"You just have to be very agile in terms of how you're handling this whole situation and adjust to whatever happens. On a daily basis, things change. Nothing that was said in the last 24-48 hours directly impacts us playing games in September.
"We'll just continue to monitor it and let the experts and the medical people determine whether it's safe for our players to come back and play."
As Kelly also noted, unless you happened to endure the flu pandemic of 1918, "you've never gone through this before. So there is no game plan."
Coaches don't like that either. But they at least have experience altering their plans, albeit under less serious circumstances.
"We live in a world as coaches that the unexpected is always about to happen," Edwards said. "It's how you deal with that, right?
"It's like being a football coach. You make all the decisions. But once they walk on the field, you have no control. You have no control (over) how the players are gonna play. You assume how they're gonna play.
"A plan that can't be changed is a bad plan."
Every state seems to have a different one as the country tries to figure out how and when to reopen. Gov. Doug Ducey announced Tuesday that pro sports could resume in Arizona, without fans, starting this weekend. Edwards, a former NFL player and coach, was quick to point out that pro sports are "a whole different animal."
"In our situation," Edwards said, "it's always about the safety of the players. These are student-athletes."
Given that, Edwards added, the decision whether to come back and play isn't wholly up to them. And it certainly isn't up to the coaches.
"Parents are involved in these decisions too," Edwards said. "We can't lose sight of that.
"They want to make sure their son is safe. We as coaches want to make sure their son's safe, the environment that we create is safe."
In Oregon, Gov. Kate Brown announced last week that large gatherings such as sporting events would need to be canceled or modified through September. Oregon State is scheduled to play three home games from Sept. 12-26.
"This game means a lot to me, to Oregonians, Oregon State fans," Smith said. "There's no question it'd be disappointing for this season to be affected. There's a chance it's gonna look different. We don't know."
Smith then followed the lead of his fellow coaches: He deferred.
"We've got some great people in this conference and leadership at Oregon State," Smith said. "They'll be the decision-makers as we continue to move forward, in unison with health officials and our government leaders. I'm just confident that we're going to do what is best."
Although he has no definitive answers to offer, Smith remains in regular contact with his players and their families. They're all learning as they go.
"There's gonna be a light at the end of the tunnel," Smith tells them. "We don't know exactly how long this tunnel is that we're in."
If that sounds unsettling, it undoubtedly is. Kelly attempted to lighten the mood.
Before the webinar began, Kelly poked fun at Smith for having a fully stocked bookshelf behind him. Kelly appeared on the video chat in front of an unadorned gray brick wall. So Kelly left briefly to retrieve a book — Edwards' "You Play to Win the Game."
The title comes from the ASU coach's most famous saying. One couldn't help but wonder, though: How do you play to win games when no one knows when — or if — they'll take place?
"It's not my role to figure that one out," Edwards said. "When they decide for us to play, we'll play."
Be the first to know
Get local news delivered to your inbox!