Pressure is mounting on Pac-12 Conference leadership — and the governor of California — to get football going again after a wild Wednesday filled with significant announcements, contradictory statements and continuing confusion.
And some of that pressure is being exerted by the Arizona Wildcats.
The day began with big news from the Big Ten: The conference announced it would begin its football season the weekend of Oct. 23-24, reversing an earlier decision to postpone the fall season because of the coronavirus pandemic. The Pac-12 followed the Big Ten's lead in postponing fall sports.
Then came a news conference featuring California Gov. Gavin Newsom that left many befuddled. Newsom said "there's nothing in the state guidelines that denies the Pac-12 from having conference games." That statement seemed to conflict with the sentiment from the league office and even the state's own laws.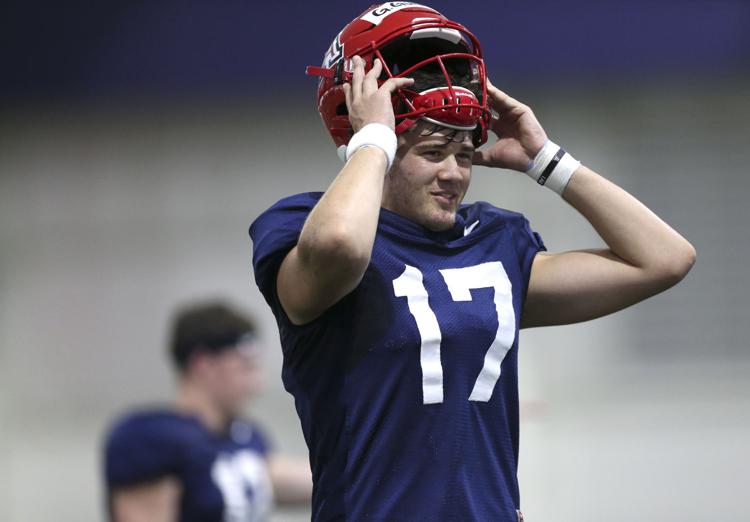 On Tuesday, USC football players wrote a letter to Newsom seeking the green light to play ball. UA players sent their own missive Wednesday. Sophomore quarterback Grant Gunnell published the letter — printed on UA stationery — on his Twitter feed. It reads, in part:
"Not only are you the governor of the state in which four of our Pac-12 universities reside, but you are also the governor to the more than 30 football student-athletes at the University of Arizona who hail from California and whose families remain your constituents. Not to mention countless other student-athletes across the entire Pac-12 landscape who call California home.
"With that in mind, we are appealing to you directly in support of our peers, hoping that you will once again hear our voices: We want to play."
As the letter noted, the five MLB teams in California have been playing for almost two months. The state's three NFL teams kicked off this past weekend.
California — home to USC, UCLA, Cal and Stanford — issued a 34-page COVID-19 guidebook to institutions of higher learning in early August. It includes extensive guidelines for athletics.
The second item in Section 5 seems to be the root of the dispute pertaining to college football. It advises that teams "train in cohorts. … A cohort may be composed of six to 12 individuals, all members of the same team, who consistently work out and participate in activities together. Cohorts should avoid mixing with other groups."
It's all but impossible for football teams to prepare for games without pitting 11 offensive players against 11 defenders. Jon Wilner of The Mercury News reported Wednesday that Newsom's office had been in contact with Pac-12 Commissioner Larry Scott and USC officials to formulate a plan to "fast-track (a) revision to (the) controversial 12-person cohort max."
That could lead to the return of football, although the timetable remains unclear.
Signs of progress
After the Big Ten announcement Wednesday morning, Scott released a statement asserting that "our universities in California and Oregon do not have approval from state or local public health officials to start contact practice."
That tide had shifted by Wednesday afternoon.
Representatives from Oregon and Oregon State met with the Oregon Health Authority "to discuss their COVID-19 health and safety plans for the football teams," Gov. Kate Brown's spokesman, Charles Boyle, said in a statement, per The Oregonian. "The universities have asked for an exemption to OHA's sports guidance, just as Oregon's professional sports team(s) have been given. We have granted that request, and, under the new guidance, OHA must receive written plans for approval. …
"Up to this point, we have received no written plans from the Pac-12 for the upcoming season, and we have no details from the conference about their new rapid testing proposal. Until we have those details, we can't move forward in the process."
Later Wednesday afternoon, it appeared that progress had been made. Scott, in a statement, lauded Newsom and Brown for allowing "contact practice and return to competition, and that there are no state restrictions on our ability to play sports."
"We appreciate Governor Newsom's and Governor Brown's support," the statement continued, "the former of which is consistent with the very productive conversation that he and I had earlier today. Our California and Oregon universities will now each individually and immediately reach out to their relevant county public health officials to seek clarification on what is required to achieve the same clearance to resume contact practice and competition. We are eager for our student-athletes to have the opportunity to play this season, as soon as it can be done safely and in accordance with public health authority approvals."
Playing catch-up
So it appears the Pac-12 is again following the Big Ten's lead — or at least trying to. The question is whether the Pac-12 can pull everything together in time to sync up with the rest of college football.
Every school in the league is expected to have daily antigen testing available by the end of this month. The Pac-12 announced an agreement with Quidel Corporation on Sept. 3 that Scott hailed as a "game-changer" for a return to competition. The availability of enhanced COVID-19 testing, with rapid turnaround time, was one of the biggest factors in the Big Ten's decision to reverse course.
However, before Wednesday, even the most optimistic projections for the return of Pac-12 football targeted a restart in mid-to-late November. Dr. David T. Harris, executive director of the University of Arizona's Health Sciences Biorepository, told the Star on Tuesday that January was the most realistic time frame. That was consistent with the outlook within the UA athletic department.
But whenever a winter football season running from January to March was discussed, the idea was to operate it in conjunction with the Big Ten — with postseason games, including the Rose Bowl, attached as sweeteners. Now that the Big Ten is planning to start up again in late October, the Pac-12 is in a precarious position: It's the only member of the so-called Power Five conferences that hasn't begun to play or released a plan to do so.
The UA has been at the forefront in terms of COVID testing and has been using the Quidel product — which can generate a single test result in 15 minutes — since late May. The Wildcats have been working out since mid-June, with a handful of interruptions because of COVID outbreaks and one instance of incorrect PCR test results.
Scott and others have said teams will require six weeks to get ready for a season. If that's the case, it would be impossible to mirror the Big Ten even if teams began to ramp up training this weekend. Oct. 23 is five weeks from Friday.
The Pac-12 CEO Group — consisting of school presidents and chancellors — reportedly will meet that day.
The Big Ten is planning to play an eight-game regular season with the league championship game,– lus six other cross-division games, scheduled for Dec. 19, according to reports. That would enable the conference to participate in the College Football Playoff.
---
Today in sports history: Sept. 17
UA sports Throwback Thursday: Arizona football home openers
Check out these photos of UA football's opening games from past years.