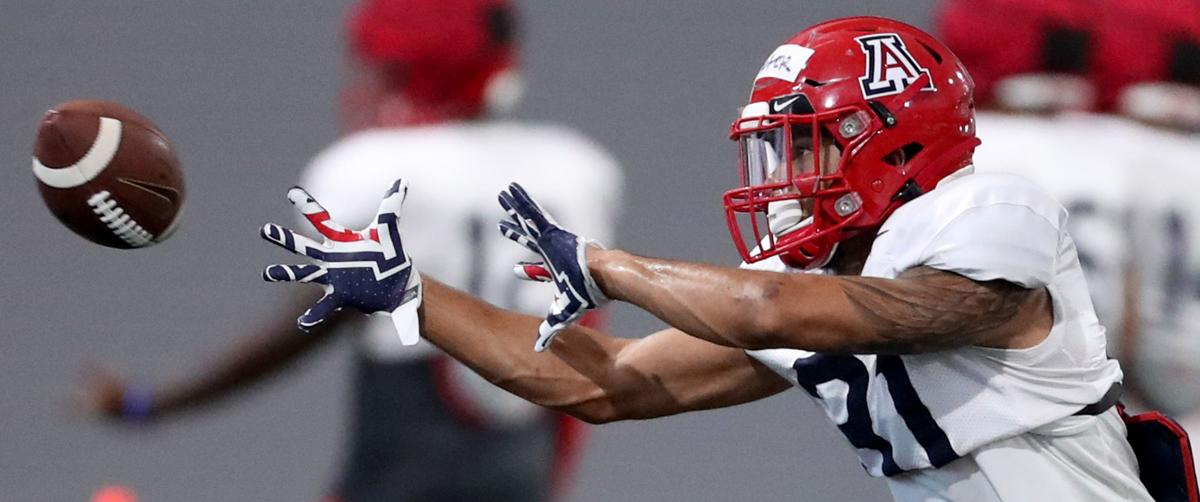 More than a half dozen Arizona football players were supposed to work out for NFL scouts at the UA campus Tuesday. For most of those Wildcats, it was their one and only chance to showcase their skills in front of the NFL community at large. It was the most important job interview of their lives.
Instead, that opportunity has been put on indefinite hold. It might not ever happen. Long shots might never get a shot.
The coronavirus pandemic has shut down the world of sports — including pro days for NFL hopefuls. Late last week, the league prohibited all in-person contact between draft-eligible players and club personnel.
The decision, made in the interest of curtailing the spread of the virus, could be especially damaging for players on the margins who haven't had previous opportunities to get in front of pro scouts.
"I'm sure there's going to be a lot of players this year that are going to fall between the cracks," said Corey Williams, the agent for UA safety Tristan Cooper.
Arizona's top three prospects for the 2020 NFL draft — currently scheduled for April 23-25 but also at risk of postponement — are tailback J.J. Taylor, cornerback Jace Whittaker and quarterback Khalil Tate. Taylor was invited to the scouting combine last month. Whittaker took part in the East-West Shrine Bowl in January. Tate took part in the College Gridiron Showcase, a lower-level all-star event for college seniors in Fort Worth, Texas.
For players such as receiver Cedric Peterson, defensive tackle Finton Connolly and Cooper, pro day was their chance to get noticed, make an impression or change a perception scouts might have had about them.
"I'm lost right now," Cooper said from his hometown of El Paso. "I'm not going to lie – I've battled with some demons. It was already a stressful journey going through these couple months of working out, and to be hit by this? I don't even know how to describe it.
"Doubt kicks in. Doubt kills more dreams than failure ever will. I'm trying to stay positive and keep going, and whatever happens, happens."
Like his fellow draft hopefuls, Cooper has been working out almost daily to prepare for pro day. He's been training at the same facility, Top View Fitness, as NFL veteran Aaron Jones and his twin brother, Alvin Jones, who's currently a free agent. Cooper said the Jones brothers, who played at UTEP, were planning to attend Arizona's pro day to support their fellow El Pasoan.
Cooper hoped to catch the attention of scouts who might have overlooked him after a productive if unspectacular UA career. Cooper recorded 123 tackles and defended nine passes in 47 games, mostly operating in or around the tackle box.
"I always thought I was pretty underrated," Cooper said. "I was the type of player that had to set the edges, fill the gaps. I didn't get much recognition for it.
"I knew on pro day that I had to come up with some good numbers so scouts would even look at my film."
Cooper predicted he would run the 40-yard dash in the "low 4.5s" at 6-2 198 pounds. Williams said one of the underrated aspects of pro days is that they provide official times in the 40 and other drills for prospects who were not invited to the combine.
"It's hard for me to believe NFL teams would invest hundreds of thousands of dollars in kids and not have any verified times," Williams said.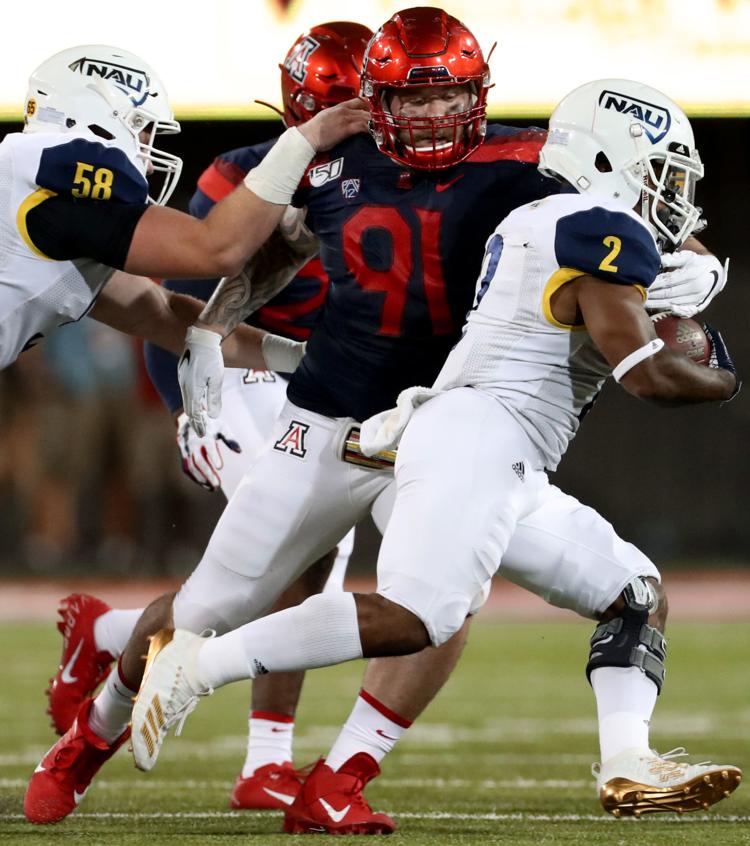 Connolly, who fought through a hyperextended elbow during his senior season, said he was "beyond excited" to work out for scouts. Connolly has slimmed down since the season, checking in at 6-5 and between 288 and 290 pounds. He said his "unofficial" personal best in the bench press is 30 reps. That would have placed him fifth among defensive linemen at this year's combine.
Connolly and Arizona's other prospects found out Friday from Brian DeSpain, the Wildcats' director of football operations, that pro day would be postponed — an hour or so after DeSpain had told them it was still on but might have limited attendance. That's how fast things have been changing.
"I was upset, obviously," Connolly said. "I've just been training so hard for that moment. It's just very heartbreaking to hear that."
Connolly, who's from Gilbert, has been working out in Tucson, mainly with Dylan Furrier, one of Arizona's assistant strength coaches. But finding places to lift could become increasingly difficult in the coming days and weeks. Mayor Regina Romero declared a local emergency Tuesday that included closing all gymnasiums through the end of the month.
"I can't lose what I've been gaining," Connolly said. "Even if it's just doing pushups and sit-ups in my apartment – do it old school."
Peterson has been working out near his hometown of Moreno Valley, California. His trainers include DeChon Burns, the father of UA senior cornerback Lorenzo Burns and the football coach at Linfield Christian School in Temecula.
Peterson was planning to reconnect with Tate over the weekend to prepare for their pro-day throwing session. The two had practiced together for years; Peterson figured it wouldn't have taken long to rediscover their timing.
Burns said Peterson has been testing well and would have surprised scouts with some of his numbers, including a 40 time in the 4.5-second range. Peterson caught only 53 passes over four seasons at Arizona but averaged 14.8 yards per reception.
Pro day would have provided Peterson with an opportunity to show scouts "how clean my routes can be, how fast I am, things they missed or didn't get to see throughout the season," he said. "It's another shot for me to show my ability."
In recent days, Peterson and the other Wildcats have come to understand and accept the decision that was made about their pro day and others across the country. Cities and states throughout the nation are imposing restrictions on public gatherings to promote social distancing. The crisis is impacting almost every aspect of life around the globe.
"I believe it's the right thing to do," Peterson said. "Crazy things happen in this world, things you can't control. You've gotta take the good with the bad and hope everything clears up so we can live the life we're supposed to live."
Cooper, Connolly and Peterson all have backup plans if and when football is no longer an option. But none is giving up on dreams they've had since they were little.
Hardly anyone had heard of Austin Ekeler — a running back from Division II Western Colorado — before he put up eye-catching numbers at Colorado's pro day in March 2017. Ekeler wasn't drafted, but he signed as a free agent with the Chargers. Earlier this month, Ekeler agreed to a four-year contract extension worth a reported $24.5 million, including $15 million guaranteed.
"You get overshadowed by dudes that have more accolades," Cooper said. "Pro day for us means so much. This is our time."
Be the first to know
Get local news delivered to your inbox!