They are discussions no one inside the Lowell-Stevens Football Facility expected to be having at this point:
How do we fix this thing?
While external projections for the Arizona Wildcats were middling at best, those within the program firmly believed that improvement was coming. Year 2 under Kevin Sumlin was supposed to bring progress.
It wasn't readily evident in the opener. Arizona lost at Hawaii 45-38 — the Wildcats' sixth loss to a non-Power Five team since 2014 and the Rainbow Warriors' first win in the series. The offense performed inconsistently, the defense yielded nearly 600 yards and Arizona committed 10 penalties — its fifth game with 10 or more under Sumlin.
The good news, as quarterback Khalil Tate noted afterward, is that the UA has 11 more games to solve its issues and restore the faith of the fanbase. The first opportunity comes Saturday night against NAU, with an even bigger game maybe the most important of the Sumlin era — looming the following week against Texas Tech.
Here are three ways the Wildcats can grow as a team moving forward: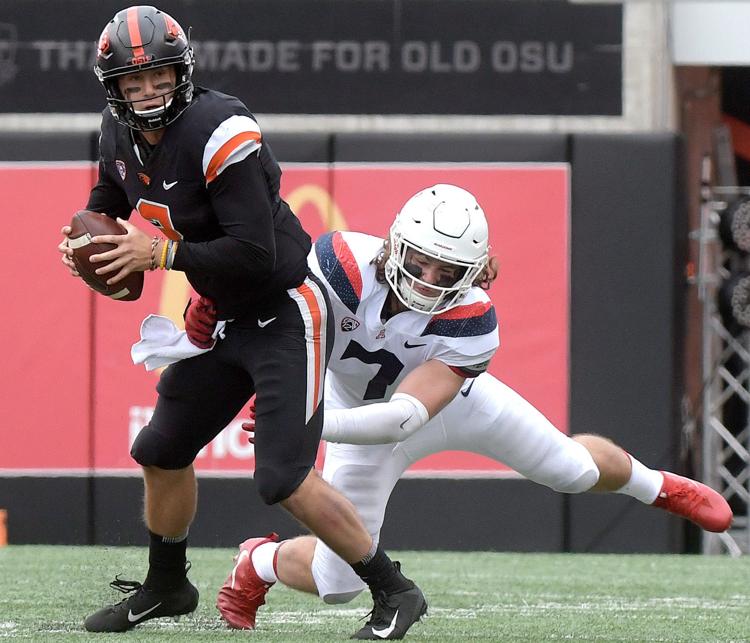 1. Generate a pass rush
This has to be No. 1 on the to-do list. Hawaii quarterbacks dropped back 49 times, and Arizona registered only one sack — on the last UH scrimmage play, where taking a sack helped the Rainbow Warriors run time off the clock.
The problem is, it's easier said than done.
Embattled defensive coordinator Marcel Yates tried just about everything against Hawaii, and little of it worked. Yes, the defense took the ball away six times, which shouldn't go unnoticed. But Arizona's plus-4 turnover margin didn't lead to victory, in part because the defense couldn't get enough stops.
Further film review showed that Yates' use of three-man pass rushes weren't as prevalent or damaging as originally thought. Here's a breakdown of pass rushes and how Hawaii's quarterbacks fared against those looks:
Three-man rush: 12 plays, 10 of 12 (83.3%), 86 yards, 7.17 yards per attempt, 1 TD, 1 INT
Four-man rush: 23 plays, 16-23 (69.6%), 220 yards, 9.57 ypa, 2 TDs, 3 INTs
Five-man rush: 9 plays, 7-9 (77.8%), 112 yards, 12.44 ypa, 2 TDs
Six-man rush: 5 plays, 1-4 (25%), 18 yards, 4.50 ypa, 1 sack (plus one defensive pass interference, which doesn't count as an offensive play).
In essence, the rush-three/drop-eight defense had the intended effect: It limited big plays, as evidenced by the average per attempt. Yates used it mainly in the second quarter (10 instances) and didn't run it once in the second half, when Hawaii wasn't quite as effective.
But the Rainbow Warriors still scored what turned out to be the winning touchdown in the fourth quarter on a third-and-14 play. Facing four rushers, backup QB Chevan Cordeiro had time and room to step up in the pocket and find Cedric Byrd II streaking down the middle.
Would it help if the scheme were less predictable? Probably. But Arizona's top pass rushers need to step up as well. JB Brown and Jalen Harris, among others, entered the season as breakout candidates. They mostly were held in check.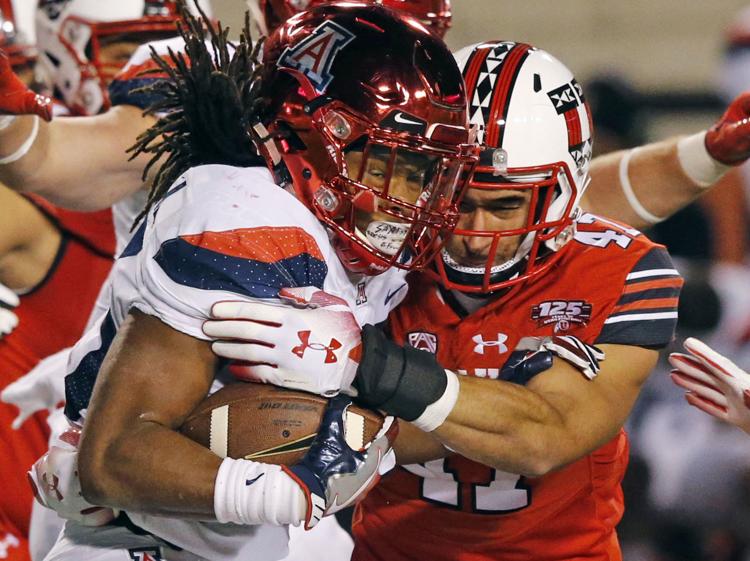 2. Establish offensive rhythm early
Tate passed for a career-high 361 yards and three touchdowns. He generated 469 yards of offense. The Wildcats had 539 total yards.
But timing is everything, and Arizona couldn't move the ball early in the first or third quarters. By the time they finally got something going in the first, the Wildcats trailed 14-0. In the third, their halftime deficit expanded by a touchdown.
Arizona's first three possessions ended as follows: interception, punt, punt. The Wildcats ran nine plays and accumulated 8 yards.
Arizona scored touchdowns on three straight possessions bridging the first and second quarters. The Wildcats then punted three straight times to start the second half, gaining one first down.
Arizona ran 21 plays on those six drives to begin each half. Sixteen were pass plays. (The play-by-play shows two rushes by Tate that were called pass plays, plus a sack.)
It has been suggested that the Wildcats need to make a firmer commitment to the run game. Doing so will require patience.
The five handoffs to running backs during those half-opening series netted only 4 yards. But the statistical splits from last season indicate that the running game has a cumulative effect. Those early jabs can lead to knockdowns later.
J.J. Taylor had his lowest average per carry in the first quarter last season — 4.6 yards. He averaged 5.8 in the second quarter, 6.2 in the third and 6.0 in the fourth. His first-half average was 5.1 yards; his second-half average was 6.1.
Backup tailback Gary Brightwell's first-half/second-half splits were even more pronounced: Brightwell averaged 4.6 yards per attempt in the first half, 7.2 in the second.
Arizona's offense needs to help its defense. Short, unproductive possessions only hurt it.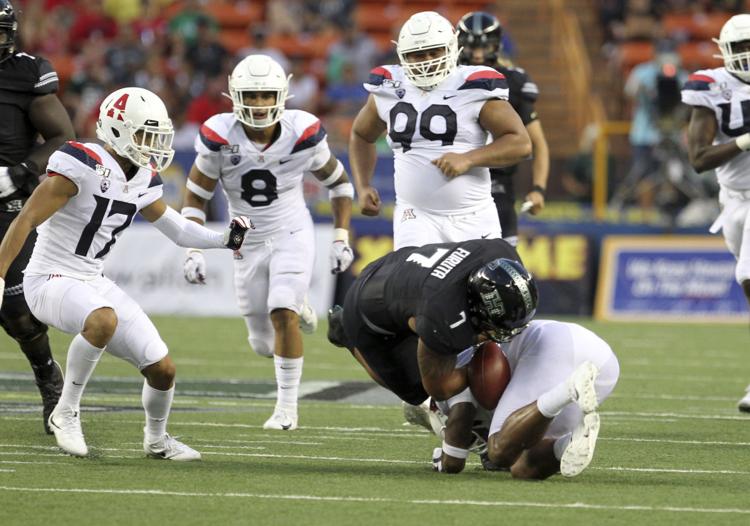 3. Win the key battles
So many little plays added up to big disappointment in Honolulu. Had the Wildcats made just some of them, the outcome might have been different.
Start with the very first possession. Hawaii went for it on fourth-and-1 from its 34-yard line. Jalen Harris appeared to stop quarterback Cole McDonald's sneak about a half-yard short. But McDonald kept his legs churning, and a push from 250-pound tailback Dayton Furuta helped him gain the first down.
Jace Whittaker intercepted McDonald on the next play, but the Rainbow Warriors gained 45 yards of field position in the exchange.
Tate missed a handful of "easy" completions to open receivers on those early first- and third-quarter drives because of poor footwork. Each series ended with a punt.
Freshman cornerback Christian Roland-Wallace could have had two interceptions. On the first, in the second quarter, the ball was thrown right to him. But Roland-Wallace, like many of his teammates, slipped on the slick Aloha Stadium turf. Four plays later, Hawaii scored a touchdown.
Roland-Wallace appeared to make a neat diving grab on a deflected pass in the third quarter. But Harris was flagged for roughing the passer, wiping out the play. Four plays later, Whittaker ended the drive with another interception. However, Arizona lost valuable clock time in a game in which every second mattered.
The Wildcats aren't at a point in their program trajectory where they can lose the majority of those 50/50 plays and still beat a decent opponent.
Just look at Arizona's last two games. Both came down to the final play. That might not have been the case had any number of preceding plays gone the Wildcats' way.