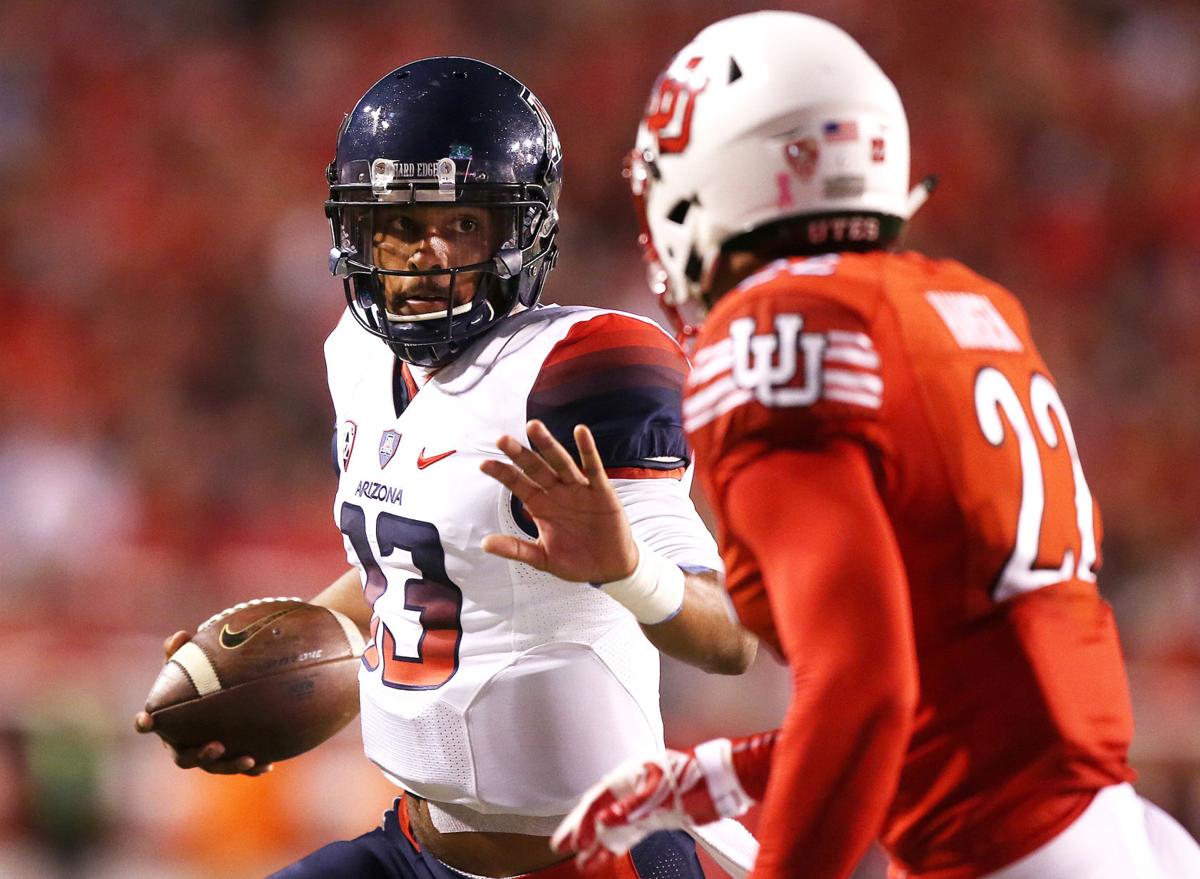 When Brandon Dawkins missed the USC game and large chunks of two others, the Arizona Wildcats missed him in multiple ways. They missed his athleticism. They missed his playmaking. They missed his leadership.
But perhaps more than anything, the Wildcats missed Dawkins' confidence.
The redshirt sophomore quarterback believes in himself and in his team. The latter is particularly important right now because few outside Arizona's locker room do.
The UA is 2-5, 0-4 in the Pac-12 heading into Saturday's homecoming game against Stanford. Although nothing is official yet, Dawkins is expected to return to the starting lineup after having to sit out because of a concussion suffered at Utah on Oct. 8. He couldn't finish that game or the previous one against UCLA because of a rib injury.
Dawkins can't help but think the outcomes might have been different had he been able to stay on the field.
"I don't think there's any team this year that's beat us that we couldn't have had a chance to beat," Dawkins said Tuesday, the first time he met with the media since the week leading up to the Oct. 1 game against the Bruins.
"That's why I'm telling the guys, we have five games left, and we should win all five."
It's impossible to say what would have happened if Dawkins didn't get hurt. Arizona's problems extend far beyond the quarterback position.
But the Wildcats are 2-1 in the three games Dawkins has started and finished — and the one loss came in overtime against Washington, which is 7-0 and ranked fourth in the country.
Dawkins is confident in what he — or fellow veteran Anu Solomon, who's also back from injury — can provide. Dawkins accounted for 1,425 yards of offense and 13 touchdowns in his first five starts.
"Experience. Knowledge of the offense. Expansion of the offense," Dawkins said. "Just understanding the playbook, being able to run more plays, dig more into our arsenal. Just being able to control everything — control the tempo of the game, control the offense and control the defense, essentially, with our speed."
Dawkins couldn't play at full speed from the second quarter on against UCLA. He had hurt his ribs on an awkward fall — "landing wrong" is how he described it — and his game suffered.
Arizona suffered through a stretch of six three-and-outs in seven possessions. Dawkins tried to play through the pain but realized he was doing more harm than good.
"Trying to throw, trying to run, trying to breathe — everything hurt," Dawkins said. "I was trying to fight through as much as I could."
Dawkins sat out the second half, when UCLA turned a 14-7 lead into a 45-24 blowout.
He returned for Utah the following week and played into the third quarter before getting hit in the back of the head. When Dawkins left the game, Arizona trailed 19-14. They would lose 36-23.
"It was killing me inside to not be able to go out there helping the guys, trying to lead them to victory," Dawkins said.
Now, health permitting, he has that opportunity again. Unsurprisingly, he's confident in the Wildcats' ability to make a run.
"I'm still thinking we can win the next five games and be bowl-eligible," said Dawkins, who is aware that four wins would get it done — but is aiming for all five. "I'm not going to let this team not get to a bowl game this season.
"None of the guys are hanging their heads. And if they hang their heads, I'm right there on them letting them know this season isn't over."
'We've got two starters'
In a flashback to fall camp, UA coach Rich Rodriguez isn't tipping his hand regarding the identity of his starting quarterback. Although Dawkins has to be considered the favorite, Rodriguez reiterated his stance that Dawkins and Solomon are "co-starters."
Solomon started the 18-16 season-opening loss to BYU before suffering a knee injury in practice four days later. The redshirt junior hasn't suited up since and couldn't participate in team drills until last week.
"We've got two starters in Brandon and Anu," Rodriguez said.
"We've missed them because of their experience. It looks like now we'll have both of them, so that's a good thing. We'll play both of them, too."
It was unclear whether Rodriguez was being literal about that or whether he was referring specifically to the Stanford game.
Solomon would not speak with reporters.
Stanford to start QB Chryst
Stanford also is making a change at quarterback.
Coach David Shaw announced Tuesday that redshirt sophomore Keller Chryst will start against Arizona. Chryst replaces senior Ryan Burns. The Cardinal rank 126th in the nation in scoring (17.0 points per game).
"It would be really easy if it was just the quarterback," Shaw told reporters, per ESPN.com. "If we were running for 250 yards a game, and the quarterback had all day to throw, and our wide receivers were making phenomenal catches, it would be really easy.
"That's why you feel really bad for Ryan. You won't find a more improved player over the last calendar year."
Burns, in his first year as a starter, has thrown for 1,058 yards with a 62.5 percent completion rate, seven touchdowns and five interceptions.
Chryst, coming off the bench, is 7 of 18 for 63 yards with one pick.
Chryst completed 4 of 4 passes for 39 yards and a touchdown in mop-up duty at the end of Stanford's 55-17 victory over Arizona last season.
Extra points
Shaw also announced that starting cornerback Alijah Holder will miss the rest of the season.
Arizona freshman quarterback Khalil Tate, who started against USC, is still getting some reps in an effort to keep him engaged. Rodriguez said that "because there's a lot of ball left" the goal is to "keep him in tune so he's learning and not just playing one or two games in his mind."
Rodriguez said right tackle Gerhard de Beer has been battling an ankle injury for much of season. The hope is that he's as healthy now as he has been since training camp.