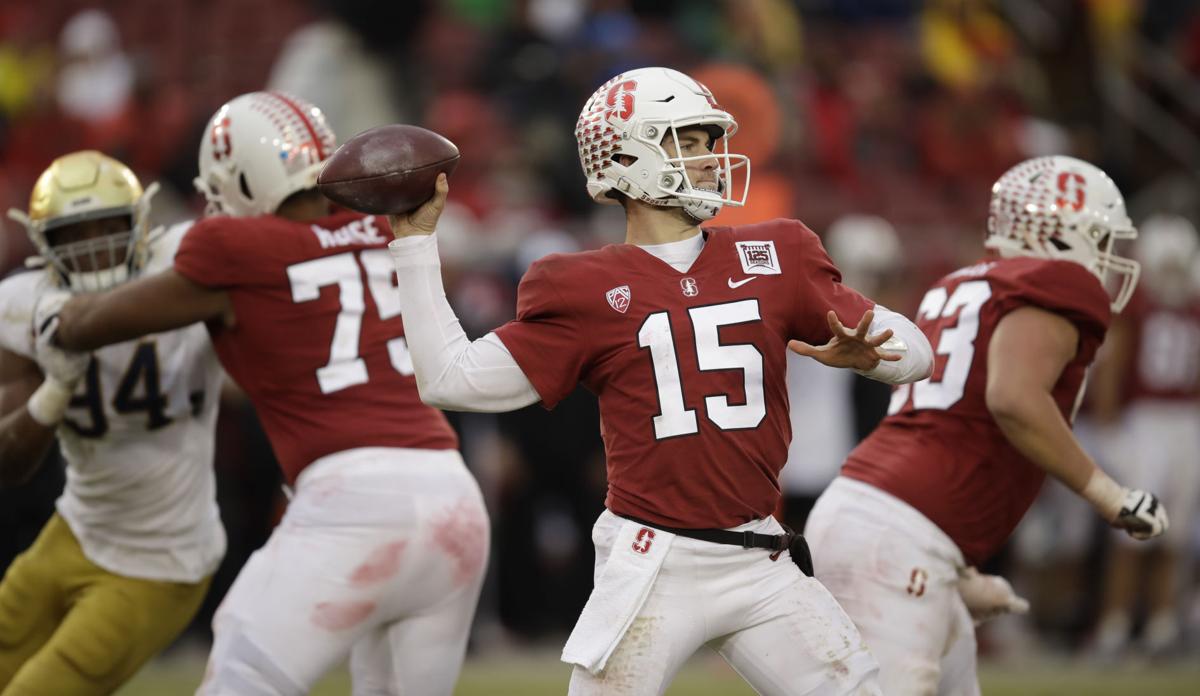 Davis Mills has always been ready when called upon.
This year, Stanford figures to rely on him a lot.
Mills, a former five-star prospect, is expected to start at quarterback when the Cardinal opens its season Nov. 7 at Oregon.
The senior didn't play significant snaps until 2019, when then-starter K.J. Costello, who's now a graduate transfer at Mississippi State, went down twice with head and thumb injuries. In six starts over eight games, Mills completed 158 of 241 passes for 1,960 yards and 11 touchdowns as the Cardinal finished the year 4-8. In Mills' first-ever college start, he threw for 237 yards — the second-most for a Stanford debut — and a touchdown.
Heading into his senior season, Mills has been named to watch lists for the Maxwell Award, which is given to the top college quarterback, and the Johnny Unitas Golden Arm award. More accolades could be coming for Mills, who was recruited out of the Atlanta area by Alabama, Georgia, Michigan, USC, Wisconsin and others.
Mills and Stanford have had to navigate California's COVID-19 regulations merely to practice.
For their first few practices, Stanford bused to Woodside High School in San Mateo County since Santa Clara County health officials weren't allowing the Cardinal to do it on campus. The team held its first on-campus, full-pads practice on Wednesday.
Mills spoke to reporters during a Pac-12 North players' webinar this week. Here's what he had to say about preparing for the season:
What were those first five days of camp like when the team bused to Woodside High School for practice?
A: "Definitely a little different, but I mean, this whole season is going to be a little different. … We have the mantra 'whatever it takes,' so everyone has been dealing with adversity and the situation around us and excel as much as possible."
Did you ever think the health restrictions put in place by Santa Clara County were too strict?
A: "I've definitely thought about it a couple of times. We're in a situation right now where the season is back on and I can't complain about anything that's going on. I get to do the thing that I love and that's go out and play football. As long as we follow those rules, that's going to happen."
The letter sent by USC players to California Gov. Gavin Newsom seemed to have a strong impact on the Pac-12 returning to play this fall. What did that mean to you and the conference?
A: "It was huge. It was awesome that USC came together and it was led by one of my roommates' brothers, Amon-Ra St. Brown, and it was great. They had that sense of urgency to really get our season back on track. … The Big Ten called back their season and we were able to follow up right after that. It's great what they were doing and we were doing some stuff up here as well. I love that we can come together as a conference like that and really push for the season to get back on track."
Stanford has a long legacy of great quarterbacks, including Jim Plunkett, John Elway and Andrew Luck, but are you aware of them?
A: "I am. Actually, when we get scholarships through Stanford, we actually get assigned scholarship donors, who are donors that pay for the athletic scholarships, and one of my donors is actually Jim Plunkett. It's been great getting to know him over the years, and it's great that those guys stick around the program and give back. I do know the legacy of quarterbacks who have been through here, and it gives me a little pressure and motivation behind me to go out and excel and follow their footsteps."
What's the thing you want to improve on the most?
A: "Performing in this offense at the highest level I can, being efficient with my reads and getting through my progressions. Last year … I was leaning on my first progression on my plays, and I think just having a little bit more experience and sitting comfortable in the pocket, I'm able to be a little more patient back there, get through my reads and find the open receiver and let them do the work."
What has David Shaw's message to the team as you guys navigate through a college football season during the pandemic?
A: "He keeps reminding us that we can't control the uncontrollable. We have to focus on ourselves, keep our head down and get to work. He plays off that cool, collected, demeanor that I have; He's mentioned that before. Sometimes he'll fire it up and everyone feels it and we'll get a sense of urgency to keep pushing forward."