QB Grant Gunnell, the centerpiece of Arizona's 2019 recruiting class, is just getting started
The hard-working quarterback continues to grind, on and off the field, as early signing day in college football approaches.
Driven QB ready for college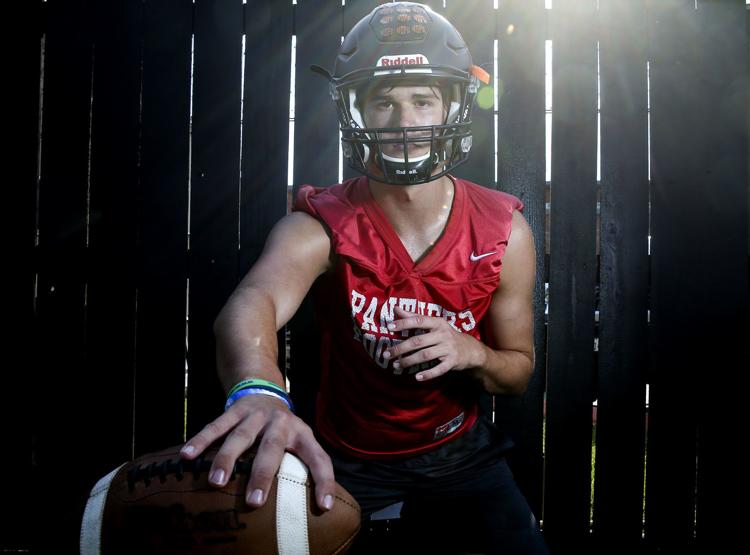 Grant Gunnell's high school football career ended in late November. His college career doesn't begin until early January. So Gunnell, in theory, has some time to chill before coming to Tucson, becoming an Arizona student and competing to be the Wildcats' starting quarterback.
Except Gunnell isn't wired that way. He didn't develop into the all-time leading passer in Texas high school history by relaxing.
"He drives an hour each way to school," said Gunnell's father, Chris. "He's on the leadership council. He's on the student council. He recruits the junior-high kids."
The ambitious 18-year-old from Houston remains as busy as ever. Here's a look at what one of the nation's top-rated pro-style quarterbacks has been up to heading into Wednesday's early signing day, when his longtime pledge to join the Arizona Wildcats will become official:
Finishing up school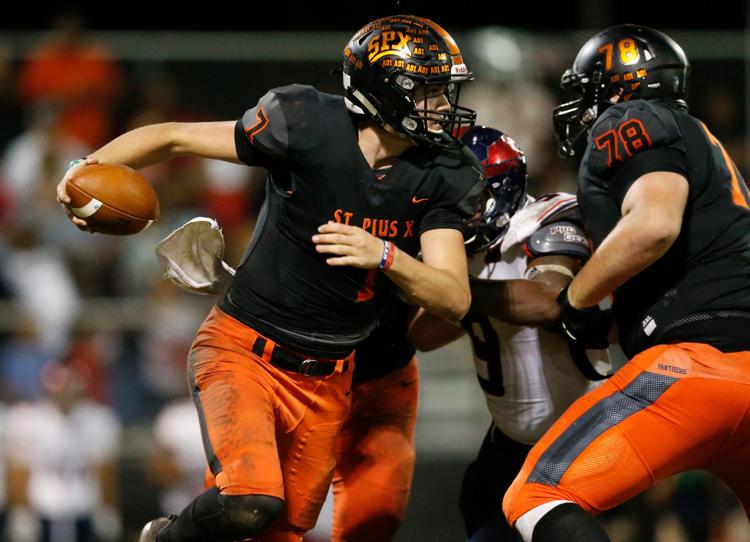 That doesn't seem like such a big deal on the surface. High school football players graduate in December and enroll in college in January all the time.
But Grant Gunnell and receiver Jalen Curry, a four-star prospect who's also on Arizona's radar, are the first to do so at St. Pius X High School. For Gunnell, it required summer-school classes in 2017 and '18 and a heavier-than-usual workload his junior year.
Like many who push themselves to graduate and enroll early, Gunnell is seeking a jump-start on college. He considers the first semester a "free semester" to get ahead on school and football.
"I'm excited," Gunnell said. "I just want to get as comfortable as I can, meet as many teammates as I can and form that bond. You all have to trust each other to play with each other."
Gunnell spoke to the Star by phone one evening this week — awakened from a nap at 7:45 p.m. Houston time. He couldn't talk over the weekend because he had too much homework to do. His last day of school was Wednesday.
Playing a little football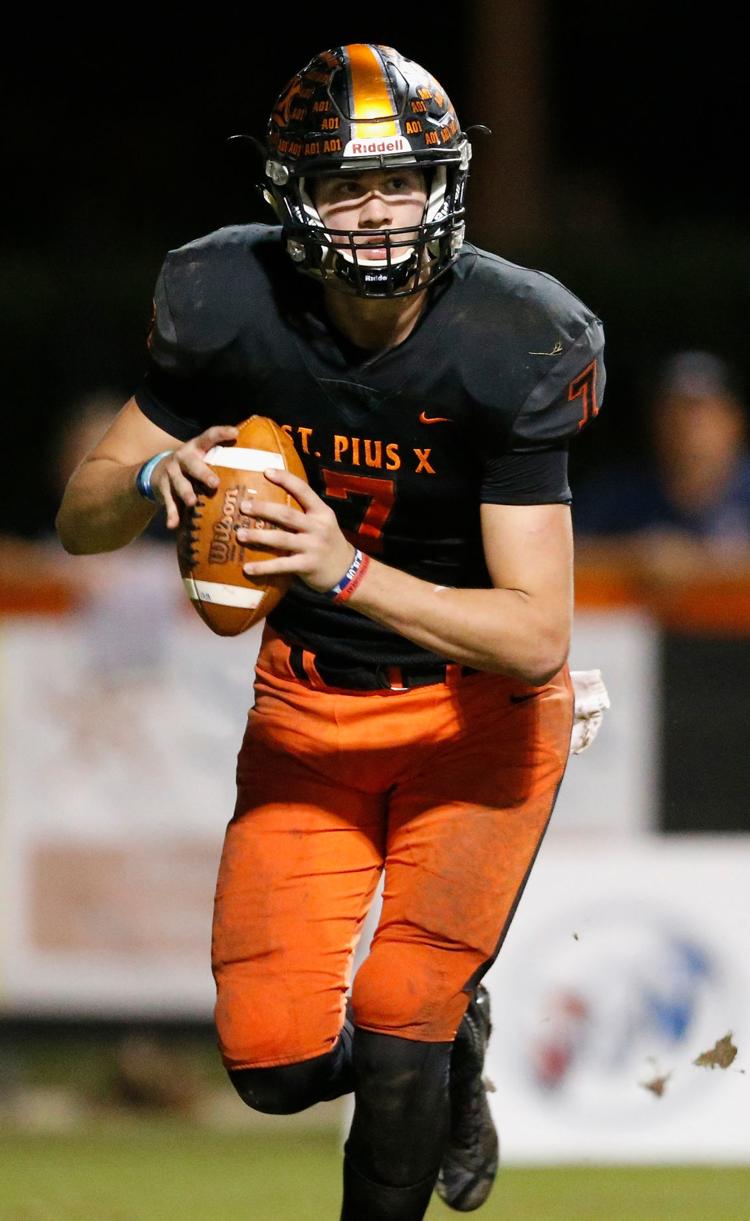 St. Pius X lost in the second round of the Texas Association of Private and Parochial Schools Division I playoffs. The Panthers ran into a familiar nemesis on the Saturday after Thanksgiving — eventual state champion Bishop Dunne of Dallas.
St. Pius had reached the semifinals during Gunnell's freshman and sophomore seasons and lost by a point in the state finals last year.
"It was definitely a little disappointing," Gunnell said. "It was kind of hard ending the season like it did."
Later that day, Gunnell said goodbye to the Panther faithful. "It's been a pleasure," he tweeted. "Poured my heart and soul for four years. Can't thank y'all enough for everything. Love y'all forever."
But he hasn't stopped throwing. Gunnell continues to work out with his high school teammates. 
"I'm going to be in college soon," he explained. "I don't really have any time to take off."
Gunnell has taken this quarterback business seriously since he made the transition from youth running back to prep pocket passer. Gunnell became St. Pius' starter about midway through his freshman season when senior Clay Roberts got hurt. Gunnell never gave up the post, passing for 16,108 yards and 195 touchdowns over the next three-plus seasons. He averaged 4,887 yards and 59.7 touchdowns over his final three years.
This past season, a coaching change led to Gunnell assuming more offensive responsibilities. The staff essentially let him run the show.
"It was a real growth opportunity for him," Chris Gunnell said. "The new head coach (Erik DeHaven) put a ton of faith in him and really let him drive the bus. It was a testament to his preparation, his hard work. The results were there."
MORE: Comfort level with coaches led 4-star QB Grant Gunnell to commit to Arizona Wildcats
Grant Gunnell will represent St. Pius one last time on the football field at the Jan. 5 All-American Bowl in San Antonio. He plans to fly to Tucson that night and to resume throwing the next day.
Helping Arizona recruit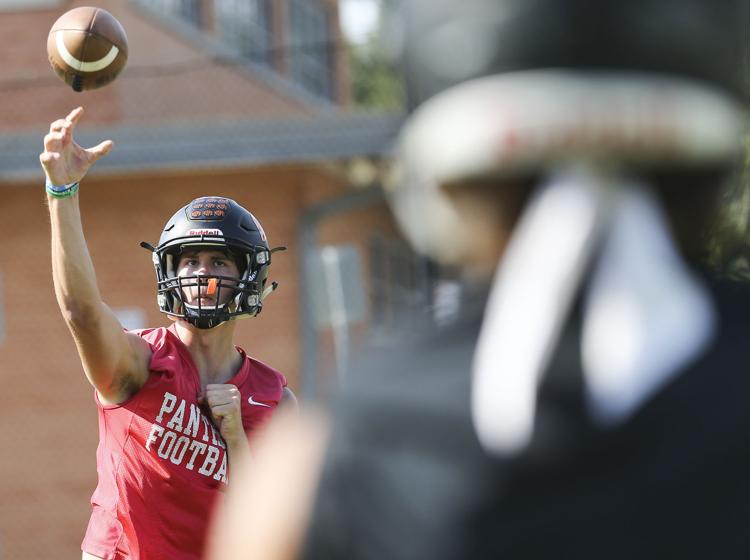 Gunnell committed to Arizona on June 6, almost four months after he de-committed from Texas A&M. The relationships he had formed with Wildcats coach Kevin Sumlin and offensive coordinator Noel Mazzone were the driving factor.
Chris Gunnell described the relationship with Mazzone as "very deep" — one that has "made all the difference in the world" for Grant. The young quarterback, who has known Mazzone since his freshman year at St. Pius, said the veteran coach is "like family now." They have built a mutual trust.
So when message-board whispers surfaced during the season that Mazzone, 61, might retire, the Gunnells went straight to the source.
"He said no," Grant Gunnell said. "That's it."
Chris Gunnell said the message from Mazzone and Sumlin has been about building the Wildcats into a consistent winner by recruiting hard — especially in Texas — and bringing in "as many studs as we can."
Grant Gunnell is trying to aid that effort. That's his way: The quarterback has been a regular volunteer at The Woodlands United Methodist Church, helping children with special needs, and has persuaded many of his St. Pius teammates to pitch in. Chris said Grant is a "great salesman," whether he's rounding up volunteers or would-be Wildcats.
Grant starts with the "soft sell," said Chris, who's in medical sales, "and then the tempo goes up as the interest level rises." Grant has been working on Curry, who's expected to announce his college choice on Wednesday at St. Pius.
Grant Gunnell also reached out to fellow Houstonian and UA commit Michael Wiley after running backs coach Clarence McKinney, Wiley's primary recruiter, left Arizona to become the head coach at Texas Southern. Gunnell wanted "to make sure everything was OK," his father said. Wiley remains firmly committed, although he might delay his official announcement until February.
Grant Gunnell describes his sales technique as "the friendly approach." If he slides into a fellow recruit's DMs, the message is unfailingly positive: "Coach Sumlin's building something special. You want to jump on board right now."
Gunnell is ready to dive in headfirst. He has spent countless hours preparing for this next chapter. He's about to achieve a major life goal – becoming a scholarship quarterback at a big-time college program. But it isn't an end goal.
Gunnell isn't wired that way.
"I feel like I've progressed each year as a football player," he said, "and I don't really plan on stopping."