QB Khalil Tate tops our way-too-early Arizona Wildcats depth chart
Take a look at where the Wildcats' depth unofficially stands.
By Michael Lev Arizona Daily Star
Projecting the Cats' two-deep heading into summer workouts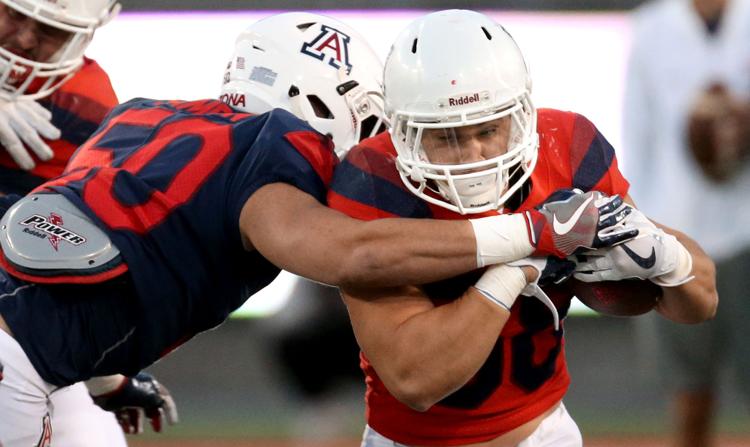 The Arizona Wildcats did not release a depth chart at the end of spring practice — but that's not stopping us from giving it a shot.
Below you will find a post-spring two-deep (in some cases three-deep) for the UA offense and defense based on practice alignments and discussions with Star sources.
Players who have been arriving on campus over the weekend are categorized separately. Each position group features brief analysis, including some previously unreported personnel updates.
Quarterback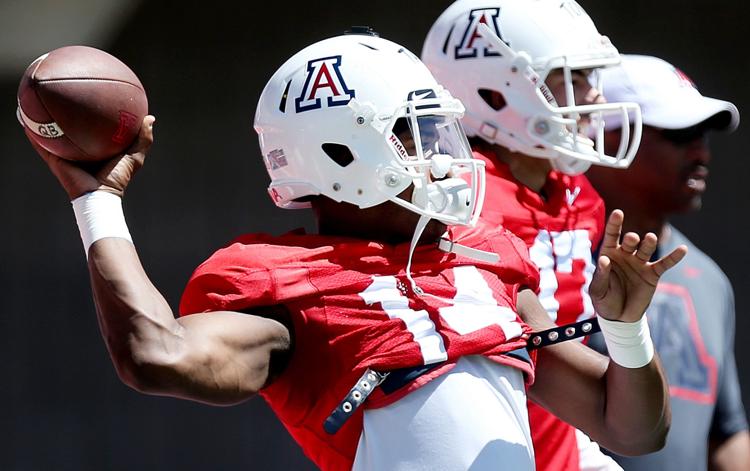 1. Khalil Tate (6-2, 215, JR)
2. K'Hari Lane (6-1, 245, RS FR)
QB newcomer to watch: Kevin Doyle (6-3, 210, FR)
Comment: The backup job remains up for grabs. All the candidates are in their first or second year, including Doyle and fellow freshman Jamarye Joiner. Sophomore Rhett Rodriguez might be the best short-term option.
Running back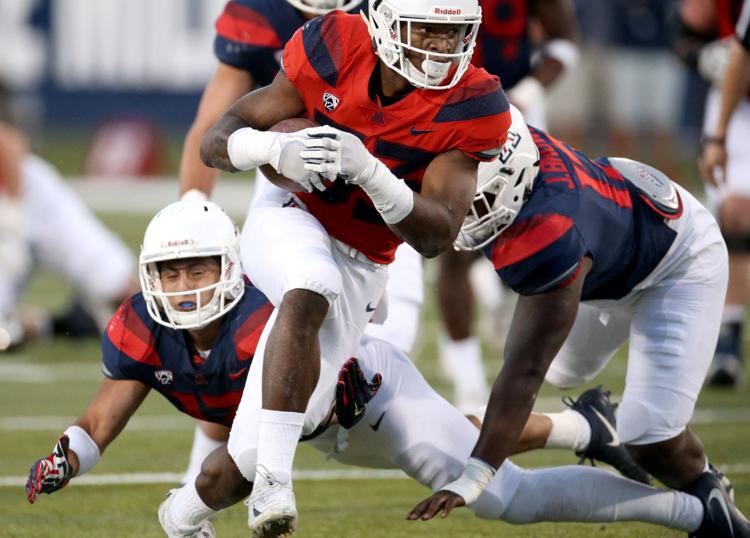 1. J.J. Taylor (5-6, 180, RS SO)
2. Nathan Tilford (6-2, 206, SO) / Gary Brightwell (6-1, 196, SO)
RB newcomer to watch: Darrius Smith (5-9, 170, FR)
Comment: Assuming a knee injury suffered during spring ball doesn't linger, Brightwell will be a big part of what has the makings of a dynamic rotation. Tilford, Branden Leon and converted safety Anthony Mariscal excelled in the spring game.
Receiver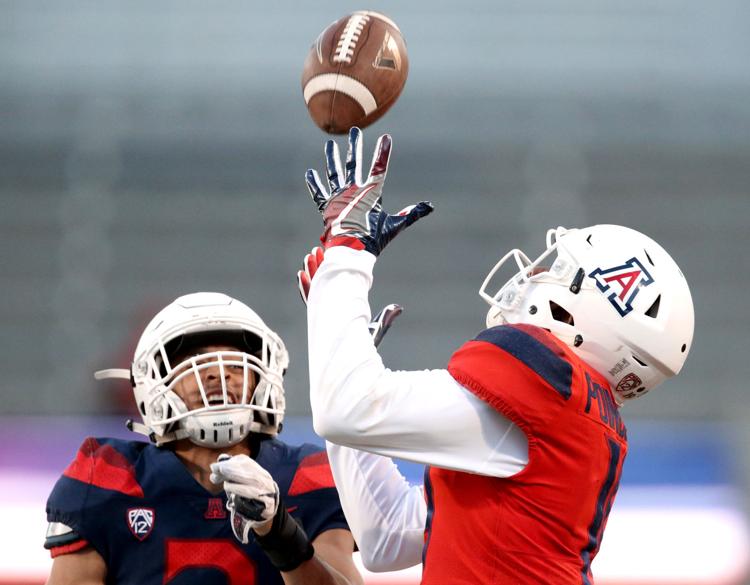 Wide receiver
1. Shawn Poindexter (6-5, 212, RS SR)
2. Drew Dixon (6-3, 203, RS FR)
---
Slot receiver
1. Shun Brown (5-10, 177, SR)
2. Stanley Berryhill III (5-9, 169, RS FR)
---
Wide receiver
1. Cedric Peterson (5-11, 188, RS JR)
2. Tony Ellison (5-11, 188, RS SR)
WR newcomer to watch: Tre Adams (6-3, 190, FR)
Comment: As you can see, size is lacking across the receiver group. Freshmen Adams and Thomas Marcus (6-3, 180) have it, as does Keyshawn Johnson Jr., whose status remained unclear as of this writing. Johnson, a transfer, enrolled at Arizona in January but was not part of the spring roster.
Tight end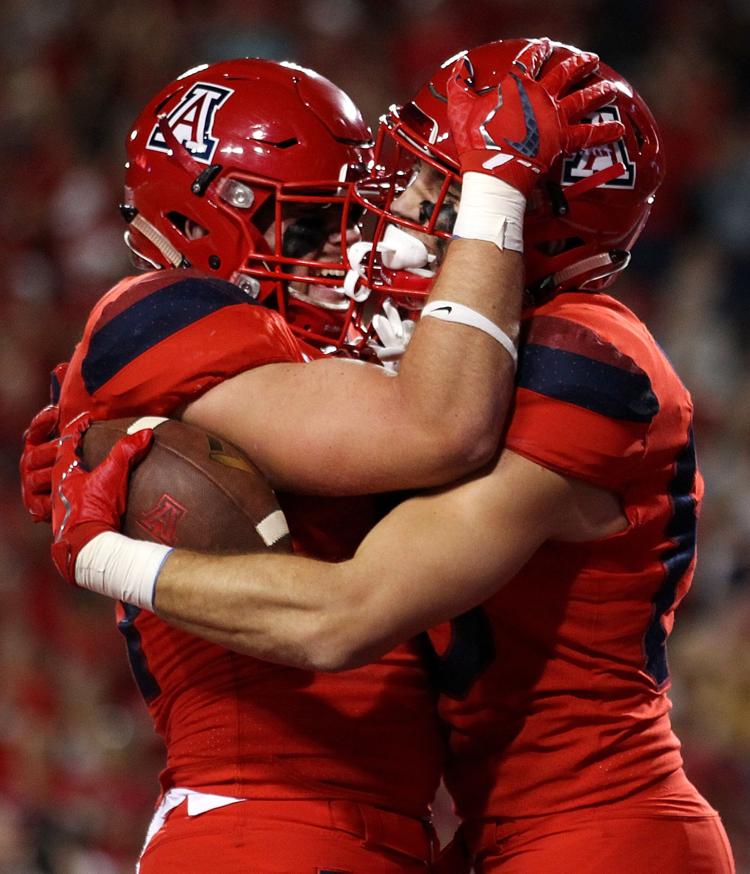 1. Bryce Wolma (6-3, 239, SO)
2. Jamie Nunley (6-5, 230, RS SO)
TE newcomer to watch: Jake Peters (6-4, 240, FR)
Comment: Tight ends weren't very involved in the spring game and weren't targeted often under Kevin Sumlin/Noel Mazzone at Texas A&M. But Mazzone has praised the returnees, and Sumlin is coaching them directly, so we'll see.
Offensive line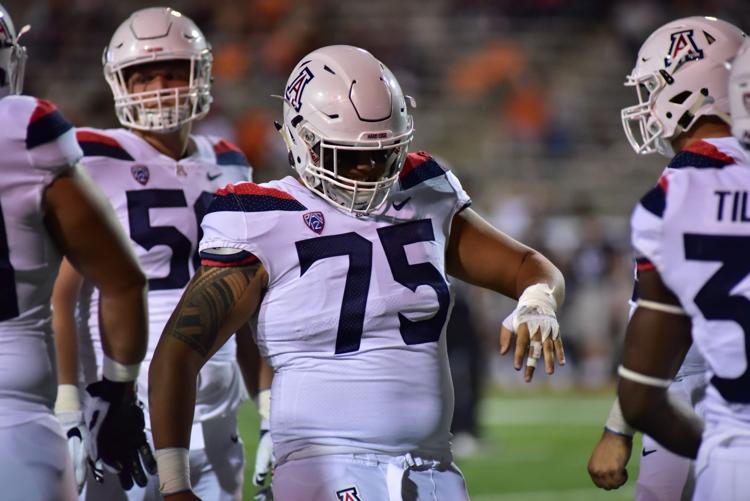 Left tackle
1. Layth Friekh (6-5, 302, RS SR)
2. Tshiyombu Lukusa (6-5, 330, RS SO)
---
Left guard
1. Michael Eletise (6-3, 318, RS SO)
2. Jon Jacobs (6-4, 300, RS SO)
---
Center
1. Nathan Eldridge (6-3, 297, RS JR)
2. Alex Kosinski (6-4, 299, RS JR)
---
Right guard
1. Bryson Cain (6-4, 291, RS SO)
2. Josh McCauley (6-2, 292, RS SO)
---
Right tackle
1. Cody Creason (6-4, 294, RS JR)
2. Tshiyombu Lukusa (6-5, 330, RS SO)
OL newcomer to watch: Steven Bailey (6-2, 290, JR)
Comment: There's more to sort out along the offensive line than any other position. Lukusa's talent says starter, but he missed the end of spring (ankle) and has much to prove. Jacobs could be a sneaky-valuable swing man at the interior positions.
Defensive end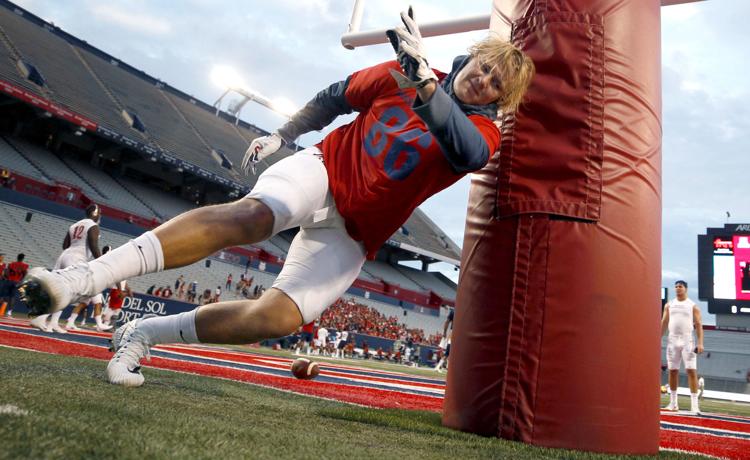 1. Justin Belknap (6-3, 259, RS JR)
2. JB Brown (6-3, 244, SO)
DE newcomer to watch: Nahe Sulunga (6-3, 255, FR)
Comment: Belknap keeps getting bigger and better, and Brown has made a successful transition from linebacker. Sulunga gets the nod over Adam Plant, who might have trouble qualifying academically.
Interior defensive line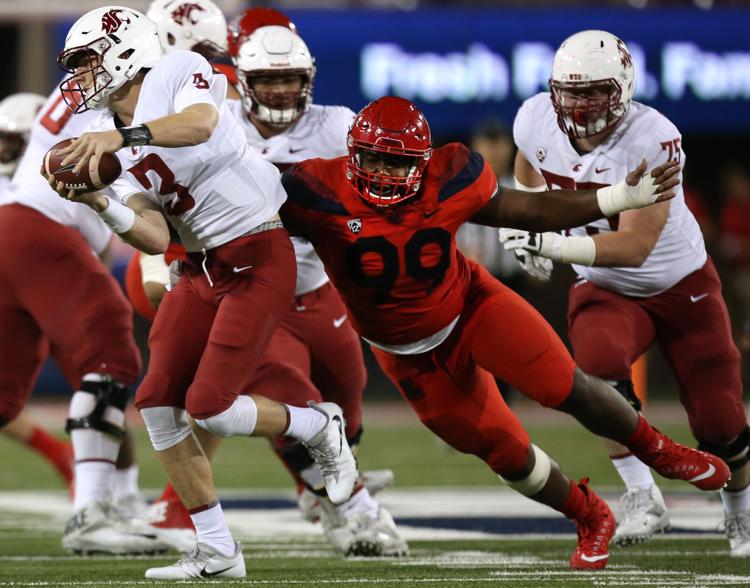 Nose tackle
1. PJ Johnson (6-4, 330, RS JR)
2. Sione Taufahema (6-1, 330, RS JR)
---
Defensive tackle
1. Dereck Boles (6-2, 296, RS SR)
2. Finton Connolly (6-5, 275, RS JR)
DT newcomer to watch: Mykee Irving (6-4, 330, FR)
Comment: Arizona should be deeper at the inside positions. JC transfer Johnson enrolled early and impressed immediately. The UA expects to get sophomore Kurtis Brown back after he missed most of spring.
Stud linebacker / edge rusher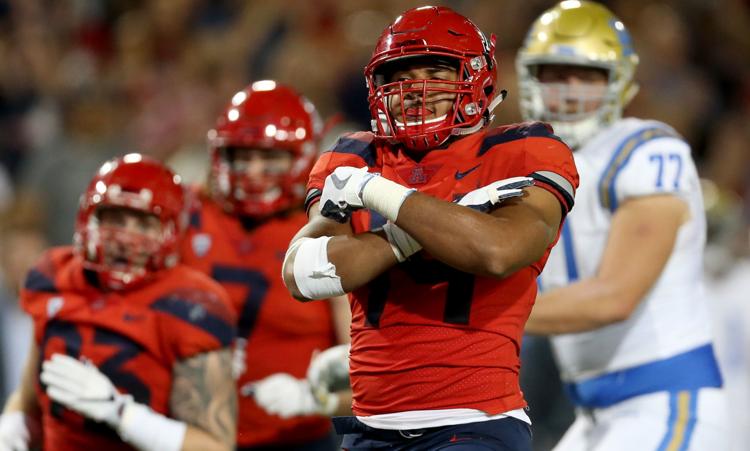 1. Kylan Wilborn (6-2, 245, SO)
2. Lee Anderson III (6-1, 235, JR) / Jalen Harris (6-4, 212, RS FR)
Comment: It's too close to call between veteran Anderson and youngster Harris, who might be the best pure pass rusher on the team. He just needs to get bigger and stronger.
Linebacker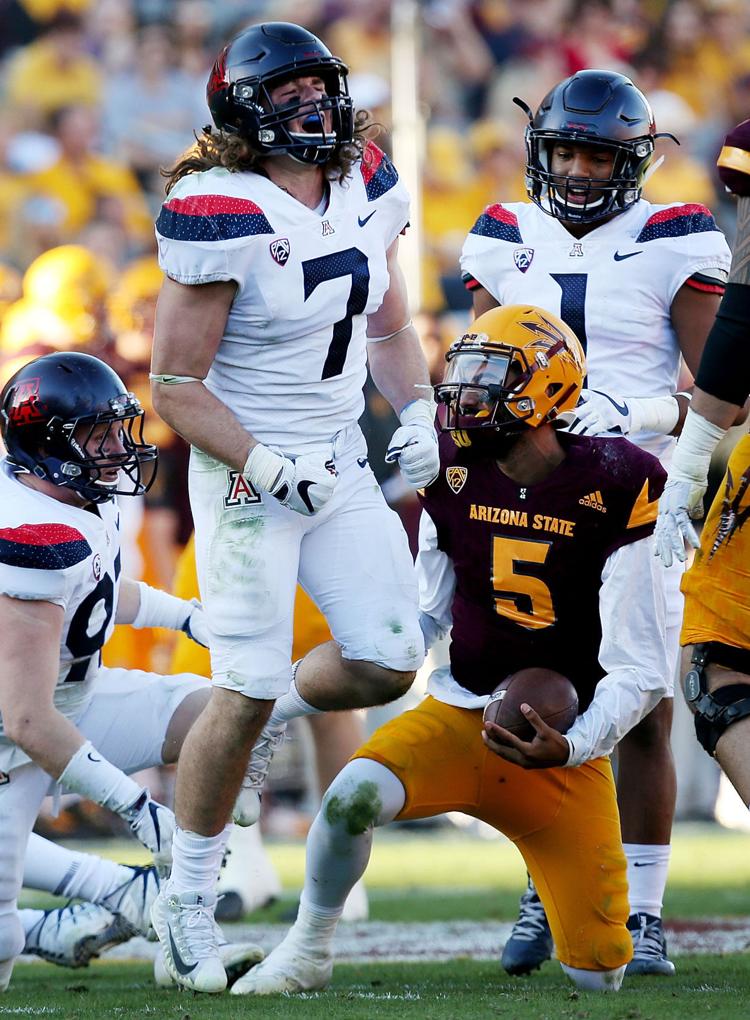 Mike linebacker
1. Colin Schooler (6-0, 226, SO)
2. Jacob Colacion (6-1, 218, RS SO)
---
Will linebacker
1. Tony Fields II (6-1, 225, SO)
2. Anthony Pandy (6-0, 225, SO)
LB newcomer to watch: Issaiah Johnson (6-2, 210, FR)
Comment: Arizona is moving sophomore Troy Young from safety to Will to boost its depth and maximize his skill set. As good as Schooler and Fields are, look for the coaches to find playing time for Pandy.
Safeties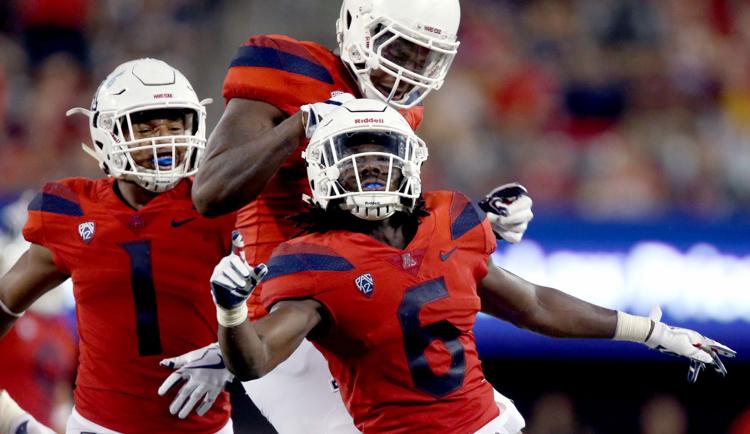 Spur
1. Tristan Cooper (6-1, 188, JR)
2. Xavier Bell (6-2, 192, RS FR)
---
Bandit
1. Demetrius Flannigan-Fowles (6-2, 205, SR)
2. Chacho Ulloa (5-11, 192, JR)
---
Free safety
1. Jarrius Wallace (6-1, 180, RS SO)
2. Isaiah Hayes (6-0, 191, RS SO)
Safety newcomer to watch: Dayven Coleman (6-2, 210, FR)
Comment: If reinstated from suspension, Scottie Young Jr. will push for playing time at free safety. His availability could determine how much freshman Christian Young plays. Coleman projects to Spur.
Cornerback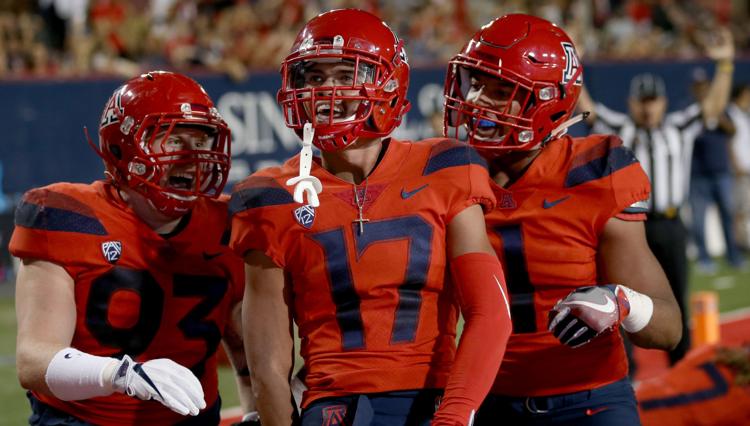 1. Jace Whittaker (5-11, 182, SR)
2. Tony Wallace (5-10, 184, SO)
---
1. Lorenzo Burns (5-10, 173, RS SO)
2. Tony Wallace (5-10, 184, SO)
CB newcomer to watch: McKenzie Barnes (6-2, 170, FR)
Comment: Wallace is the clear No. 3 corner and thus the listed backup at both spots; he might even nudge Burns out of the lineup. Barnes will have every opportunity to become the No. 4 corner.