3 reasons the Arizona Wildcats have outpaced their turnaround timetable
Impact freshmen, relatively few injuries and quarterback stability have propelled Arizona to the upper half of the Pac-12 — ahead of Saturday foe Oregon, among others.
By Michael Lev / Arizona Daily Star
RichRod: 'Is it a turnaround?'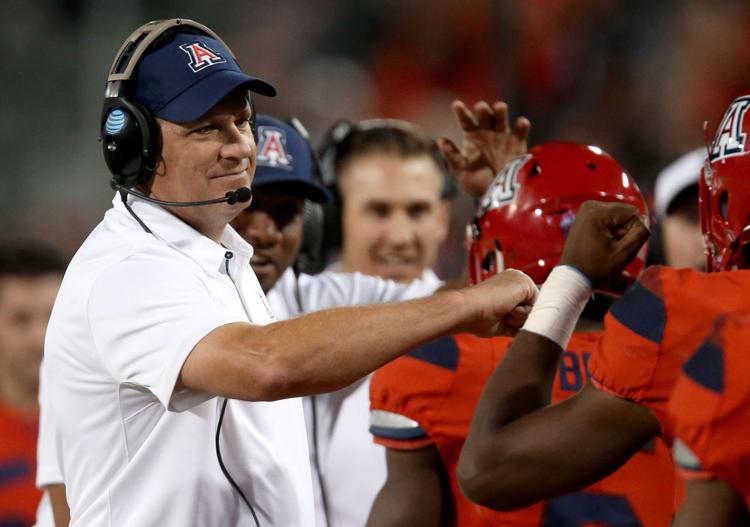 The Arizona Wildcats are where many thought Oregon would be right now.
Picked to finish last in the Pac-12 South, Arizona is 7-3 and headed for a bowl game to be determined.
Considered a strong bounce-back candidate after a down year, Oregon is 5-5 and fighting for a postseason berth.
They still could end up with identical 7-5 regular-season records — an outcome that would require the Ducks to defeat the Wildcats on Saturday in Eugene. But the current vibe around each program feels different.
Arizona has won five of six and is brimming with hope thanks to the emergence of Khalil Tate, the sophomore quarterback-turned-Heisman Trophy candidate. Oregon has lost four of five and is still trying to find its footing under first-year coach Willie Taggart.
It wasn't supposed to go this way. But when does it ever in the unpredictable world of sports?
UA coaches and players could sense a change in the offseason after last year's 3-9 debacle. They were optimistic. But no one knew, including Wildcats coach Rich Rodriguez.
Rodriguez never had experienced anything quite like 2016. At West Virginia — and even at Michigan — his teams gradually improved. They never endured the three- and four-win drops that befell Arizona the past two seasons.
"What has caused the turnaround?" Rodriguez asked this week. "I've been thinking: Is it a turnaround? Or are we staying the course and just trying to get better in all aspects? I think it's been more that."
Several Arizona veterans have developed and improved over the past year. But three other factors have played an even bigger role in putting the Wildcats ahead of their perceived schedule:
1. The Class of 2017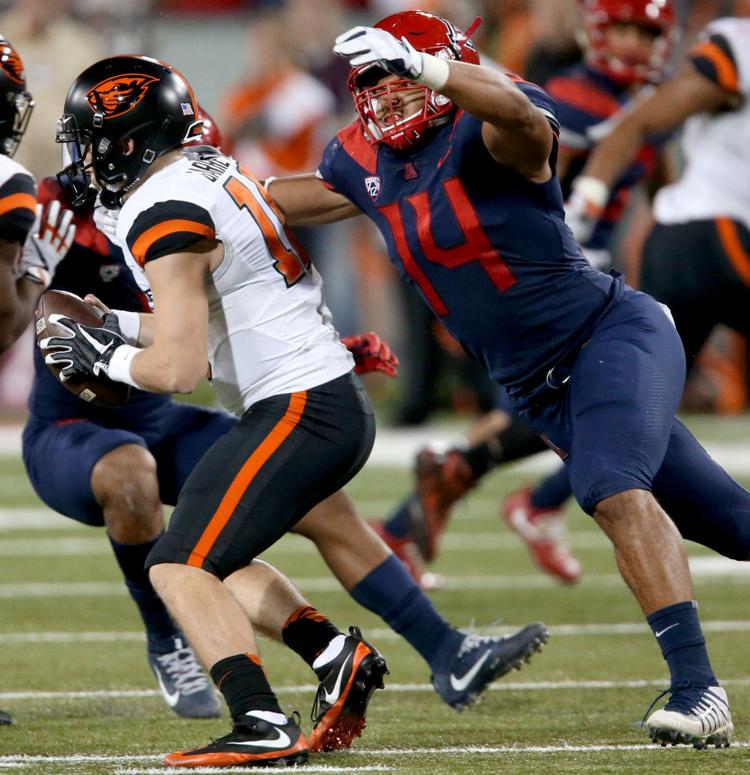 Rodriguez didn't just want this freshman class to help immediately — he needed it to, especially on the defensive side of the ball. The early returns, in summer workouts and training camp, were favorable.
"I thought we had a chance to be a better football team," Rodriguez said. "But you don't really know with the true freshmen how much of an impact they can have."
He soon found out. Linebacker Tony Fields II, "Stud" Kylan Wilborn and free safety Scottie Young Jr. started from the jump. Linebacker Colin Schooler joined them in Game 5.
Fields, Wilborn and Schooler rank among the team leaders in tackles, stops for losses and sacks. Despite missing three games because of injuries, Young ranks sixth in tackles.
Rodriguez summed up the contributions of the freshmen like this: "I don't know if I've ever had this many play this much and be this significant."
2. Better health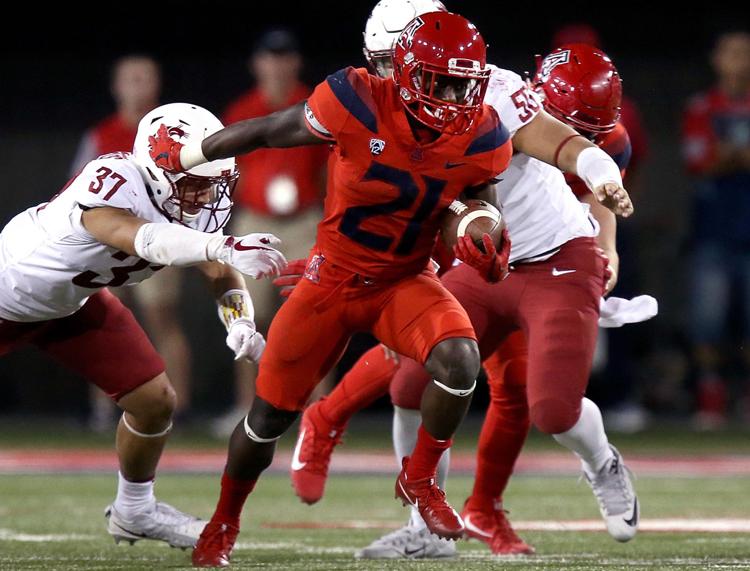 Rodriguez was asked this week if he'd ever gone through anything like the spate of injuries that struck Arizona's quarterbacks last season.
"Only if you compare it with what we went through at the linebacker position two years ago," Rodriguez replied.
The Wildcats basically lost every middle linebacker they had in 2015, including All-American Scooby Wright for most of the season. After a 3-0 start, Arizona stumbled to the finish, ending up at 7-6 — a disappointing follow-up to the 10-4 breakthrough of 2014.
It seemed improbable that the UA would have such rotten injury luck for a second year in a row. It might have been worse.
Week 1 starting quarterback Anu Solomon got hurt in practice a few days after the opener. Replacement Brandon Dawkins went down a few weeks later. Both would return, but continuity proved elusive — especially with injuries elsewhere in the backfield.
Breakout freshman J.J. Taylor suffered a season-ending broken ankle in Week 4. Veteran Nick Wilson popped in and out of the lineup before being lost for good in mid-October.
"It wasn't just us," quarterbacks coach Rod Smith said. "It was the running backs. It was the offensive line. It was the defense. It was crazy. You never want to go through that storm again."
Arizona has lost a handful of key contributors this season, including safety Isaiah Hayes and snapper Nick Reinhardt. But the Wildcats are healthy compared to the past two seasons. They listed only two non-starters on this week's injury report: freshman defensive linemen Kurtis Brown and JB Brown.
"I certainly thought if we could stay healthy, we were going to be better than last year," Rodriguez said. "It's hard to be much worse."
3. Clarity at quarterback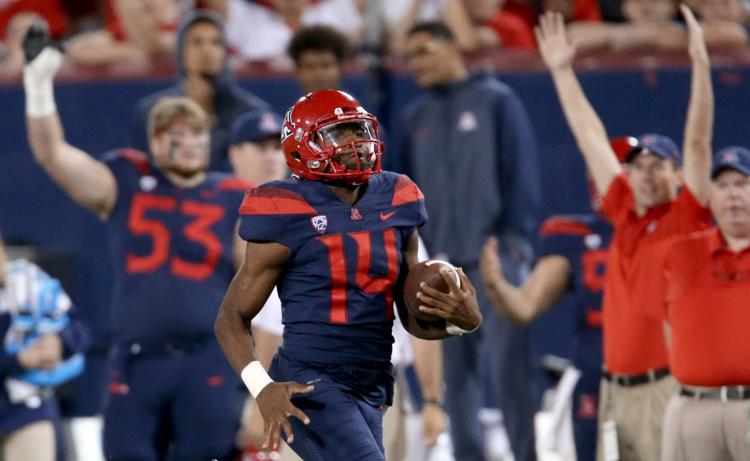 None of this would be possible without Tate's sudden rise. His explosiveness as a runner and efficiency as a passer have changed Arizona's offense and outlook.
Gone are the days of Rodriguez keeping the identity of his starting quarterback a public secret until kickoff. Tate is The Man.
"You know who your guy is," junior receiver Shun Brown said. "Every day you're learning and growing with him."
If injuries and quarterback play are instrumental to success, imagine the devastation a significant QB injury can cause. Actually, you don't have to imagine. Just look at the other sideline.
Oregon started 4-1 with Justin Herbert as its starter. The Ducks have gone 1-4 since he got hurt Sept. 30. He is expected to return to the lineup Saturday.
In Taggart's experience, most programs that hire new coaches do so for a reason.
"Usually when you're taking over the program," Taggart said, "there's a lot to repair."
Rebuilding programs typically lack depth. Oregon wasn't quite in that mode when Taggart took over, but transfers depleted the Ducks' QB supply. When Herbert went down, their options were limited.
"When you lose a guy that's played a lot of ball and had some success at the quarterback position, it's always tough," Taggart said. "You can see that going around in college football now."
The most striking example is Florida State. A consensus preseason top-five pick, the Seminoles lost quarterback Deondre Francois in Week 1. They need to win out to make a bowl game.
Meanwhile, in Tucson, Arizona has Tate and will play in a bowl for the fifth time in Rodriguez's six seasons. Not that the Wildcats are feeling satisfied just yet.
"We still have so much to prove," Rodriguez said. "That's been part of our guys' motivation since August camp.
"Every week is a chance to prove ourselves. That will never stop."