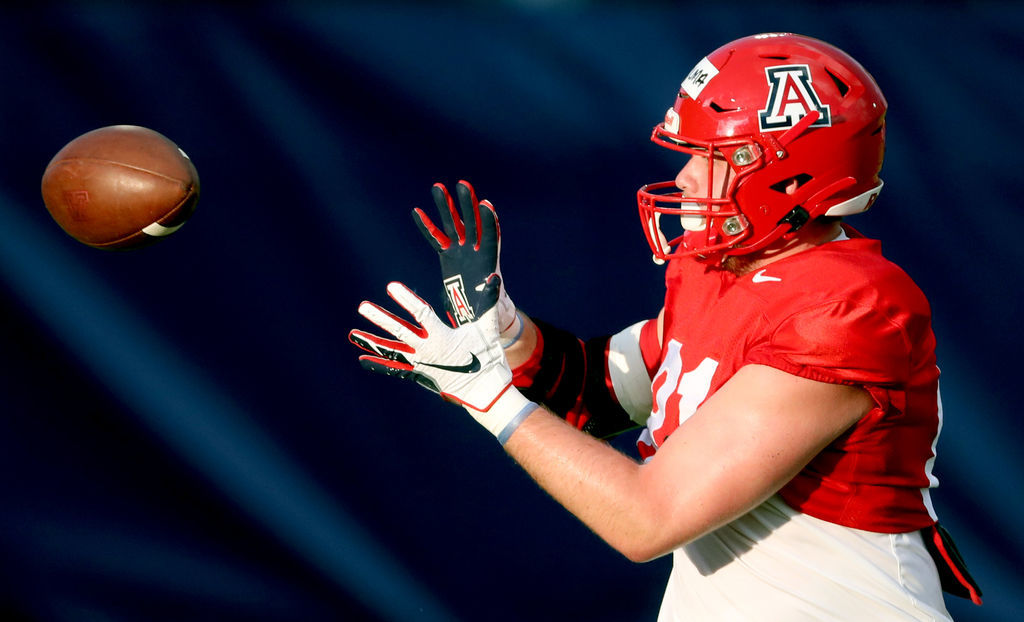 When he addressed his team after practice Wednesday night, one of Kevin Sumlin's talking points was the Arizona Wildcats' red-zone efficiency — or, should we say, inefficiency.
Arizona led the Pac-12 in total yards last season yet ranked 11th in touchdown percentage inside the opposition's 20-yard line. Correspondingly, the Wildcats ranked second in the conference in field-goal attempts.
"Which is not a great stat to have," junior tight end Bryce Wolma noted.
As a result, red-zone offense has been a "big focus" for Arizona during the first week of training camp, Wolma revealed.
"We've been really focusing on scheme and assignment down in the red zone, kind of just making sure guys are on the same page," he said. "We obviously have the talent, we have the players and we have the scheme to do it."
Breakdowns within scoring range proved costly for the 2018 Wildcats. They lost two games, against UCLA and Arizona State, by one point apiece. Arizona scored touchdowns on only 4 of 11 trips inside the 20 in those games. Six drives concluded with field goals; the other ended with an interception.
The UA finished the season with a red-zone TD rate of 51.1% — down from 71.1% the previous season, when the Wildcats ranked third in the Pac-12 in that category. Arizona averaged 10 fewer points per game in 2018 than in '17.
What changed, aside from the coaching staff? Here are two theories, with some supporting statistics:
Khalil Tate wasn't right. Tate had a perfect 11-0 touchdown-to-interception ratio in the red zone, but his completion percentage fell from 75% (9 of 12) in 2017 to 48.4% (15 of 31) last year. The latter was his lowest in any 20-yard segment of the field.
Not fully grasping Noel Mazzone's system — at least not to the extent Tate does now — might have had something to do with it. But Tate's lack of elite mobility, caused by a sprained ankle, probably was a bigger factor.
In 2017, Tate ran 11 times for 56 yards and two touchdowns inside the 20-yard line, according to ESPN.com. Last year, he ran six times for 1 net yard and two scores.
Tate's rushing ability, or at least the threat of it, made all other aspects of Arizona's offense easier.
With Tate at less than 100% last year, the Wildcats struggled to finish drives.
Further illustrating that point: Backup QB Rhett Rodriguez also posted his lowest completion rate in the red zone — 38.5%. Rodriguez, who started and played the entire UCLA game, isn't nearly the running threat Tate is. Defenses adjusted accordingly.
"Our job is to get the ball in the end zone," Mazzone said. "We've gotta step up our game down there."
Arizona's tailbacks weren't ideally deployed. J.J. Taylor does everything well. Asked this week which UA back is toughest to beat on the blitz, linebacker Tony Fields II replied: "J.J." Asked which one is toughest to cover out of the backfield, Fields repeated his answer: "J.J."
But running the ball between the tackles against a condensed defense isn't Taylor's forte.
It shouldn't come as a surprise that his average per carry was lower in the red zone than any other 20-yard chunk of the field each of the past two seasons. That's just math and physics. The longest possible run inside the 20 is 19 yards. And there are limits to how deep defenses can place their safeties once offenses penetrate the 20.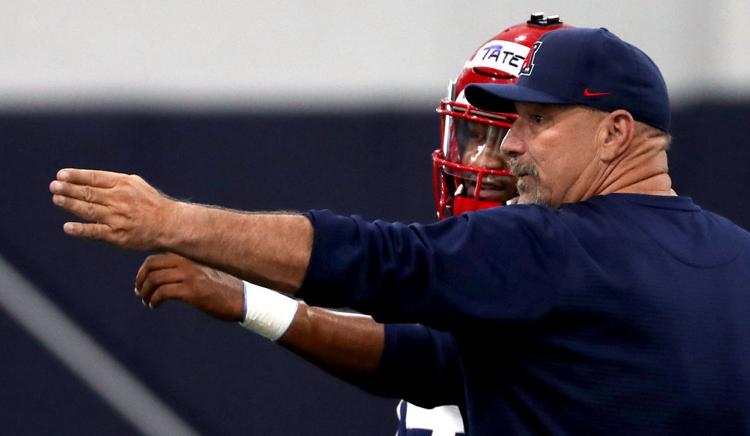 Certain numbers suggest a different approach than simply handing the ball to the 5-6, 184-pound Taylor, however.
Taylor had seven touchdowns in 58 red-zone carries over the past two seasons. Inside the 10-yard line? Five TDs in 28 attempts, or 17.9%.
Teammate Gary Brightwell — who's listed at 6-1, 210 — had two touchdowns in seven rushes inside the 10 last season, a success rate of 28.6%. In 2017, 5-10, 229-pound Zach Green had eight TDs in 16 such carries — an astounding 50% scoring rate.
Again, Tate's health and mobility undoubtedly played a role in that. But even in today's spread-out version of football, there's something to be said for having a big back who can run through defenders near the goal line.
A better way to use Taylor inside the 20 might be to send him into pass routes. He had one red-zone reception in 2018, good for 18 yards. He caught four balls for 24 yards in 2017, with two producing touchdowns.
Less is more
When it comes to football players' physiques, bigger isn't always better.
Wolma and Fields have dropped weight since last season, joining a handful of others in that group.
Wolma was listed at 252 pounds entering camp last year. He's currently listed at 245.
"I feel a lot better at this weight," the 6-3 Wolma said. "I felt like I was a little bit too heavy last year. It was a little harder for me to move."
Fields is down from 230 to 220. He wants to be quicker and more mobile than a year ago.
"It was obvious," the 6-1 Fields said. "I had a gut."
Fields echoed defensive lineman JB Brown – who's down from 263 to 255 – in saying he wants to add good weight. Fields would like to play at 225 pounds. But "I'm not rushing anything," he said.
Brown is determined to eat well and avoid a diet of "just cheeseburgers and stuff like that," he said.
Extra points
Mazzone appeared to be working with freshman quarterback Grant Gunnell on quickening his tempo and release. Gunnell is a legit 6-6. His throwing motion looks more compact than in high school.
Receiver Cedric Peterson and cornerbacks McKenzie Barnes and Malcolm Holland worked on the side during the portion of practice open to the media.
Players who did not participate Thursday included offensive lineman Jon Jacobs and edge rusher Eddie Siaumau.
A scout from the Kansas City Chiefs attended practice.
Fields missed the first practice of training camp last week to deal with a family matter in his hometown of Las Vegas; his great-grandmother recently passed away. Fields said it was the first practice he has missed since enrolling at Arizona in January 2017. "I wanted to be here so bad," he said. "I couldn't make the flight arrangements so I could be here and be there at the same time."
Be the first to know
Get local news delivered to your inbox!