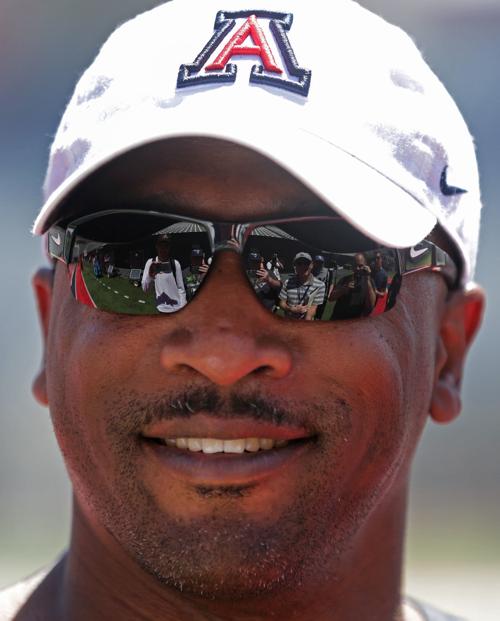 After one season at Arizona, UA running backs coach Clarence McKinney was named Texas Southern's next head coach on Monday. McKinney replaces former TSU coach Michael Haywood.
Haywood resigned as TSU coach Tuesday after posting a 7-19 record over three seasons and FootballScoop.com reported on Wednesday that McKinney was Texas Southern's "top target" and that "the job is his if he wants it."
Texas Southern is located in Houston. McKinney began his coaching career in the Houston high school ranks before joining Kevin Sumlin's staff at the University of Houston.
"I am happy to be returning to my hometown and former neighborhood to lead and develop the student-athletes in the football program at Texas Southern University," McKinney told Mark Berman of Fox 26 Houston.
McKinney followed Sumlin to Texas A&M and then to Arizona. McKinney is considered one of the Wildcats' top recruiters, especially in Texas. He also coached a running back unit that helped Arizona lead the Pac-12 in rushing for the second straight year.
"My feelings, it's hard, being with somebody over a decade, it's tough," Sumlin said via Berman. "He did so much for all of the organizations that I've been a part of. You're also happy for growth. I'm very fortunate to have surrounded myself with guys that can be head coaches. You want the best for them and their family."
Under McKinney's tutelage, redshirt sophomore J.J. Taylor rushed for 1,434 yards, second most in the Pac-12 and the fourth-highest single-season total in UA history.
Texas Southern is an FCS program that plays in the Southwestern Athletic Conference. The Tigers finished 2-9 this season. 
Contact sports reporter Michael Lev at 573-4148 or mlev@tucson.com. On Twitter @michaeljlev