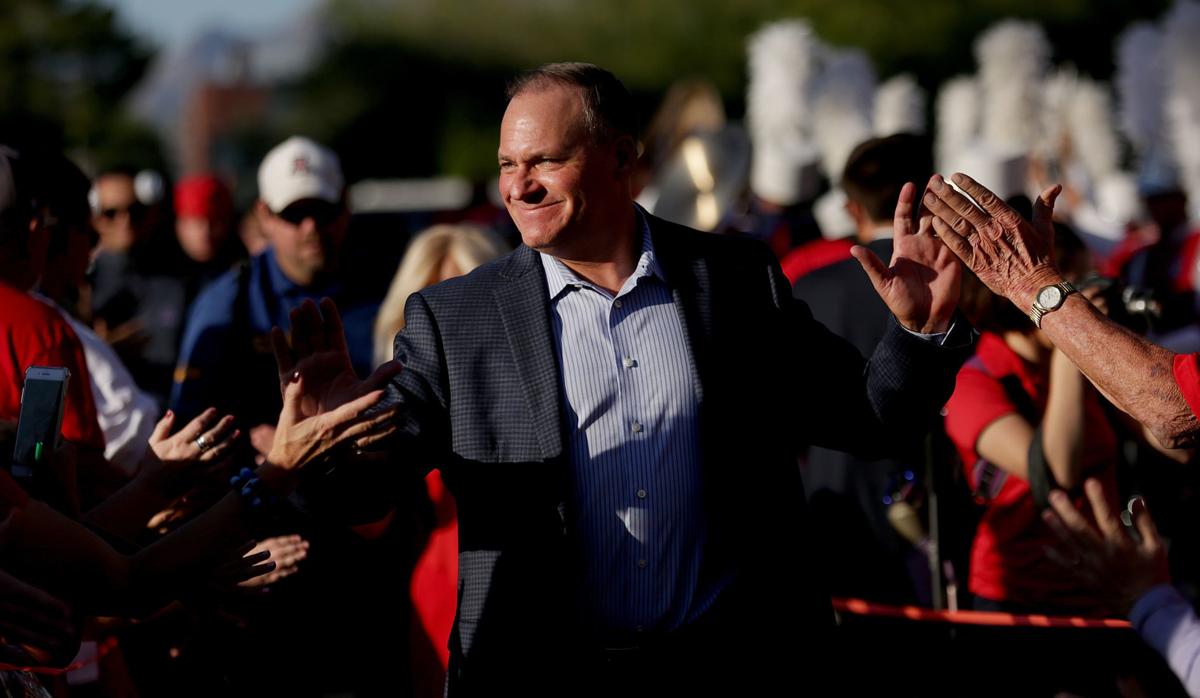 Former UA football coach Rich Rodriguez will be dismissed from a federal lawsuit related to former running back Orlando Bradford's violence against women, after lawyers for the plaintiff determined the coach was unaware of Bradford's behavior before his arrest.
On Friday, attorneys for Rodriguez and the plaintiff filed court documents seeking to dismiss Rodriguez and his wife, Rita, from the lawsuit, with each party paying their own lawyers' fees and costs.
The plaintiff's attorney also apologized to the Rodriguezes, saying she spread what she now believes to be false information.
The University of Arizona remains a defendant in the federal lawsuit, which centers on whether school officials knew Bradford was choking and physically assaulting three women before his September 2016 arrest on domestic violence charges.
It claims that the school violated the plaintiff's Title IX rights to an education free from discrimination. Title IX is a federal law ensuring that students receive an education free from discrimination, including sexual harassment, sexual assault and domestic violence.
Police arrested Bradford after the plaintiff, a UA student, reported that the running back had hit and choked her over a two-day period. Bradford was immediately kicked off the team. The next day, a second student came forward and told police that Bradford had been abusing her for several months. He was rebooked on several felony charges.
The Arizona Daily Star does not typically identify victims of domestic violence.
Bradford pleaded guilty to two felony counts of domestic-violence-related aggravated assault. He is serving a five-year prison sentence.
In October 2017, the woman whose complaint led to Bradford's initial arrest filed the lawsuit against the UA. In it, she claimed that school officials knew about Bradford's behavior before his arrest but failed to take appropriate action to protect other students.
Rodriguez and his wife were added to the lawsuit four months later. By then, Rodriguez had been fired by the UA amid claims that he sexually harassed his former assistant, Melissa Wilhelmsen, and ran a hostile workplace. Rodriguez was paid his full buyout after a third-party investigation could not back up Wilhelmsen's initial claims; a joint statement from athletic director Dave Heeke and president Robert C. Robbins said that the decision to fire Rodriguez was "based on several factors, including the direction and climate of our football program." 
Wilhelmsen filed notices of claim with the UA and Rodriguez, claiming, among other things, that the coach instituted a set of shadow policies to help players bypass the school's rules. The claims, which are precursors to lawsuits, asked for a combined $16 million in damages.
In July, Wilhelmsen — who now goes by her maiden name, Melissa Melendez — filed a lawsuit against Rodriguez and the UA in federal court. Rodriguez must still defend himself in that case.
Isabel Humphrey, the attorney for the plaintiff in the Title IX lawsuit, sent a letter to Rodriguez's attorney Friday saying that she has requested the court dismiss the claims against Rodriguez and his wife with prejudice, meaning they can't be refiled at a later date.
"At the time the claim was filed, we relied upon information provided by a third party, Melissa Wilhelmsen, to the media," the letter said. "As discovery has progressed, however, we have concluded that the information we relied upon in good faith by Ms. Wilhelmsen has not proven accurate, and that you did not know about Bradford's violent behavior towards his girlfriends at the U of A until the day of his arrest. On that same day, you immediately dismissed him from the team in accordance with your 'zero tolerance' policy towards domestic violence."
Humphrey's letter apologized to Rodriguez and his family for "having participated in the spread of what now appears to us to be disinformation" about Rodriguez's management of the UA football program.
Rodriguez's lawyer, Kathleen Wieneke, did not immediately respond to the Star's request for comment. Rodriguez has denied Wilhelmsen's accusations; he said in a previous response to her notice of claim that she tried to extort him out of several million dollars by threatening to take her claims public.
Rodriguez is in his first year as Ole Miss' offensive coordinator; the Rebels play their first game Saturday.