Star reporter Michael Lev checks in with five storylines to watch ahead of Saturday's 8 p.m. game between Arizona and No. 7 Utah at Arizona Stadium. The game will be aired on Fox Sports 1 and broadcast on 1290-AM and 107.5-FM. 
Follow live updates during the game on Twitter @TheWildcaster. 
On CB island, Arizona Wildcats freshman Christian Roland-Wallace faces sink-or-swim reality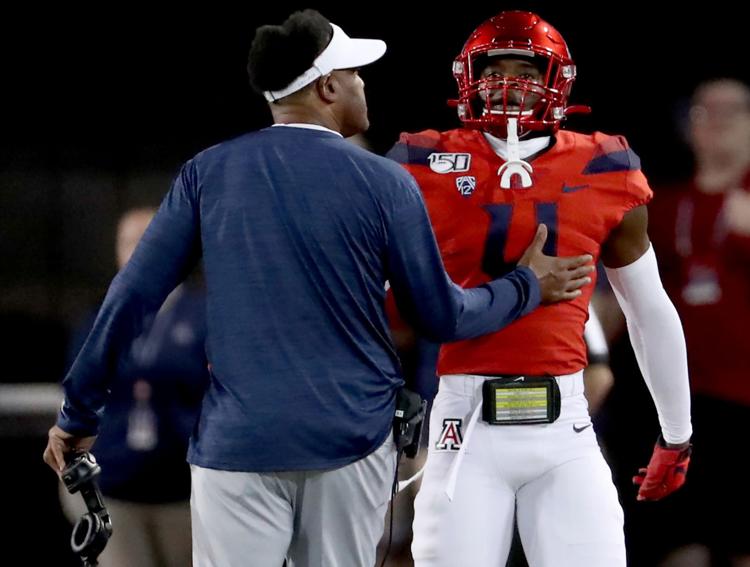 There's no position in football quite like cornerback. There's no substitute for game experience when cornerback is your position.
"It's one of a kind," said Arizona Wildcats senior Jace Whittaker, a corner for most of his UA career. "The backdrop, the fans, the emotion, the adrenaline, the speed of the receiver, the ball placement of the quarterback."
Freshman cornerback Christian Roland-Wallace is getting all the game experience he can handle.
Since the Aug. 24 opener at Hawaii, when he was a surprise starter, Roland-Wallace has been a mainstay in the Arizona secondary. At times, he has flashed the potential that led USC to pursue him late in last year's recruiting cycle. At other times, he has looked like, well, a freshman.
Both versions of Roland-Wallace were on display in Arizona's loss at Oregon last week. He led the team with two pass breakups. He also allowed two touchdowns.
"Christian is a young guy that's got a lot of talent that is learning on the run," said UA coach Kevin Sumlin, whose team hosts No. 7 Utah in the home finale Saturday night. "What does that look like? You can coach all you want. Talent is premium, particularly at the corner if you're playing man to man. The moment of truth, you can't get enough snaps at that, enough balls in the air.
"At the moment of truth, what are you going to do? The only way to do that is to play games. You can practice it all you want. But at corner, you're going to get four or five of those a night, maybe six, and that can make or break who you are as a player."
The 2019 season has been challenging for Roland-Wallace, who has been targeted frequently. That should come as no surprise.
"Anytime you pick up a roster and it says 'FR' behind your name – freshman – you're gonna pick on this guy because you know he's new," Sumlin said.
Fortunately for Roland-Wallace, he has plenty of support. Whittaker, who shifted to safety this season, and Lorenzo Burns, who starts at the opposite corner, gladly have served as mentors to the player who will become the secondary's leader someday. Roland-Wallace might be on an island sometimes, but he's never alone.
"I think he's been doing a great job of handling things," Burns said. "He'll come to me and ask me questions. I'll give him advice. I tell him … 'Shake off the mistakes, because you're playing well.' "
Burns remembers what it was like to be on the other side of that conversation. He started as a second-year player in 2017.
"When I was a redshirt freshman," Burns said, "I was asking people like Dane (Cruikshank, former UA defensive back), Jace, people in the secondary, on the whole defensive side, how do I get better? What am I doing wrong? How do you guys view me?"
Whittaker also learned on the fly. He started three games as a scrawny true freshman in 2015, when he was listed at 163 pounds. (He's now listed at 185.) He knows what it's like to be targeted. He told Roland-Wallace to enjoy it while it lasts.
"They're going to come at you," Whittaker said. "And really, that's what you want. It's not fun when they don't and you're out there just running around not doing anything, no action.
"So I tell him every day, 'You're in the best position. One day you'll establish yourself to not throw this way anymore. But until then, you have all the opportunity in the world to make big plays.' "
Both veterans said you have to believe in yourself to excel at cornerback and endure the trials that come along with being young and playing that position. They say Roland-Wallace has that self-confidence. Sumlin sees it too.
"He's got the demeanor to be a really, really good player," Sumlin said.
---
'We're still people': Arizona's Tony Fields II endures pain off field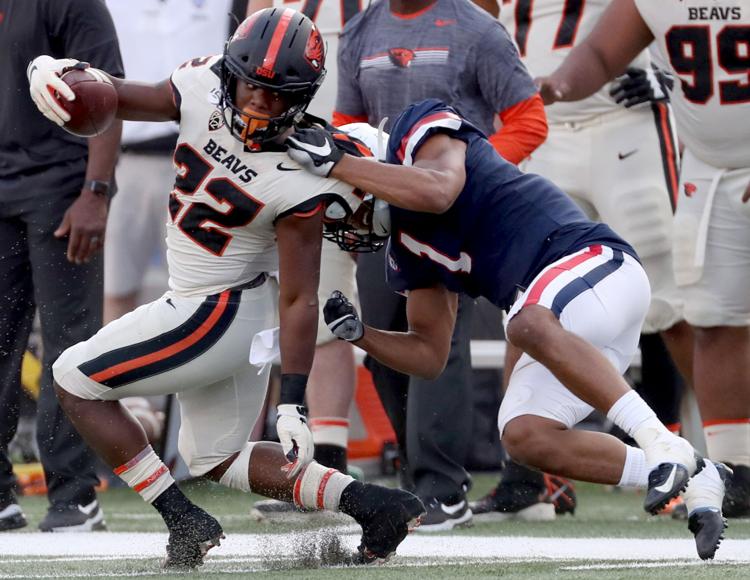 Junior linebacker Tony Fields II was more emotional than usual during Arizona's game at Oregon last week.
Fields' grandfather passed away three days before the game. It was the second death the Fields family has endured this season. His great-grandmother died in late July. Fields missed the Wildcats' first practice of training camp — the first practice he ever had missed as a Wildcat.
Fields' family lives in Las Vegas. They support one another from afar.
"I talk to them as much as I can," Fields said. "I call them like after practice, in the mornings.
"The person I talk to the most is my sister. She's the youngest, Rhythm. I don't want her to feel down dealing with all this. But surprisingly, she's coping with it better than me."
Rhythm is 14 years old. Her big brother just played on national TV against the sixth-ranked team in the nation three days after a death in the family. Media and fans scrutinize everything the players do on the field, often not knowing what they're going through off it.
"We're still people," Fields said.
No matter his state of mind last Saturday, Fields expected the best of himself. Days later, he was still lamenting a touchdown he surrendered.
It came on an exquisitely executed back-shoulder throw from first-round draft prospect Justin Herbert to tight tend Spencer Webb in the third quarter. As UA coach Kevin Sumlin noted, Fields was "right there."
"Oh man," Fields said with a sigh. "Justin Herbert is an NFL quarterback. That's the best way to put it. I turned around right in time, everything. He put it right there on the money. That was a great catch by the receiver too. He played it with his eyes perfectly."
The timing of the play and the placement of the ball made it impossible to defend. There wasn't much Fields could have done.
"Yeah, but I'm over-critical," he said. "I wanted to make that play."
---
Teammates recall big wins, good times as Khalil Tate's UA career nears its end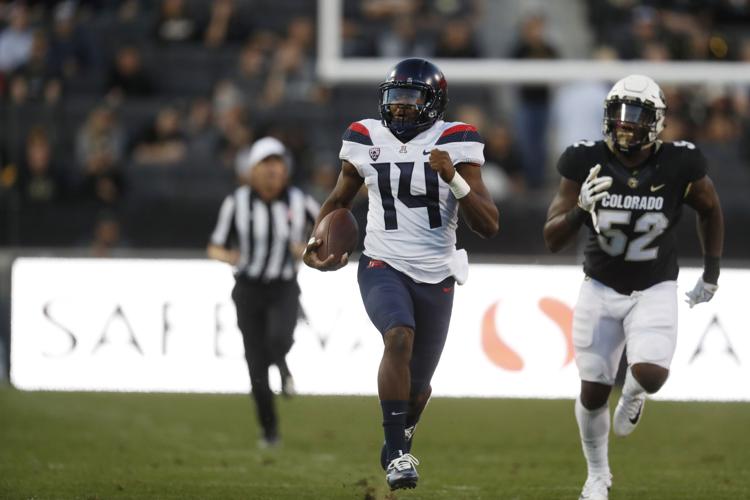 More than a dozen Arizona Wildcats are expected to participate in senior-night festivities Saturday against Utah.
None has authored more spectacular moments than quarterback Khalil Tate.
Tate has endured some trying moments too, and the latter half of his senior year hasn't gone according to plan. Tate has been sharing time with freshman Grant Gunnell. Meanwhile, the Cats have lost five consecutive games, putting them on the brink of elimination from postseason play.
Still, Tate has posted some eye-popping numbers over the course of his career. He ranks third in UA history in total yards (8,254) and touchdown passes (55). He and Jalen Hurts are the only current Power 5 conference quarterbacks with 6,000-plus passing yards and 2,000-plus rushing yards. Tate and Marcus Mariota are the only Pac-12 QBs ever to do it.
The Star asked a handful of UA upperclassmen to cite their favorite memories from the Tate era. Here's what they had to say:
Tailback J.J. Taylor: "I guess the whole run. We played each other in high school. And then come here, and we're together. We've been close ever since."
Cornerback Lorenzo Burns: "My freshman year, when I first got here. We were at practice one day. It was like a little freshman scrimmage. And I went to go tackle Khalil. Khalil was a little thicker at the time. I learned my lesson pretty quickly. He ran me over."
Defensive tackle Finton Connolly: "When Khalil got his opportunity to play against Colorado, and he just went off. That's the Khalil I'll always remember."
Linebacker Tony Fields II: "Colorado. Easily."
(Tate burst into the national consciousness on Oct. 7, 2017, when he came off the bench in Boulder and rushed for a record 327 yards and four touchdowns. Tate would win an unprecedented four consecutive Pac-12 Offensive Player of the Week awards.)
Defensive back Jace Whittaker: "Oh man. We won some pretty big games with him. I love seeing him go out there and succeed. That's my brother. I hope I can see some more of that this weekend."
---
Can underdog Arizona upset a top-10 Utah team? It's happened before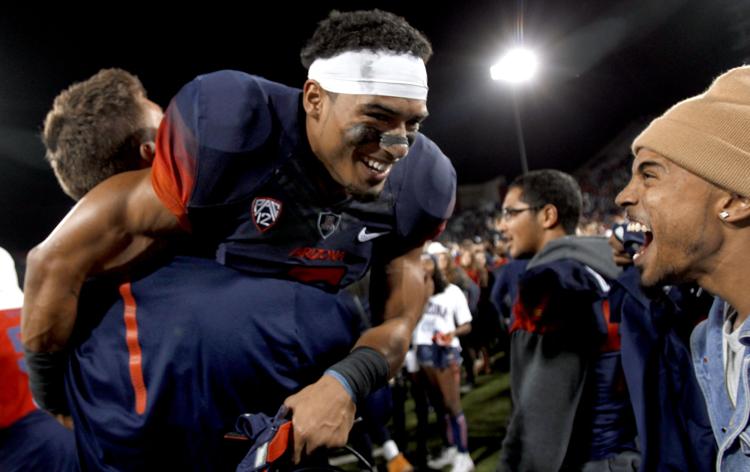 How could struggling Arizona possibly hope to upset soaring, seventh-ranked Utah?
Every season and set of circumstances are different, of course. But this particular scenario eerily echoes another from four years ago.
In November 2015, No. 10 Utah came to Tucson. The Utes had one loss and were leading the Pac-12 South. The Wildcats had lost three in a row, putting their bowl eligibility in jeopardy. Kickoff was scheduled for 8 p.m. on Fox Sports 1. It was senior night at Arizona Stadium.
What happened next had all the earmarks of #Pac12AfterDark.
Inspired Arizona raced to a 10-0 lead. Determined Utah fought back. Anu Solomon's 6-yard touchdown run knotted the score with 4:01 left in the third quarter.
The game went to overtime. The teams exchanged field goals. The Wildcats scored what turned out to be the winning touchdown on the most improbable of plays: a 25-yard touchdown pass from Jerrard Randall to Nate Phillips. Randall had replaced an injured Solomon. Randall completed one pass in five attempts — that one to Phillips.
The UA defense held, and Arizona emerged with a 37-30 victory in double OT. The Wildcats improved to 6-5 and secured a bowl berth. Utah to fell to 8-2 and into a tie for first in the South Division. USC — which held the head-to-head tiebreaker then and does again now — went on to win the division and play in the Pac-12 Championship Game.
"All is not lost," Utah coach Kyle Whittingham said afterward. "We need to show resilience and toughness. Every week is a challenge. That's why we play in a conference like this."
The win for Arizona was its fourth in a row in the series. Utah has won the past three meetings.
One current Wildcat played in that game: defensive back Jace Whittaker. A freshman at the time, Whittaker did not record any statistics. Four Novembers later, the fifth-year veteran will experience his own senior night against the Utes.
---
Rankings say Utes shouldn't be outclassing Cats
Any rudimentary analysis of the respective rosters would tell you Utah has significantly better personnel than Arizona.
Recent recruiting rankings do not necessarily reflect the extent of that disparity.
Yes, the Utes have reeled in higher-ranked classes in four of the past five cycles, according to 247Sports.com's composite system. But those rankings do not mirror what has happened on the field this season: Utah has risen to the top of the Pac-12, while Arizona has sunk to the bottom.
Here's a look at where Arizona and Utah's recruiting classes have ranked nationally and within the conference over the past five years, according to 247Sports.com:
2015: Arizona 43; Utah 45
2016: Arizona 48; Utah 37
2017: Arizona 45; Utah 33
2018: Arizona 61; Utah 33
2019: Arizona 55; Utah 42
Five-year average: UA 50.4, Utah 38.0
5-year average: UA 9.8, Utah 7.4
Contact sports reporter Michael Lev at 573-4148 or mlev@tucson.com. On Twitter @michaeljlev