Here are five storylines we'll be watching when the Arizona Wildcats take on Colorado at 1:30 p.m. Saturday (1290-AM, 107.5-FM, Pac-12 Arizona):
Punter Aragon got a mulligan following ugly season opener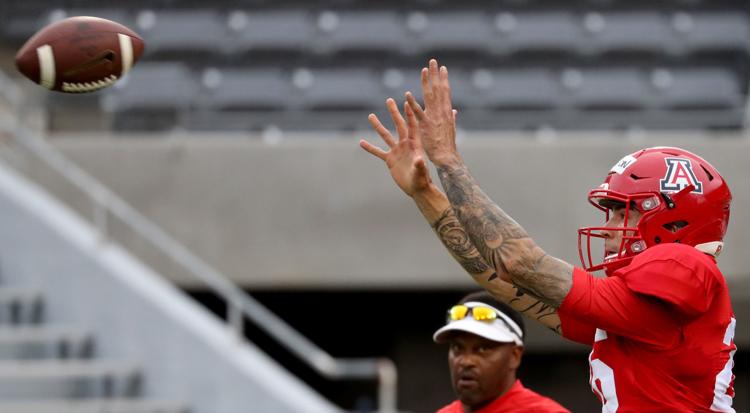 Matt Aragon wasn't always a punter, at least not full time. He primarily played wide receiver at Cienega High School. He considers himself an athlete first, a specialist second.
At the position he currently plays, that can be a blessing and a curse.
"It's funny," said Aragon, a fifth-year senior for Arizona, which visits Colorado on Saturday. "At receiver, when you play angry, sometimes you play better. You're more aggressive.
"But at punter, it's like being a golfer. You're teeing up, and you shank one into the bushes. You get mad, it's not going to help you. Being able to stay cool and calm and figure out what you're doing wrong technique-wise is really how that's going to improve."
Aragon began the season as Arizona's starting punter. He then lost his job — the equivalent of shanking one into the bushes – before battling to get it back. Last week, Aragon had his best performance as a Wildcat, playing a critical role in the UA's 20-17 victory over UCLA.
"We out-punted them," Arizona coach Kevin Sumlin said after the game. "I thought Aragon did what he needed to. I would have liked to knock one (more) down in there, inside the 10. But he flipped the field, gave them some long fields. The last punt was excellent."
Aragon entered the UCLA game averaging 35.4 yards per punt. That figure would have ranked 99th in the country entering this weekend's games.
He averaged 47.4 yards against the Bruins. Aragon also dropped three of his five punts inside the 20-yard line, including his last attempt, a 47-yarder that was fielded at the UCLA 5. The Bruins began their final drive at the 9 with 2:52 remaining. They best they could manage was a field-goal attempt, which sailed wide right.
Arizona had a 9-yard advantage in average starting field position. The Wildcats couldn't have done it without Aragon.
"I'm still learning the art, learning the technique of punting, trying to get comfortable," he said. "It's been a big transition. It's not so much focusing on your athleticism and your size, it's more focusing on the mental game and focusing on the technique."
Aragon is listed at 6 feet 6 inches and 213 pounds, and he played receiver for a while at the UA. This past spring, when he was the only punter on the roster, Aragon focused solely on that discipline.
He beat out freshmen Kyle Ostendorp and Cameron Weinberg for the starting job in training camp. Aragon performed poorly in the opener at Hawaii, averaging just 34.6 yards. One of his punts bounded backward and netted only 16 yards.
The coaches gave Ostendorp a shot two weeks later against NAU. He averaged 38.0 yards. The competition remained open.
Aragon used his demotion as motivation — but knew that playing angry wouldn't help him. He focused on technique, altered his steps and preparation, and reclaimed the job.
"It kind of lit a fire underneath me," Aragon said. "(The) frustration, you really can't let it get to you. It's something where you've kind of just got to take it how it is and … find a way to come out on top."
After an OK performance against Texas Tech — 36.2 yards per punt, but 2 of 5 inside the 20 — the breakthrough finally happened. 
Now Aragon aims to repeat it by "sticking to what I did as far as preparation. I changed up some things, my steps, the way I prepared mentally and physically. I plan on just doing the same routine every week from here on out."
---
As overturned touchdown showed, Cats' Casteel is a man of 'substance'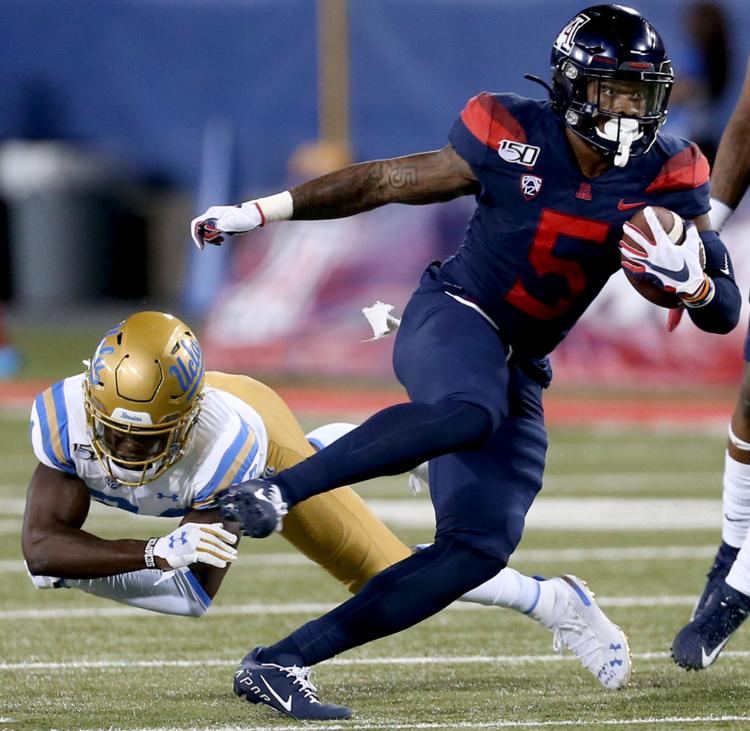 It went from a 42-yard touchdown to a 2-yard loss in the blink of a replay review.
Arizona receiver Brian Casteel made the play that would have put UCLA away. Until he didn't.
The redshirt sophomore corralled a low Grant Gunnell throw, broke two tackles and raced into the end zone. Casteel's effort might have topped Gunnell's big passes to Bam Smith for play-of-the-game recognition. But, upon further review, it was ruled that Casteel's left knee grazed the turf at Arizona Stadium.
The reversal negated a score, but it didn't take away what Casteel had done. He displayed the strength, determination and speed his teammates and coaches always knew he had.
"He's a dog," fellow slot receiver Jamarye Joiner said. "He's not gonna get tackled by one person."
"He's got substance," UA coach Kevin Sumlin said. "He's a thick guy. He's got a running-back kind of body. But he's got some explosive power and can run."
Casteel finished the UCLA game with a team-high seven catches for 44 yards. (His stat line would have been 7-88-1 if the play had stood.) He ranks second on the team with 14 catches entering Saturday's game at Colorado. Casteel also has a 42-yard punt return.
A few days after the fact, Casteel recalled the play with vivid detail.
"As soon as I picked up my head, there was somebody in my face," Casteel said.
That somebody was defensive back Jay Shaw, who appeared to wrap up Casteel at the UCLA 45-yard line.
"I kinda used my running back skills that I have to break some tackles," continued Casteel, a part-time tailback at Charter Oak High School in Covina, California. "I got loose from the first one. I came around. And it was actually one of my friends I grew up with, No. 12 on UCLA, trying to tackle me."
No. 12 is DB Elija Gates. He also appeared to have Casteel stopped, at the Bruins' 35.
"I tried to throw the stiff arm at him," Casteel said. "He jumped on my back. I thought he was gonna try to pull me out of bounds. I just kept trying to move my feet as much as I could and continue trying to score."
Casteel broke free, stayed inbounds and outran the UCLA defense down the left sideline. The subsequent feeling of euphoria proved fleeting.
"After it got called back, I was kind of disappointed," Casteel said. "So I had to go back on the field and try to get it back. Unfortunately, we didn't get it back. But our defense held."
Casteel talked to his buddy, Gates, after the game, describing the conversation as follows:
"He was like, 'You got me on that one.' I was like, 'They took it away from me.' It's all good, though."
Joiner bonded with Casteel in the offseason and said his teammate, who missed all of 2018 because of injury, is "super positive about everything." Casteel said he tries to shrug off every play— good or bad, confirmed or overturned — and move on to the next one.
"You gotta have short-term memory when playing football," Casteel said.
---
Tate's greatest hits 
have historically come 
at Buffaloes' expense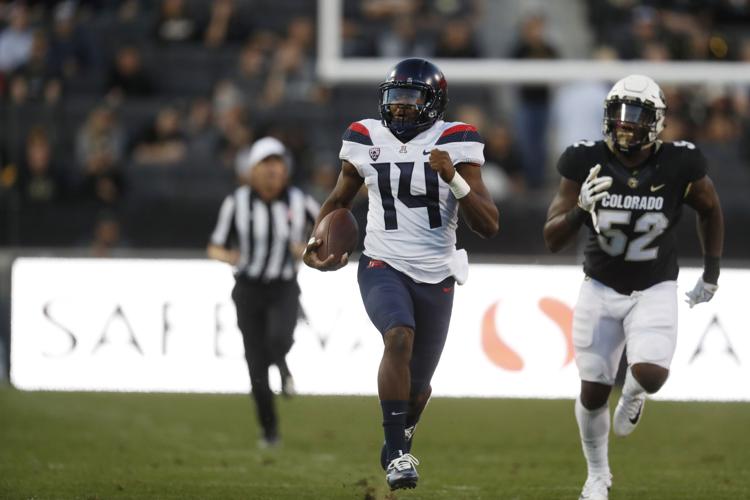 Colorado probably wouldn't mind it if Khalil Tate took another week to recover from hamstring and ankle injuries.
The Arizona quarterback has had his two best career games against the Buffaloes. Tate rushed for a career-high and record-setting 327 yards against CU in 2017. He posted a career-best 276.8 efficiency rating (FBS opponents only) against the Buffs last year.
Here's a look at Tate's top five performances in terms of rushing yards and efficiency:
2017/Washington State/146
2017/Washington State/221.8
---
From Florida to Kansas to Arizona, Fears finds family in Tucson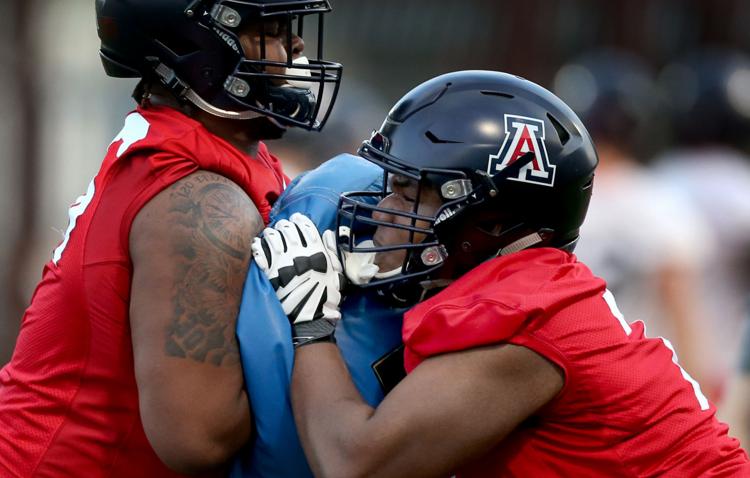 Arizona tackle Paiton Fears grew up in Central Florida, about 40 miles west of Orlando. He dreamt of playing at one of the big schools in his home state – preferably the University of Florida.
"My family, they're big Gators fans," Fears said.
Fears had the size — he's listed at 6-5, 308 — and talent to play at a Division I school. But he didn't have the test scores.
Fears had a pair of FCS options in Florida A&M and Bethune-Cookman. He and his family decided junior college would be the better route.
It was a prudent decision. Two years later, Fears is a co-starter for Arizona at right tackle.
He took a detour through Hutchinson, Kansas, where he played for Hutchinson Community College. Fears had offers from Baylor, Missouri and West Virginia. But the Wildcats' coaching staff — especially head coach Kevin Sumlin and inside receivers coach Theron Aych — won him over.
"Him and Coach Sumlin built a relationship with my family," Fears said. "They became family, basically."
Sumlin came to see Fears play in person a couple of times, and that made a huge impression on the hulking tackle.
"It shows that he cares," Fears said. "He really wants you in this program."
Fears enrolled in January. He has been splitting time almost evenly with redshirt sophomore Edgar Burrola. Fears made his first career start last week against UCLA.
Although they're competing with each other, Burrola and Fears root for each other and share information.
"He cheers for me. I do the same thing for him," Fears said. "When he comes off, I usually run over to him right away and tell him what I've seen or ask him what he's seen."
Cody Creason plays next to Burrola/Fears. The senior guard said the platoon has worked so far.
"I think it's worked out really well for both of them actually," Creason said. "They both kind of build off what each other do."
---
The positive side effect of Arizona's plentiful penalties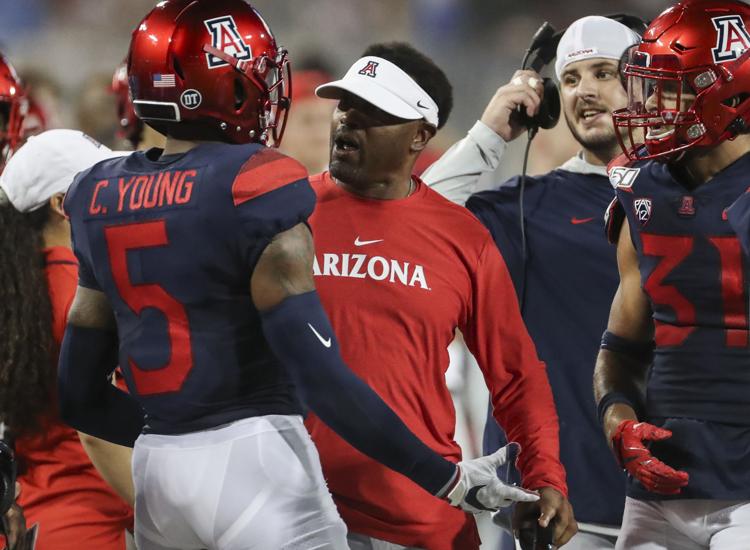 Is it possible that Arizona's plethora of penalties has had a positive effect on the Wildcats?
To counter a situation he termed "ridiculous," UA coach Kevin Sumlin instituted a penalty punishment at practice: The Cats have to run a "gasser" for every infraction they commit.
For non-linemen, one gasser consists of sprinting the width of the field three times. For the big guys, it's from the sideline to the far hash marks.
Arizona has been flagged 36 times in four games. Its per-game average of 9.0 is tied for 123rd in the country. That's a lot of gassers.
"It's kind of a discipline thing to make sure that we don't get those penalties," senior defensive tackle Finton Connolly said. "Those penalties definitely hurt us. With that being said, the conditioning has definitely helped us."
The gassers are part of an overall effort to run more and build stamina. It has paid off in a major way: The Wildcats have outscored their past two opponents 22-0 in the fourth quarter.
"Seeing your opponent just start to slowly break down is probably the best feeling in the world," Connolly said, "knowing that you're not as tired and you feel you can go forever."
Saturday's opponent, Colorado, has been a strong fourth-quarter squad. The Buffaloes have a 54-31 scoring advantage in the final period and already have more points in the fourth than in all of 2018 (39). CU was outscored 67-3 in the fourth quarter over the final six games of last season.
Colorado averages 5.5 penalties per game, tied for 33rd nationally.