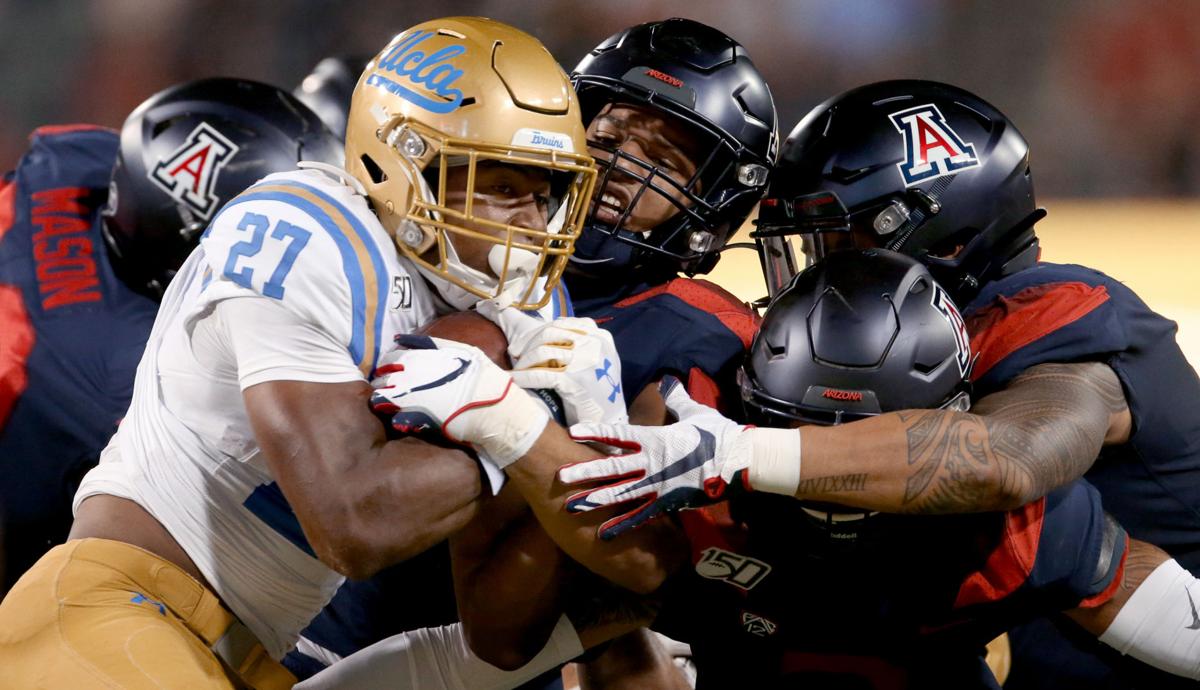 The Star Michael Lev looks at five storylines heading into Saturday's game between Arizona and No. 6 Oregon at Autzen Stadium. 
Arizona Wildcats focus on 'simple things' to fix difficult problem: their recurring defensive breakdowns
Doing our job … simple things … back to basics."
Those were some of the ways senior safety Tristan Cooper described the work he and his teammates put in during last week's bye. The Arizona Wildcats had to start somewhere to repair their damaged defense. They focused on fundamentals after a season-worst performance in the team's fourth consecutive loss.
Kevin Sumlin's decision to fire defensive coordinator Marcel Yates and promote Chuck Cecil was supposed to provide a spark. It didn't have the intended effect, at least not initially. The UA defense looked lost during its homecoming defeat to Oregon State on Nov. 2.
The hope inside the program is that an additional two weeks of practice and getting-to-know-you time will smooth out some of the rough spots. The first opportunity to find out comes Saturday night, when Arizona visits No. 6 Oregon.
"We're pretty much running the same things," Cooper said. "It's just making sure everybody's in their gap, everybody knows what gap fits they have, everybody knows who they're covering, where their eyes are. Simple things."
The Wildcats didn't make any of it look simple against the Beavers. Arizona surrendered a season-high 56 points. OSU receivers were running free through the UA secondary all afternoon.
"It was our first game with Chuck, and I know some of the players were a little confused," Cooper said. "It was a big transition.
"It was embarrassing. But this is our second week. We had two weeks to prepare for these guys. So it'll be a lot better this week."
It was slightly better in the second half, when Cecil moved from the sideline to the coaches' box. He seemed more comfortable being able to view the entire field, Sumlin said. Communication also improved.
Cooper said other factors were in play that week.
"It was our homecoming. Emotions were high," Cooper said. "When things were going wrong … we started spazzing out.
"I'm not gonna say it's expected when you get a new defensive coordinator, but just that week was very … we had a lot of pressure on us. It's not an excuse. We should have been prepared as players, as coaches."
Cecil's influence wasn't evident against Oregon State – certainly not in a positive way. But even players on the other side of the ball have felt his presence during practice.
"He plays more of a role in the defense, just bringing that fire and energy to the team," offensive lineman Steven Bailey said. "It kind of changed the atmosphere."
Whether it makes a difference this week, or the rest of the season, remains to be seen.
---
Committed Myles Tapusoa has shed inexperience along with extra weight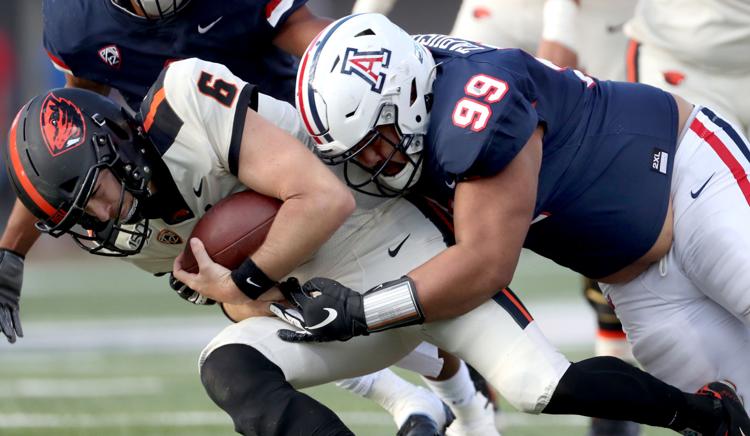 Myles Tapusoa played in junior college for two years before coming to Arizona. He spent the previous two years on an LDS mission. He arrived on campus as a 22-year-old man — a full-fledged grown-up.
He wasn't ready for Division I football.
Tapusoa struggled with conditioning and injuries during his first spring practice as a Wildcat after enrolling at the UA in January. He missed most of the spring as a result.
Since then, the big defensive tackle has learned to embrace that which he once found uncomfortable. He has lost weight and gained a role in Arizona's defensive line rotation. Tapusoa recorded a career-high three tackles and his first sack against Oregon State two weeks ago.
He described the steps he took to get there as follows: "Just committing to the program, taking the workouts seriously and stepping out of my comfort zone."
It was hard at first. Tapusoa, who's listed at 6 feet, 325 pounds, weighed about 340 back in spring. He participated in the first practice and the spring game but missed most of the action in between.
"I don't think Myles could make it through warmups last spring," UA coach Kevin Sumlin said in late August. "You guys kept looking for him. 'Where is he?' Shoot, he's tired."
Sumlin added that Tapusoa "was a little overwhelmed with school." The transfer from Eastern Arizona College said he also got hurt during spring.
Whatever was going on, Tapusoa put it behind him. He credited strength coach Brian Johnson for helping him get down to his current weight of 323 pounds. But Tapusoa had to put in the work. It included "a lot" of extra conditioning during summer workouts.
"It would be easy to just give up on that," Tapusoa said. "But just to stay committed throughout that whole (time) was beneficial for me."
Tapusoa graduated from West High School in Salt Lake City. He was supposed to attend Southern Utah after completing his mission but decided to go the junior college route after the Thunderbirds changed coaches.
Tapusoa accumulated 85 tackles, including 12.5 stops for losses, in two seasons at Eastern Arizona. He visited the UA and said it "felt like home." Arizona was in the market for defensive tackles and added him to its 2019 class.
Now that he has improved his endurance, Tapusoa is seeking to enhance his game.
"I could do more. I could do better. I'm never satisfied with how I perform," Tapusoa said. "So it's just a matter of taking each week and just seeing how I can better myself and contribute to the team. That's how I see it."
---
Backups on offensive line get long-awaited opportunity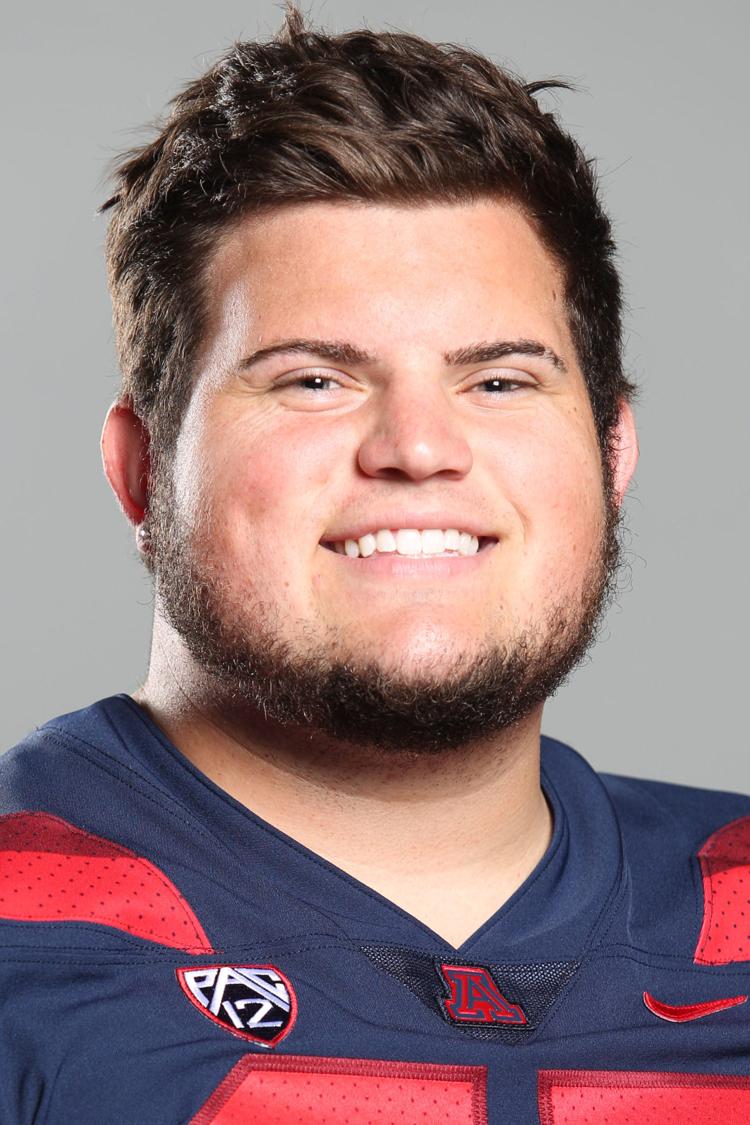 On Arizona's 10th play from scrimmage against Oregon State, two UA offensive linemen went down.
Center Josh McCauley and Bryson Cain had to exit the game because of leg injuries. McCauley sat out the remainder of the contest; Cain later returned, but only briefly.
It was a stunning visual — two Wildcats writhing on the turf at Arizona Stadium. But the game still had to be played. Someone had to step in.
With starting guard Cody Creason already out, Arizona turned to two seldom-used reserves: Steven Bailey and Jon Jacobs.
They played most of the rest of the game and could be needed again against Oregon with the line still banged up.
Both players had appeared in games previously but never had played that many meaningful snaps.
"To see Josh go down … (stinks)," said Bailey, who took over for McCauley at center. "But at the same time, I was excited to get the opportunity to show what I can do."
Bailey transferred to Arizona from Glendale Community College. He played in four games last season as a backup.
McCauley had been an ironman since becoming the starting center last season; the OSU game marked his 21st consecutive start.
But Bailey knew he could be called upon at any moment; such is the nature of the sport. So he stayed ready as best he could.
"Preparation. Watching film. Making sure I know what I'm doing each play," Bailey said. "You never know when you're going to get your opportunity. That's the great thing about football."
Bailey said he didn't have a mental checklist when he trotted onto the field because he was "already prepared." Jacobs required some reassurance and internal dialogue.
"I kind of equate it to the 'Rudy' moment a little bit, just being a walk-on and kind of biding my time," said Jacobs, a redshirt junior who subbed for Cain at right guard. "That was definitely like, 'Holy crap.' I was like, 'OK, go do what you know.'"
Replacing Cain brought mixed emotions. The two are roommates, and Jacobs could see Cain's worried parents in the stands.
Jacobs also has a bond with McCauley, who began his UA career as a walk-on before earning a scholarship this past spring. When both had minimal roles, they sometimes wondered: "What are we doing here?"
Jacobs finally found a purpose, even if it came at his friends' expense.
"It's been definitely hard at times," he said. "But I wouldn't change it. There's no looking back."
---
3 UA linemen bring rugby experience to the gridiron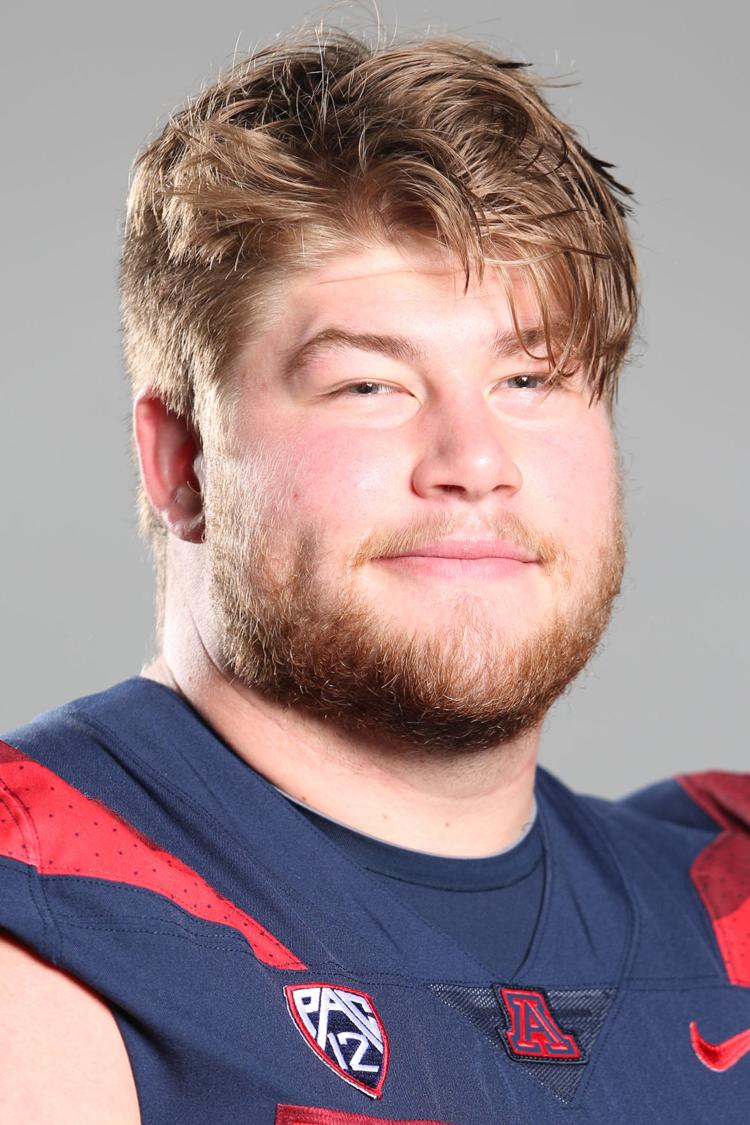 Rugby-style punting has become prevalent in college football, led by a wave of Australian-born punters dotting rosters across the country.
Arizona has at least three former rugby players in its football program. All three — Jon Jacobs, Nahe Sulunga and Myles Tapusoa — are linemen.
Jacobs actually came to Arizona to play for the Wildcats' rugby team. The fourth-year offensive guard had participated in rugby and football at Battlefield High School in Haymarket, Virginia, and The Taft School in Watertown, Connecticut. His father, also named Jon, had been a longtime rugby player and coach in the Marine Corps.
With no major football scholarship offers, Jacobs came to Arizona through a rugby coaching connection. But a few weeks after he got here, then-football coach Rich Rodriguez heard about him and asked him to walk on to the football team. Jacobs had earned all-state recognition as a defensive tackle in high school.
Needless to say, the toughness required to play rugby translates to football.
"As an offensive lineman especially … there's definitely that connection to just constantly throwing your body into somebody and getting ready for the next rep," Jacobs said. "It doesn't really matter what's going on. You're mentally preparing yourself to just go at it the entire time."
Most rugby matches consist of two 40-minute halves. The sport is played without helmets, and many football coaches have tried to adapt some of its tackling techniques in the interest of promoting safer ways to bring down ball-carriers.
Tapusoa, a defensive tackle, played for a club team while in high school in Salt Lake City. He described rugby as a "gentleman's sport."
"It's fun. You get to hit. No pads," Tapusoa said.
"If we were to tackle high, we would be red-carded. You can't spear or anything like that. It's just all right here, within the waist."
---
Cats have fared well as 'dogs vs. Ducks in recent seasons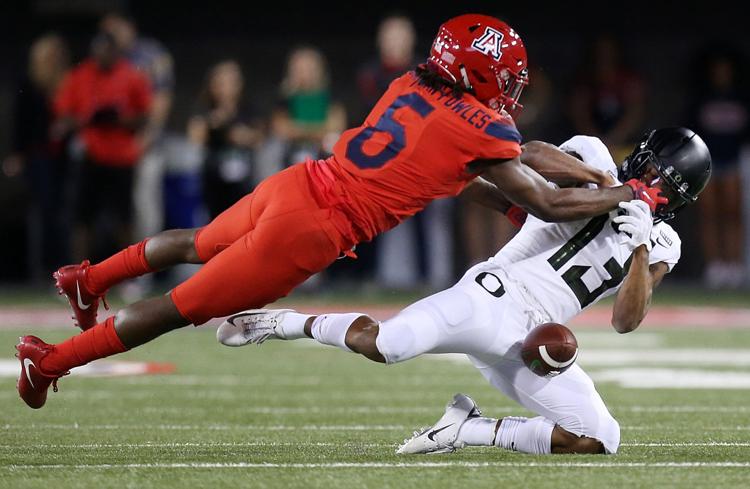 Arizona hasn't been this big an underdog against Oregon in at least 25 years.
The Ducks were favored over the Wildcats by 27 points as of Friday afternoon, according to OddsShark.com. The largest spread in the series since 1995 was 21.5 points in 2014, per the website.
As any UA fan knows, the Wildcats won that game. Arizona has fared remarkably well as an underdog against Oregon in recent seasons, winning outright three times.
Here are the results of the past five meetings. The Ducks were favored in all of them.
Year | Location | Result | Spread
2013 | Tucson | UA, 42-16 | UO -18.5
2014 | Eugene | UA, 31-24 | UO -21.5
2014 | Neutral* | UO, 51-13 | UO -14.5
2017 | Eugene | UO, 48-28 | UO -3
2018 | Tucson | UA, 44-15 | UO -7.5
(*-Pac-12 Championship Game in Santa Clara, California)
Contact sports reporter Michael Lev at 573-4148 or mlev@tucson.com. On Twitter @michaeljlev