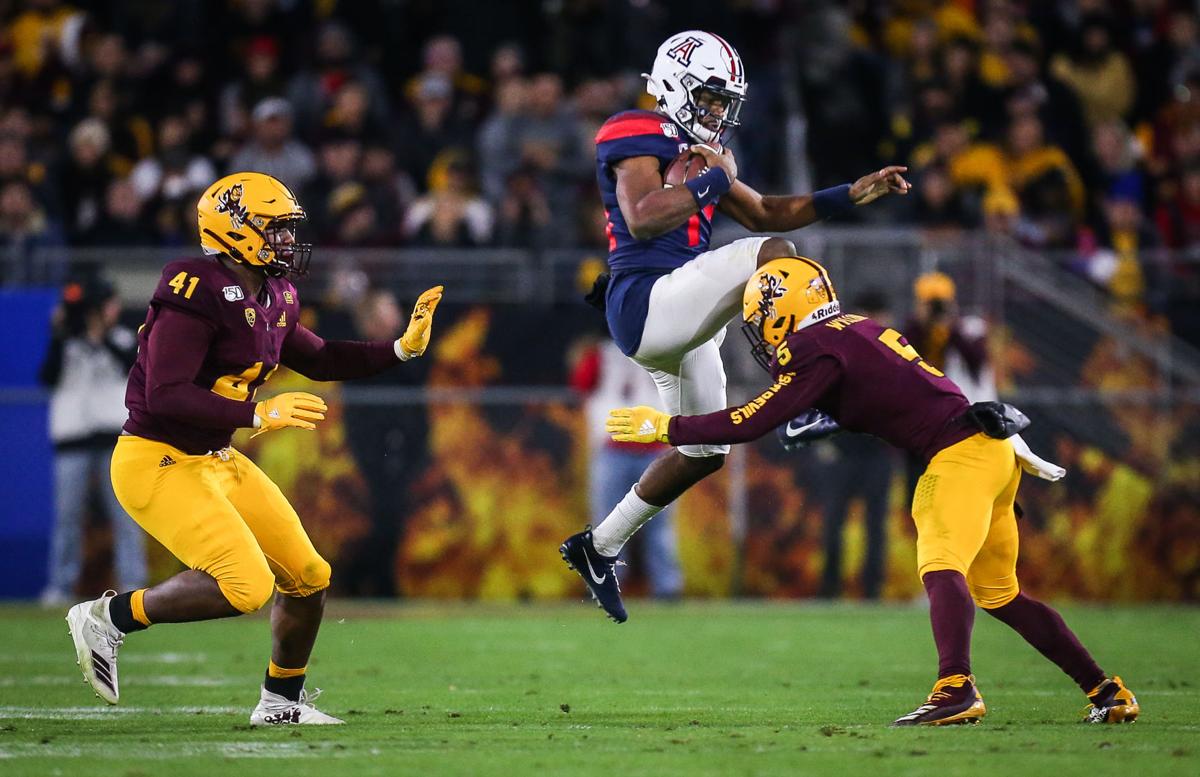 Seen and heard from Saturday's Territorial Cup game between Arizona and Arizona State at Sun Devil Stadium.
Ice Bowl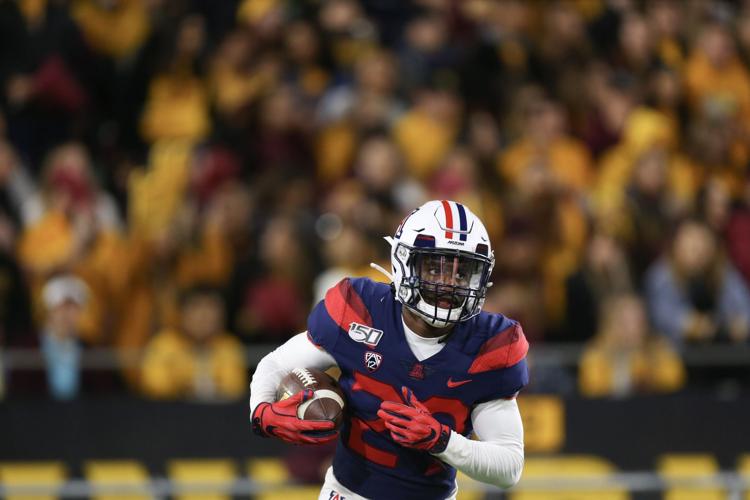 The temperature at Saturday's kickoff was 51 degrees, marking the coldest game at Sun Devil Stadium since ASU began keeping track in 2000.
ASU's 2013 game against Stanford was 54 degrees at kickoff, while the 2007 Territorial Cup game against the UA was 58 degrees.
The 1992 Territorial Cup game, played in Tucson, was the coldest game on record before Saturday. That game was 53 degrees at kickoff.
The Sun Devils' Aug. 29 opener against Kent State was 102 degrees at kickoff — exactly twice as hot as Saturday's game.
---
Drought ends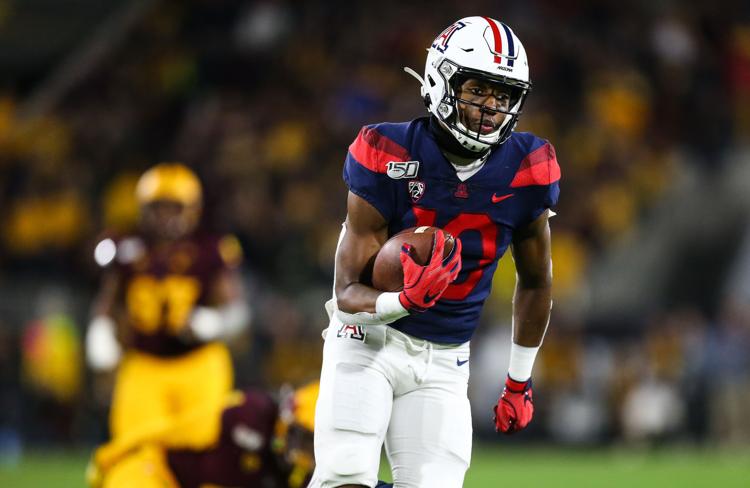 Midway through the second quarter, Arizona quarterback Khalil Tate connected with wide receiver Jamarye Joiner for a 48-yard touchdown that gave the Wildcats a 7-3 advantage.
The lead was Arizona's first since Oct. 26, when Arizona led at Stanford in a game it would eventually lose.
Joiner is the second Tucsonan in four years to score a touchdown in the Territorial Cup game. Former Salpointe Catholic High School player Cam Denson returned an interception for a touchdown in the 2015 game.
---
Another Zendejas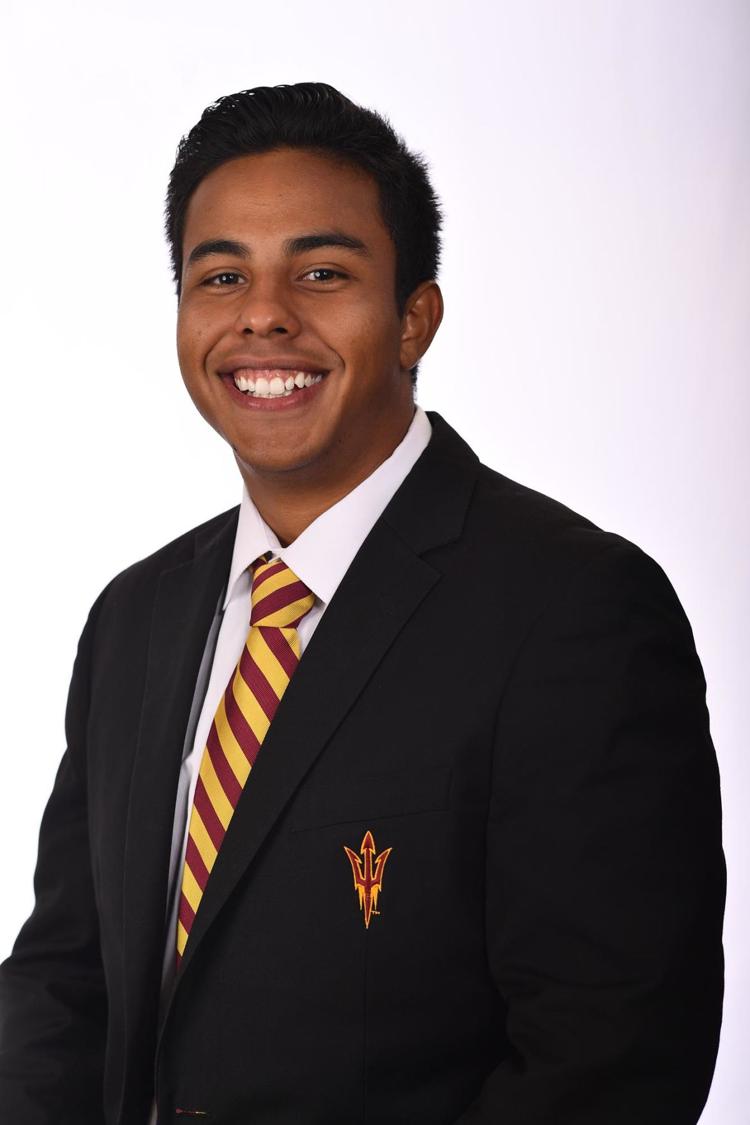 What's a Territorial Cup game without a Zendejas kicking? ASU's Christian Zendejas became the fifth member of the family to be a part of the Territorial Cup game on Saturday. Zendejas joined the Sun Devils as a walk-on in 2017, earning the starting job this season. He made his first eight attempts, including a game-winner at Michigan State, and was rewarded with a scholarship.
Zendejas is the son of former ASU kicker Luis Zendejas, who played in the NFL for the Vikings, Cowboys and Eagles. Christian's uncle Max and cousin Alex both kicked for the UA; his other uncle Alan, Luis' brother, was ASU's kicker from 1987-89.
Christian accounted for all six of ASU's first-half points on Saturday.
---
The big number
8
Years since the Wildcats last beat ASU in Tempe. Nick Foles was in his senior year as UA's quarterback and Tim Kish was the interim head coach after Mike Stoops was fired.
---
ADOT chiming in?

Arizona Department of Transportation posted digital signs along Interstate 10 between Tucson and Tempe on Saturday.
The message: "Be a Territorial Driver, Use Your Blinker."
---
Grass field problems
The Wildcats still managed to make their presence felt before Saturday's kickoff.
Call it the Sparky stomp.
ASU's field management team painted a new logo at midfield for the Territorial Cup of the Sparky head with the outline of the state of Arizona underneath it.
The Wildcats weren't fans. The players went out on the field during pregame warmups and dug small divots on the logo.
Luckily for the Wildcats, ASU won't be able get even. The UA plays on FieldTurf, which is practically divot-proof.
---
Onward
Eagle-eyed TV-watchers might have noticed "O2V" painted on both 25-yard lines at Sun Devil Stadium. The meaning: "Onward to victory," a line from ASU's fight song. "Maroon and Gold" goes, in part:
Fight for the Old Maroon.
For it's hail, hail, the gang's all here
And it's onward to victory!
(Yes, we know it doesn't rhyme).
---
First-half leads
Arizona led 7-6 at halftime Saturday, marking the fourth time in as many years that they've taken an advantage into the break in the Territorial Cup game.
Arizona went on to lose two of its previous three games, losing 42-30 in 2017 and 41-40 last season after leading by 10 and eight points at the break, respectively.
The Wildcats held a 28-14 halftime lead in 2016, and went on to win 56-35.
— Justin Spears and Alec White
---