The Arizona Wildcats suffered a brutal collapse in the fourth quarter of the Territorial Cup when the rival ASU Sun Devils stormed back from a 19-point deficit by scoring 20 unanswered. From a pregame scuffle to some postgame shade, here's the best from Saturday's rivalry game.
Sun Devil returns home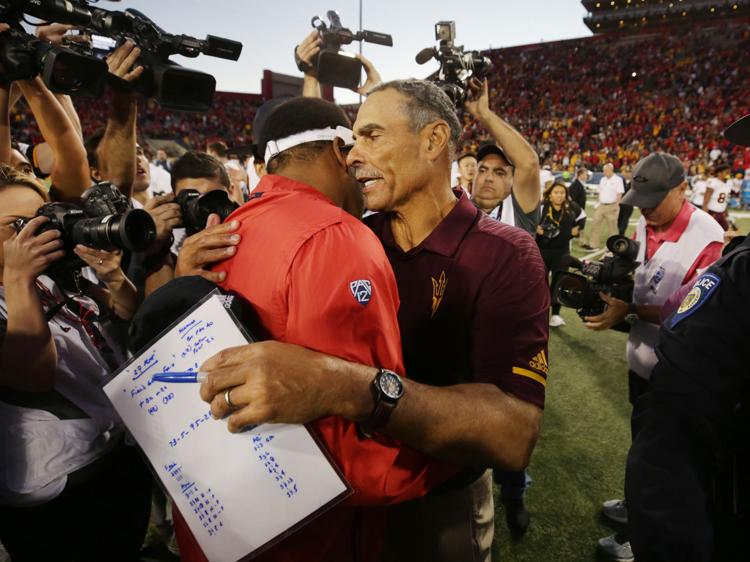 Several former Arizona Wildcats returned to Tucson to watch the Territorial Cup. Defensive back Robert Golden, an NFL free agent, appeared on the Pac-12 Networks pregame show. During warmups, Dick Tomey strutted on the field and chatted with Ricky Hunley, who sported a white pull-down Arizona jacket and a cardinal red bucket hat.
Another former Wildcat showed up to Saturday's game in Sun Devils colors. Antonio Pierce is Arizona State's first-year linebackers coach. Pierce's appearance in maroon and gold drew the ire of an Arizona fan wearing a No. 32 jersey.
"We gotta talk, man," the fan yelped at Pierce. "I just need a minute to say something to you." 
Pierce played at Arizona from 1999-2000- before signing with the Redskins as an undrafted free agent. Pierce turned his opportunity into a decade-long NFL career; he was inducted into the Arizona Stadium ring of honor after his playing days were over. Saturday marked Pierce's first Territorial Cup win as a player or coach; he went 0-2 against Arizona State as a Wildcat.
Pregame scuffle
Arizona and ASU players getting into a scuffle during warmups. It's rivalry week, folks. #TerritorialCup pic.twitter.com/BQDAR7z6FF

— Justin Spears (@JustinESports) November 24, 2018
The bad blood between the Wildcats and Sun Devils began two hours before kickoff. A group of UA and ASU players pushed and shoved at midfield during early warmups. Law enforcement stepped in. 
Asked after Saturday's come-from-behind win what caused the scuffle, Sun Devils quarterback Manny Wilkins threw some shade.
"A losing team with a losing attitude."
Belgian edge rusher commits to UA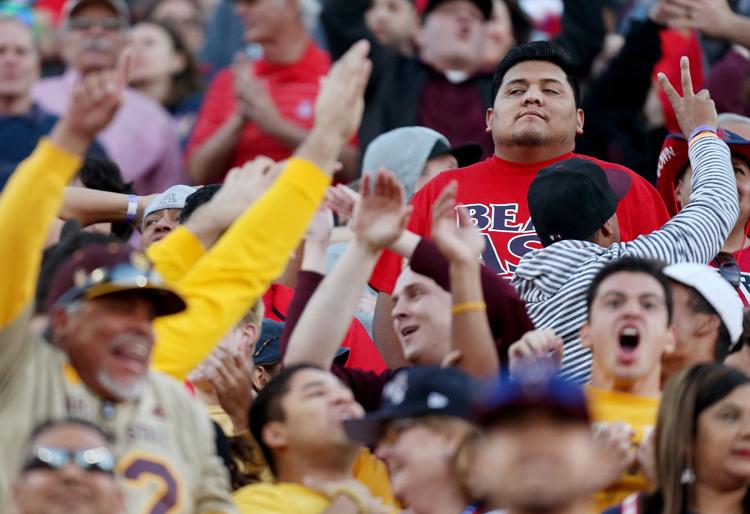 Three-star defensive end Sylvain Yondjouen verbally committed to Arizona during the first quarter of Saturday's Territorial Cup game. The Belgian edge rusher announced via Twitter; he chose the Wildcats over Cincinnati, Colorado and UMass.
The 6-foot-4-inch, 232-pound lineman is the No. 24 defensive end for the class of 2019, per 247sports.com. He is Arizona's 15th commit for the upcoming class. The Star spoke to Yondjouen in October about his visit to UA before the USC game and his familiarity with Arizona.
"I actually sent my films to someone my mom knows. She spent a year in Farmington, New Mexico, and her host family lives now in Tucson," Yondjouen said. "Their son is a friend of the golf coach (Jim Anderson) of the university and he talked to the golf coach who sent them to the recruiting team of UA."
Yondjouen is the second edge rusher for Arizona's 2019 class, joining Fresno outside linebacker Kwabena Watson.
"My natural position is defensive end, but I'll probably play as an outside linebacker or as a defensive end at Arizona," Yondjouen said. "They'll get the best of me. … It is very important for me to feel myself in a family with my teammates and my coaches. If I feel like that, I'll be a leader, a motivator and also a killer on the field. I don't want to look arrogant but I really love to win."
He said it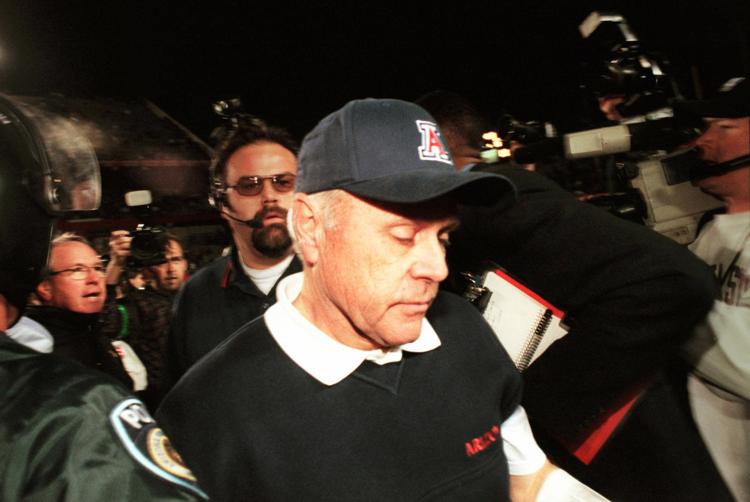 "The ASU fans were throwing tomatoes and bananas at our team bus when we arrived."
— Tomey, talking about the rivalry during his time as Arizona's head coach
The big number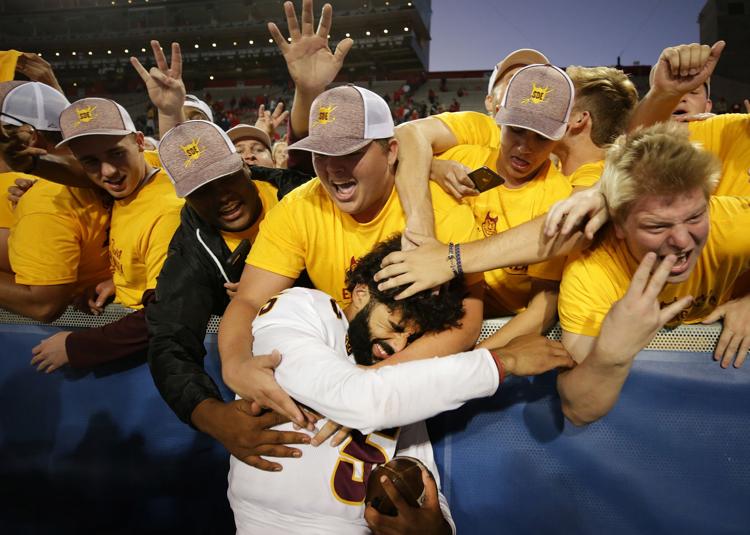 51,805
—  Attendance at Arizona Stadium for the Territorial Cup
The small number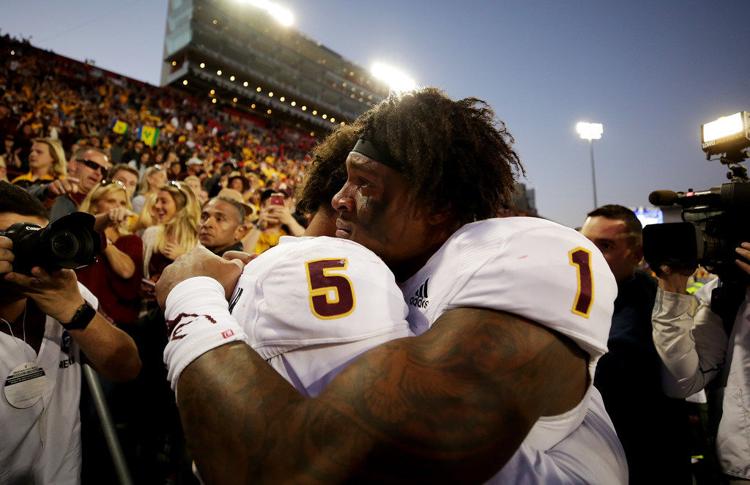 6
— Number of years before Saturday since the road team won the Territorial Cup. The Devils last won in Tucson in 2012. 
Bob Moran MVP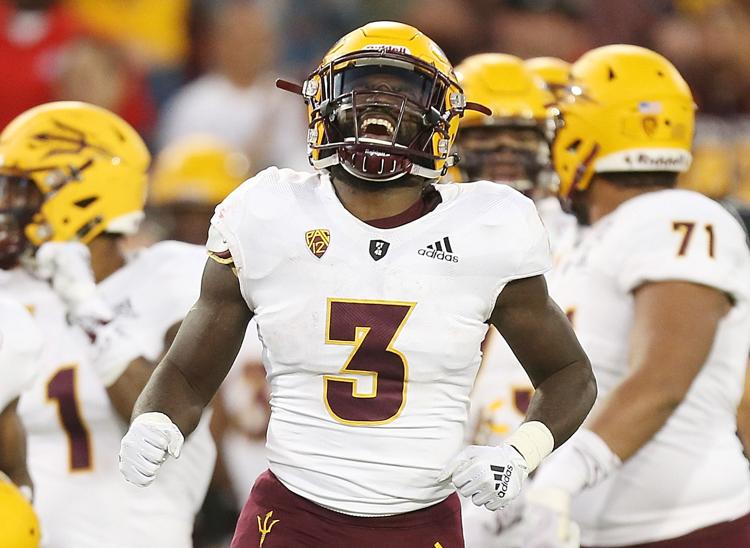 ASU running back Eno Benjamin was named the Territorial Cup's most valuable player. The honor is named after the late Bob Moran, a longtime Tucson and Phoenix sports reporter and columnist who covered the rivalry game from 1975-2003. The previous winners from the last five seasons were Demario Richard (2017), Brandon Dawkins (2016), Devin Lucien (2015), Nick Wilson (2014) and D.J. Foster (2013). Benjamin rushed for 80 yards and three touchdowns on 21 carries. 
The biggest number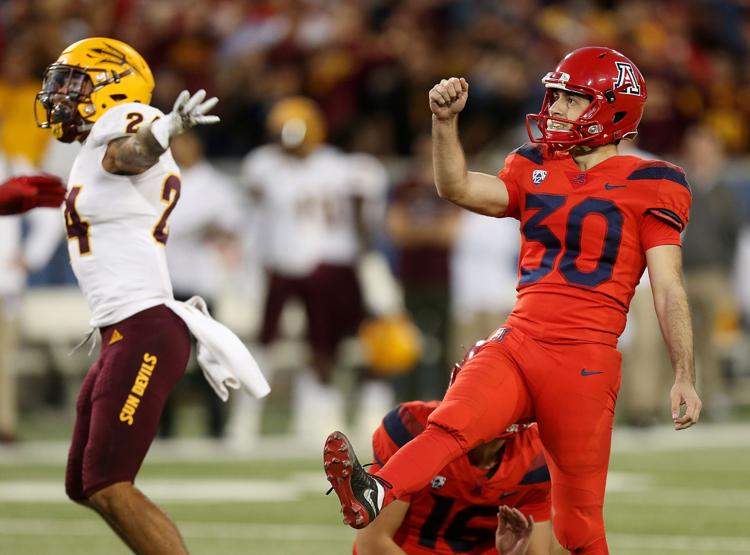 19
— ASU's deficit, in points, at the start of the fourth quarter. The Wildcats led 40-21 before the Sun Devils scored 20 unanswered points to close the game. The comeback is the third-largest by any Pac-12 since 1996 when trailing in the fourth quarter. UCLA rallied from 21 down to beat Stanford 30-27 in overtime in 2005, and Oregon State rallied from 21 down to beat Colorado 41-34 in overtime last month.