Seen and heard at Arizona Stadium: On homecoming, TDs galore, and Wazzu's Hercules
By Zack Rosenblatt / Arizona Daily Star
The Arizona Wildcats (6-2, 4-1) took down the No. 15 Washington State Cougars (7-2, 4-2) 58-37 on Saturday night. From Dave Heeke's drum set to Jack Nicklaus and the son of Zeus, here's what took place on and off the field at homecoming.
Centennial
Saturday marked the 100th homecoming game in the history of Arizona's football program, and like the 99 before this one, the alumni returned.
All-Americans Scooby Wright and Ka'Deem Carey took in Saturday's game against Washington State. Wright is currently playing for the Arizona Cardinals, who have a bye this week; Carey is working out in Tucson while he awaits his next NFL opportunity. He watched Friday as his brother, Elijah, played his final game for Canyon del Oro High School.
Former linebacker Paul Magloire and defensive end Reggie Gilbert were also in attendance.
But Saturday night belonged to three members of arguably the greatest team in program history.
Tight end Brandon Manumaleuna, who played on the Wildcats' 1998 Holiday Bowl championship team, was inducted into the UA Ring of Honor at halftime. Manumaleuna played 10 years with the NFL's Rams, Chargers and Bears; he is now a high school coach in Los Angeles.
The second inductee was Trung Canidate, the star running back on the 1998 team. His quarterback, Keith Smith, was the third. Smith passed for 6,000 yards and 42 touchdowns in his four-year career; he split much of the snaps with Ortege Jenkins.
Tweet of the night
Back to my old stomping grounds.. 17 years later and it's still the best barbershop in Tucson! (Did these barber chairs shrink though..Hmmm) pic.twitter.com/5GDkm4Sqlf

— Brandon Manumaleuna (@BManu86) October 28, 2017
The Big Number
ZonaZoo with a solid turnout tonight. Rest of the stadium isn't great. pic.twitter.com/Lsr0pd0iyq

— Zack Rosenblatt (@ZackBlatt) October 29, 2017
8 
Consecutive games, home and road, since Arizona last played in front of a crowd of 50,000 fans or more. The UA announced a sparse homecoming crowd of 42,822 on Saturday. The Wildcats last cracked the 50,000 mark in last year's win over Arizona State.
He touched the drum set
Dave Heeke brought the thunder to @ZonaZooOfficial 🥁 #BearDown pic.twitter.com/JAySNqhtua

— Arizona Athletics (@AZATHLETICS) October 29, 2017
Arizona athletic director Dave Heeke was chosen to bang the drum in the ZonaZoo before Saturday's game. With two drum sticks in hand, he banged the drums repeatedly as the student section performed its "thunder clap."
Jack Nicklaus vs. Arizona
Feeling a little love from the crew. @ArizonaFBall #tradition #nofear #BearDown pic.twitter.com/S7VRo5IeQt

— Chuck Cecil (@chuckcecil26) October 28, 2017
ESPN's "College GameDay" crew was in Columbus, Ohio, for the highly-touted Penn State-Ohio State matchup on Saturday morning.
As is customary, someone with connections to the game is brought on as a guest picker to join Kirk Herbstreit, Lee Corso, Desmond Howard and host Reece Davis to make predictions for the day's games.
Golf legend Jack Nicklaus, a Columbus native, was the guest picker.
Apparently, he's not an Arizona guy.
Herbstreit, Corso and Howard all picked Arizona to win. Nicklaus picked Washington State.
Another big number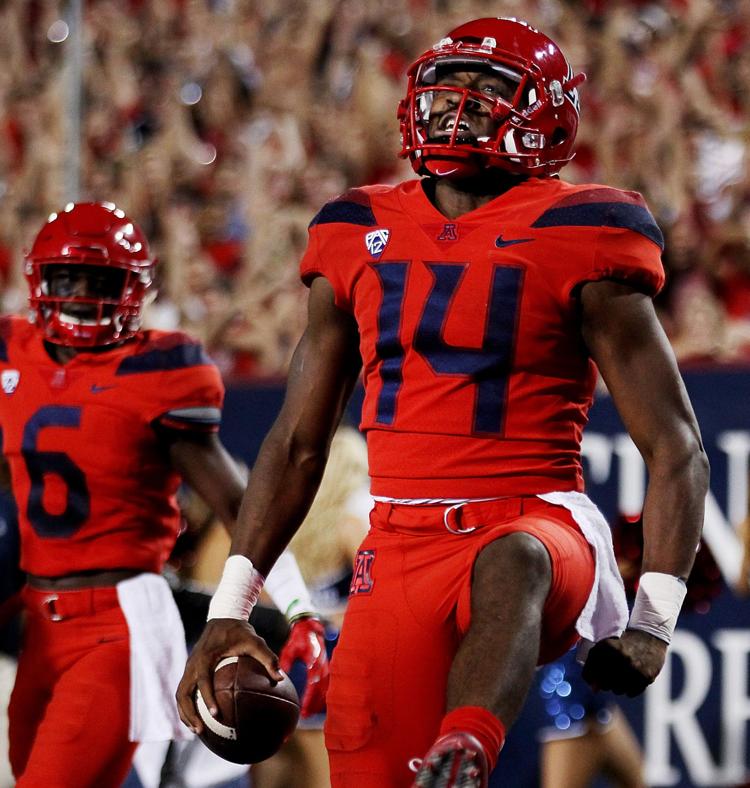 6
Runs of 47 yards or more for Arizona quarterback Khalil Tate before the Washington State game. All were touchdowns. In the second quarter, Tate ran the ball 82 yards, but was brought down before the goal line.
Hercules, son of Zeus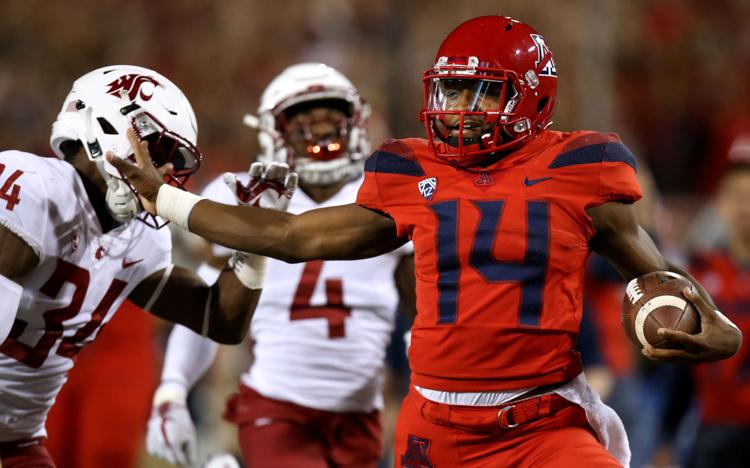 Washington State defensive lineman Hercules Mata'afa was a thorn in the side of Arizona running back J.J. Taylor for most of Saturday's first quarter.
On one play, he blew up the UA running back behind the line of scrimmage. The next play, he stopped the diminutive Taylor again.
Mata'afa, a junior, is considered one of the most dominant defensive linemen in the nation. At 6 feet 2 inches and 255 pounds, he's relatively small for his position. Most weigh 300 pounds, or close to it.
That doesn't seem to matter much — coming into Saturday's game, Mata'afa led Washington State with 6.5 sacks and 13.5 tackles-for-loss and was among the nation's leaders in quarterback pressures.
Oregon coach Willie Taggart has called Mata'afa a "war daddy."
Mata'afa — who was recruited to Washington State by former UA defensive lineman Joe Salave'a, who's now at Oregon — was a high school wrestler, which may explain some of his football skills.
In three years at his Lahaina, Hawaii, high school, Mata'afa lost just two matches — both  came in the state championship final to a wrestler who eventually starred at Iowa State.
One thing is for certain — Mata'afa and the 5-6, 180-pound Taylor would never have been in the same weight class.