Seen and heard: Game of firsts includes takeaway, sack and a win for Kevin Sumlin
From the Wildcats' first sack to Cedric Peterson's first touchdown, here's what was seen and heard around Arizona Stadium on a night the UA notched its first win in 2018.
Game of firsts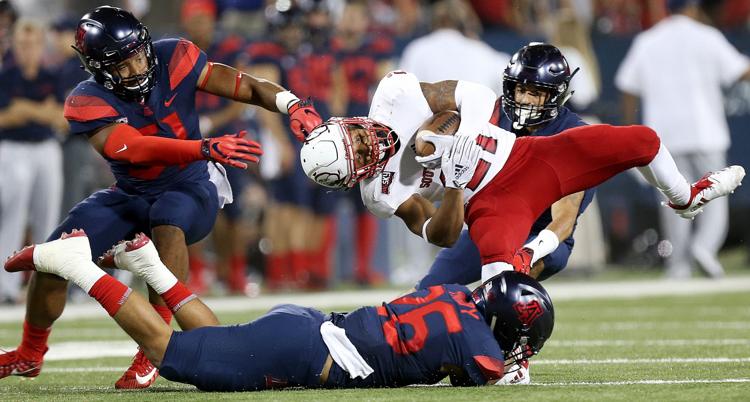 Saturday's first half was huge for Arizona, considering it checked off a few things that been on the Wildcats' to-do list all season.
Linebacker Anthony Pandy recorded the team's first sack of the season late in Saturday's first quarter. Sophomore linebacker Kylan Wilborn tacked on his first sack of the season in the second quarter.
J.J. Taylor's 84-yard kickoff return in the second quarter was his first touchdown since last year's regular-season finale against rival Arizona State. It was also Arizona's first kickoff return for a touchdown since 2014 when Cayleb Jones returned an onside kick.
Before that? Try Travis Cobb against Iowa in 2010.
Shun Brown also caught the first touchdown pass of his senior season right before halftime. Less than three minutes into the third quarter, Cedric Peterson caught his first career TD, which gave the Cats a two-score lead.
Recruits on deck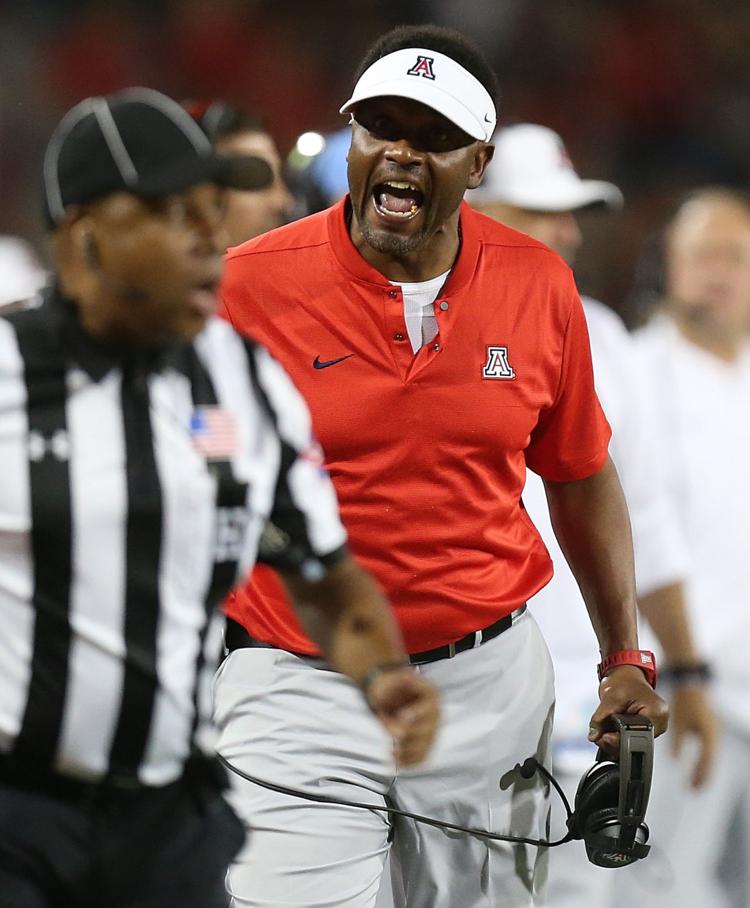 Arizona Wildcats coaches continue to recruit on all cylinders, despite — or maybe because of — the team's early struggles.
Offensive line coach Joe Gilbert spent Friday night at Marana High School, where he watched offensive tackle and UA commit Jordan Morgan. Morgan, who received an offer from USC earlier in the day, took on another one of the state's best players, Gilbert Williams Field safety Noa Pola-Gates.
A week ago, receivers coach Taylor Mazzone visited Houston St. Pius X quarterback Grant Gunnell, another UA commit, during his high school game. Gunnell is visiting Tucson this weekend: He watched Saturday's game between the UA and Southern Utah along with a handful of his high school teammates. One of them, fullback Bruno Forestieri, is already committed to Army. Other St. Pius X players in town Saturday included 6-foot-7-inch offensive tackle Barrett Brock, running back Tate Jernigan and defensive end Lucas Robertson.
Captain Ka'Deem
The 🐐 @Kcarey25 is back in town to hang with the @ZonaZooOfficial pic.twitter.com/nwHMTiOWBv

— Arizona Athletics (@AZATHLETICS) September 16, 2018
Former UA All-America running back Ka'Deem Carey served as an honorary captain Saturday. Carey stood beside Layth Friekh, Jace Whittaker and Anthony Pandy for the pre-game coin toss.
Carey, Arizona's all-time leading rusher with 4,239 yards, lives in Tucson with his wife and children. The Bears waived Carey just over a year ago, after he suffered a wrist injury in the preseason. Carey, who was Chicago's fourth-round pick in 2014, has worked out for numerous teams since but has yet to catch on.
Carey's captaincy was part of a busy weekend. The Canyon del Oro High School grad gave a motivational speech to the Wildcats on Friday night at the team hotel.
Carey was the second UA star in as many home games to serve as an honorary captain. Former linebacker Lance Briggs had the honor in Week 1 against BYU.
Who will the UA choose in two weeks, when it faces USC?
Bearcats?
The Bearcats, huh? pic.twitter.com/z5k5hxqhE5

— Dominic Baciocco (@DominicBaciocco) September 16, 2018
Saturday's game was aired on Pac-12 Arizona. During the first half, the network's Twitter account mistakenly identified the Wildcats as the Bearcats.
"Bear down" is Arizona's trademark phrase, but as far as we know, the mascot is still Wilbur T. Wildcat. The Pac-12 isn't the first to make the Bearcats mistake; ESPN analyst George Whitfield Jr. did something similar a few years ago.
Olympic medalist roaming the sidelines
HUGE s/o to @samanthapeszek for making her college football sideline debut!#BackThePac pic.twitter.com/FiE920fO4Y

— Pac-12 Network (@Pac12Network) September 16, 2018
Pac-12 Networks debuted a new celebrity sideline reporter in Samantha Peszek.
The UCLA alumna was a silver medalist for the U.S. Olympic team in 2008. She also won a gold medal in the World Championships and Pan American Games in 2007.
Peszek, who retired in 2015, was an all-around and balance beam NCAA champion, Olympic medalist and world champion. She was hired by Pac-12 Networks in 2016 as a gymnastics reporter, but has since expanded to include the gridiron.
The Big Number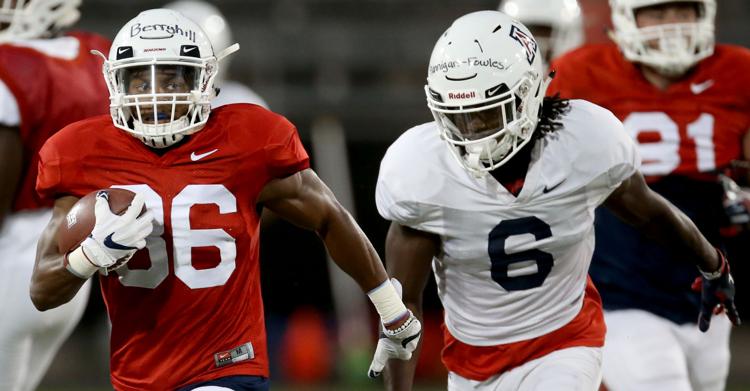 27
The number of games UA safety Demetrius Flannigan-Fowles started before Saturday night. Sophomore Jarrius Wallace started over Flannigan-Fowles, but he still rotated in. Flannigan-Fowles' 27 consecutive starts are the most by an Arizona defender since Will Parks between the 2014 and 2015 seasons.