Seen and heard: On Justin Herbert's flop, celebrating the past, and Wildcats of the future
The Arizona Wildcats upended No. 19 Oregon in a 44-15 shellacking on Saturday night in front of some of the program's best teams and prospects. Here's the best from Arizona Stadium.
Big night for current, future Wildcats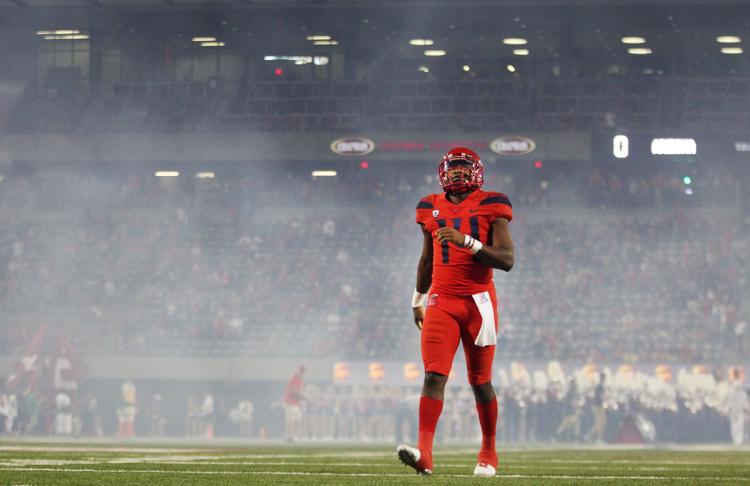 The Arizona Wildcats showed up at the perfect time. Several recruits, some of whom could impact the Wildcats soon, attended Saturday's win over Oregon.
None were bigger than D.J. Uiagalelei, the top-rated quarterback in the Class of 2020. Uigalelei was spotted on the sidelines before the game with a handful of his Bellflower (Calif.) St. John Bosco High School teammates. The Rivals.com recruiting service lists Uigalelei as the No. 1 player in the state of California; 247sports.com says he's the fifth-best overall recruit in the country. He is the nephew of UA defensive line coach Iona Uiagalelei. The younger Uiagalelei is considering Alabama, Clemson, Oregon and USC, among others.
Arizona also hosted Jalen "Boobie" Curry from St. Pius X High School in Houston. Curry, a 6-foot-3-inch senior wide receiver, is a high school teammate of Wildcats quarterback commit Grant Gunnell. Curry is a four-star prospect that is also considering Auburn, Penn State, Tennessee and LSU.
The UA hosted defenders, too. Four-star cornerback Bobby Wolfe from Houston's Madison High School visited Saturday. Though he's committed to Texas A&M, verbal commitments are nonbinding. And UA coach Kevin Sumlin has already lured away an Aggies commit — Gunnell, who is the centerpiece of the 2019 class.
Nittany Lion looking for a home
Just touched down in AZ !

— Manny Bowen (@mannybowen43) October 27, 2018
Former Penn State linebacker Manny Bowen also took in Saturday's game from Arizona Stadium.
Bowen, a four-star recruit in the class of 2015, had an up-and-down career at Penn State. He was a rotation player, but was suspended for the 2016 Rose Bowl and three regular season games in 2017. Bowen was kicked off the team prior to last season's Fiesta Bowl, but was reinstated for this season so he could finish his degree. Bowen plans to be a graduate transfer, making him eligible to play immediately. Bowen was heavily recruited by Alabama, Clemson, Boston College and Cincinnati coming out of high school.
Honorary captain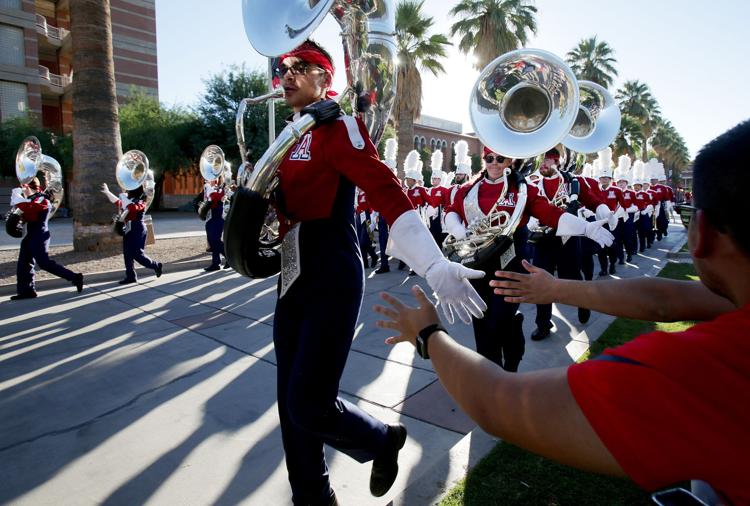 Before every game, the UA names an honorary captain for the pregame coin flip. Ex-UA offensive lineman Addison Bachman was selected for Saturday's coin toss. Bachman was a part of Arizona's 2011 recruiting class, but never broke the rotation. Now 28 years old, Bachman is married and has a daughter. Bachman was diagnosed with testicular cancer in June, and is currently going through chemotherapy. His family and friends have collected money on a GoFundMe page, which is $200 shy of reaching its $5,000 goal. Visit GoFundMe.com and search Bachman's name to donate.
Breaking Herbert's streak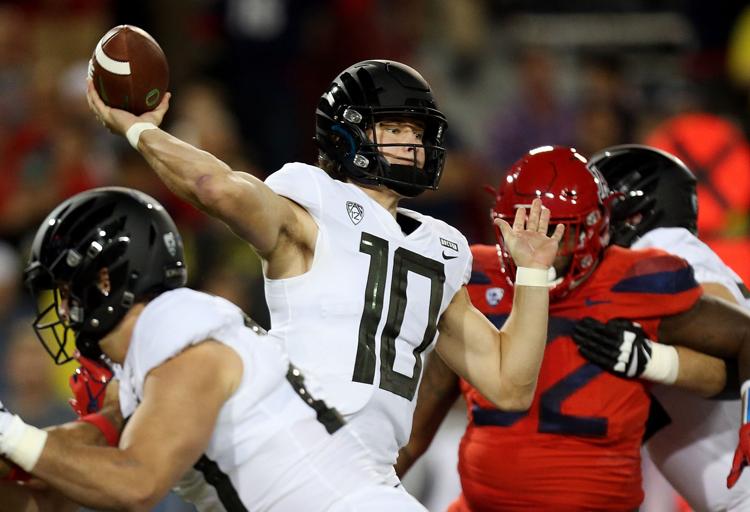 Many experts view Oregon's Justin Herbert as the top quarterback in this spring's draft. It's easy to see why: In eight career Pac-12 road games before Saturday, Herbert threw for 17 touchdowns and was intercepted just once. Herbert had 205 consecutive passes without throwing an interception heading into Saturday night. In the first quarter, however, sophomore safety Scottie Young Jr. picked off Herbert to end his streak.
Celebrating the past
Arizona alum Trung Canidate has us hype! Entering the fourth quarter! Time to BEAR DOWN! pic.twitter.com/BUBTly9bLx

— Arizona Athletics (@AZATHLETICS) October 28, 2018
Several past Arizona teams were on the field for Saturday's game.
The 1968 Arizona team, which finished second in the WAC with an 8-3 record, returned for its 50th anniversary. Members of Arizona's 2008 Las Vegas Bowl was also featured at halftime. That team broke Arizona's 10-year postseason drought, then beat BYU 31-21 in the Las Vegas Bowl.
Arizona's 1998 team received the longest, loudest ovation on homecoming weekend. The team won a program-record 12 games and beat Nebraska in the Holiday Bowl. Quarterbacks Ortege Jenkins and Keith Smith were joined on the field by wide receiver Dennis Northcutt and running backs Trung Canidate and Kelvin Eafon. Dick Tomey was there, too. He is Arizona's all-time wins leader.
The Big Number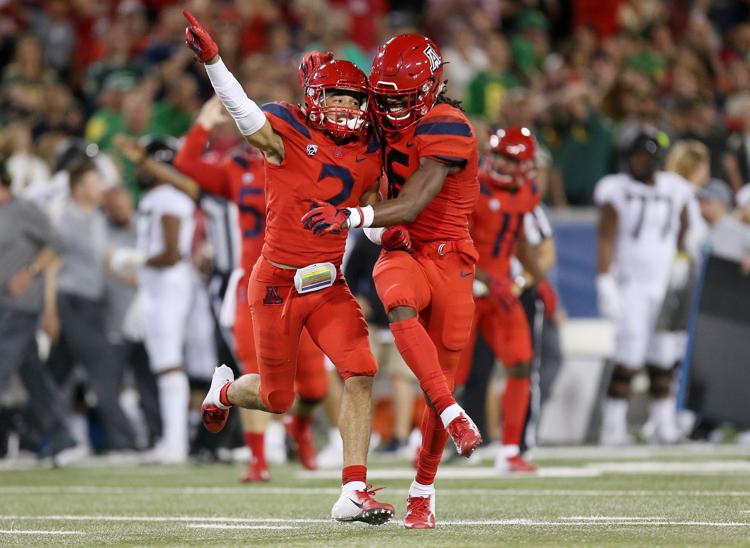 1-5
Arizona's record this season when playing on ESPN. The last time Arizona won a game on ESPN before Saturday night was Nov. 11, 2017, against Oregon State.