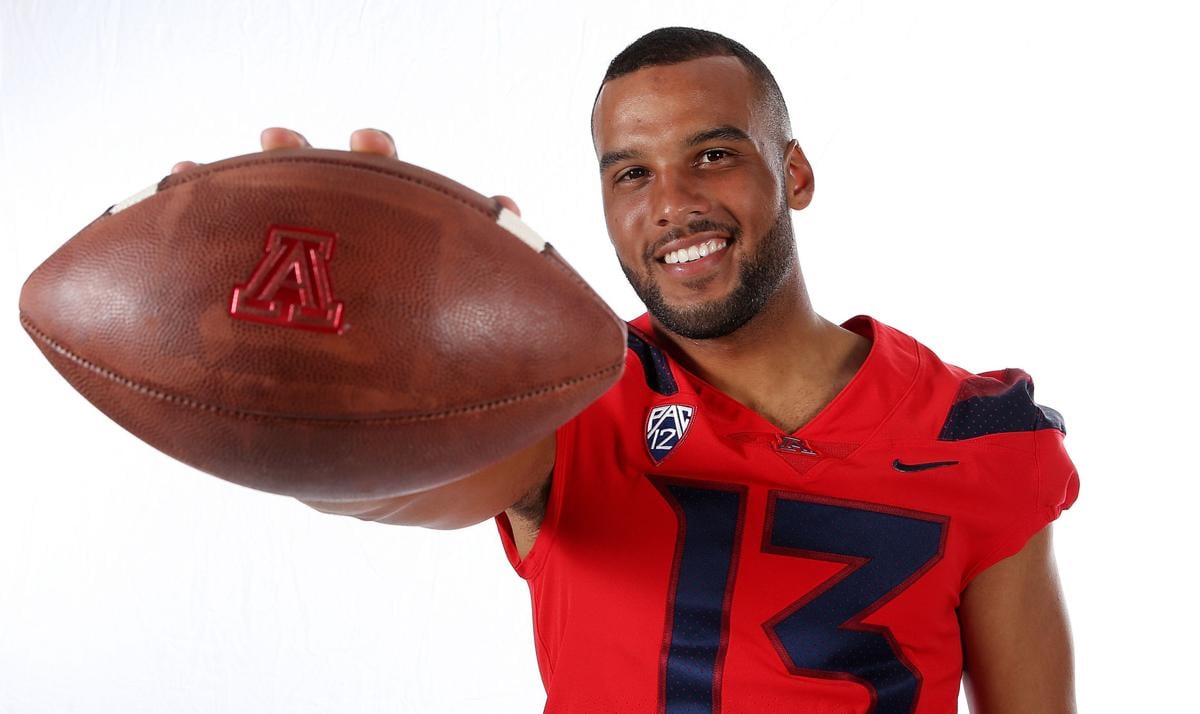 The Arizona Wildcats wrapped up training camp Saturday with a scrimmage that was open to the media. Here are my top six takeaways:
1. Quarterback assessment, Part 1
I'd be shocked at this point if anyone other than Brandon Dawkins starts the Sept. 2 opener against Northern Arizona. Nothing I've seen or heard leads to any other conclusion. I thought Dawkins played well Saturday, despite throwing two interceptions. One was just a great play by cornerback Antonio Parks (more on him later), who won a 50-50 ball with Cedric Peterson. (At first blush, it appeared that Peterson came down with the ball, a deep pass down the right sideline). The second was a play Dawkins telegraphed a bit, allowing Troy Young (more on him later too) to break on the ball and tip it to Jarrius Wallace. I wrote down the word "easy" in my notes after several of Dawkins' completions – as in, he took the "easy" plays that were available to him. Dawkins often didn't see those receivers last year, so that's a sign of progress.
2. Quarterback assessment, Part 2
Khalil Tate – the only other QB in a red, no-contact jersey – did not participate in the scrimmage because of a minor thumb injury. So that gave Donavan Tate, Rhett Rodriguez and K'Hari Lane plenty of opportunities. You can see the raw skills Tate possesses, especially when he runs; he's a big, strong, impressive athlete. But you also can see rust. Tate lofted a pass over the middle to Brian Casteel that should have been thrown with more zip; Casteel ended up taking a big hit from Jarvis McCall Jr. The more Tate plays, the less tentative he'll be. Rodriguez looked better than he did during the open practice two weeks earlier. You can tell he knows what he's doing. The problem is, when he has to throw under pressure or off-platform, he doesn't quite have the size or arm strength to remain accurate. He needs a year in the weight room. Lane is the least polished of the three. One sequence in particular illustrated that: Despite having time to throw and a clear lane, he airmailed consecutive slant passes. He seems destined to redshirt.
Believe the hype – freshman safeties Scottie Young Jr. and Troy Young (no relation) are the real deal. We've been hearing about them all camp, and they delivered in a big way Saturday. As mentioned, Troy Young read Dawkins on the interception, broke on the ball, got a hand on it and tipped it to a teammate. He later got beaten for a touchdown from Dawkins to Tyrell Johnson, but Young was in the right place and missed deflecting or even intercepting the pass by inches. On the series after the interception, Scottie Young tackled Donavan Tate for a loss on a keeper. Then Young absolutely hammered tailback Branden Leon after he caught a swing pass. Leon eluded Dane Cruikshank, but Young dropped him with a perfect form tackle. Scottie Young might start at free safety. Troy Young is too good not to play somewhere. Both look like keepers.
4. Tight ends and rotations
There was much debate among media members about whether Arizona actually will use its tight ends this year. We've been burned before. I remain a believer, and the scrimmage did nothing to dissuade me. Trevor Wood didn't play much (he was among the established vets who were rested/protected), but freshmen Bryce Gilbert and Bryce Wolma saw several passes come their way and looked comfortable catching them and turning upfield. They faced any number of defenders, which leads to previously unfulfilled promise No. 2: that Arizona will rotate on defense. If the scrimmage was any indication, it's going to happen in a major way. Players regularly shuttled in and out of the lineup to the point that it was impossible to determine the composition of the first-team defense. This is a good thing.
5. Forgotten but not gone
Sometimes guys get lost in the shuffle, buried on the depth chart, forgotten by us media types (or even their own coaches). Some of those players re-emerged Saturday. Parks made a great play on the interception. It looked like Peterson's ball all the way. "He's had a really good camp," Rodriguez said of Parks. "He needed to. This was an important camp for him to show something." If Cruikshank moves full time to safety, Parks, a redshirt freshman, moves up the depth chart. Likewise cornerback Sammy Morrison, who opened with the ones. Up front, Marcus Griffin played a ton of snaps, had an early sack and appeared to hold his own. Griffin is a former four-star recruit who frankly hasn't done much entering his fourth season at Arizona. "This is the hardest he's practiced," Rodriguez said. "I think he sees an opportunity. I don't know where he's at on the depth chart right now, but he's done enough in camp that he's in the conversation."
6. This time it's personnel
To finish, here are some random notes on other players … I'm not sure what to make of Larry Tharpe Jr. at this point. He hasn't worked with the ones much in either open practice. He worked with the twos and threes Saturday, primarily at defensive end. Maybe that's his best role on this team – as a bigger-bodied end to help clog running lanes. … Freshman tailback Nathan Tilford has excellent feet and nifty interior moves for a big back (6-2, 206). … Leon is a good player. He had a big run down the left sideline against the first-team defense. He'd play at a smaller school. … Another walk-on, receiver Donovan Moore, made the offensive play of the day, catching a slant pass from Lane and eluding several defenders for a touchdown during the overtime period. The Tucson High grad put up big numbers at Pima College. … I'm pretty certain Jake Glatting is going to be the punter and holder. The kicking job is still open between Josh Pollack and Lucas Havrisik. It could end up being a platoon, with Pollack handling extra points and short field goals and Havrisik doing long field goals and kickoffs.
Be the first to know
Get local news delivered to your inbox!