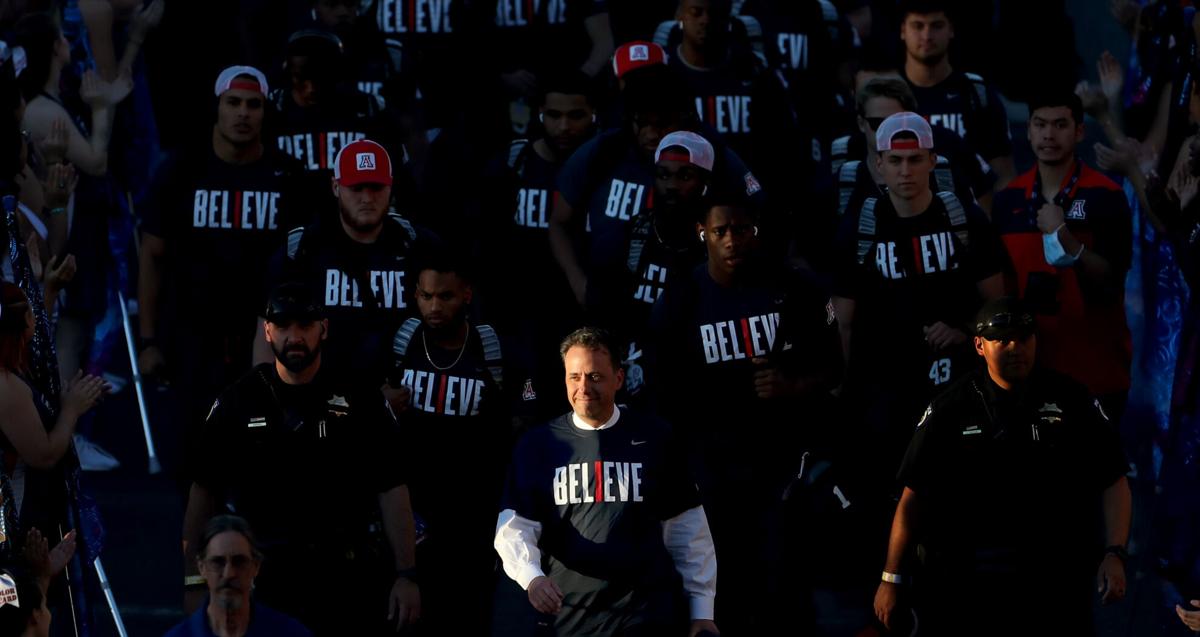 To the best of his recollection, Jedd Fisch never had been involved in a field-storming before this past Saturday.
As the seconds ticked down in Arizona's 10-3 victory over Cal — which ended a losing streak that had lasted over two years — students from the ZonaZoo section began leaping over the railing behind the UA sideline. By game's end, Fisch and the Wildcats were swallowed up in a red sea of jubilant fans.
He enjoyed the experience immensely.
"It was awesome," Fisch said. "It was great to see how excited our fans were. And they deserve it — 763 days, that's a long time."
Fisch is hopeful that won't be the last time fans rush the field at Arizona Stadium during his tenure. But he'd like the accomplishment that prompts it to be something greater.
"It's my hope that we have a lot of wins for a lot of years together," Fisch said. "As we continue to build this program up, hopefully the fans will be rushing the field for championships rather than just for a win."
Even amid the euphoria of last week's long-awaited victory, Fisch never lost his grip on the reality of Arizona football as it's currently constituted. The best-case scenario this season is a 4-8 record, which would require three more upsets; the Wildcats are 24-point underdogs vs. No. 24 Utah on Saturday and assuredly will be 'dogs in their final two games as well. It isn't an impossible task, but it's highly unlikely given the caliber of competition.
Fisch conceded this week that the Wildcats are "away, away, away from where we want to be in the future."
To that end, they went back to work the very next day after defeating the Golden Bears. At 7 p.m. Sunday, the Cats were running sprints and trying to figure out ways to get better.
"We celebrated for 24 hours," senior linebacker Anthony Pandy said. "On Sunday, he (Fisch) emphasized that we have another game on Saturday. So we can't just dwell on this. We've just gotta chase that feeling and work harder than we did last week."
'Building the foundation'
There's no question that the vibe around the Lowell-Stevens Football Facility changed this week. The gloom that had hovered over the program finally lifted.
Senior center Josh McCauley described Arizona's 20-game losing streak as "miserable."
"Losing over and over, it was tough," he said. "As a competitor, it takes a lot out of you. I probably smiled more this weekend than I have in a long time. So that's good."
You never would have known the Wildcats were winless if you attended any of their practices. With the ever-optimistic Fisch leading the way, the players never lost their sense of purpose. They never stopped putting in the time.
"Our guys have continued to work extremely hard, determined to build for the future," Fisch said. "I've told them all, 'You guys are building the foundation.' They've embraced that."
McCauley acknowledged there were times during the skid when he and his teammates doubted themselves. As the losses piled up, he would wonder: "What are we doing wrong?"
Winning brought relief. It re-established confidence. It allowed McCauley and his fellow departing seniors to contemplate the future.
"We have three more unreal opportunities here to end the season strong," McCauley said. "(What) I'm most excited about is leaving something here that guys can build on and that recruits can see."
Anyone attending or watching from afar Arizona's recent performances could see signs of growth. Fisch has talked about the ideal timeline a rebuilding program will follow: from losing big to losing small to winning small to winning big. After a 34-0 drubbing at Colorado, the Wildcats lost by five against Washington (after leading 13-0 at halftime); lost by seven at USC (with an onside kick attempt in the final minutes); and won by seven over Cal.
Has Arizona crossed the threshold from losing small to winning small? Perhaps. The next three games, starting with Utah, will be telling.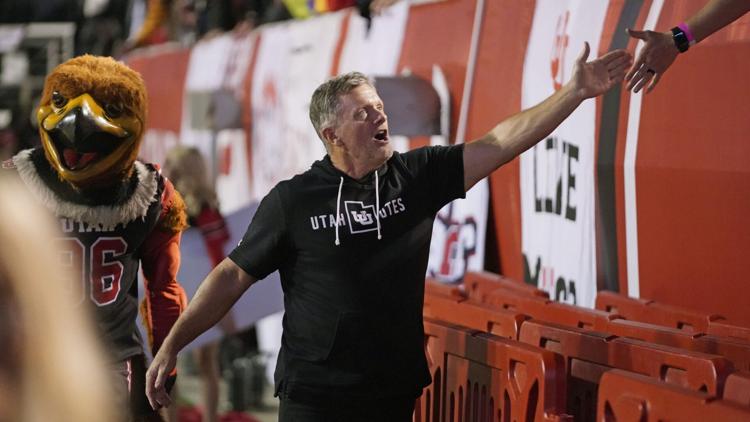 Utah as role model
Fisch was quick to deliver move-on-oriented messaging when the team reconvened Sunday. It echoed one of the signs that's plastered throughout LSFF: "So what now?"
"That is going to be our mentality all the way through," Fisch said. "We've got three games left this season. We've got a spring of football. We have to find a way to get better every single day."
The next challenge is a formidable one. Utah has won the Pac-12 South the last two times a full season was conducted, and the Utes are in pole position with three games to go. They're coming off back-to-back blowout victories, including a 45-point demolition of Stanford on the road last week.
Fisch has great admiration for the way Kyle Whittingham has built the Utah program. Fisch went so far as to say the Utes "are the model in the Pac-12 for us, for what we would like to look like" — a statement that played to mixed reviews on social media.
"They're just tough," Fisch said. "They're physical. They know exactly what they want to look like. Their defense looks a certain way. They recruit to that. They (acquire) the same type of players that they just fill in.
"Offensively, they know exactly what they want to be. They play to that. Their consistency and the way they've been able to really keep their coaches together, keep their program together, is something that we (respect)."
When he became Arizona's coach in December, Fisch said he wanted the Wildcats to be physical, to cover kicks, to be the toughest out on everyone's schedule. Utah has been that for most of the past eight seasons.
Since going 5-7 in their second and third seasons as members of the Pac-12, the Utes won nine or more games in five of the next six years. Barring a late-season flop, they will play in the Pac-12 Championship Game for the third time in four seasons.
Arizona has won nine-plus games only once this century. That season, 2014, was the only time the Wildcats have won the South.
Utah has recruited better than Arizona, but not that much better. The Utes' average national ranking over the past 10 completed cycles is 40.4, per 247Sports.com. Arizona's is 50.6. Their average rankings in the Pac-12: Utah 7.6, Arizona 9.5.
The Utes haven't had a single class that ranked in the top 25. Yet they've earned a spot in the final Associated Press poll four times.
Utah has achieved a level of sustained success that Fisch would like to replicate. Saturday, he'll be able to measure his team against Whittingham's — and find out just how far the Wildcats have to go.
Contact sports reporter Michael Lev at 573-4148 or mlev@tucson.com. On Twitter @michaeljlev