PHILADELPHIA — It might sound crazy, but the Eagles enter Sunday's divisional playoff game in New Orleans with a legitimate chance to win it.
How can this be true? How can they beat the team that overwhelmed them, by 41 points, two months ago? How can they win at a place like the Superdome, where they thought their season died? How can 8-point underdogs — on the road, against a team coming off a bye — have any prayer of winning?
It goes deep. Deeper than just the magic of former University of Arizona star Nick Foles, who became the highest-rated passer in playoff history after he engineered a 12th game-winning drive (in 59 career games) at Chicago last week. Deeper than the return from injury of running back Darren Sproles, a former Saints star who has been a backfield salvation.
It goes deep the way Drew Brees went deep, again and again, against a secondary that entered New Orleans with holes, then left in tatters. The Eagles were 4-6 and dead in the water because they were hopelessly undermanned at cornerback and safety.
With all due respect to Saint Nick, the Eagles have won six of their last seven games because the secondary has stabilized. It has been particularly proficient during their four-game winning streak. The cast of defensive backs that Brees torched for 326 yards and four touchdowns have either been replaced or revived. In the last four games they've allowed an average of 251 yards and a total of three touchdowns. They might not shut Brees down, but they can at least keep the score close enough for Big Game Nick.
Saints coach Sean Payton has noticed.
"Much like an offensive line, the group is working together now," Payton said.
"It's a credit to the defensive staff, coaching these guys up," said Pederson, who leaves the defense to Jim Schwartz. "We say, 'Next man up,' but this year has been next man, and maybe even the second man up."
Lately, the second man, or even the third, has been good enough. Back in November, against the most prolific passer in NFL history they never had a chance.
"Doesn't matter who we're playing," said cornerback Rasul Douglas.
That, of course, is ridiculous.
Brees, 39, has the career yardage record, is second in touchdown passes, second in game-winning drives. He's also second in total passes thrown, which would be irrelevant, except that's he's the most accurate passer in history. Now in his 18th season, he might finally win an MVP award after throwing 32 touchdown passes and five interceptions to compile a league-best 115.7 passer rating, his personal best and the sixth best in NFL history.
He padded those numbers against the Eagles, but it wasn't a fair fight.
The Eagles had lost free safety Rodney McLeod for the season to a knee injury six games prior. They had lost starting cornerback Jalen Mills for the season to a foot injury two games prior. They had lost starting cornerback Ronald Darby for the season to a knee injury one game prior.
Corey Graham, McLeod's replacement at safety, was playing his second game back after missing three with a hamstring injury, but he hadn't started in five games. It was rookie Avonte Maddox's second start at cornerback. Sidney Jones was coming off a three-game absence due to chronic hamstring issues. Douglas, a second-year corner, was making the seventh start of his career but just the second start of the season. He had played just 28 percent of the defensive snaps over the first nine games of 2018.
Only Graham survived the night. The Next Men Up were not up to the task.
Maddox left with a knee injury late in the first quarter with the Eagles trailing, 3-0. Cre'Von LeBlanc replaced him. The Eagles had claimed LeBlanc from the Lions off waivers 13 days before.
Jones aggravated his hamstring and left early in the third quarter with the Eagles trailing, 31-7. Chandon Sullivan, an undrafted rookie, replaced him. Sullivan had been on the practice squad just three weeks before.
Douglas gave up touchdowns of 3 and 23 yards, with a 22-yard gain in between. On the last play of the third quarter, burned again — this time for 38 yards — Douglas was blessed and cursed. The receiver fell, which prevented a touchdown … but Douglas tripped over the receiver, injured his own knee and left the game.
No matter. By then it was 38-7, and the Saints were just rubbing it in.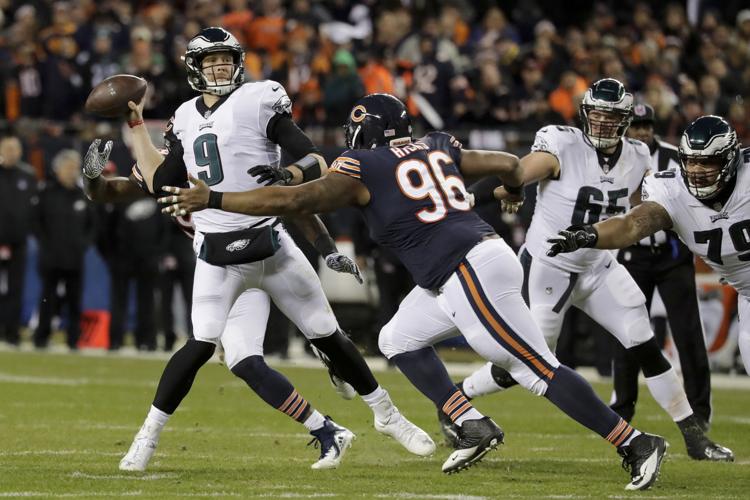 Douglas was replaced by De'Vante Bausby, a journeyman promoted from the practice squad the previous day.
Things looked grim for the Eagles. Things changed. Defensive backs coach Cory Undlin took those lemons and, somehow, he made lemonade.
Maddox has returned from injury and is the team's best cornerback. LeBlanc played well enough in New Orleans to claim the nickel corner spot. Douglas played only two snaps in the next game but he has been a revelation since. He has two interceptions and, suddenly, a mean streak: He has led the team in tackles in five of the last six games. That distinction usually falls to a linebacker or safety. Douglas shrugged his shoulders.
"Eh, guys don't block the corners. They leave us to tackle. That's probably why my shoulders hurt so much," he said, rolling his aching joints. All he needed, he said, was time. "I'm a lot better now. That was only my second game (starting this season)."
Tre Sullivan, a practice-squad project the past two seasons (no relation to Chandon), also is contributing. Time and coaching have made the difference.
"Guys are playing a lot more minutes together, so they are getting a little more comfortable with the scheme. I think of Rasul Douglas and how well he's been playing, and how well he's been tackling and really being a more physical corner, that's a bright spot," Pederson said. "They are coming together at the right time."
As for the other actors in that tragedy on Nov. 18, the Eagles cut Chandon Sullivan and Bausby on Christmas Eve, but re-signed Chandon Sullivan to the practice squad two days later.
Jones remains sidelined by that hamstring problem. A first-round talent who injured himself before the 2017 draft and fell to the Eagles in the second round, he has a brilliant future.
For the moment, though, he is not missed.