In honor of the 20th anniversary of the 1998 Arizona Wildcats – the best team in program history – the Star is looking back at that squad and those times. The third in a four-part series …
Arizona defeated Nebraska in the Holiday Bowl on Dec. 30, 1998, to cap a 12-1 season. It was the most-watched bowl game in ESPN's history. The Wildcats finished No. 4 in the Associated Press Top 25.
Less than two years later, Dick Tomey — the winningest coach in school history — was out of a job.
After 14 seasons in Tucson, Tomey resigned following Arizona's 30-17 loss to Arizona State on Nov. 24, 2000. Once 5-1, the Wildcats finished the season with a five-game losing streak. It was their second year in a row with a record of .500 or worse.
This is how Tomey explained his decision at the time:
"I didn't think I could continue because the public debate has become so difficult for my family, for our team, for our coaches and their families. I have no other choice, and that's all I'm going to say."
Eighteen years later — and 20 years after that unprecedented 12-1 season — Tomey and his players still struggle to grasp how it all unfolded. They remain disappointed that they weren't able to sustain, or at least approach, the success of the '98 Wildcats. But Arizona's subsequent descent doesn't tarnish the legacy of that team. If anything, it enhances it.
"I don't think people appreciate the job coach Tomey did," said Dino Babers, Arizona's offensive coordinator from 1998-2000. "To take that team at that time at that location and have that many good players come there and play for those colors — I'm not sure he gets all the credit he should get.
"But you're only as good as your last season in college football. I kind of wish they gave him a little more time than they did."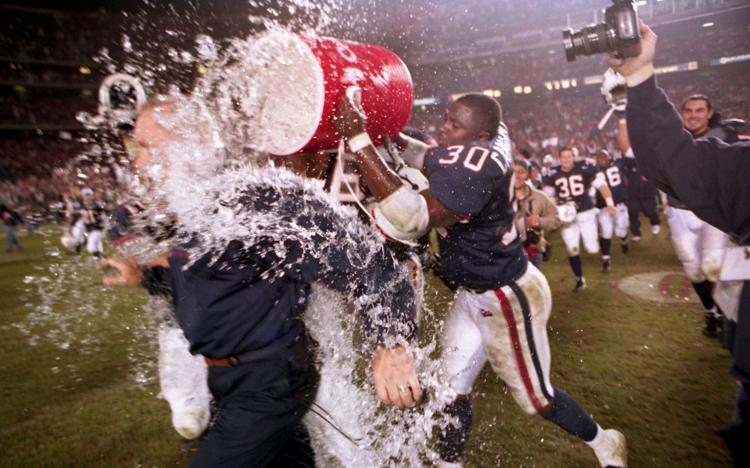 'It's hard to be 12-1'
The 1998 season marked the second time in a six-year span that Arizona won 10 or more games. It has happened only one other time, in 2014.
No one wants to put a cap on what a program is capable of. But using history as a guide, those seasons clearly were the exception, not the rule.
The following campaign, 1999, marked the first of nine in a row without a bowl bid — the longest stretch since Arizona joined the Pac-10/12. The Wildcats had losing records in seven of those seasons, including six in a row from 2000-05. Their record during that span — under Tomey, John Mackovic, Mike Hankwitz and Mike Stoops — was 22-46.
"I still think we're trying to dig ourselves out of that hole," said Brandon Manumaleuna, who played tight end for Arizona from 1997-2000.
Peaks and valleys weren't uncommon during Tomey's tenure. The Cats went 10-2 in 1993; they were .500 across 1995 and '96. Despite three-plus-game losing streaks to end the '99 and 2000 seasons, Tomey and his players believe he would have turned it around if he had more time.
Tomey wouldn't have resigned if he felt he had the requisite support from the UA administration. Then-athletic director Jim Livengood told reporters at the time that he was surprised Tomey stepped down. The two were supposed to have met three days after the ASU game to discuss Tomey's future.
"Dick did a great job at Arizona," Livengood, the AD from 1994-2009, said in a phone interview Monday. "The highlight was certainly the '98 season. The next couple of years, for various reasons … we probably had a little bit of apathy with involvement in U of A football. That's nobody's fault. It happens."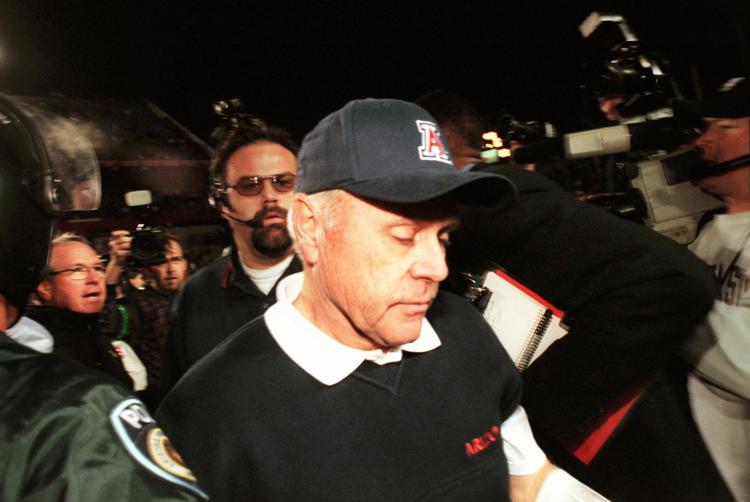 Tomey had a 95-64-4 record as UA coach. But he faced mounting criticism from media and fans when the Wildcats were unable to match the glory days of 1998. Additionally, attendance declined at Arizona Stadium.
"It's hard to be 12-1," Tomey said recently. "If people expected us to be 12-1 (regularly), I think that's unrealistic.
"We had no facilities. We had no infrastructure. But the record is the record. We did tail off after that.
"My perception was, that wouldn't have lasted long. We would have bounced back, just like we did in previous times. If you're at Arizona … there aren't many that stay on top of the mountain. You would love to be able to say you could just string together 10-win seasons."
Kelvin Eafon, a captain on the 1998 team, put it this way: "I think the expectations were just too high. Coach Tomey unjustly took the rap for it."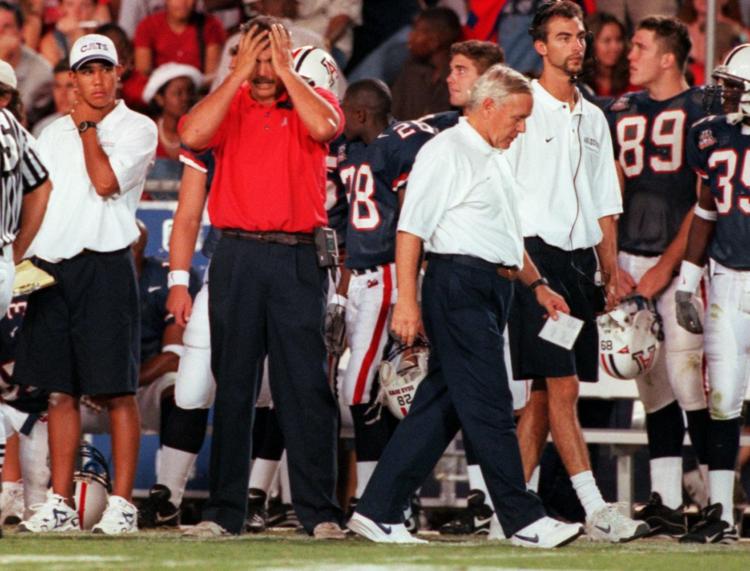 Beginning of the end
No one expected Arizona to go 12-1 every year. But expectations were as high as they ever have been for the program entering the following season.
The Wildcats were No. 4 in the preseason AP poll, and they opened the 1999 campaign at No. 3 Penn State. That game — the very next one Arizona played after the Holiday Bowl — might have been the beginning of the end of the Tomey era. The Wildcats lost 41-7.
"I just remember that was really hard to recover from," longtime UA radio voice Brian Jeffries said. "So much negativity came out of that when there was so much buildup to it. To lose like that, that was really tough to swallow."
Arizona didn't immediately fall apart. The Wildcats won five of their next six games, including a 35-31 triumph at LaDainian Tomlinson-led TCU the week after the Penn State debacle.
But Arizona lost four of its last five to finish 6-6. Another late-season collapse followed in 2000, and Tomey was gone.
The 1999 team returned much of the offensive firepower from '98, including quarterbacks Keith Smith and Ortege Jenkins, tailback Trung Canidate and receiver Dennis Northcutt. But the Wildcats lost several "really tough guys," as Tomey put it, and they couldn't recapture the grit, camaraderie and leadership that made the previous team so successful. Players such as tight end Mike Lucky and offensive linemen Edwin Mulitalo and Yusuf Scott proved difficult to replace.
"It was so fun," Manumaleuna said, referring to the '98 season. "When you're having fun like that, you don't realize the amount of work you put in. The next fall, you take it for granted and get blown out at Penn State."
Although he was no longer part of the team, Eafon blamed himself for Arizona's drop-off.
"What we lost in senior leadership, you can't replace it overnight," he said. "We were in such command of the team.
"I wish I would have done a better job of passing the torch."
Mulitalo departed Arizona convinced that he and his fellow seniors were "leaving this place better than when we came." Whether that's true depends on how you measure success.
If it's based strictly on wins and losses, then no; it took Arizona 10 years to have another winning season after the pinnacle of 1998.
If it's based on other factors — such as helping to mold boys into men — then yes, Tomey succeeded even in defeat.
"He had a great career here. He probably could have gotten a few more W's if he was a little meaner," Eafon said. "But he built a lot of great men, and a lot of guys would attest to that. He was about helping you be a better man."
Although he readily recognizes that the '98 team was his — and Arizona's – best, Tomey doesn't cherish it more than any other. It would be like asking him to pick a favorite among his eight grandchildren. He appreciates the efforts of every player he coached.
Tomey doesn't feel bitter about the way his UA career ended. The disappointment still stings a bit, but it doesn't linger.
"I'm grateful to be given the time here to do what we did," Tomey said. "I'm sorry it didn't last longer. We were blessed to experience all of it."
Be the first to know
Get local news delivered to your inbox!