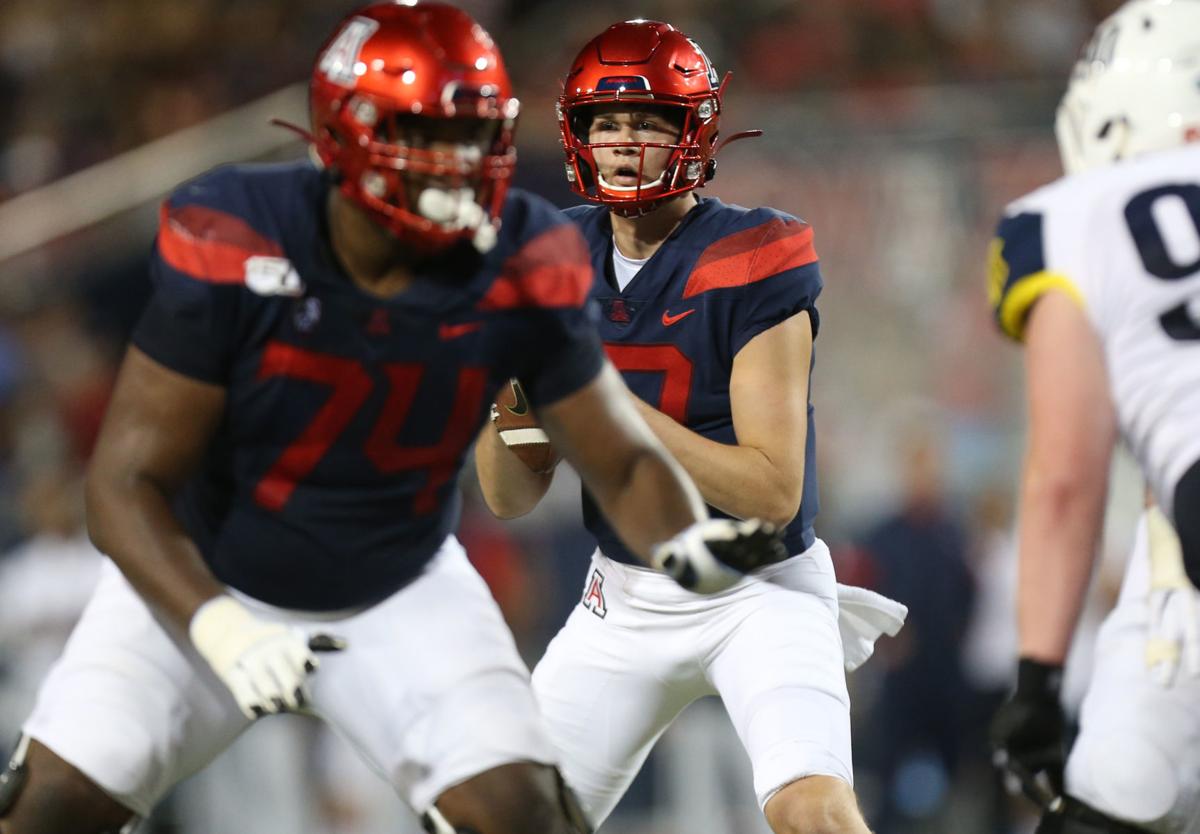 During his weekly news conference Monday, Arizona coach Kevin Sumlin was asked how much the Wildcats' game plan changes with Grant Gunnell at quarterback as opposed to Khalil Tate.
"I would rather not tell Mel Tucker what that is," Sumlin said with a laugh, referring to the first-year coach of Colorado, Arizona's upcoming opponent. "He's a pretty good coach. He can recognize that there's a difference."
Sumlin did not have an update on the status of Tate or tailback J.J. Taylor as of early Monday afternoon. Both missed the UCLA game last week.
Tate's inability to play because of hamstring and ankle injuries pushed Gunnell into the lineup. The freshman passed for 352 yards and a touchdown as the Wildcats defeated the Bruins 20-17.
Sumlin said he'd learn more about Tate and Taylor's availability when the team gathered to meet and practice later in the day.
"I won't know until we see what happens this week," Sumlin said. "No change in status for either one of them."
While Sumlin didn't want to get into specifics for obvious reasons, the offense clearly had a different look to it with Gunnell at quarterback. In his first career start, Gunnell attempted 44 passes — one fewer than Tate's career high in 32 appearances. Tate attempted 45 passes in a blowout loss at Houston last year. It's the only time he has thrown 40 or more times in a game.
"The guys that are playing are so different on paper," Sumlin said. "You're preparing for a couple different guys. One of them's gonna run out there Saturday."
The two longest plays in Arizona's past two games illustrate the stylistic differences between Tate and Gunnell.
Unlike most teams facing Tate, Texas Tech blitzed him frequently early in their Sept. 14 matchup. The Red Raiders backed off after the Wildcats ran QB counter and Tate raced 84 yards for a touchdown.
"That stopped that," Sumlin said. "There are different ways you can settle people down."
UCLA treated Gunnell like a first-time starter by blitzing him throughout the first half. On Arizona's first play from scrimmage in the second, Gunnell connected with tailback Bam Smith for a 75-yard touchdown. Smith ran a wheel route out of the backfield.
"Both guys give them the ability to win," Colorado defensive coordinator Tyson Summers told reporters, per BuffStampede.com. "(Tate) is obviously one of the most talented players in the country. He can create as much conflict as any quarterback in the country with his ability to both pass and run.
"(Gunnell) is a guy that does a really good job of being a game manager. He understands the offense very well and is able to play within the scheme."
Tate has been at his best against Colorado the past two seasons. He rushed for a record 327 yards and four touchdowns in a breakout performance in Boulder in October 2017. Last November he completed 17 of 22 passes for 350 yards and five TDs.
By the time the Buffaloes faced Tate last season, he was healthier than he'd been for most of the campaign. Tate played on a sprained ankle for a good chunk of 2018, missing most of the Utah game and all of the UCLA game before returning for the final stretch.
Last season gave Tate valuable experience in how to manage injuries. It also gave Sumlin and his staff a template for how to manage Arizona's uber-talented senior quarterback.
"We talk all the time," Sumlin said. "We talked last week. Our medical staff and our training staff are with him daily. In some ways, because he's been through this before, he kinda has a good feel for where he is.
"He wanted to play in the worst way. That's two years in a row he's missed UCLA, which is right down the street from where he grew up. He tried like crazy, and it just wasn't right."
While Tate watched last week's game in sweats, Taylor (ankle) suited up and participated in warmups and team stretching. Sumlin reiterated the importance of caution with both players because of the types of injuries they have.
"Those two guys, that's how they thrive, by changing directions," Sumlin said. "It's important for them to be healthy. Luckily, we had a bye week to get some other guys ready."
Colorado injury update
Colorado is coming off a bye, but two of its top players remain question marks because of injuries.
Receiver Laviska Shenault Jr. and defensive end Mustafa Johnson will be "game-time decisions" Saturday, Tucker told reporters Monday.
Shenault has been in and out of the lineup the past two seasons because of various ailments. He missed last year's meeting with the Wildcats. In nine games, Shenault caught 86 passes for 1,011 yards and six touchdowns. He also rushed for five TDs.
"He's one of, if not the best player in this whole league because of his size, his speed," Sumlin said.
Johnson has a team-high three sacks, all coming in Colorado's come-from-behind, 34-31 win over Nebraska in overtime on Sept. 7. He had a team-best 8.5 sacks last year.
Gunnell honored
Gunnell's performance against UCLA earned him the Pac-12 Freshman Player of the Week award. He is the first Wildcat to win the honor, which is new to the conference this season.
Gunnell became the first true freshman to win his first career start for Arizona since Willie Tuitama in 2005. Gunnell also is the first UA freshman to win a Pac-12 weekly award since tailback Nick Wilson in 2014.
Penalty problem
The Wildcats won their third game in a row last week, but they regressed in at least one area: penalties.
UA was flagged 10 times for 74 yards. The UA has cracked double digits three times in four games this season. The Wildcats' average of nine penalties per game is tied for 123rd in the nation.
"That's ridiculous," Sumlin said. "We're not a good enough football team to just give away yardage like that.
"Our understanding of what that needs to be and what that looks like, obviously I haven't done a good enough job of that up until now. But that's going to change."
Extra points
Arizona and Colorado are both 3-1, 1-0 in the Pac-12, with each having lost to a Mountain West opponent. The UA lost its opener at Hawaii. CU lost at home to Air Force on Sept. 14.
Arizona outscored Texas Tech and UCLA 22-0 in the fourth quarter.
The Wildcats lead the nation with nine interceptions. Cornerbacks Lorenzo Burns and Jace Whittaker have three apiece.
Arizona leads the Pac-12 and ranks fifth in the country in total offense at 552.3 yards per game. Colorado ranks in the bottom three in the conference in points allowed (30.8 ppg), total defense (466.5 ypg), passing defense (291.0) and rushing defense (175.5).
Arizona's Oct. 12 home game against Washington will kick off at 8 p.m. It will air on Fox Sports 1.