The Khalil Tate Chronicles: How Arizona landed its new star quarterback
Tate is expected to make the second start of his college career Saturday when the Wildcats take on UCLA. A lot has changed since the first one.
'Nobody has a guy like him'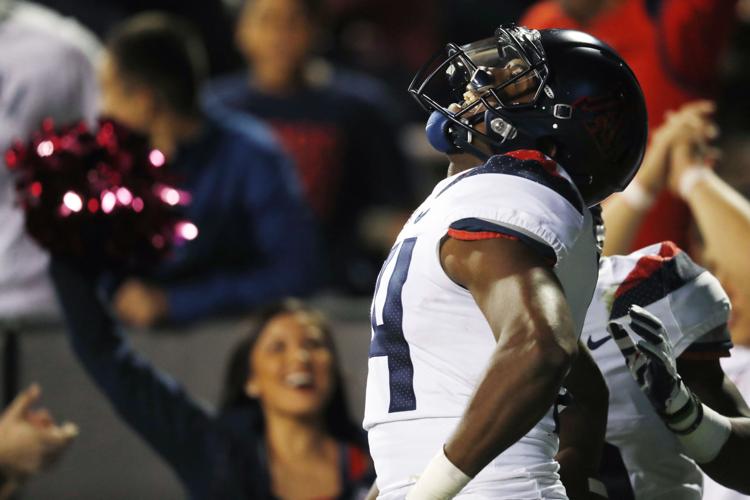 By Zack Rosenblatt / Arizona Daily Star
Khalil Tate juked, cut back and ran around Colorado defenders and into the national consciousness during Saturday's stunning performance in Boulder, Colorado.
The Arizona sophomore is now an FBS record-holder for the most rushing yards in a single game by a quarterback.
In the last week, Tate has been compared to a basketball star (Allen Iverson) and two great college quarterbacks (Pat White and Denard Robinson). He's won Pac-12 and national awards, and Pro Football Focus graded him as the top signal caller in the country.
Whoa.
This is the same kid that couldn't throw a football two weeks ago because of a shoulder injury. The same kid who lost the quarterback competition to Brandon Dawkins in August. The same kid who often looked lost under center as a true freshman.
Saturday, Tate is expected to make the second start of his college career when the Wildcats take on UCLA at Arizona Stadium. A lot has changed since the first one, a loss to USC in which Tate was benched. Tate came off the bench last week against Colorado, and posted one of the best stat lines in Arizona history: 327 rushing yards, the most ever by a quarterback, and 154 passing yards on 12 of 13 attempts. Tate finished the game with five touchdowns, four of them coming on the ground.
Colorado couldn't stop Tate. Fortunately, they won't have to face him again.
"Nobody has a guy like him," CU coach Mike MacIntyre said.
Well, UCLA maybe could have.
"Khalil, because he is a local guy, we had great regard for him, we recruited him hard," Bruins coach Jim Mora said. "The style of offense we were running at the time maybe didn't fit him perfectly for his skill set. But I'll tell you what, he has found an offense that he can be unbelievably productive in. We're happy for him."
Tate sees it differently. Saturday, UCLA might pay.
"I get a lot of juice playing against a hometown team," Tate said, "knowing that they could have recruited me a little bit harder."
Here are the Chronicles of Khalil, the story of how Tate went from a player college coaches didn't consider a quarterback to the future of the position in Tucson.
PART 1: Human highlight reel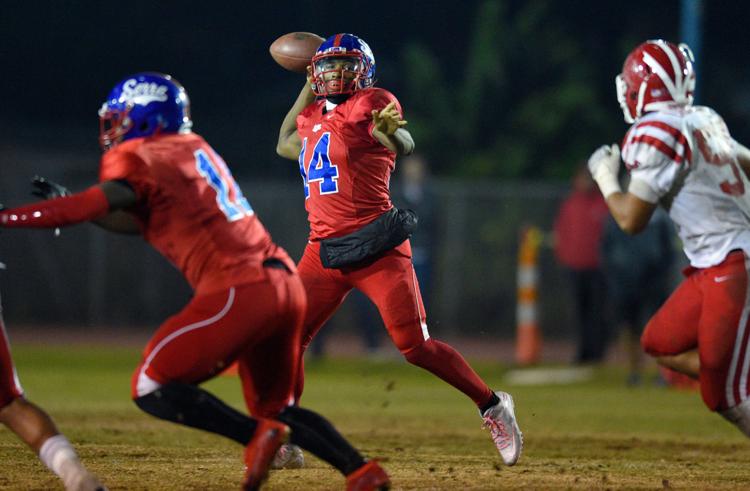 Tate was a sophomore at Serra High School in Gardena, California, when he played in his first varsity game. He rushed four times … and gained 138 yards and scored three touchdowns.
That was just the beginning.
Talk to anyone who's coached Tate — or coached against him or tried to recruit him, that's played with him or tried to defend him — and you'll hear a tone to the storytelling.
They marvel.
Did they see that, Tate's night against Colorado, coming? Like, that?
Maybe not. But Tate has done it before.
"He did that same stuff in high school," said Greg Biggins of Scout.com. "It is kinda weird to see someone just so much better physically than everybody else he's going against at the college level, but that's how it was" at Serra.
"I mean, every game he played, he would do something amazing."
As a senior, Tate passed for 2,036 yards and 17 touchdowns. He ran for 2,130 yards and 26 touchdowns. Serra went 9-2 before falling in the state playoffs to powerhouse Santa Ana Mater Dei. Tate rushed for 356 yards.
Arizona freshman defensive end Kylan Wilborn played Tate twice in high school.
Tate and Serra defeated Wilborn's Sherman Oaks Notre Dame Prep team 35-20 in 2015. Tate amassed 249 passing yards and 185 rushing yards and scored five total touchdowns.
Wilborn remembers one play in particular.
It was fourth and inches, and everybody assumed Tate would run a sneak up the middle. He did — or, at least, he started to.
"So he does the QB sneak, we all pinch together to crowd him and take him on," Wilborn said. "Then we're like … where'd he go?"
"He just backs out, reverses field, runs like 10 yards in the backfield and goes 60 yards to the house. It was fourth and inches and he took a mile."
Later in the season, Tate and Serra squared off against Los Angeles Narbonne. He passed for 201 yards and managed 295 yards and six touchdowns rushing. Tate played so much — and so hard — that he left the game briefly because of cramping.
Serra coach Scott Altenberg remembers it well.
"Right around the third quarter he got really tired, fell down and said, 'I'm tired,'" Altenberg recalled. "I take him out and Narbonne comes back. So now we're losing and Khalil (in his) last two series is kinda tired, not playing well, he's struggling and I said 'Dude, we gotta go.' He was like, 'OK.'
"He flipped a switch … and he was off."
Tate scored on a four-yard run and Serra beat Narbonne 41-40 in overtime.
"That kind of stuff is when you look at him and it's like, he's definitely special," Altenberg said.
PART 2: To QB or not to QB?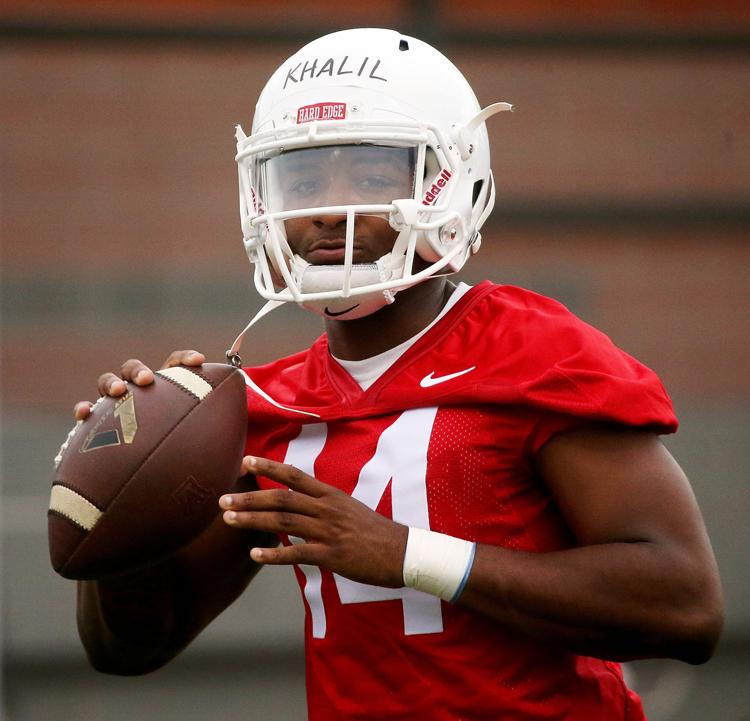 Arizona offered Tate a scholarship on Feb. 6, 2015; the same day as UCLA. Utah, USC and Florida State did the same a month earlier.
Nebraska and Texas A&M visited later, and Alabama expressed interest.
It was easy to see why: Tate was a four-star recruit and the No. 1 athlete in California according to Scout.com. He probably could have played anywhere.
Many close to Tate figured he'd play for the Trojans.
"They spelled it S-C-R-R-A because SC kids always come from Serra," Biggins said. "Once USC offered, we all thought 'lock it up, Khalil is going to USC.'"
Tate didn't to USC — or to UCLA, even though he grew up a Bruins fan.
The quarterback picked Arizona in what became recruiting coup for UA coach Rich Rodriguez and his staff.
The reason: Arizona wanted Tate to play quarterback. The others thought he'd be better at wide receiver, running back or safety. Tate had played some receiver at 7-on-7 competitions, and dominated.
"Picking a college, I was trying to pick it based on what position I wanted to play, and I wanted to play quarterback," Tate said this week.
"That's what made the process easier, and Arizona was my top choice."
Altenberg, Tate's high school coach, warned the star that other schools would try to make him switch positions.
Tate said they weren't going to change his mind about quarterback.
"I really appreciated that, because for me it said he had a lot of confidence in who he was," Altenberg said. "He just didn't care that people said: 'OK, you can go to the No. 1 school in America if you just decide to play receiver.' He said, 'I want to play quarterback.'
Arizona's coaches were prepared to give him that opportunity. Rod Smith and Tony Dews, who has since left for West Virginia, said they saw Tate and the perfect fit for Rodriguez's wide-open attack. It helped that Rodriguez had made stars out of Pat White and Denard Robinson, athletic high school quarterbacks who most saw as impact players at other positions.
"We've had a lot in our history of guys that can run and can throw, but for whatever reason people would label them as an athlete or a different position," Rodriguez said. "We looked at him and said because of what we do on offense, he fits."
PART 3: At Arizona, it's Tate's time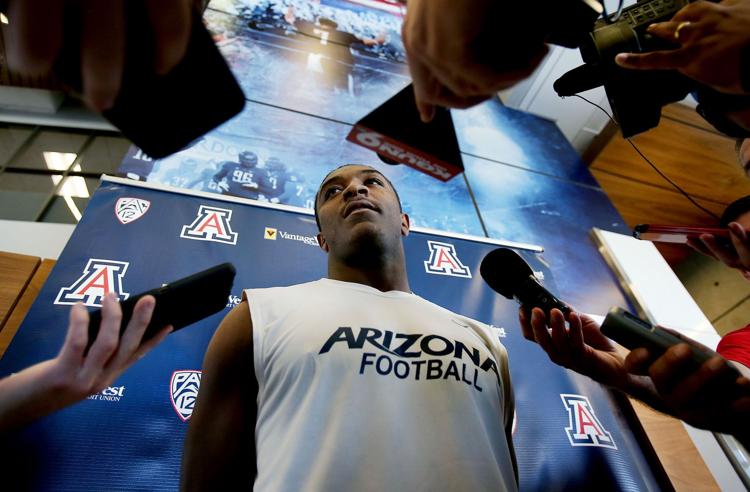 Tate was supposed to redshirt as a freshman, but injuries to Dawkins and Anu Solomon forced him into action. Tate made his college debut in an Oct. 1, 2016, game against UCLA, and played against Utah a week later after Dawkins suffered a concussion.
Tate made his first career start on Oct. 15 against USC. He was 17 years old.
Tate flashed talent during his freshman audition. Against UCLA, he rushed for 79 yards, threw for two touchdowns and famously trucked a Bruins defender.
He completed 5 of 8 passes for 105 yards and a touchdown against Utah.
Tate started hot against USC, flashing the Trojans' "V for Victory" hand symbol at the visiting sideline after scoring a first-quarter touchdown.
But the three-game stretch was a mixed bag. Tate threw three interceptions and completed less than half of his passes. The Wildcats were winless in the three games Tate played.
Things are different now.
During Arizona's bye week, Tate visited his old high school. While catching up with his former coach, Tate made a guarantee.
"He said, 'I'm ready,'" Altenberg said. "He said if they put me in, they're never going to take me out."