Top 10: Counting down the most valuable Arizona Wildcats in 2018
The Star's Michael Lev has been counting down the most valuable Wildcats alongside (and other than) Heisman candidate Khalil Tate. Here's the list.
The countdown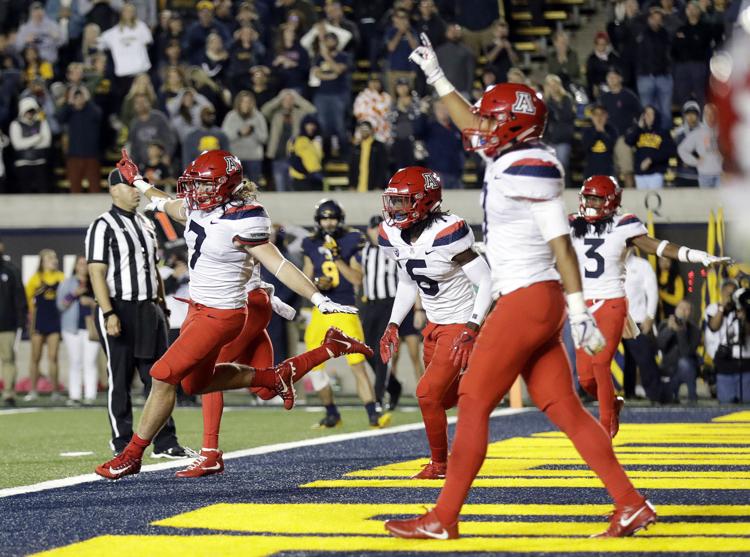 Congratulations! You've made it to the end of our countdown of the 10 most valuable Arizona Wildcats of 2018 … other than Khalil Tate.
This list is a rarity when it comes to UA football — a Tate-free zone. Had we included him, there would have been no suspense this week.
If you've been following along, you probably know who our pick for No. 1 is anyway. But please feel free to disagree, about the top selection or any of the previous nine. Every entry can be accessed from this post. Let us know your thoughts.
Before we go any further, two quick reminders:
"Most valuable" does not necessarily mean "best." Rather, we're defining it as the contributions and traits that most influence winning football. They include talent, leadership and projected role and production.
Newcomers were not eligible. Even though freshmen played a huge role on last year's team, it's just too hard to predict who will have an immediate impact before training camp gets underway.
And now, we commence the countdown:
NO. 10: OT LAYTH FRIEKH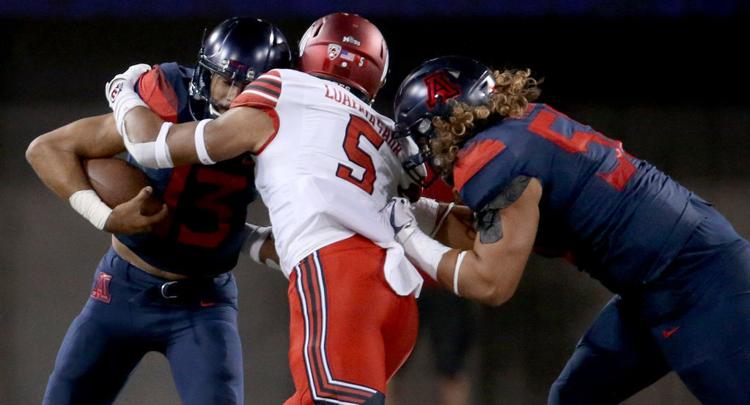 Ht/Wt/Yr: 6-5, 302, redshirt senior
Comment: We might find out just how valuable Friekh is in the first two weeks of the season.
Friekh must sit out the BYU and Houston games after essentially cutting a deal with the NCAA for an extra year of eligibility. As a result, the Wildcats will be without the player who's probably their most reliable lineman.
We know Houston – featuring defensive tackle Ed Oliver, who could end up as the No. 1 pick in the 2019 NFL draft — will present a stiff challenge. But don't overlook BYU just because the Cougars went 4-9 last year.
Most of BYU's problems in 2017 emanated from the offensive side of the ball. The Cougars ranked in the bottom 12 in the nation in total offense and scoring.
Meanwhile, BYU ranked in the top 51 in total defense and points allowed – a nifty feat given how little help the offense provided.
In its 2018 BYU preview, CollegeFootballNews.com ranked defensive ends DE Sione Takitaki and Corbin Kaufusi as the Cougars' best defensive players. The two combined for 11 sacks and 20 total tackles for losses last season.
You'd like to have a seasoned left tackle for a matchup like that. In lieu of Friekh, the starter could be the still somewhat mysterious Tshiyombu Lukusa, a redshirt sophomore who hasn't played since 2016, or perhaps veteran Cody Creason, a part-time starter at right tackle last year.
Friekh enters 2018 with 34 career starts, including every game the past two seasons. His streak of 33 straight starts will end when he has to sit out Weeks 1 and 2.
It's a suboptimal situation for an offensive line that's in a state of flux. The only other returning full-time starter is center Nathan Eldridge. It always takes time for offensive lines to gel, and Friekh having to sit out the first two games will only delay that process.
The good news: He'll be back for Week 3 against Southern Utah, giving him a game to get acclimated – and for the line to take its true form — before the Pac-12 opener at Oregon State. Even better, Friekh & Co. will have those two games to prepare for their biggest test: USC on Sept. 29.
Friekh is one of those steady players whom you don't notice all that often because he generally does his job and does it well. But you'll notice his absence — and appreciate his value — if Tate is running for his life against BYU and Houston.
NO. 9: DT DERECK BOLES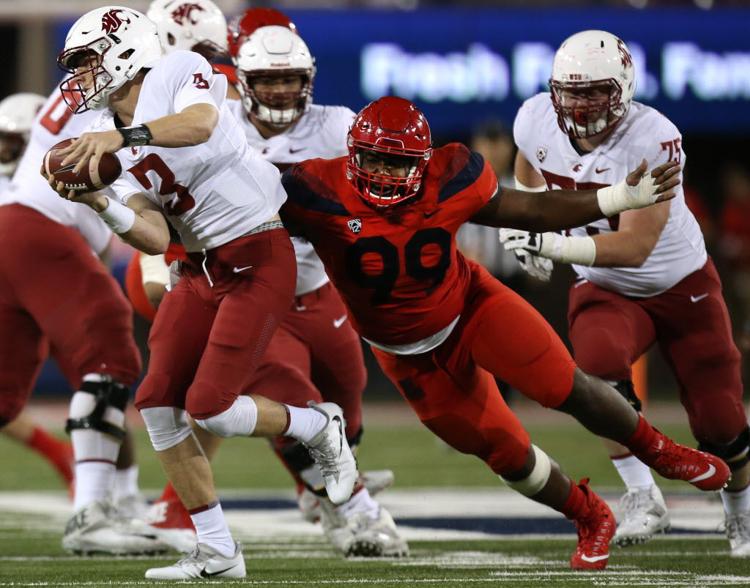 Ht/Wt/Yr: 6-2, 296, redshirt senior
Comment: Interior defensive linemen aren't the stars in Marcel Yates' defense. For the most part, they do the dirty work, enabling others to make plays.
Boles produced last season despite that structure. He recorded 42 tackles – easily the most among interior linemen — including 1.5 for losses. He also broke up two passes.
Those numbers won't earn you a spot on the All-Pac-12 team. But they'll earn you the respect of your teammates. The blue-collar efforts of Boles, among others, enabled Colin Schooler, Tony Fields II and Kylan Wilborn to earn national all-freshman accolades.
There's great value in that. As the leader of the interior linemen, Boles merits a spot in our top 10 for 2018.
It should be a beefed-up group this year. Junior-college transfer PJ Johnson was running with the ones in the spring game — alongside Boles, who had to exit early because of what appeared to be a minor leg injury.
Johnson is listed at well over 300 pounds, as are freshman Mykee Irving and now-healthy redshirt junior Sione Taufahema. Another redshirt junior, Finton Connolly, also has bulked up.
Boles relies more on quickness than raw power. As such, he's an ideal complement to the 300-plus-pounders who are now prevalent in the D-line room.
Arizona should have better depth inside than in recent years; in addition to the aforementioned players, Kurtis Brown enters Year 2 after a promising freshman campaign.
But besides Connolly — who has played a lot but has only one career start — most of the interior defensive linemen are relatively unproven. Taufahema was supposed to make an impact last year but missed the season because of a knee injury. Johnson clearly impressed the coaches in spring, but his next Division I snap will be his first.
Boles has ample experience. He began his career at Boise State and appeared in all 13 games last season, his first at Arizona, including 12 starts. That's 26 appearances in all in FBS games.
Arizona has only eight scholarship seniors on its current roster, nine if you include grad-transfer punter Dylan Klumph. Only three of them play defense: Boles and defensive backs Demetrius Flannigan-Fowles and Jace Whittaker.
Boles arrived relatively late last summer. He quickly went from newcomer to starter.
The next step is to become a team leader. Lining up in the middle of Arizona's defense, Boles is perfectly positioned to assume that role.
NO. 8: S DEMETRIUS FLANNIGAN-FOWLES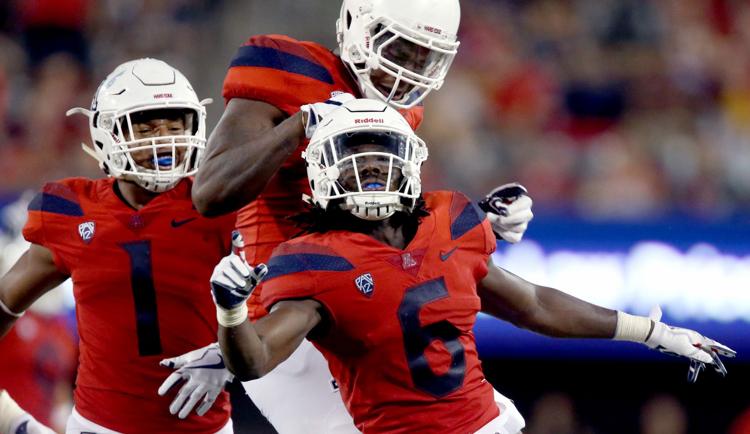 Ht/Wt/Yr: 6-2, 205, senior
Comment: The numbers Flannigan-Fowles has compiled over the past two seasons suggest he should rank higher.
Flannigan-Fowles has 159 tackles, including four for losses; 14 pass breakups; five interceptions; and two fumble recoveries. He has been one of Arizona's most productive defensive players, and he enters this season as one of the Wildcats' most experienced returning starters.
So why isn't Flannigan-Fowles higher?
As the Tucsonan readily would concede, he did not finish last season as strongly as he started it. Flannigan-Fowles had all three of his interceptions in the first two weeks and wasn't involved in a takeaway over the final seven games.
In December, Flannigan-Fowles described his performance as "hot and cold." Defensive coordinator Marcel Yates use the same phrase.
Given additional time for self-assessment, Flannigan-Fowles reached this conclusion in April:
"I feel like I just need to be more to be more relaxed. I feel like got a little too tense. I don't need to chase or rush. Just let it come to me. Just relax a little more and make the plays I know I'm capable of making."
The thoughtfulness of that analysis should tell you a lot about Flannigan-Fowles: He's one of the most conscientious players on the team — one who will put in the work to better himself.
Flannigan-Fowles knows he's capable of more after plateauing last season, and he seems determined to finish his UA career with a flourish. In an interview toward the end of spring practice in April, John Rushing dubbed Flannigan-Fowles "the lead guy back there" and an invaluable liaison between the safeties and Rushing, their new coach.
Flannigan-Fowles is the lone senior in the group and the only returning starter among the safeties — unless the suspended Scottie Young Jr. is reinstated.
If he is, that could create a logjam at free safety, where Jarrius Wallace stated his case to start in the spring game and former starter Isaiah Hayes is coming back from injury. One of those players conceivably could be shifted to "Bandit" to join Chacho Ulloa in pushing Flannigan-Fowles.
The expectation here is that Flannigan-Fowles will hold off all challengers and make his final season at Arizona his best. He has the physical traits and mental makeup to excel, and he's entering his third year in Yates' scheme.
Flannigan-Fowles needs to become a more consistent tackler in space, and he needs to do a better job of locating the ball when he's chasing a receiver (as opposed to when he's in a center-field position and the play is in front of him).
If he can do those things — and you know he's working on them this offseason — Flannigan-Fowles can deliver more impact plays and boost his value even further.
NO. 7: WR-PR SHUN BROWN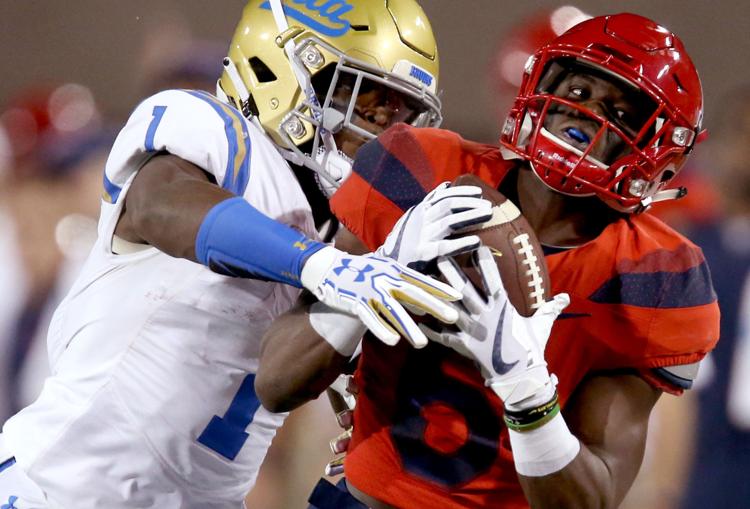 Ht/Wt/Yr: 5-10, 177, senior
Comment: Like the other player who wears uniform No. 6 for the Wildcats, safety Demetrius Flannigan-Fowles, it feels like Brown ought to rank a little higher on our MVP list. After all, Brown led Arizona in catches and touchdown receptions last season. Additionally, he returned two punts for scores. Only Tate and tailback Zach Green scored more TDs than Brown.
The hesitancy to place Brown in, say, the top five stems from some uncertainty about his role in the offense. Will he continue to be the top target for Tate? Or will someone else — such as fellow receiver Shawn Poindexter — seize that opportunity?
Poindexter just missed the cut for our top 10 after finishing last season strong and starring in the spring game. He also is one of seven players depicted in this year's team poster, for whatever that's worth.
It's not inconceivable that Brown, Poindexter and Tony Ellison all end up with about the same number of receptions. There's no clear-cut go-to guy in that group, a la Christian Kirk.
Playing for Kevin Sumlin and Noel Mazzone, Kirk led Texas A&M in catches (71), yards (919) and TD receptions (10) last season. What's interesting to note about Kirk is that his dimensions (5-11, 200) are closer to Brown's than Poindexter's (6-5, 212). Kirk also played primarily out of the slot; he was lined up inside for 67 of his 71 catches, according to Pro Football Focus.
(In discussing the top traits he's seeking in outside receivers this spring, position coach Taylor Mazzone cited speed first, size second. Brown primarily is working with the inside receivers under Theron Aych, but it was a telling comment coming from the son of the offensive coordinator.)
So there is a path for Brown to thrive in the Sumlin/Mazzone offense, even if Poindexter plays a bigger role (and if running backs catch significantly more passes, which is a virtual certainty based on Mazzone's track record and what we saw in open spring practices).
Despite his relatively slight frame, Brown is a strong runner after the catch. He's also fast enough to get behind the defense (a task admittedly made easier when opposing safeties surge toward the line of scrimmage to try to thwart Tate in the zone-read game).
Brown provides added value as a returner. As mentioned, he returned two punts for scores last year. As UA fans know, he should have had three.
Although the NCAA has made a concerted effort to cut down on kickoff returns, no such legislation has been passed (or even suggested) to suppress punt returns. Skilled punters and smart special-teams coaches try to keep those opportunities to a minimum when the returner is as dangerous as Brown. But he showed last season that he can go long even when given just a handful of pitches to hit (17 total returns).
Brown's playmaking ability as a receiver and returner, his smarts and his experience make him a clear choice for our top 10. His exact role in the offense will determine how high he ultimately ascends.
NO. 6: C NATHAN ELDRIDGE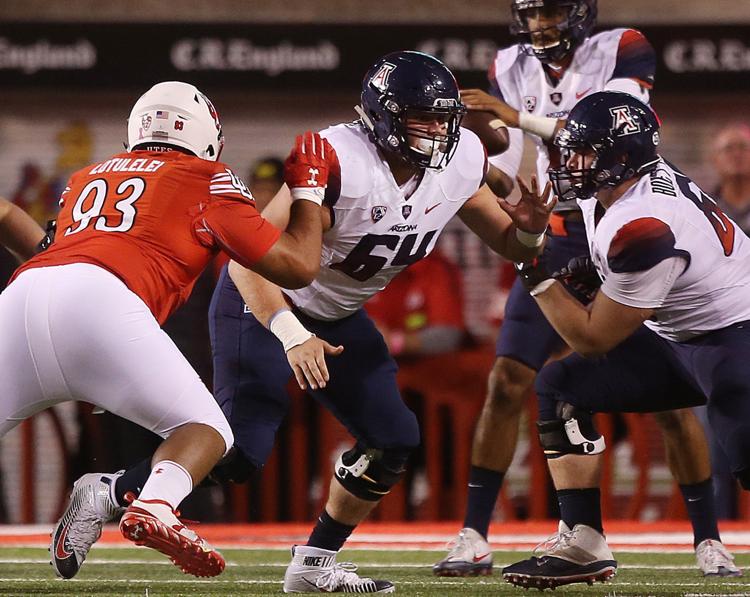 Ht/Wt/Yr: 6-3, 297, redshirt junior
Comment: Eldridge has started every game the past two seasons — 25 straight — since being thrust into the lineup in August 2016 under tragic circumstances.
He faced a steep learning curve in '16. He improved in '17. He enters '18 as one of Arizona's most reliable returning veterans.
Yet there's also an air of uncertainty surrounding Eldridge.
The Wildcats held two open scrimmages during spring practice. Eldridge did not participate in either of them.
The reason given for Eldridge's absence, per a team source, basically amounted to veteran maintenance. Eldridge just so happens to have one of those bodies that requires extra management to ensure he's ready for the rigors of a long, physically taxing season.
Eldridge was spotted exiting the practice field and/or locker room a handful of times. Invariably, he had ice packs on his knees. That isn't unusual.
Is Eldridge's health a genuine cause for concern? Probably not. Is it at least a little bit worrisome? Maybe.
With their offensive line already in a state of flux, not having Eldridge for any period of time is the last thing the Wildcats need. He is one of only two returning full-time starters up front, and the other one, left tackle Layth Friekh, must sit out the first two games because of an NCAA ruling.
Although he had a full season of starts on his résumé, Eldridge was hardly Arizona's most seasoned lineman last year. He had two experienced, intelligent upperclassmen flanking him at all times: Jacob Alsadek to his right and Christian Boettcher to his left.
Now Eldridge is the one who has to play that leadership role. The first-team guards in the open practices were Michael Eletise and Bryson Cain. Both will be redshirt sophomores this season. Neither has started a college game.
The primary fill-in for Eldridge in those scrimmages was redshirt junior Alex Kosinski — who also doesn't have any career starts. See where we're (possibly) going here?
The Friekh situation will make putting together a "best five" that much more challenging. It becomes slightly easier if Eldridge is healthy and available.
Other interior alternatives include Josh McCauley and Jon Jacobs, a couple of walk-ons who've earned praise from the previous coaching staff and this one; JC transfer Steven Bailey; and Texas A&M transfer Robert Congel, if he's deemed eligible for this season.
None of those options is as appealing, or reassuring, as a healthy Eldridge, who made huge strides with the mental part of his game last year. Eldridge's acumen will be especially important this year with a new offensive system in place. Everyone will be learning on the fly.
For the Wildcats to be all they can be — and for Tate to be all he can be — the offensive line must come together. And it must come together quickly. As we all know, Houston — featuring supreme interior disruptor Ed Oliver — is looming in Week 2.
No position plays a bigger role in that gelling process than center. As such, no player matters more than Eldridge.
NO. 5: LB TONY FIELDS II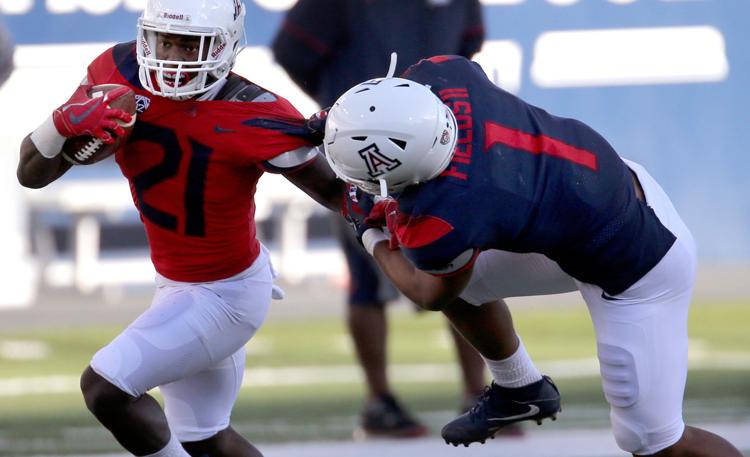 Ht/Wt/Yr: 6-1, 225, sophomore
Comment: From the moment spring practice began in 2017, Fields was the first name anyone mentioned when asked about newcomers making an immediate impact.
We've all been fooled by spring stars before. Fields lived up to the hype, and then some.
Fields started every game at "Will" linebacker as a true freshman and led the Wildcats with 104 tackles. He had 7.5 stops for losses, including five sacks, and an interception.
Fields had an immediate and significant impact. He quickly established himself as one of the defense's best and most vocal players. Win or lose, he made himself available to the media after games. That's a promising sign for a budding leader.
But Fields spoke loudest on the field, fearlessly flying around and hurling his body into bigger blockers and ball-carriers. He was credited with double-digit tackles seven times, including a career-high 13 — all solos — in the season-ending Foster Farms Bowl against Purdue.
Which isn't to say Fields was flawless. Although willing to mix it up in congested areas, he sometimes got engulfed by the 300-pound linemen assigned to smother him. Fields also did not produce quite as many big plays — i.e., takeaways — as some of his teammates. (Spoiler alert: Fields' uber-productive classmate and fellow linebacker Colin Schooler will appear somewhere in the top four.)
So there's room for growth, which is to be expected. Fields should be much stronger as a sophomore, and he should be more adept at using his hands, leverage and angles to fend off blockers. That's part of the adjustment process for players when they move from high school to college, where, in most cases, they're no longer the fastest or most powerful guy on the field.
Fields should be smarter too, having had a full season — and a full offseason — to absorb Marcel Yates' scheme. It would behoove Yates, and benefit the defense, to give Fields a breather every now and then; he and Schooler probably played more snaps than they should have as freshmen. Anthony Pandy's development and Troy Young's move from safety to "Will" offer Yates, who's now coaching the linebackers, two viable alternatives.
But make no mistake: For the UA defense to make the jump many believe it is capable of, Fields must play a central role. He must continue to be an effective blitzer, improve against the run and add coverage skills to his toolbox.
Few players on the Arizona roster are capable of all three. The ascending Fields is one of them.
NO. 4: DE-LB KYLAN WILBORN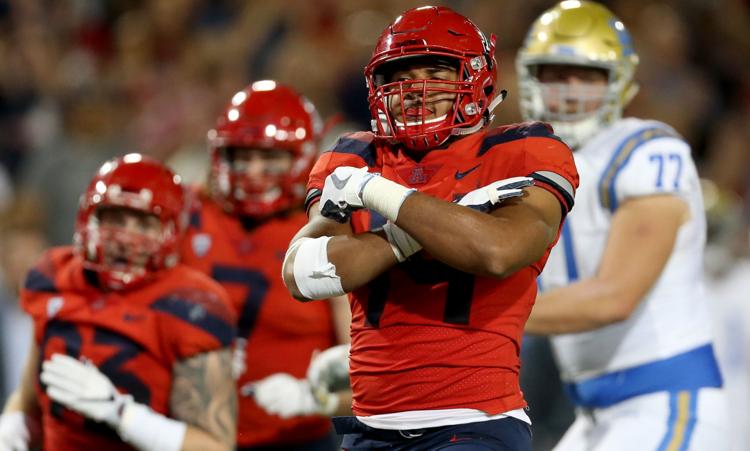 Ht/Wt/Yr: 6-2, 245, sophomore
Comment: Entering last season, Wilborn wasn't among Arizona's most heralded incoming freshmen. You could argue he wasn't even close.
Neither 247Sports nor Rivals ranked Wilborn in the top half of the Wildcats' 2017 class. He proved everybody wrong.
Starting every game and playing an inordinate number of snaps, Wilborn led Arizona with 7.5 sacks and four forced fumbles. The latter led the Pac-12 and was one more than the rest of the Wildcats combined to produce.
Given Wilborn's propensity to make impact plays — and the likelihood that he'll be even better as a sophomore — you might wonder why he's only No. 4 on our countdown.
Here's the crux of the argument: If Arizona's pass rush improves as much as hoped, Wilborn shouldn't have to carry as big a burden. He still would be the main guy, but he no longer would be the only guy.
Developing more pass rushers is something that has to happen. The defense as a whole needs it. Wilborn needs it.
As superb as he was last season, Wilborn wore down as the year progressed. He accumulated seven tackles for losses, five sacks and three forced fumbles in the first six games, including a night for the ages against UCLA. The numbers were 2.5, 2.5 and one over the final seven games.
Much of the falloff was a result of injuries. Wilborn suffered a sprained ankle — a killer for a pass rusher — against Cal one week after the UCLA game. He missed most of the Foster Farms Bowl because of a shoulder injury (which also limited him in spring practice).
In part because veteran DeAndre' Miller had his own injury issues — and in part because there weren't many viable alternatives — Wilborn probably played too many snaps. He took a pounding.
It's also reasonable to assume that Wilborn drew more attention from opposing offensive coordinators after the UCLA game, in which he became the first Wildcat to record four sacks in a game in 20 years.
Wilborn can't continue to be the only player in the front four to deliver a consistent rush. He won't be if Justin Belknap continues to improve, if Jalen Harris' flashes turn into real production and if freshman Nahe Salunga lives up to his advance billing. ((Another defensive lineman, Adam Plant, won't play for the Wildcats.)
Heck, if only one of those things happens, it will alleviate the pressure on Wilborn to apply pressure.
Regardless of whether others step up, expectations will be sky-high for Wilborn in Year 2. That'll be a different experience, but one Wilborn should be able to handle. Teammates regularly praise his motor. He won't forget what got him here.
A season with double-digit sacks isn't out of the question. That would cement Wilborn's place among Arizona's most valuable players.
NO. 3: RB J.J. TAYLOR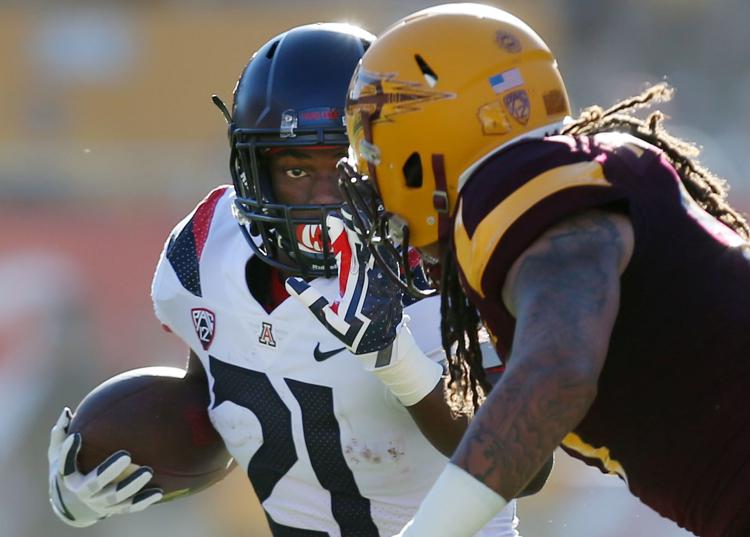 Ht/Wt/Yr: 5-6, 180, redshirt sophomore
Comment: A year ago, we ranked Taylor No. 1 in our projection of the most valuable Wildcats of 2017. He had flashed tantalizing potential the previous year before an injury cut his season short. With the Cats' QB situation uncertain, Taylor jumped to the front of the pack.
That obviously did not turn out to be the case. Tate emerged as a transcendent talent in October and lapped the field.
Which isn't to say Taylor failed to do his part. He rushed for 847 yards, second on the team to Tate's 1,411, and scored seven touchdowns. It was enough to earn Taylor co-Offensive Freshman of the Year recognition from the Pac-12.
(Taylor likely would have topped 900 yards if not for his ejection for "targeting" in the first quarter at Cal.)
Although Arizona has the makings of a deep backfield, including rising sophomores Gary Brightwell and Nathan Tilford, there's reason to believe Taylor could surpass last year's production.
Based on what we saw from Noel Mazzone's offense in the spring, and what we know about his history, Taylor will be utilized in a different way this season — a way that suits his skill set.
Tate and the other UA quarterbacks threw to the running backs frequently during open spring scrimmages — something that happened infrequently in Rich Rodriguez's offense. Even when Taylor was involved in the passing game last year, he seldom had room to catch-and-run. He averaged just 4.1 yards on 12 receptions — 1.7 fewer yards than his per-carry mark — with a long of 16.
Mazzone's pliable scheme aims to take advantage of what its personnel does best. The diminutive but elusive Taylor is a "space" player. Mazzone will find ways to get him the ball in said space. That should lead to a significant spike in Taylor's receiving totals, which will make him a more effective overall player.
If Taylor again rushes for 800-plus yards (a reasonable projection despite Tate's presence and a changing backfield dynamic) and adds 400 receiving yards (maybe a reach, but not implausible), that likely would place him second behind Tate in total yards from scrimmage. Hence Taylor's spot in our top three.
But wait, there's more: The new coaching staff's desire to make Tate more of a distributor — something he ought to be working toward anyway if he wants to play quarterback in the NFL someday — will lead to more touches for everyone. No one in the skill-position group is more dependable — yet dangerous at the same time — than the studious, slippery Taylor.
How the carries will be divided among the tailbacks remains to be seen. But Taylor enters training camp with a sizable edge in experience and the type of well-rounded game position coach Clarence McKinney is seeking in his charges.
"We like for them to be a triple threat," McKinney said in spring. "You've gotta be able to run the ball, of course. You've gotta be able to protect for the quarterback. And you've gotta be able to catch the ball out of the backfield."
Brightwell and Tilford are capable of doing all those things as well. But if they're on equal footing, a notch below Taylor, they might cancel each other out in a sense. A 50/25/25 carry distribution is a logical forecast based on what we know now.
Taylor feels like a safe bet to retain his role as Tate's No. 2 even as Arizona transitions to a new offense. Expect Taylor to hold his value as well.
NO. 2: CB JACE WHITTAKER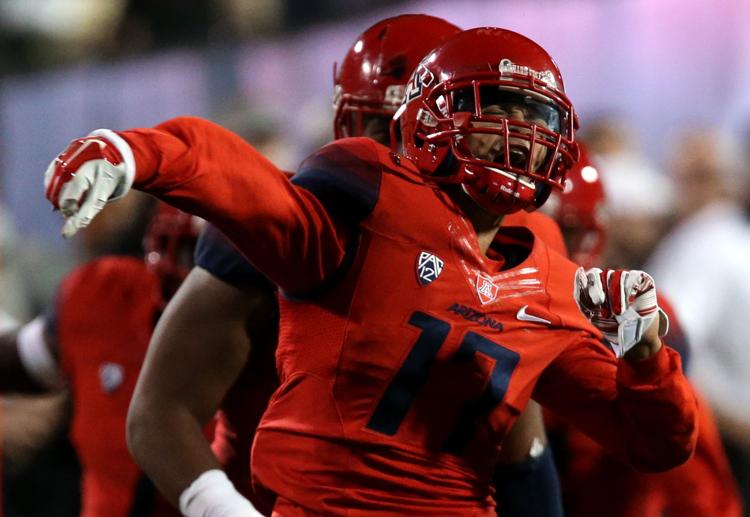 Ht/Wt/Yr: 5-11, 182, senior
Comment: Here's the case for Jace …
First of all, he's a very good college football player.
As a junior, Whittaker ranked among the Pac-12 leaders in passes defensed. He led Arizona with 13 pass breakups and was tied for second with three interceptions, one of which he returned for a touchdown. He also had two tackles for losses.
Pro Football Focus, the outfit that grades every individual player in the NFL and FBS, showed Whittaker a lot of love. Whittaker made PFF's All-Pac-12 second team. Per PFF's numbers, Whittaker had the sixth-lowest passer rating when targeted among conference cornerbacks entering bowl season.
Whittaker, like the Wildcats overall, got off to a shaky start in the Foster Farms Bowl. He allowed two touchdowns in the first quarter.
But the veteran found his form thereafter and finished with an impressive stat line: 12 tackles, 1.5 TFLs and three pass breakups.
That's one of the qualities that makes Whittaker so valuable: He possesses the mental toughness needed to play one of football's most demanding positions — one where you're often on your own, solely responsible for guarding your man.
Whittaker played through some sort of foot injury for most of the second half of the season. When he participated in a media interview after the bowl schedule was announced, Whittaker had a boot on his left foot. That was a regular look for him off the field. He didn't miss any significant game time.
The injury occurred Oct. 28 vs. Washington State. This is what Whittaker said about it in early December:
"I've gotta play. I believe in everything that the trainers are doing. They're getting me right to keep playing. That's the least of my worries. I've been practicing. I'll be fine."
In addition to becoming a top player, Whittaker last season emerged as one of Arizona's premier spokesmen and leaders. He has a feistiness and cockiness about him that are also perfectly suited for the position he plays.
Whittaker and senior safety Demetrius Flannigan-Fowles (No. 8 on our list) are the elder statesmen in an otherwise youthful secondary. None of the other projected starters is a senior; most of the others who are expected to be part of the rotation are sophomores or freshmen.
One other factor that gives Whittaker a boost is job security. Although fellow corner Lorenzo Burns approached — or, in the case of interceptions, exceeded — Whittaker's numbers, Burns could be pushed by uber-athletic sophomore Tony Wallace (or perhaps freshmen McKenzie Barnes or Jhevon Hill).
Barring injury, Whittaker is about as safe a bet as Arizona has to keep his job and sustain his level of performance. The Associated Press also selected him for the Pac-12's second team last year. Whittaker should be in line for all-conference honors again this season.
He isn't the biggest or fastest corner, but Whittaker more than makes up for it with smarts and toughness. His consistency and production seal the deal: Whittaker is unquestionably one of the Wildcats' most valuable players entering 2018.
NO. 1: LB COLIN SCHOOLER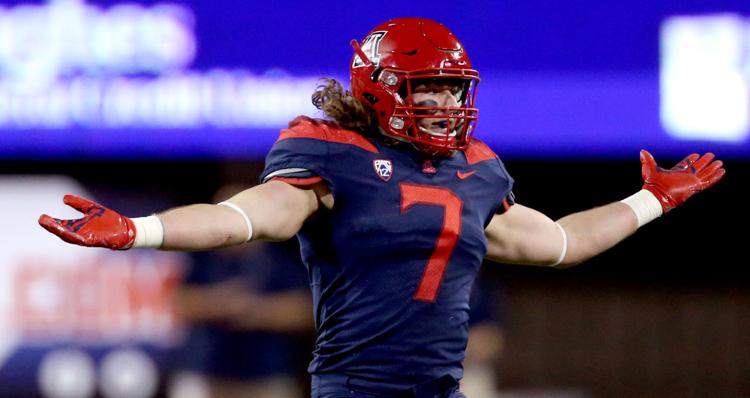 Ht/Wt/Yr: 6-0, 226, sophomore
Comment: The quarterback of the defense gets the nod.
But Schooler's role goes far beyond getting his teammates properly aligned. From the moment he started to get meaningful playing time, Schooler proved to be a playmaker.
Despite not becoming a starter until the Colorado game — a lot went down on that wild night in Boulder — Schooler led the Wildcats with 13.5 tackles for losses. No freshman in the country had more.
Schooler ranked second on the team in tackles with 95, including a team-best 67 solos. He also had four sacks, two interceptions (one of which he returned for a touchdown) and a forced fumble.
Besides all that, Schooler made the game-winning play against Cal — a pass breakup in the end zone that didn't count toward his stats because it occurred on a two-point conversion attempt.
Those numbers and accomplishments earned Schooler Pac-12 Defensive Freshman of the Year honors, as well as numerous Freshman All-American accolades. If he continues to improve, he'll win even bigger awards.
Are we talking 2014 Scooby Wright? It's unfair to expect anyone to match that season. But it isn't hard to envision an All-America campaign in Schooler's future.
Perhaps because he used to be a running back, Schooler simply possesses a knack for tracking down ball-carriers. His ability to read plays and anticipate where the ball is going is top notch and should only sharpen in time. It also stands to reason that Schooler will get stronger with a full offseason in the UA weight program.
Schooler would be the first to tell you that you can always get better. It's hard to find fault with anything he did last year, but Schooler could stand to improve his conditioning. He looked a little fatigued at times, a byproduct of playing too many snaps. Then again, when you're as productive as Schooler, it's easy to understand why the coaches didn't want to sub him out.
Schooler also wasn't as vocal at the outset as then-linebackers coach Scott Boone wanted him to be. It's not easy to take over when you're a true freshman. Schooler should feel much more comfortable in that role as a sophomore. He'll be the on-field spokesman for defensive coordinator Marcel Yates, who's now coaching the linebackers.
Schooler isn't quite on Tate's level as far as irreplaceability, but Schooler isn't far off. His projected backup is redshirt sophomore Jacob Colacion, who played in all 13 games last season but has zero career starts. Linebacker is among Arizona's thinnest positions.
As long as Schooler stays healthy, the Wildcats should be fine. If he were to miss any extended action, they'd learn quickly just how valuable he is.
Honorable mention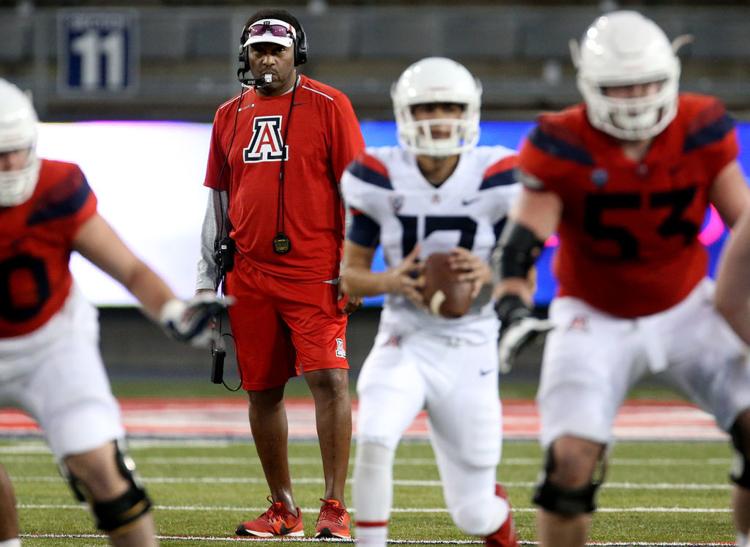 One more thing … a shout-out to the five players who barely missed the cut. Here they are, in alphabetical order:
DE Justin Belknap: A veteran leader who finished spring strong, Belknap just hasn't had enough consistent production to crack the top 10.
S Tristan Cooper: The favorite to succeed Dane Cruikshank at the "Spur" position, but Cooper will be pushed by youngsters.
OG Michael Eletise: His strength and upside are enormous, and he finally has a clear path to playing time, but he still must prove it on the field.
K Lucas Havrisik: He's already great on kickoffs, he could take over the placekicking job and it wouldn't be surprising if he's a top-10 MVP candidate by season's end.
WR Shawn Poindexter: A breakout star in the spring who could have a bigger role in Noel Mazzone's new offense, Poindexter just doesn't have enough of a track record … yet.