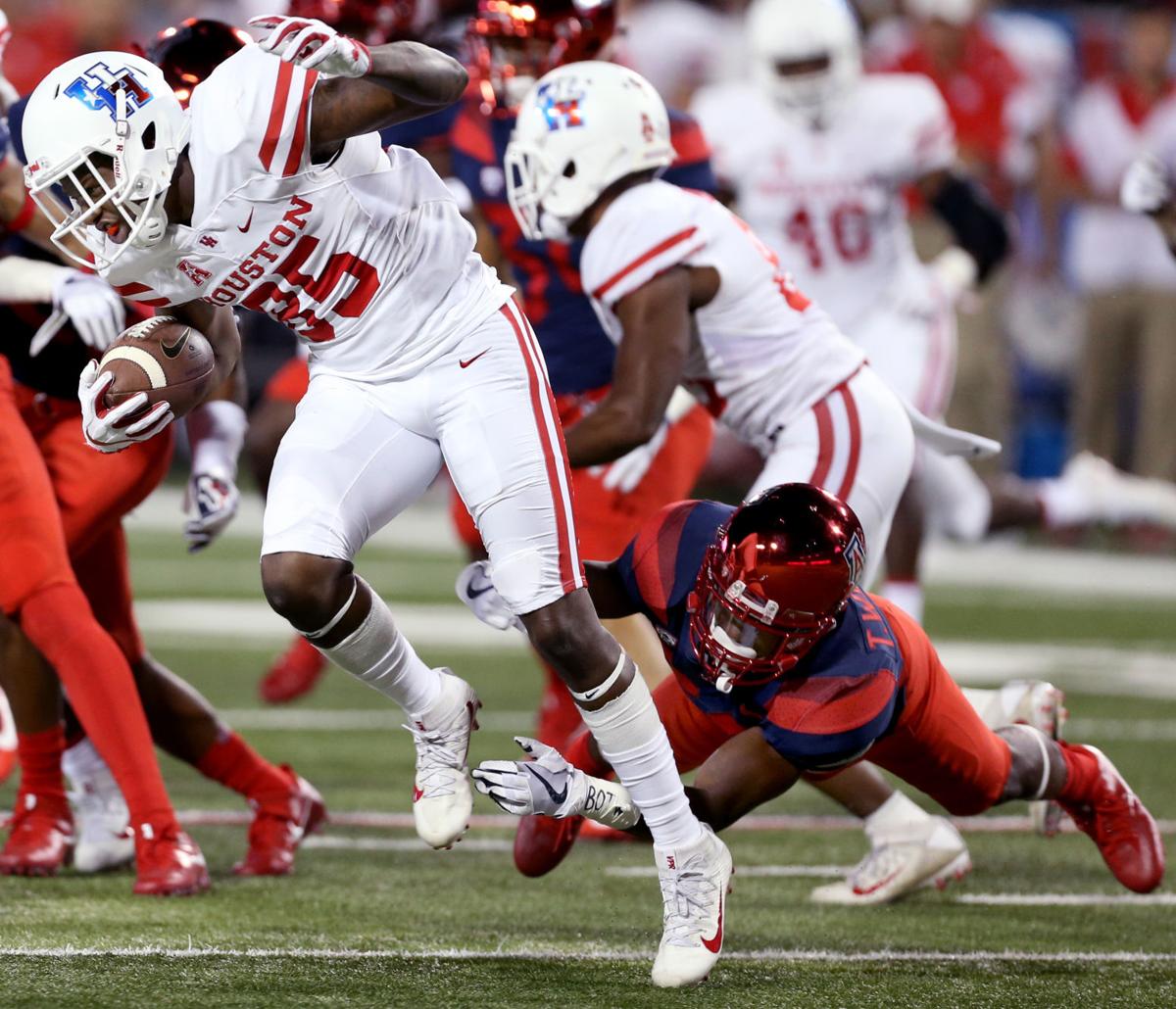 In Week 1 they were heroes, helping spring big plays that tilted the game in Arizona's favor.
In Week 2 they were goats, letting up for an instant and possibly costing the Wildcats a victory.
Meet the UA's special-teams units, symbols of Arizona's youth and the volatility that comes along with it.
Coach Rich Rodriguez is fully committed to playing freshmen this year, and the early returns mostly have been positive. But he knew all along that for every play they made, there might be an accompanying misplay. It was always a package deal.
In the opener against Northern Arizona, the freshman-filled return units set up punt returner Shun Brown for a 66-yard touchdown and Tyrell Johnson for a 58-yard kickoff return — major breakthroughs for a group that struggled throughout 2016. Freshman kicker Lucas Havrisik booted 9 of 10 kickoffs for touchbacks. All was good.
Last week against Houston, on one of the rare occasions Havrisik didn't reach the end zone, the kickoff-coverage unit faltered. The ball landed at the Cougars' 3-yard line on the right hash mark. The Wildcats allowed John Leday access to the left sideline.
Leday didn't reach the end zone, but his 81-yard return set up a Houston touchdown with 45 seconds left in the first half. The Cougars grabbed a 17-10 lead in a game they would win 19-16.
"The kickoff return was ridiculous," said Rodriguez, whose team visits UTEP on Friday. "It should never happen."
Breakdowns are bound to happen, though, when the kickoff-coverage unit consists of six freshmen, three redshirt freshmen, one sophomore and one senior. The senior, Kwesi Mashack, fought off a block to keep Leday out of the end zone.
"I've never been a part of playing so many young kids," said first-year special-teams coordinator Brian Knorr, who's in his 26th season as a college coach. "Every special team probably has five true freshmen on it. They've gotta lock in and realize the importance of special teams."
Knorr has dubbed the special-teams units "Special Forces." Their mantra is "one shot, one kill." In other words, every snap is critical and potentially the difference between winning and losing for a team that not only lacks experience but top-end talent.
"You've gotta make sure that six to nine seconds you're totally focused and realize, 'We can make a big play, or they can make a big play,'" Knorr said Wednesday. "You have to focus in and get in that mindset."
The Wildcats might have been caught off guard on Leday's return; up to that point, 11 of Havrisik's 12 kickoffs had resulted in touchbacks. It's a mistake they can't afford to make.
Knorr is hopeful it won't happen again. He already has warned his charges that it can be windy in El Paso. So even though Havrisik has a powerful leg, and the elevation there is more than 3,700 feet, they have to be ready.
"He may be kicking into the wind," Knorr said. "We can never assume that Lucas is going to put it in the back of the end zone. We've always got to put our guard up."
Dawkins to start at QB
Brandon Dawkins is healthy and will start at quarterback at UTEP, Rodriguez announced Wednesday.
Dawkins came out for two series in the fourth quarter of the Houston game — in part because he was banged up, in part because Rodriguez was seeking a spark for the offense.
Sophomore Khalil Tate replaced Dawkins but did not appear to be 100 percent. Tate hurt his shoulder in Week 1 and was shaking his arm between plays against Houston.
Dawkins, a redshirt junior, has completed 24 of 42 passes for 267 yards with one touchdown and no interceptions so far this season. He has rushed 20 times for 118 yards and two scores.
"I just want him to play good," Rodriguez said. "He's played well at times. He can be really, really good. That's our expectation for him."
Safe at home
Arizona safeties coach Jahmile Addae is from Tampa, Florida, which ended up in the path of Tropical Storm Irma over the weekend.
His younger sister, Jahzmine, escaped to San Diego. His parents elected to stay.
"The night of, they emergency-evacuated them," Addae said. "There was a shelter at a school, which was literally like three houses down. My dad calls and says, 'Oh, it just rained a bit.' I'm sure it was more than that."
Addae said his parents were able to return home about 3:30 in the morning. He lost contact with them for about an hour when cell service went down. Millions lost power in Florida because of the storm.
Extra points
Senior "Stud" linebacker DeAndre' Miller (foot) is finally out of the boot he had been wearing since late July. He didn't practice, so he won't play at UTEP. But it's possible Miller could be back for the Pac-12 opener against Utah next Friday. He has yet to play or practice after having foot surgery earlier this summer.
Freshman JB Brown could get some looks as a pass rusher starting this week at UTEP. Brown, recruited as an inside linebacker, did not play in the first two games.
Freshman tailback Nathan Tilford has been added to the kickoff-coverage team. The coaches believe his speed could be an asset on that unit.
Senior tailback Nick Wilson was named one of Arizona's four captains for the UTEP game, a possible sign he'll be back in the lineup. Wilson sat out last week because of an ankle injury.