'They don't want Arizona football to be good': Wildcats frustrated by lack of love from Pac-12
The Arizona Wildcats expressed their displeasure after failing to receive a single nod among the Pac-12's all-conference teams. Six UA players were tabbed for honorable mention, and two racked in freshman player of the year honors. But several Wildcats didn't think the offense garnered enough credit by a conference in which they led multiple statistical categories. 
Star reporters Michael Lev and Zack Rosenblatt take you inside the team's media availability after practice Wednesday night, from the frustrations to Khalil Tate's injured shoulder and more.
Arizona goes 0-for in the all-conference department, and players aren't happy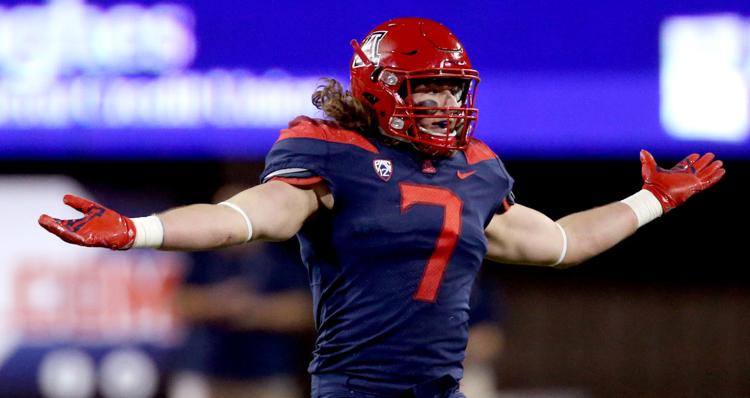 Arizona was 11 days removed from a loss to Arizona State in the Territorial Cup, but after practice on Wednesday night, UA offensive lineman Jacob Alsadek was mad again.
During a mini-rant about a lack of respect Alsadek feels Arizona receives from its peers in the Pac-12, the senior turned to an Arizona spokesperson to make sure he wasn't taking things too far.
Nobody stopped him.
Alsadek is frustrated, and his teammates are right there with him.
"It's just like, people don't want Arizona to get any respect," Alsadek said. "We beat a lot of teams this year, a lot of good teams, like Washington State. We were ranked in the top 25, right? Led the Pac-12 in rushing, yet no offensive recognition? Something doesn't add up, dude. People don't want to give us any recognition. People don't want to be like, 'Arizona had a good year. Arizona players are good.' They don't want Arizona football to be good. It's something that pisses me off, but I can't do anything about it."
Deserving of more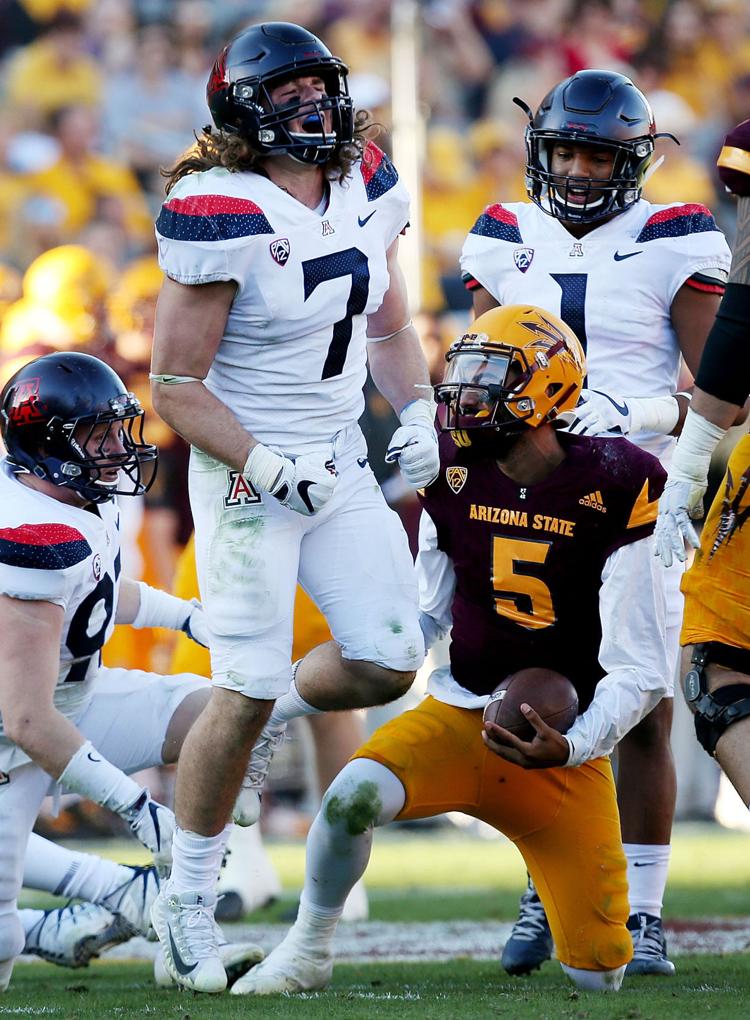 Alsadek has a problem with the Pac-12, which unveiled its all-conference selections Tuesday. No Arizona player was selected to the Pac-12's first or second team.
The Wildcats, who went 7-5 in the regular season, weren't completely shut out. UA linebacker Colin Schooler won Pac-12 defensive freshman of the year, running back J.J. Taylor was co-offensive freshman of the year and six Wildcats were honorable-mention selections.
Still, UA coach Rich Rodriguez said he thought "several guys on offense" deserved recognition, mentioning Taylor, Alsadek, center Nathan Eldridge, quarterback Khalil Tate and receiver/returner Shun Brown.
"I thought those guys were worthy of it. But we won't cry about it," he said. "We won't mention it. I may use it as motivation to get fired up for not just the next game but next season too. We've got a lot to prove."
The most glaring omission came in the absence of Arizona offensive linemen. The Wildcats led the Pac-12 in scoring, rushing, total offense and fewest sacks allowed. Pro Football Focus selected Alsadek to its All-Pac-12 offensive first team.
"That's a big disappointment because our offensive linemen are probably the best offensive linemen you could possibly have in the Pac-12," Taylor said. "They might not be bigger than every offensive line you see playing, but I'm telling you, them boys work."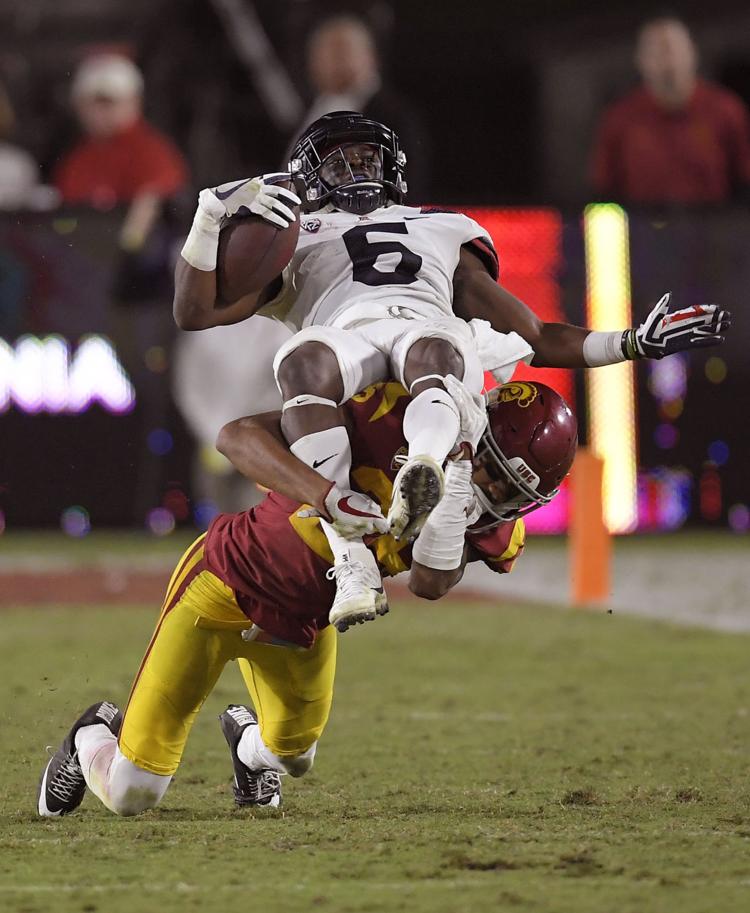 Brown finished the season ranked second in the Pac-12 with 12.9 yards per punt return, scoring two touchdowns. Pac-12 coaches picked Utah's Boobie Hobbs to the second team at punt returner over Brown. Hobbs had a 10.7 yard average and didn't score a touchdown.
Brown said he felt like he deserved the second-team honor, but was more frustrated with the lack of offensive recognition.
"It just blows our mind, the level of disrespect," Brown said.
Alsadek, though, was more irked about the omission of the quarterback he blocks for. Tate burst onto the scene in October with a record-breaking performance against Colorado, rushing for an FBS quarterback record 327 yards in a win. He finished the year with 1,353 rushing yards despite only playing extensively in seven and a half games, the half coming before leaving the ASU game early with an injury. He finished the regular season second in the conference with 135.3 rushing yards per game; he ran for 12 touchdowns.
"Khalil just set a bunch of records and doesn't get any recognition?" Alsadek said. "That makes no sense. He missed one Pac-12 game (against Utah) and a half of a Pac-12 game (against ASU). Something just doesn't seem right to me, but whatever."
Tate's shoulder 'a lot better'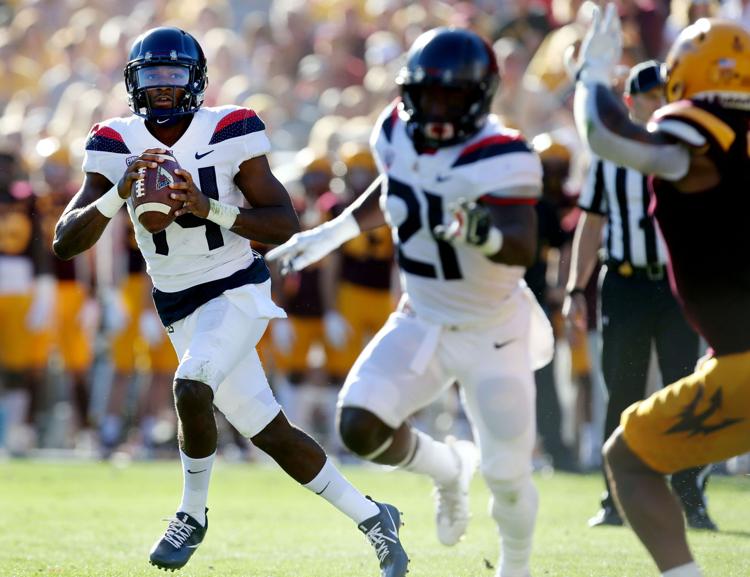 Tate said he wasn't injured on an ill-fated Hail Mary pass that came just before halftime of Arizona's 42-30 loss to Arizona State.
The quarterback said he hurt his left (non-throwing) shoulder earlier in the first half on a quarterback draw and tried to play through it.
"None of the (ASU) players did it. I fell on my own," Tate said. "They hit me at the end, but that didn't make me injured. I had been injured. They didn't do that like they think they did.
"It was like a third-and-15, we did a draw play and I got the first down, I got up and that's when I injured it. … That's when it happened. It didn't happen on the Hail Mary. They didn't hit me that hard."
Tate said the injury is similar to the one he suffered against Northern Arizona at the beginning of the season. That injury, to his throwing arm, caused him to struggle against Houston and miss two other games.
Both Tate — who said he's "doing a lot better" — and Rodriguez said he'll be good to go for the Dec. 27 Foster Farms Bowl against Purdue.
About the Territorial Cup loss, Tate is already licking his chops for next year's game.
"It hurt a lot because we pretty much had the game in the bag," he said. "I had to watch and hope for the best. But it's a learning experience. It's good that it happened. Next year is going to be different."
Extra points
• Graduate assistant Kyle Quinn and staff analyst Glenn Parker will coach Arizona's offensive line in the wake of Jim Michalczik's departure for Oregon State. The UA was granted a waiver so Parker could participate in on-field coaching.
• Rodriguez wants to hire an offensive line coach before the bowl game if he can. Quinn and Parker, both former UA players, will be considered. Rodriguez is not looking for a coordinator type for this job. "I need a line guy," he said.
• Rodriguez doesn't anticipate much more staff movement but said he has to be ready for it now, after the bowl games and after the NFL season ends. He said he has an idea for what he wants to do with the new 10th assistant job but remains flexible.
• Defensive tackle Luca Bruno, who sat out the Territorial Cup because of a concussion, said he'll back for the Foster Farms Bowl.
• Defensive end Justin Belknap, who missed the ASU game because of a knee injury, did not have a brace on his leg as he left the locker room.
• What did the Pac-12 say about the so-called block-in-the-back penalty that cost Arizona a touchdown against ASU? "I believe they agreed with our assessment," Rodriguez said. He'd like coaches to have one challenge per game on a "subjective call" such as pass interference or holding.
• Arizona will use the first week and a half or so of practices to evaluate scout-team players, in addition to prepping for Purdue. It's hard to accurately assess those guys in season because they aren't running Arizona's scheme, Rodriguez said. He added that this time is more important for vets who haven't played much than freshmen. "It's time for them to make their mark," he said, "or they're going to get passed up."
• Rodriguez said he expects to sign 15-17 players during the new early signing period Dec. 20-22. Recruiting experts say that number might be a little high.
Related to this collection
Highlights from the UA's media availability after practice Wednesday evening as the team continues to prep for the Foster Farms Bowl against Purdue.
Arizona Wildcats quarterback Khalil Tate, who was injured during the season finale at Arizona State, is expected to be available for the Foste…
Arizona coach Rich Rodriguez addresses the media as the Wildcats prep for the Foster Farms Bowl (video by Michael Lev/Arizona Daily Star)
Greg Hansen and Star sports editor Ryan Finley review Khalil Tate's Heisman prospects and look ahead to how he gets back in the race next seas…
The relatively under-recruited players are recognized as the top freshmen in the league.
Michael and Zack break down Arizona's selection into the Foster Farms Bowl in Santa Clara, update Khalil Tate's health and break down ASU's de…
Michael and Zack break down Arizona's selection into the Foster Farms Bowl in Santa Clara, update Khalil Tate's health and break down ASU's de…
Schooler emerged as a top playmaker in his first year at the UA, while Taylor bounced back in a big way from a broken ankle.
Jacob Alsadek, Nathan Eldridge, Khalil Tate and Shun Brown are among the UA honorees.
Senior guard Jacob Alsadek also is among the players honored at the UA's annual awards banquet.
Arizona, which did not participate in the postseason last year, will face Purdue at Levi's Stadium in Santa Clara, California.
The Cats will be making their first appearance in the Dec. 27 bowl game in Santa Clara, California.
Bailey, via Glendale Community College, can play guard or center.
Rich Rodriguez expects 70 percent of Arizona's recruits to sign later this month. That means the Wildcats' coaches will scramble as they prepare for the Foster Farms Bowl.
Here's a game-by-game look at Arizona's bowl games dating back to the 1921 season.
Here's a game-by-game look at Arizona's bowl games dating back to the 1921 season.
The AP acknowledges center Nathan Eldridge, defensive end Kylan Wilborn and cornerback Jace Whittaker.
Advice for the real world.
Officials: Best defense is to get flu shot, wash hands and stay home if sick.
Man said he had been assaulted and robbed several days earlier.
The baby is expected to make a full recovery.
Sophomore suffered broken foot in late-September.
The midtown brewery has leased 8,750 square feet of space halfway between Thunder Canyon and Barrio Brewing. 
The law at issue bars government from doing business with any firms boycotting Israel. ACLU says it violates free speech rights. 
In the video, a perp in green tights slinks around a dark parking lot trying to break into cars.
Board of Regents had argued disclosure of the documents would be "contrary to the best interests of the state.''
Plus, a Republican jumps into the CD2 race, a Dem steps out, and snakes can still eat meat.
Highlights from the UA's media availability after practice Thursday afternoon as the team continues to prep for Purdue.
Cody Creason was in class when Jim Michalczik texted him the news. At first, Creason — the Arizona Wildcats' redshirt sophomore offensive tack…
Was chief of the department since 2011.
Attorney general contends the tuition charged at the state's three universities fails to comply with a constitutional mandate to be "as nearly free as possible.''
Lea Marquez-Peterson's long-rumored campaign for Congress is a go.
Star sports editor Ryan Finley and Greg Hansen take a look at the Wildcats' options for offensive line coach, explain how ASU's hire of Herm E…
Temperatures will peak 4 to 10 degrees below average.
The woman's apartment sustained water damage after a fire in the neighboring unit.
Man said he was assaulted by two people who took his belongings and clothes.
Police say that the victim and suspects knew each other.
The Prescott Valley police chief who lost his handgun last month will be suspended for two days without pay.
The Arizona Republican had announced only Thursday that he would leave the House over accusations that he asked two former aides to bear his child as surrogate mothers.
Zack Rosenblatt records the last podcast of his Star career before he departs for Philadelphia. He's joined by Michael Lev and Justin Spears t…
The death of the 21-year-old rapper on his tour bus prior to a Nov. 15 concert at The Rock, has been certified as accidental, according the Pima County Office of the Medical Examiner.
With the departure of offensive line coach Jim Michalczik to Oregon State, the Arizona Wildcats again must fill a key staff vacancy. 
UA researchers were spot-on with hurricane predictions this season, which ended Nov. 30.
City officials tout that they brought in $221,369 more in revenue than in expenses, but city courses need millions of dollars in capital projects.
Police released documents detailing new incidents of abuse against his two victims, including that his roommates — all football players — were aware of the abuse and failed to intervene.
The Orlando Magic forward has seen an uptick in his shooting this season and, as a result, could be on his way to big things.
Advice for the real world.
unwrapped gifts for Diamond Children's patients will be accepted at the public preview.
Her campaign received roughly $16,000 from Franks and his political action committee.
Temperatures in the 70s are expected today through Friday.
Man was arrested on outstanding warrants for rape and statutory rape.
The winter street fair got off to a good start with near perfect weather, December 8, 2017, Tucson, Ariz.
The idea is not to replace anti-venom, but extend the time patients have until they can get to treatment.
Arizona coach Rich Rodriguez meets the media after practice Saturday as Purdue prep continues (video by Michael Lev/Arizona Daily Star)
Star sports columnist Greg Hansen offers his opinion on recent sports news.
Wildcats defensive tackle Dereck Boles suffered a sprained ankle the week before Arizona's rivalry game with Arizona State. Here's what motiva…
After video evidence refuted Border Patrol agents' claims, prosecutors dropped assault cases against Tucson priest, sister.
Townsend Middle School will be transformed into a college.
A-10 preserved but Congress must still address spending caps.
Advice for the real world.
Festschrift is a German word for essays written by colleagues or students of a accomplished, respected academic and scholar.
Tension and uncertainty are high at Catalina, Rincon and University high schools.
The arrest came amid a flurry of busts of smuggling scouts this week. 
Late Friday morning I turned east onto Paradise Falls Drive and saw Allonzo Trier playing basketball with a bunch of kids at Davidson Elementa…
The biggest home nonconference game on Arizona's schedule, and the NBA-lottery-bound freshman stars on each side, all lived up to their billin…
Some think benefits are overblown, while others expect benefits to local merchants.
The accolades continue to roll in for the UA freshmen, while Tate's outlook for '18 looks bright.
Man was previously removed from the U.S. in 2014 after his last incarceration.
Above normal temperatures are expected to continue into the weekend.
Gang unit detectives are investigating the shooting.
A Tucson man has died in a motorcycle crash near Deming, New Mexico State Police say.
Crash happened on northbound I-19 at Duval Mine Road.
Left tackle Layth Friekh and receiver Shawn Poindexter won their NCAA appeals, although Friekh will have to sit out the first two games.
The 2017 season is still playing out, but the Star's Michael Lev is already taking a look at Arizona's 22 starters for next year.