6 things we learned in Arizona's blowout win over UTEP
Brandon Dawkins was spectacular Friday night. He had help.
What do we know about the Wildcats moving forward?
The Arizona Wildcats finished nonconference play Friday with a 63-16 road win over UTEP, and enter Pac-12 play with a 2-1 record. 
The Wildcats posted 501 yards of total offense, the second time this season Arizona has reached that mark. UTEP was ranked No. 120 in total defense so this may have not been the test that UA was looking for, but looking forward to the Pac-12 home opener against Utah next Friday, what do we know about the Wildcats? 
Here's what we found out Friday:   
Brandon Dawkins silenced the doubters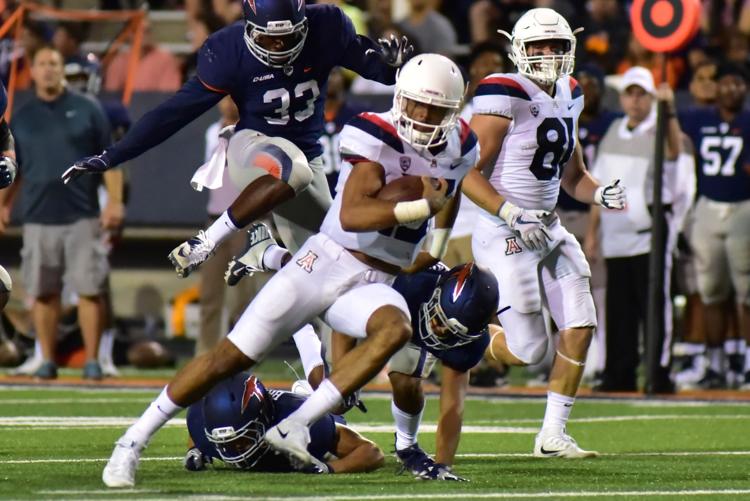 Star reporter Michael Lev ran a Twitter poll on who should be Arizona's starting quarterback Friday night, and the nearly 700 respondents gave Dawkins the cold shoulder. Nearly 60 percent voted for Khalil Tate to take over; Dawkins was tied with Rhett Rodriguez with 13 percent of the votes. 
Dawkins finished Friday's game with 155 passing yards on 18 of 21 attempts. His longest pass was a 36-yard touchdown connection with Shun Brown. 
Another one for Brandon Dawkins. This time, he connects with Shun Brown on a 36-yard pass. Wildcats lead 14-0 with 9:45 left in first half. pic.twitter.com/a8R5Opx0G7

— The Wildcaster (@TheWildcaster) September 16, 2017
Dawkins' first half stat line was the best he's posted as a Wildcat.
Brandon Dawkins' first half stat line: pic.twitter.com/ET9ups7WCA

— The Wildcaster (@TheWildcaster) September 16, 2017
Dawkins rushed for 133 yards on 14 carries, and scored three touchdowns. Dawkins can close the book on the quarterback competition for now after arguably his best performance, but UTEP shouldn't be the concluding decision. 
Regardless, Dawkins gave out the double middle fingers to the 59 percent that voted Tate should start over him. 
This is only the second time Brandon Dawkins has thrown two touchdown passes in a game. The last time: at ASU in 2015.

— Zack Rosenblatt (@ZackBlatt) September 16, 2017
Tight ends, tight ends and more tight ends!
Bryce Wolma started for the second straight game at tight end, and he delivered — again.  Wolma was Arizona's third-leading receiver with 41 yards on six catches and scored a touchdown. 
All it took for Arizona to finally throw to tight end was a player (Bryce Wolma) that RichRod has known for a decade. He's been waiting!

— Zack Rosenblatt (@ZackBlatt) September 16, 2017
Cue in the Billy Mays commercial slogan, "But wait, there's more!" Redshirt freshman tight end Jamie Nunley also received snaps and had two receptions for 22 yards.
Just when you thought the tight end madness stops, it keeps going. After the Wildcats had already installed reserve players to run out the clock, head coach Rich Rodriguez experimented with defensive lineman Jack Banda at tight end and he caught a 10-yard pass from Donavan Tate. That seriously happened. 
It appears Jack Banda is a tight end now.

— Zack Rosenblatt (@ZackBlatt) September 16, 2017
Dude. Jack Banda the secret sack master just caught a pass. I can die a happy man now.

— Zach Clark (@ZachEClark) September 16, 2017
Three tight ends were used and one of them was a defensive lineman while the starter, Trevor Wood, was out. Could this foreshadow what's to come? 
Arizona used multiple tight ends tonight including a defensive lineman while the starter is out with injury. pic.twitter.com/umXgnwqBoq

— The Wildcaster (@TheWildcaster) September 16, 2017
Defense stepping up at right time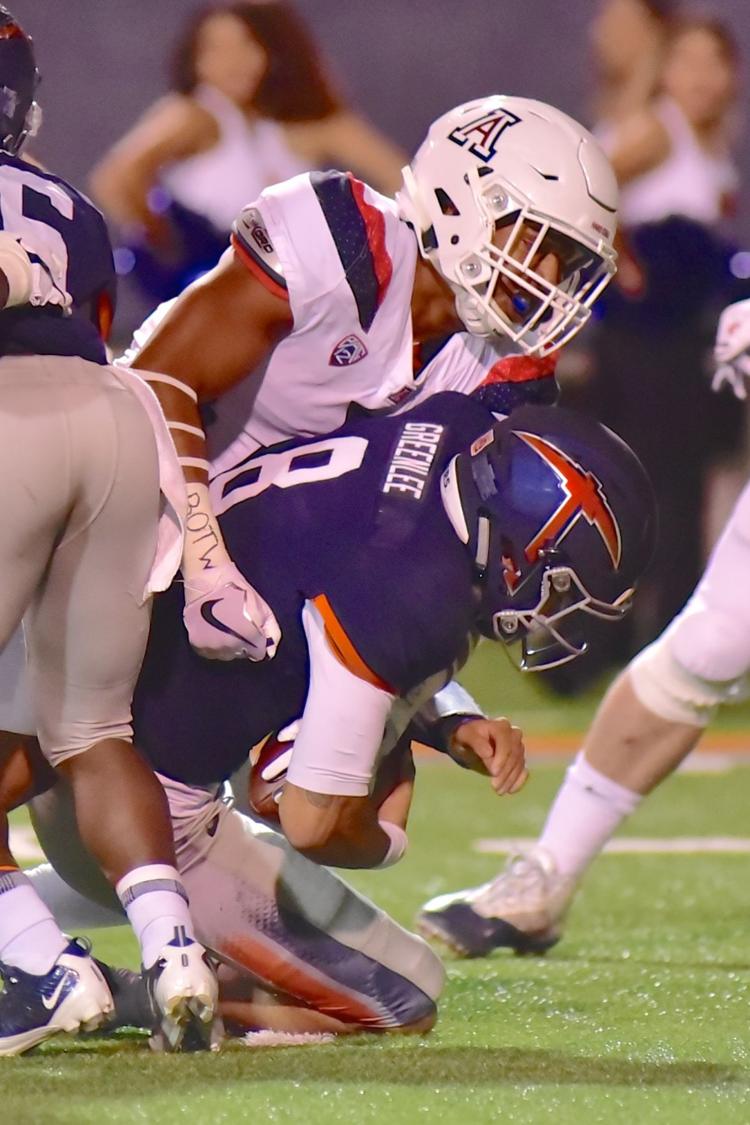 Half of Arizona's defense either features newcomers or first-year starters. Against UTEP, six of the seven top performers were newcomers. Freshmen linebackers Tony Fields II recorded his first career sack and Colin Schooler had his first career interception. 
Brandon Rutt also finished Friday with four tackles and freshman linebacker Kylan Wilborn recorded three. 
How good was Arizona's defense? The Wildcats did something they've never done since 2006 and the first time in the Rodriguez era. 
If Arizona's defense holds up, the 17 rushing yards for UTEP is the lowest allowed in RichRod era. Lowest since -6 against Stanford in 2006.

— The Wildcaster (@TheWildcaster) September 16, 2017
 Arizona held the Miners to that rushing mark and allowed 218 yards of total offense. The defense may be young and inexperienced, but it's coming together at the right time. 
Duh-duh-duh Duh-duh-duh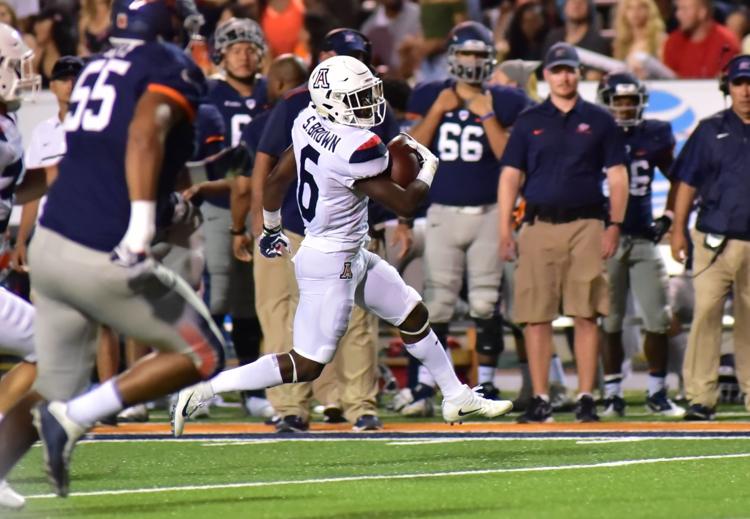 Shun Brown is Arizona's leading receiver, but Friday night he shined on special teams. 
In the first half, Brown had a 63-yard punt return for a touchdown, but he showed the world his arsenal of moves, spinning away from two defenders and running in the end zone. If Friday's game was a video game, Brown hit the circle button and made UTEP's punt team look silly. 
Brown earned a spot on SportsCenter's Top 10 plays:
Hit the B button and walk into the end zone #SCtop10 pic.twitter.com/bwB1e20f0T

— SportsCenter (@SportsCenter) September 16, 2017
Demetrius Flannigan-Fowles is a playmaker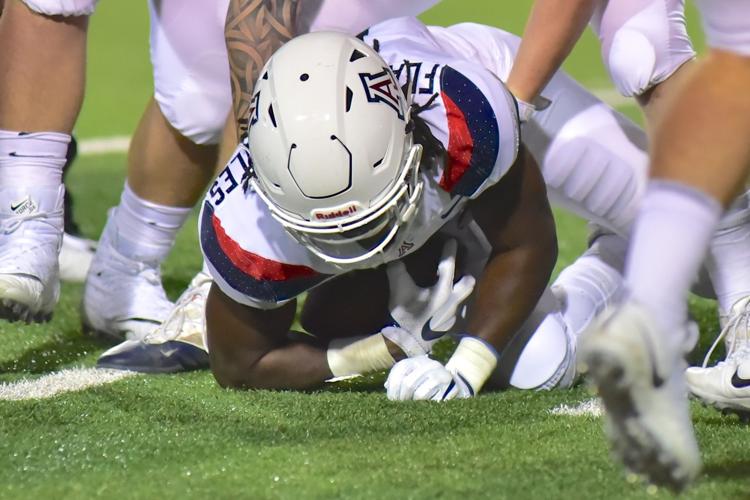 Junior safety Demetrius Flannigan-Fowles was one of few members from last year's defense returning. His role is much different this season, in part because he's a veteran. 
Pro Football Focus ranked Flannigan-Fowles as the top playmaker safety returning in the Pac-12. In three games, he has three interceptions and a forced fumble and recovery. 
Demetrius Flannigan-Fowles in the first three games: Three interceptions and a fumble. #PlayMaker

— The Wildcaster (@TheWildcaster) September 16, 2017
Flannigan-Fowles has been quiet in the last two games, registering four total tackles. When Arizona needs a big play, however, the Tucson native is there.  
Nick Wilson reached a milestone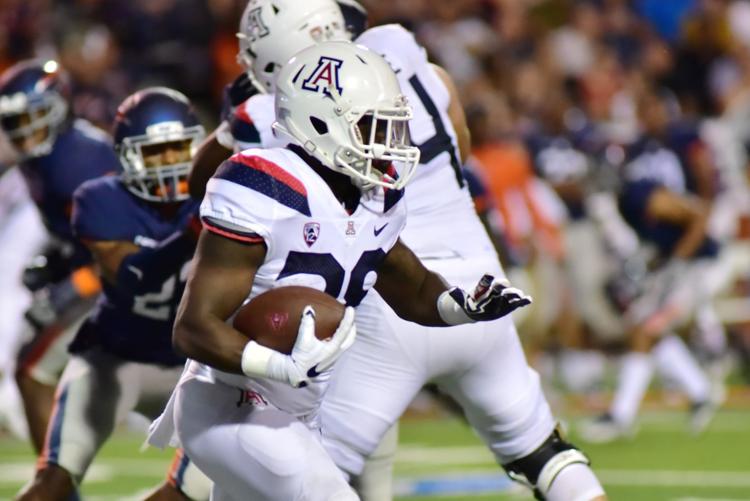 Running back Nick Wilson was questionable prior to Friday night with an ankle injury. Wilson started the first two drives before J.J. Taylor was sprinkled in the rotation. 
Wilson finished the game only with 39 yards on 13 carries, but he reached a milestone in his Arizona career. 
Nick Wilson has moved into 9th place in Arizona history in rushing yards, ahead of Clarence Farmer.

— Zack Rosenblatt (@ZackBlatt) September 16, 2017
Wilson officially has 2,546 rushing yards. He needs 35 yards against Utah next week to pass David Adams at No. 8. If he passes Adams next Friday, then he'll need nearly 400 yards to catch Nic Grigsby at No. 7.