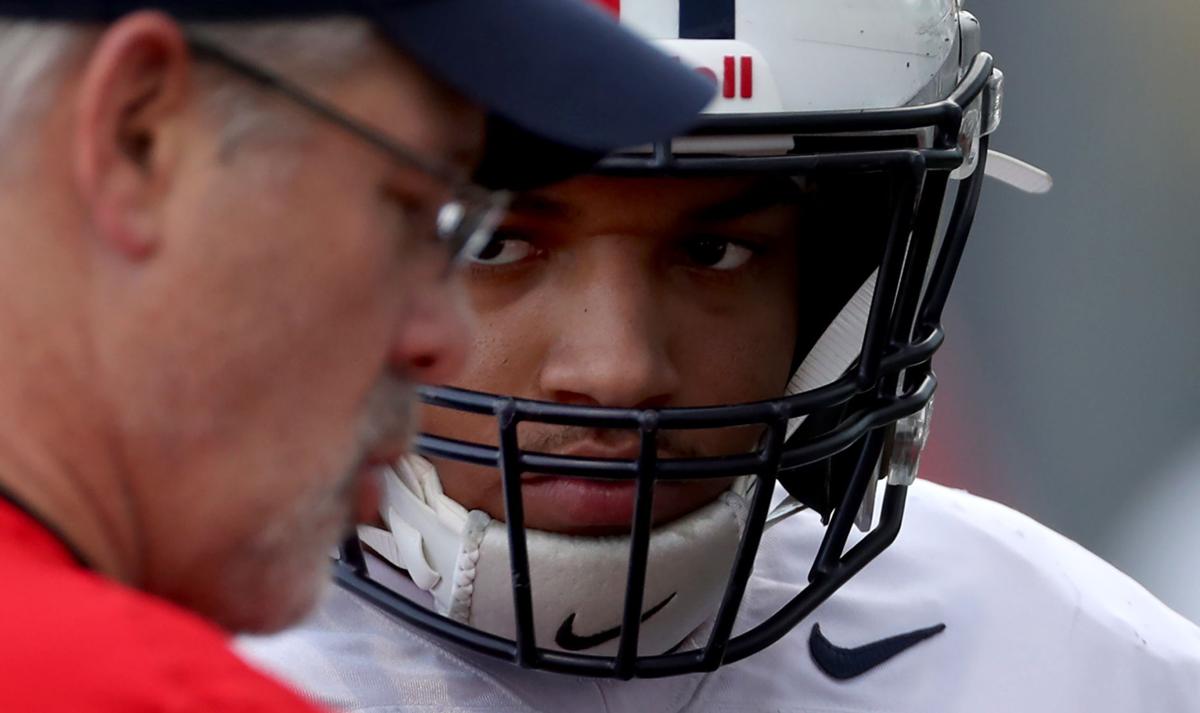 If the 2020 football season happens this fall, the Arizona Wildcats could be perilously thin at a critical position.
Linebacker Tony Fields II, a three-year starter, announced Wednesday that he plans to leave the UA as a graduate transfer.
Fields started every game over the past three years for the Wildcats – 37 straight – at the "Will" linebacker spot. He accumulated 287 tackles, including 17 for losses and 8.5 sacks. He defended six passes and had two interceptions.
"Being a Wildcat has been an honor as well as one of the best experiences of my life," Fields tweeted Wednesday. "I have grown in so many facets due to my tenure here in Tucson."
Fields thanked Rich Rodriguez, Marcel Yates and Jahmile Addae for recruiting him to Arizona and current coach Kevin Sumlin "for believing in me and giving me the opportunity to continue to showcase my abilities the past two years."
"Last but not least," Fields added, "(I would) like to thank my teammates and the fans of U of A. Being a three-year starter on a Power Five team is a great blessing and accomplishment that comes with many responsibilities.
"Although I will greatly miss the atmosphere at U of A, I feel it's time that I move on to continue my football career. In conclusion, I will be entering the transfer portal as a graduate transfer."
Fields again was slated to start in new coordinator Paul Rhoads' 3-4 defense, which features two inside linebackers. Fields and classmate Colin Schooler have handled those positions since 2017.
Arizona didn't have much depth at those spots entering the offseason, and the situation only has become worse. Jabar Triplett, an incoming freshman, suffered a season-ending torn Achilles' tendon while working out in April.
Without Fields and Triplett, the only healthy and available scholarship inside linebackers are Schooler and sophomore Derrion Clark, who primarily played on special teams last season.
Fields' decision could precipitate shuffling within the linebacking corps. Senior Anthony Pandy had been working at outside linebacker before spring practice was shut down because of the coronavirus pandemic. Pandy has experience at the "Will" position and would be the logical choice to move there. But the Wildcats don't have great depth at the outside linebacker positions either.
Fields' departure also could lead to Arizona adding a graduate transfer.
Rhoads only got to work with Fields, Pandy and Schooler for a handful of practices but quickly came to appreciate their presence.
"Anthony and Tony play with great energy and speed, and that rubs off on your teammates and how you practice," Rhoads said at the time. "They do what we ask them to do with a high level of skill."
Fields also seemed to have formed a good working relationship with Rhoads, who is coaching the inside linebackers. Fields said in March that he visited Rhoads regularly in his office, where they talked about a variety of subjects.
"Coach Rhoads has been giving us so much knowledge and so many new techniques and drills that (have) helped us so much," Fields said in early March. "Coach Rhoads is a phenomenal coach. I've bought in, our team, our defense has bought in. As long as everybody keeps on trusting the process, we're gonna be a great team."
Fields came to the UA as a three-star recruit from Desert Pines High School in Las Vegas. He enrolled in January 2017, worked with the first unit that spring and hadn't left the starting lineup since.
Fields is the second three-year defensive starter to leave Arizona as a graduate transfer this offseason, joining safety Scottie Young Jr.
Fields could have entered the NFL draft after his junior season, but he elected to return for a final campaign. He felt a sense of urgency even during spring ball.
"Time is up ... that's the best way to put it," Fields said. "I only got a couple more months left, and then it's time to write my ticket to try to go to the next level."
If the season gets moved to spring, it's questionable whether NFL hopefuls such as Fields would participate.
Contact sports reporter Michael Lev at 573-4148 or mlev@tucson.com. On Twitter @michaeljlev