As the Arizona Wildcats' coaching search begins, focus has turned to a handful of reported candidates. One is the head coach at a service academy. The other is playing for a Mountain West Conference championship. And a third is a top assistant for one of the West's best teams.
Ken Niumatalolo, Brent Brennan and Joe Salave'a have one thing in common: Dick Tomey.
Arizona's all-time winningest coach left an imprint on all three men during his stops at the UA, Hawaii and San Jose State. All three men spoke at Tomey's memorial service, held on May 31, 2019 in McKale Center.
Here's what they said about the Arizona coaching legend at the time:
Ken Niumatalolo
A quarterback who played under Tomey at Hawaii, Niumatalolo had a front-row seat to the coach's first big rebuild. It was there that Niumatalolo realized a coach is more than the number of games that they've won.
"Coach Tomey left the University of Hawaii as the winningest coach in the history of the program," he said at the memorial service. "But to measure this man by wins and losses, by records, would be such a shallow reflection of the enormous impact that he had on lives. He came to the University of Hawaii and changed our football program — but more importantly changed their state and changed the people."
Tomey showed Niumatalolo and the other Rainbows players how to carry themselves on and off the field. The future Navy coach saw the way Dick Tomey treated his son, Rich, and knew he wanted to emulate that in his own life.
"That's the Rich I remember — just on the sidelines and always in front of the bus," he said. "That had a great impression on me because I knew when I became a coach, I wanted to do those same things. Allow my son to be on the sidelines with me, and he's gone down with me many games."
Niumatalolo said Tomey loved everyone, and that each relationship was private and personal in its own way.
"All of us feel like he loved you, specifically," Niumatalolo said. "And as he has kids and daughters and sons and son in-laws, he had thousands of players that were his coaches and his sons also."
Brent Brennan
Brennan worked alongside Tomey twice: First as a graduate assistant at Arizona in 2000, and then as an assistant at San Jose State from 2005-2009.
Brennan talked at length in May 2019 about Tomey-isms, the frequently said phrases that stuck with you.
"Coach Tomey would start every meeting every time I ever worked for him: 'Sit up straight. Two feet on the floor, eyes up, act interested,'" Brennan said.
There were more, of course: "The team, the team, the team" and "The tougher it gets, the better were play" were two favorites.
One Tomey-ism particular rattled around Brennan's brain during his rebuild at San Jose State. (The Spartans will play Saturday for a Mountain West Conference title).
"You're either putting a team together, keeping the team together, or putting it back together," Brennan recalled Tomey saying. "It's such a great metaphor for life, right? Whether it's your relationships, a team or your family."
Brennan's speech then turned into a poem, rhymes and all.
"He had Arizona, Hawaii, San Jose State," Brennan said. "He took programs over and helped make them great."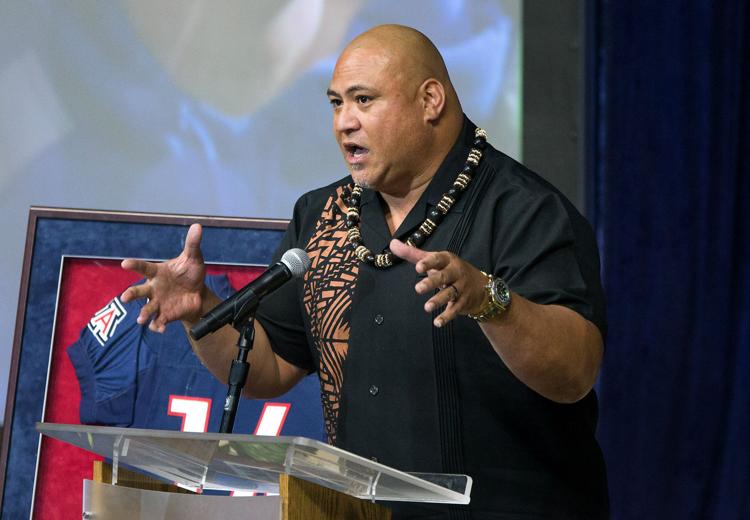 Joe Salave'a
A member of the Desert Swarm era and two-time All-Pac-10 selection as a defensive lineman, Salave'a experienced the glory days of Arizona football.
The Wildcats' success came in part from the way Tomey treated his players, Salave'a said.
"He had demanded a lot of us, but he loved us twice as much," Salave'a said then. "I think that's one of the biggest takeaways that I will always have with me."
Now the co-defensive coordinator and defensive line coach at Oregon, Salave'a has tried to follow Tomey's example as both a coach and father.
"Dealing with our athletes and our young people even within our household, love is unconditional — but love comes with responsibilities and also being accountable to each other," he said.
Salave'a said Tomey's legacy stemmed in part from the way he welcomed Polynesian players into his program. That started during Tomey's time in Hawaii and continued in stops in Tucson and San Jose.
"He was probably the first head coach to truly bring the three, four corners of the other South Pacific region to Hawaii," Salave'a said.
Tomey broke down barriers, Salave'a said, and focused on individuals.
"It really made it easy for me in dealing with our athletes in their journey and trying to mold and push and try to cultivate that part of their life because Coach Tomey is what's wholesome about this world," he said.