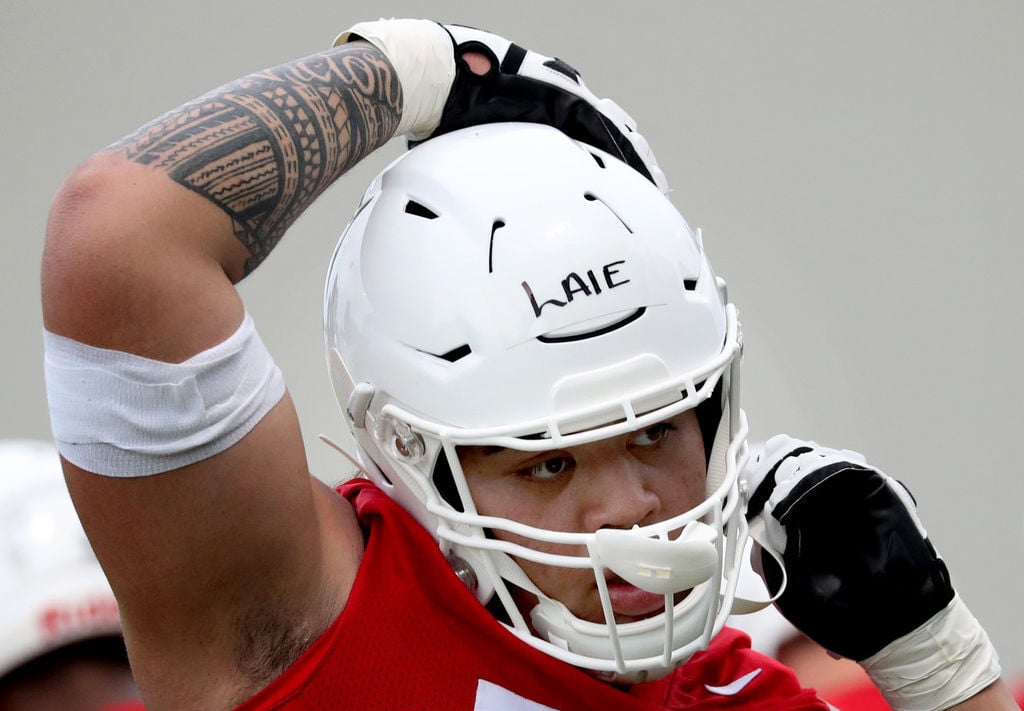 Donovan Laie was ready to go home. His family was hurting. So was he.
But Laie has two families. One resides in Oceanside, California; the other, here in Tucson. Ultimately, he decided he couldn't leave his football family behind.
Laie, the big, athletic Arizona Wildcats offensive lineman, experienced a whirlwind of emotions late last month. On Sept. 29, he announced he was leaving Arizona after two productive, promising seasons. A day later, he announced he was staying after all.
Laie discussed those difficult decisions and what transpired in the interim on Thursday night.
"I was going through a lot personally," said Laie, a 6-foot-5-inch, 325-pound junior who has started 24 straight games for the Wildcats. "I just felt like the best thing for me to do was to go home, somewhere closer to home."
Laie's father died late last year. Donovan is one of seven siblings. It was a devastating blow.
"I was just battling with a lot of things and trying to stay on track with football — but still trying to take that time for myself to adjust to losing someone very important to me," Laie said. "It's been rough. But I have a good family. I have a good support system."
Although he announced he was entering the NCAA transfer portal, Laie wasn't gone just yet. Offensive line coach Kyle DeVan and offensive coordinator Noel Mazzone tried to persuade him to change his mind. So did quarterback Grant Gunnell. And Laie's fellow offensive linemen.
They made him feel wanted. They made him feel loved.
"I felt like they kind of just gave me something that I needed to hear, something that I've been wanting to hear," Laie said. "I felt valued here."
"It's kind of like family away from family," he continued. "Just having people out here that I know have my back no matter what. People seem to be genuine, and that's something that I look (for) when I build relationships."
Laie and DeVan spoke the morning of Sept. 29. They kept talking, even after Laie decided to leave.
"At the end of the day, he's one of us," DeVan said. "He's a brother to us, especially guys in the room, and one of our leaders."
Laie is soft-spoken but well-liked and deeply respected in the locker room. He's one of those guys who doesn't say much. But when he does talk, people listen.
"When it's a bad day, he's the one getting everybody pumped up," DeVan said. "When it's a good day, he's the one celebrating, and that's kind of been his role here.
"When you have a guy like that — that not only can kick your (butt) on the field, but then hug you when you're down to try to pick you up — that's the type of leader we want.
"When we're on the field, he's as aggressive as anybody. And then when somebody needs a guy to put an arm around their shoulder, Donovan can do that for him. I think that's what guys admire."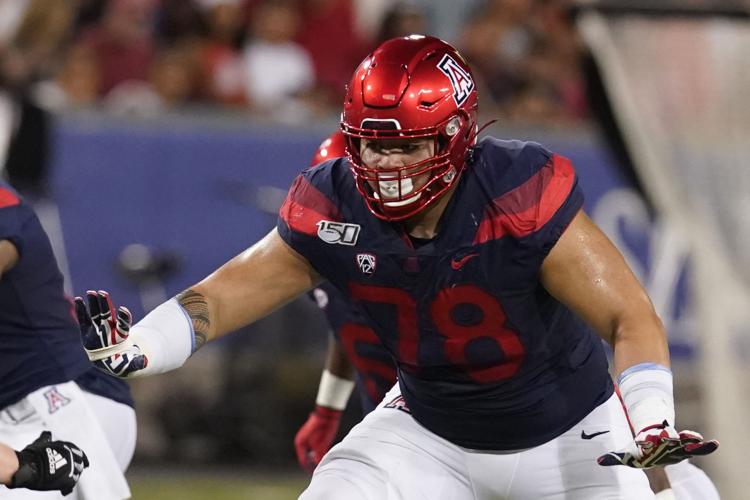 Part of DeVan's pitch was that he could help Laie make it to the NFL — which would help him take care of his family back home.
DeVan played for the Colts, Eagles and Titans. He coached with the Saints.
"We can help groom him for what he wants to do," DeVan said. "He's on the right trajectory.
"I'm excited for him. And I'm gonna do my part to give him the tools to play at the next level."
Laie's natural size, athleticism and versatility should make him an appealing NFL prospect. He played left and right tackle for most of his first two seasons but is slotted at left guard now next to sophomore tackle Jordan Morgan.
"I'm doing what's best for the team," Laie said. "Wherever the next level takes me, whether that's left guard or left tackle, I feel like I have a trait where I can adjust to whatever's thrown at me."
Laie already has faced a lot. More is undoubtedly on the way. He won't be going it alone.
More of Morgan
Morgan views Laie as a role model and is elated to being playing alongside him.
Laie started all 12 games as a freshman. Morgan's up-and-down freshman year shows just how rare that is.
The Marana High School product made his debut in Arizona's 2019 opener at Hawaii. He was flagged for consecutive false-start fouls while the Wildcats were attempting a field goal, making the kick a 53-yarder. Lucas Havrisik made it anyway.
"It was the first time I ever heard a crowd that loud," Morgan said. "The amount of noise really took over."
Without a spot in the starting lineup, it made sense to limit Morgan to four games to preserve his redshirt. But when injuries ravaged the offensive line, UA coach Kevin Sumlin spoke to the freshman and his family. They concluded that Morgan could gain more from playing than sitting. He started two of the final three games, foreshadowing the current alignment on the left side.
Those experiences gave Morgan a greater sense of confidence entering the 2020 season. He knows what to expect now. He also has gotten stronger, having added 20-plus pounds to his 6-5 frame. He was listed at 287 pounds as a freshman. He weighed in at 310 Thursday.
"It really helps me a lot," Morgan said. "I can't get blown back that bad anymore. I was pretty light for a defensive end to come and rush me."
Morgan feels as if he could carry another 10 pounds. He hasn't lost his mobility at 310.
"This is the first time I ever played with somebody as athletic as me," Laie said. "It makes it easier for me, just knowing someone's gonna get to their landmark as quick as I am."
"I'm a little bit quicker," Morgan said with a smile. "He's a lot stronger, smarter."
Extra points
DeVan on Arizona's newfound offensive line depth: "Man, it's nice. I'm not gonna lie." The Wildcats have 18 active offensive linemen. That has enabled players to focus on one position for the most part. "Now we're able to … properly train them," DeVan said.
Freshman Josh Baker has worked at center and guard, and he has impressed so far. "He has a high football IQ, which allows you to go in there and compete early," DeVan said. "When you make that jump from high school to college, what happens is, the speed of the game (increases). So if you don't know what you're doing, you're going to play slow and not be able to respond well."
The Wildcats are scheduled to hold their first scrimmage of fall camp at Arizona Stadium on Saturday evening.